TablePress vs Ninja Tables: Which Is Better?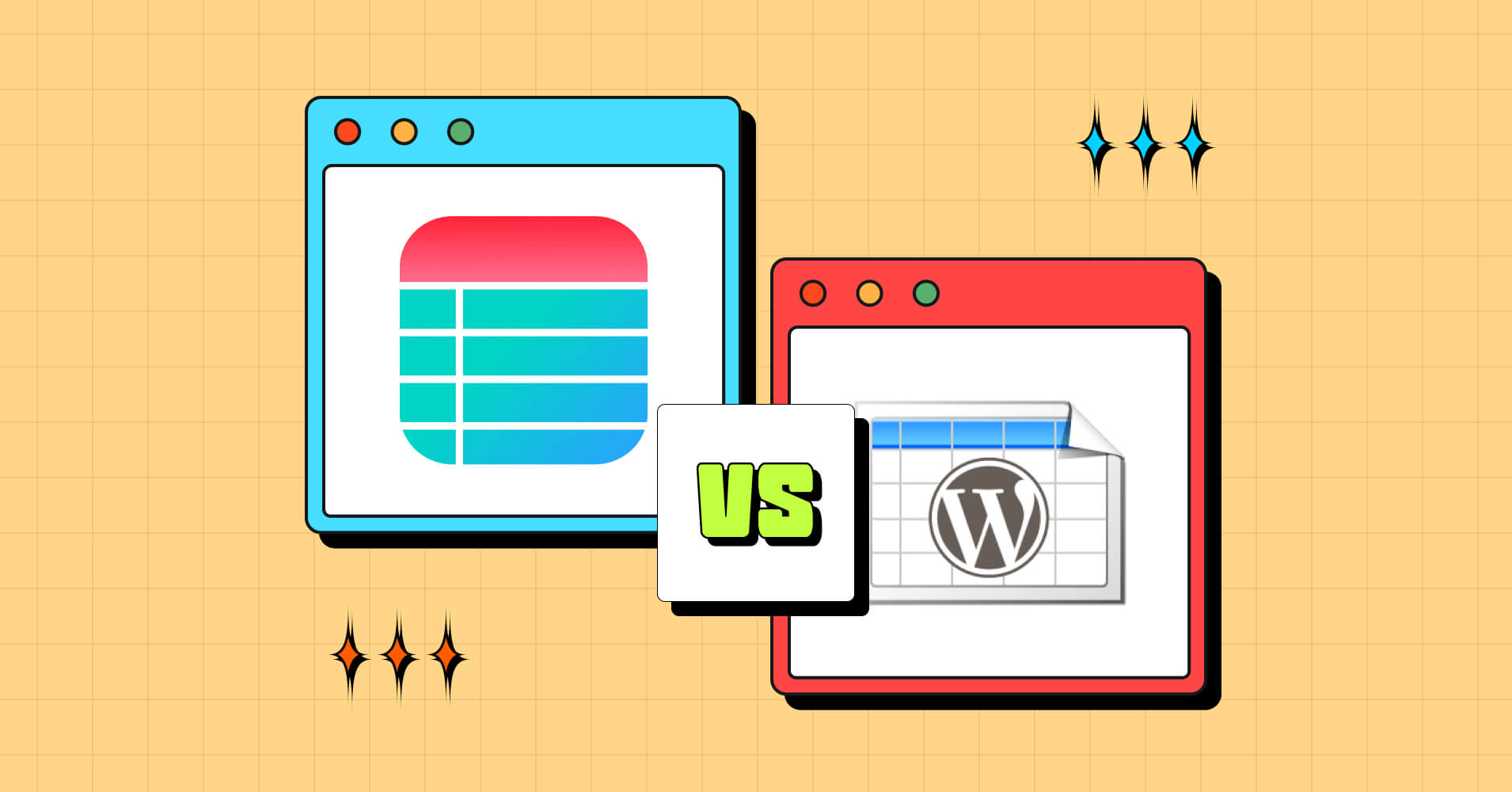 With an increasing number of WordPress table builder plugins, you might be wondering which one you should choose.

Fear not!

In this article, we will compare TablePress vs Ninja Tables – two advanced plugins, outlining their strengths and weaknesses, so you can make the perfect decision.
Prepare yourself, as you're about to discover the more efficient plugin between the two that will transform your messy data into a captivating visual.
TablePress vs Ninja Tables: Overview
Despite the newest update, WordPress is yet to address the challenges of creating interactive tables without the need for coding expertise. You could go for Gutenberg, but it can only create a basic data table without many functionalities.
So, what could be our possible solution for this? Well, the answer is table builder plugins!
In the realm of table plugins, the two most feature-rich, and dynamic plugins are TablePress and Ninja Tables.
Ninja Tables is the fastest-growing table maker plugin – which allows users to create dynamic tables that can sort, filter or merge big amounts of data.
TablePress on the other hand is by far the most widely used and highest-rated table plugin that also serves a similar purpose.
However, despite being developed for one common solution, both have some similarities and dissimilarities that set them apart. In the forthcoming sections, we'll take a deeper look into both these plugins' features, to give you a clear picture of the current best WordPress table builder.
Before we dive in, spend a minute focusing on the quick summary of TablePress vs Ninja Tables:
| | | |
| --- | --- | --- |
| | | |
| Unlimited Data Integration | | |
| | | |
| | | |
| | | |
| | | |
| | | |
| WooCommerece Table Integration | | |
| Color Customization Without CSS | | |
| | | |
| | | |
| | | |
Comparative Analysis: Features In Details
We recommend Ninja Tables and TablePress as the two most efficient table builders, but you should not take only our word for granted. To be more precise, we analyzed similar plugins, and each time both of these comes at the top.
Yet, when it comes down to finding the #1 plugin out of these two, there are certain aspects that you need to take into consideration.
Here's a head-to-head comparison to see who comes on top and why.
User Friendliness
A user-friendly interface is a vital element for any system that makes it easier for users to interact efficiently.
For table data visualization, sometimes you might deal with a large number of data. If the interface is complex, it will be difficult to complete basic operations.
Ninja Tables: Easier UI & More Flexible
A beginner-friendly user interface, even a novice can use it to make interactive tables.
Functionalities and features are separated, easier to find the things you need.
Comes with a drag-and-drop table builder and customizable templates.
No coding skills are required.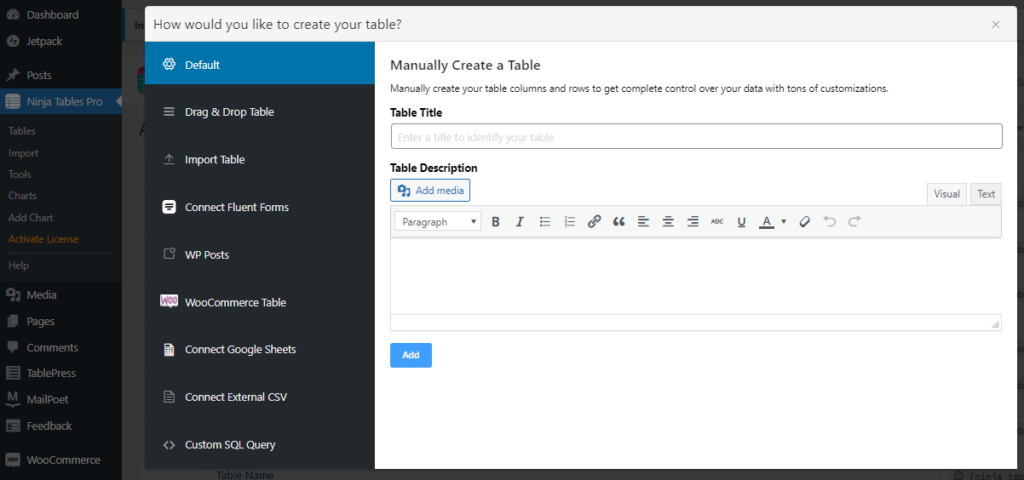 TablePress: Complex UI & Less Flexible
Beginners might find the user interface slightly complex.
All the functionalities and features are cluttered on a single page.
In terms of built-in custom templates, this plugin provides less flexibility.
Drag-and-drop table-building feature not available.
Up-to-mark coding expertise is necessary for better customization.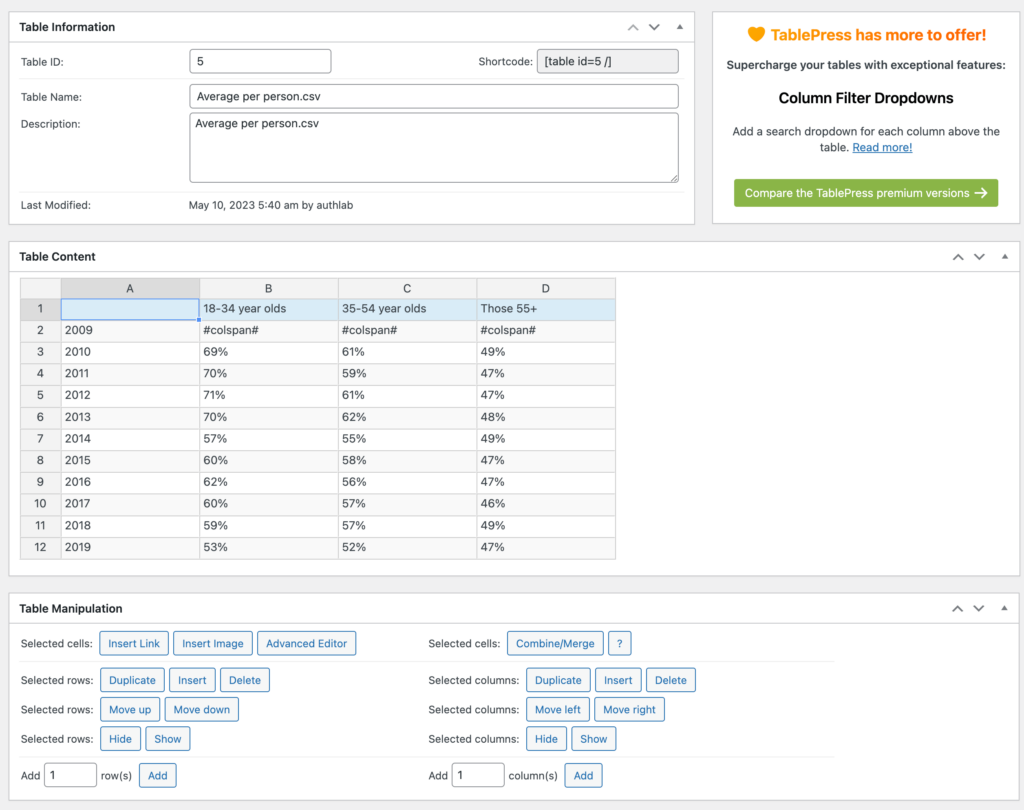 Table Interface
A simple table interface makes it easier for people to explore and interact with data, creating a more efficient and effective experience.
An example of employee data tables prepared by Ninja Tables and TablePress is given below:
As you can see Ninja Tables table looks more vibrant and information is easily catching attention. Whereas, in TablePress, it looks somewhat dull.
Although, if you know custom CSS then you can add colors or will be able to align text according to your need in TablePress.
Third-Party Integrations
TablePress lacks expertise here, but in Ninja Tables, you can see a lot of plugin or tool integrations!
A detailed table has been shown here to give an idea of what extra benefit this table builder can provide to you:
| | |
| --- | --- |
| | |
| | Turn all your form entries into a table and visualize them by connecting with Ninja Tables. |
| | Showcase all your products in an organized and customizable WooCommerce Product Table. |
| | Easily integrate Google Spreadsheet to fetch all your data and create dynamic tables on your websites. |
| | Rearrange all your messy WP Posts and show them in an organized table. |
| | A free WordPress chart plugin that allows you to make interactive charts. |
| | Generate a webpage table by retrieving data from your SQL database using a custom SQL query. |
Data Migration
When it comes to choosing a table plugin, data import-export options are crucial for any user.
Ninja Tables has multiple data migration facilities. Out of all facilities, the most distinctive feature that gives Ninja Tables the edge is its ability to import data tables from other wp table plugins.
Here is a list of different data migration options for Ninja Tables:
Existing CSV or JSON file
Your tables or data can be imported into Ninja Tables much more easily if they are in CSV or any other JSON format. Simply select your file format, and you are good to go.
Import From TablePress
This is where Ninja Tables takes the lead over TablePress!
If you use TablePress and want to move your tables over to Ninja Tables, do the following:
Go to Import >> Find out Import from other WP Table Plugin >> Click on TablePress Import button.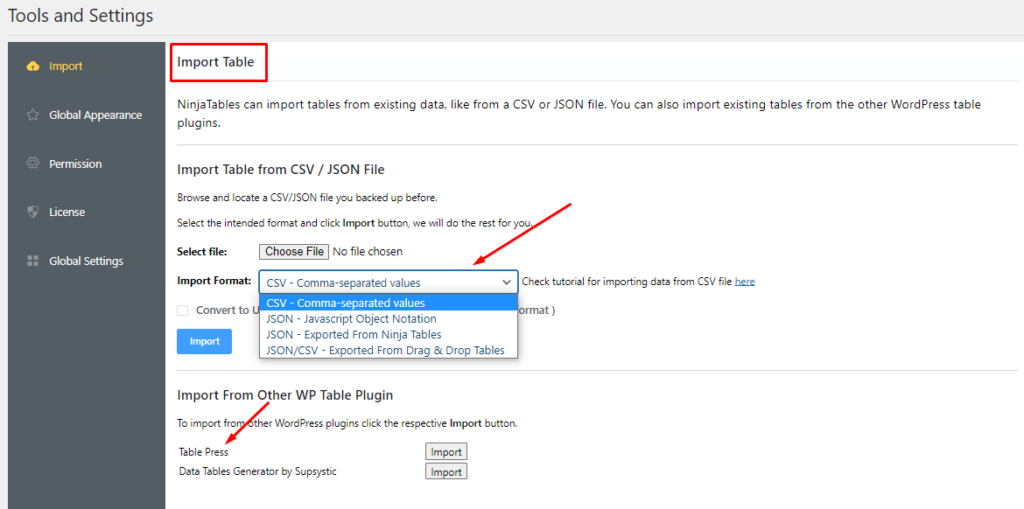 Connect External CSV
Even external CSV data can be connected by only supplying the CSV file-sharing link to the data source.
Here is an illustration showing where and how to perform this procedure: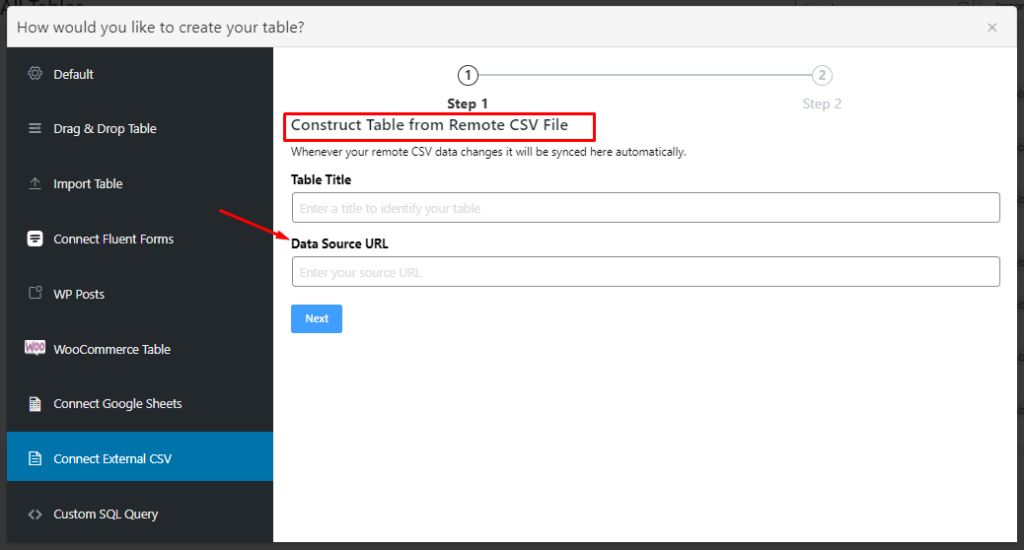 TablePress also offers options for importing tables, allowing you to bring in data from specific file formats like Excel, CSV, ODS, HTML, and JSON. Additionally, you can export your tables from the plugin for easy sharing and data management.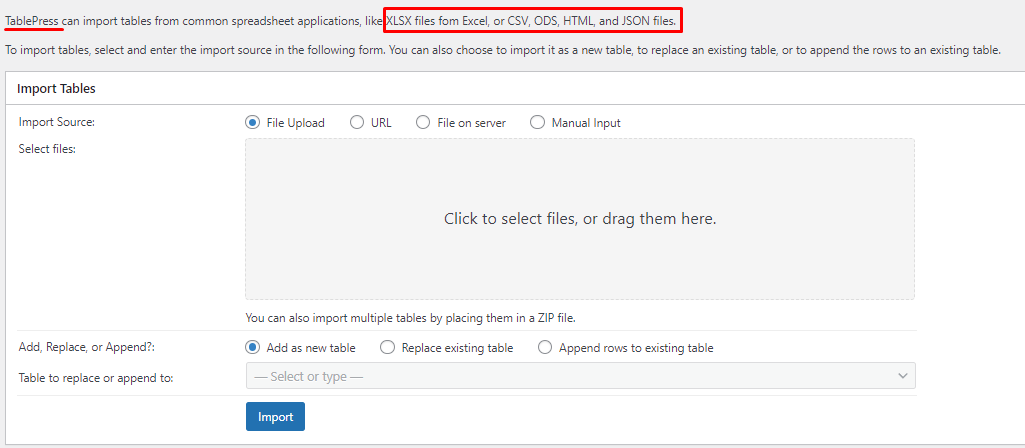 Styling & Customization
Creating visually appealing and user-friendly tables requires customization options.
Ninja Tables gives you the chance to use handy customization options such as color customization, custom filter, conditional formatting, etc. to showcase your creativity.
Use the design panel to customize your tables smoothly. Here is a small glimpse of the Ninja Tables design panel.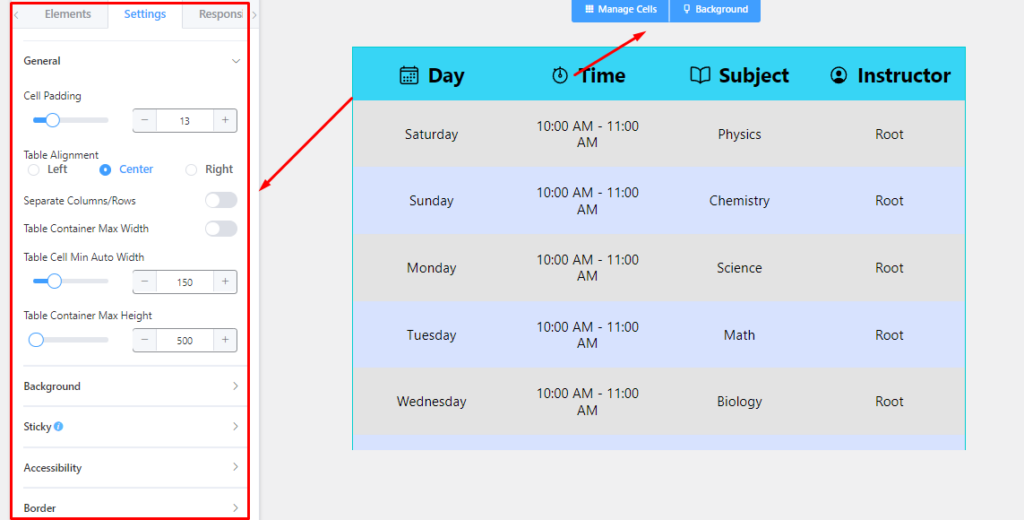 Ninja Tables' advanced builder is bliss when you want to make any kind of table with advanced customization and styling. Here you will get 1000+ customization options from the three biggest styling libraries.
And when you have a little knowledge of HTML and CSS you can just make your tables however you want.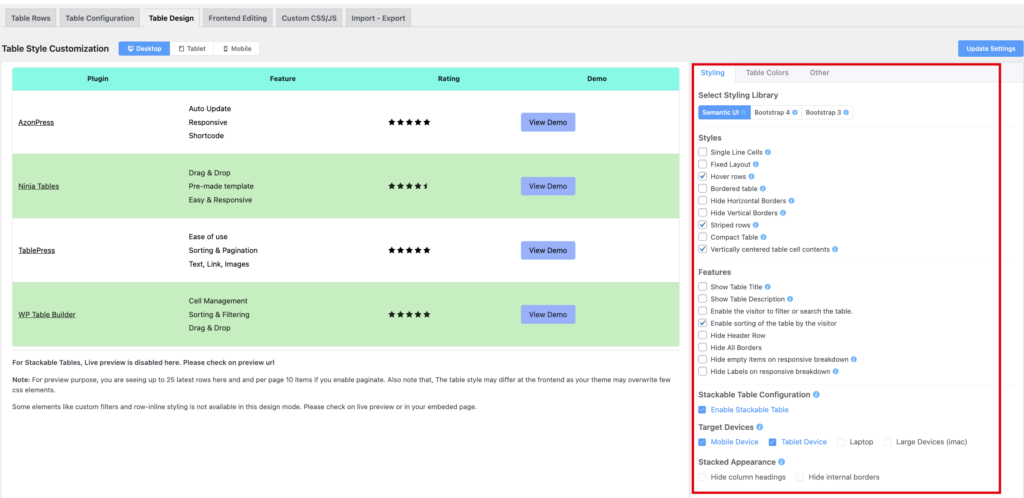 In contrast, TablePress lacks a dedicated customization panel, leaving you reliant on custom CSS for enabling customization options. If you examine the overall table interface of TablePress, you'll notice the absence of a designated design panel.
Responsiveness
Ninja Tables is a responsive table plugin with multiple options to make tables fit any device screen.
You can choose responsive breakpoints to decide what columns should be visible on what device. Or you can enable the Stackable table configuration option to make the tables stackable and responsive for smaller devices.
Both modes of this plugin (advanced and simple) have responsiveness customization options.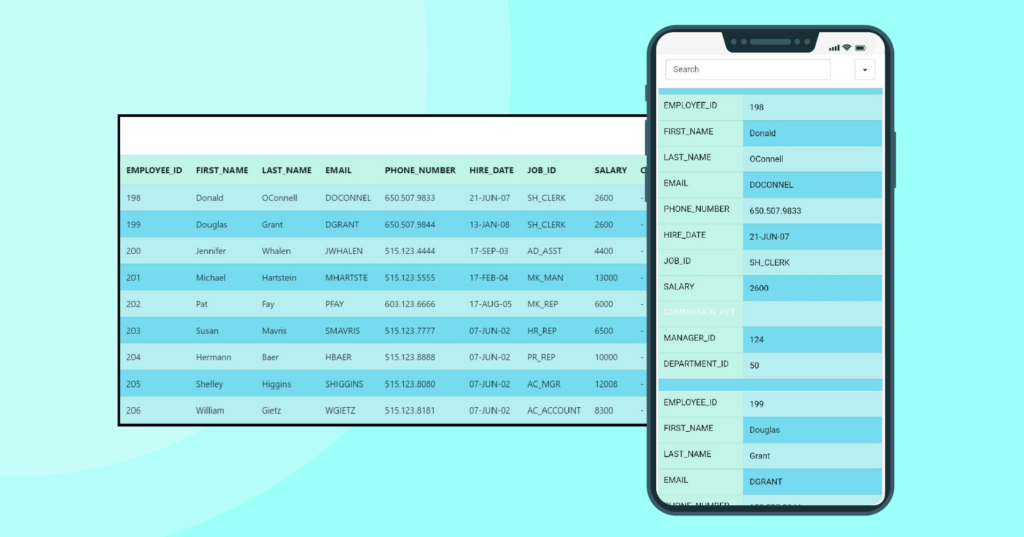 In contrast, by default, TablePress doesn't allow building responsive tables and it also doesn't have configuration options similar to Ninja Tables.
Documentation
In terms of documentation and tutorials, both plugins provide information to some extent. Yet, despite providing service for a long time, TablePress documentation or user guides are quite low.
But, the Ninja Tables docs page on the website is huge! As it will provide you with thorough guidance from getting started to resolving any issues. You can also find video tutorials on Youtube too.
Pricing
For both plugins, pricing varies due to free and premium plans.
TablePress pricing
It provides a Free plan, however, it was completely free till 2022. Currently, it introduced a Pro and Max plan restricting some basic features in the free version.
---
Ninja Tables pricing
Ninja Tables is a freemium plugin, offering both free and pro licenses; annual and lifetime.
*Spring Special Discount
Ninja Tables offers a set of features as a free table builder plugin, but to unlock its full potential, upgrading to the Pro version is recommended.
Unique Aspects of Ninja Tables
Ninja Tables has gained popularity for many good reasons thus it's becoming the top choice for creating tables.
Before wrapping up this article let's find out a list of standout features of Ninja Tables.
Google Sheets integration
WooCommerce integration
Drag and Drop table
Fluent Forms integration
Ninja Charts
Conditional formatting
Table templates
Custom filter
Table design customization
Flexibility and responsiveness
You can check out more features and see for yourself why Ninja Tables stands out.
Ninja Tables– Easiest Table Plugin in WordPress
Final Verdict
Now that we have completed the TablePress vs Ninja Tables with a detailed comparison, we're pretty sure you know which plugin you should go for.
TablePress or Ninja Tables? – Well, the answer fully depends on your need.
If you are looking to build feature-rich tables without any hassle of coding then Ninja Tables is the go-to option for you. It can provide you with multiple options to create and customize tables, all within a single plugin!
And if you're okay with a basic data table and customize it with advanced CSS, TablePress is for you.
Note that you can also apply custom CSS in Ninja Tables to tweak your tables further. With a little bit of coding knowledge – Ninja Tables can take your table-building skills to the next level!
So, which table builder will make your work easier?
Comment with your thoughts below and like, share, and subscribe to our social handles.