How To Create League Points Table in WordPress with Ninja Tables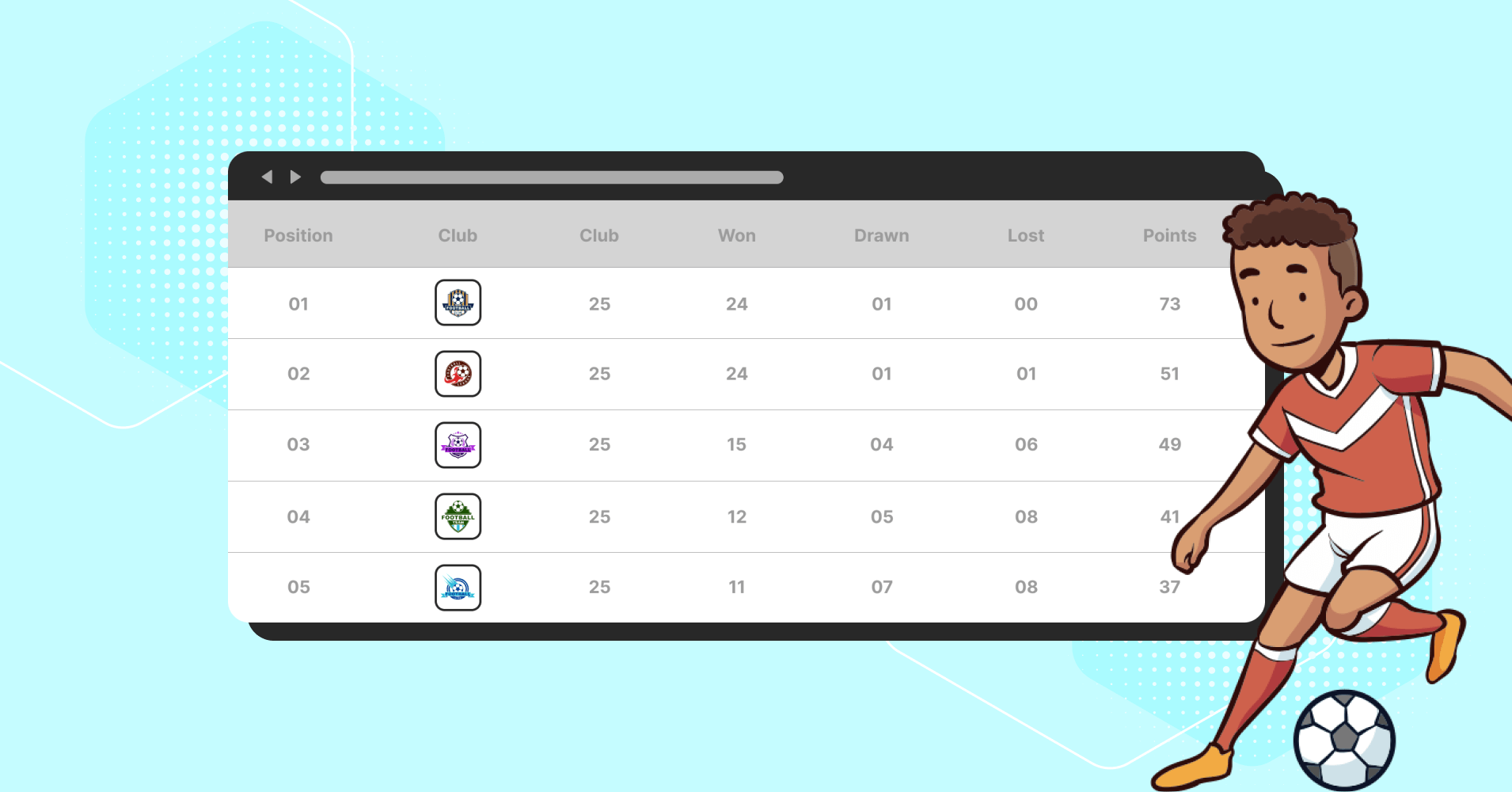 WordPress websites are a blessing for sports journalists and bloggers. It's the easiest way to spread their thoughts all over the world. Make a website, gather data, and make them appealing to visualize.
Today's blog is for those who need the best way to visualize their hard-earned data most efficiently. We'll show you how to use Ninja Tables and make stunning league points table or score table for your websites.
First Things First: Install Ninja Tables
Ninja Tables is a robust table builder plugin to make any table for WordPress websites. It's a feature-rich plugin with a wide range of table-building elements and customization options.
Installing Ninja Tables is as easy as other WordPress plugins. Go to your plugin dashboard, search for it, and click install. After installation, click on activate.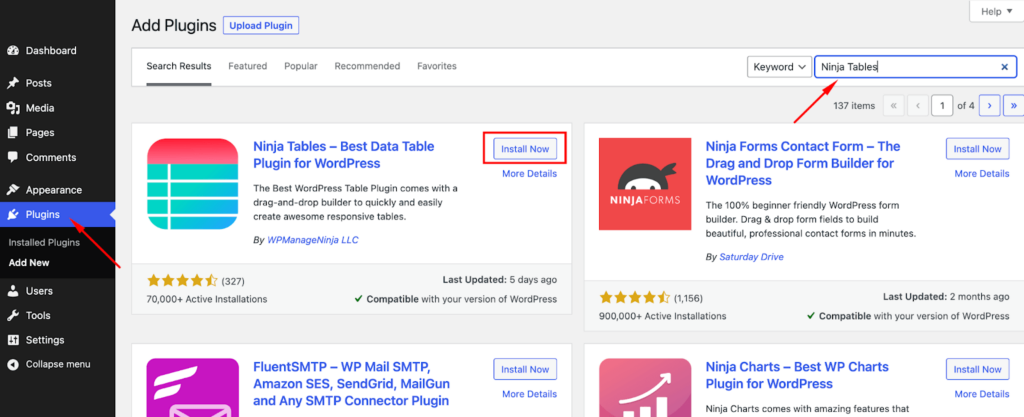 Create a league points table for your website
The best part of making tables with Ninja Tables is the user interface. It is straightforward to create tables.
First, go to the table builder dashboard and click Add Table.
For a league points table, you have to select the default option. Now, define the table title, and if you want, you can give it a short description.
Finally, click on Add to go to the next level.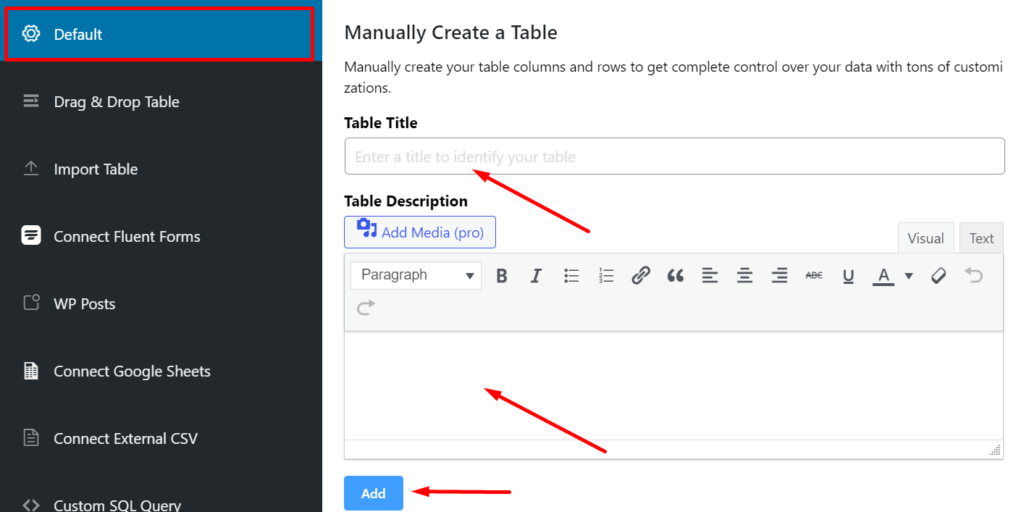 Add columns
It is the step where you need to add your columns. You can add as many columns as you need for your league points table.
To do it, click on Add Column.
Now, set up the basic column settings of your table and add your columns. Here in the Data Type field, you have to choose what type of data you need to add to the columns of your table.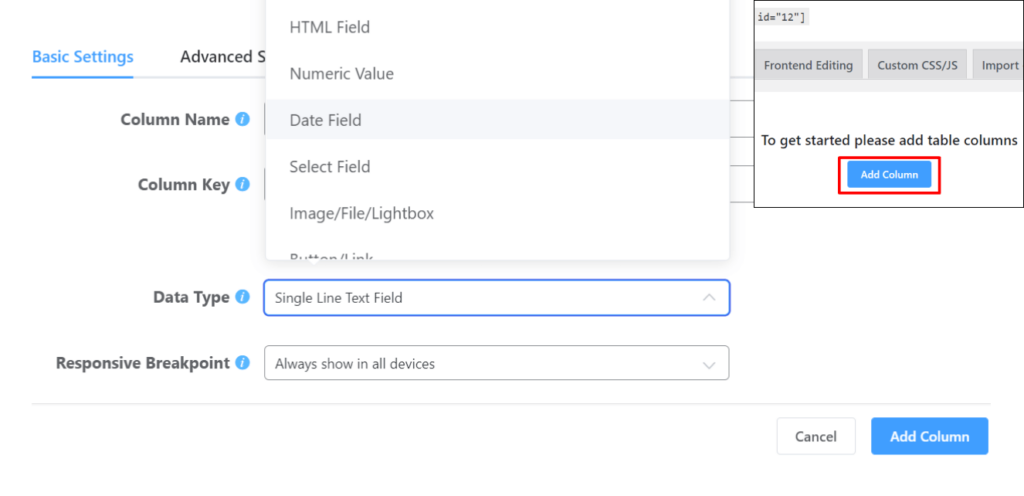 Add rows
When you are done adding columns, it's time to add rows with the data associated with your columns. Ninja Tables' easy interface will blow your mind here too.
To add your data, click the Add Data button. Add row data for every column you added earlier in the next pop-up.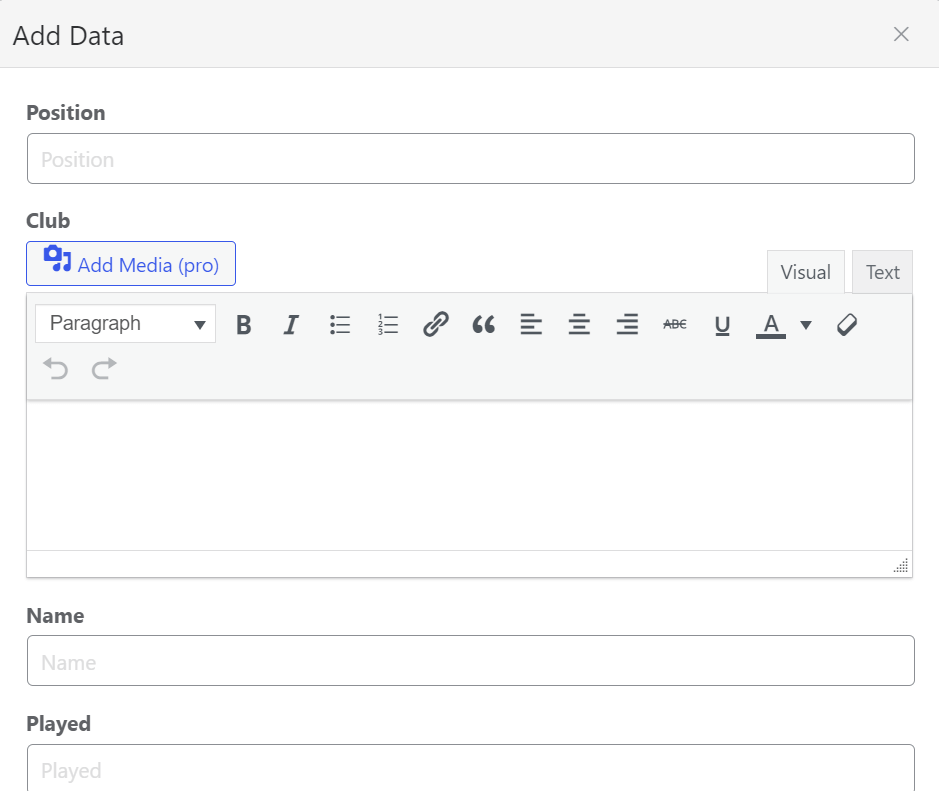 Continue adding all the row data and when you are done, cross the pop-up. Now it's time to set up your table design settings.
Set up the table design
At this stage of design setting, set up the table setting as per your requirements. Ninja Tables' free version offers you the three most popular CSS libraries.
But the pro version is magic with 100+ table styles and unlimited color schema.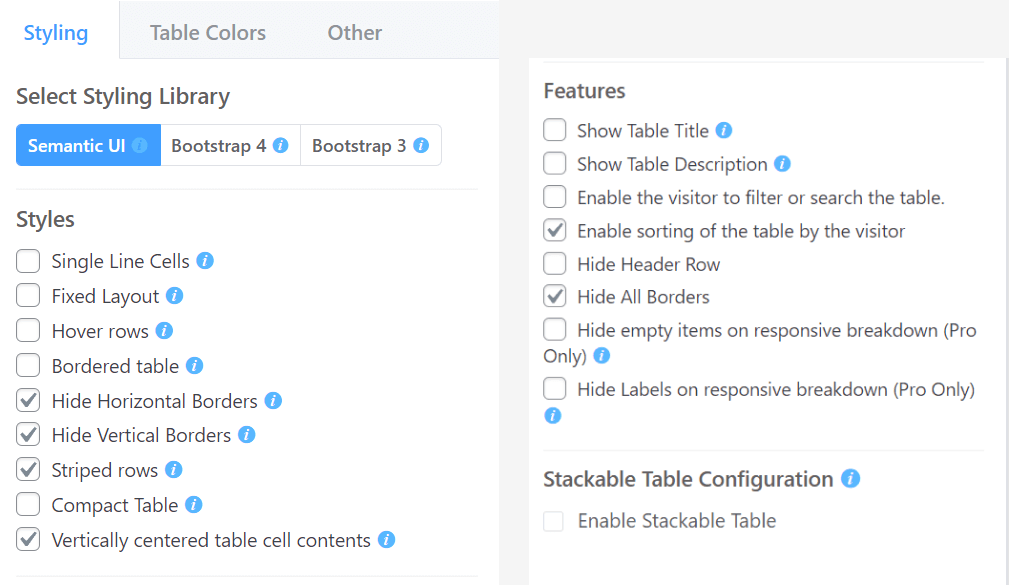 Finish Settings and Embed
With the magic of Ninja Tables, you are already done setting up your whole table.
Now preview what you've done, copy the shortcode, and paste it on any page/post you want.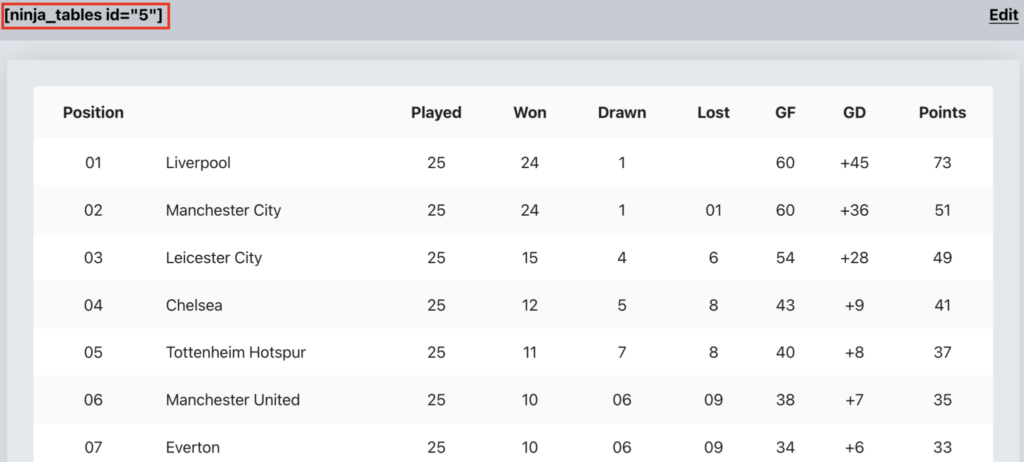 Ninja Table's free version doesn't contain some important elements, so you cant customize and design your table completely.
But the table you made here should be enough if you are a beginner. But, when you need a more stunning table, you must go pro.
Let's see the league points table made here with the free version of ninja Tables. You can download Ninja Tables for free from the WordPress repository.
| Position | | Played | Won | Drawn | Lost | GF | GD | Points |
| --- | --- | --- | --- | --- | --- | --- | --- | --- |
| 01 | Liverpool | 25 | 24 | 1 | | 60 | +45 | 73 |
| 02 | Manchester City | 25 | 24 | 1 | 01 | 60 | +36 | 51 |
| 03 | Leicester City | 25 | 15 | 4 | 6 | 54 | +28 | 49 |
| 04 | Chelsea | 25 | 12 | 5 | 8 | 43 | +9 | 41 |
| 05 | Tottenheim Hotspur | 25 | 11 | 7 | 8 | 40 | +8 | 37 |
| 06 | Manchester United | 25 | 10 | 06 | 09 | 38 | +7 | 35 |
| 07 | Everton | 25 | 10 | 06 | 09 | 34 | +6 | 33 |
Customize the table(PRO Users)
Ninja Tables pro makes you a full-stack table creator. It is featured two table builder modes. The simple mode allows you to make your table the easiest way possible. And the advanced mode enables you to create almost any kind of table.
We're offering a limited-time discount on Ninja Tables LTD(Up to 50%). Don't forget to check out the deal!
The mobile responsiveness is so amazing that you don't need to worry about any screen size device. And there are a lot of templates to save your precious time. And for the developers, add HTLM/CSS and make any changes.
WooCommerce product table and Google sheet integration are some of the pro features to make your table auto-synced.
Overall, it's the complete table builder plugin when you are a Ninja Table Pro user. Let's see the same league points table above made with the Pro version. We added an image and Icon column to our table.
Position
Club
Played
Won
Drawn
Lost
GF
GD
Points
Last 5
01
Liverpool
25
24
1
60
+45
73

check

check

check

check

check

02
Manchester City
25
24
1
01
60
+36
51

remove

check

minus

check

check

03
Leicester City
25
15
4
6
54
+28
49

remove

check

minus

remove

check

04
Chelsea
25
12
5
8
43
+9
41

minus

remove

check

remove

check

05
Tottenheim Hotspur
25
11
7
8
40
+8
37

minus

remove

check

remove

check

06
Manchester United
25
10
06
09
38
+7
35

minus

remove

check

check

remove

07
Everton
25
10
06
09
34
+6
33

remove

check

minus

check

check
Now, create your league points table like a PRO
Users, followers, and clients demand a few basic characteristics from sports websites. The League points table is unquestionably at the top of that list.
In the above article, we demonstrated how to quickly and easily add a league points table using Ninja Tables. Without a single line of coding, of course. Whether you are creating a sports website for yourself or someone else, this will save you a ton of time.
Have you already checked out Ninja Tables? It is absolutely free in the WordPress repository. And to make your tables fully efficient, you can try the most cost-efficient table builder plugin- Ninja Tables.
Ninja Tables– Easiest Table Plugin in WordPress