How to Generate Leads, Increase User Engagement, and Drive Traffic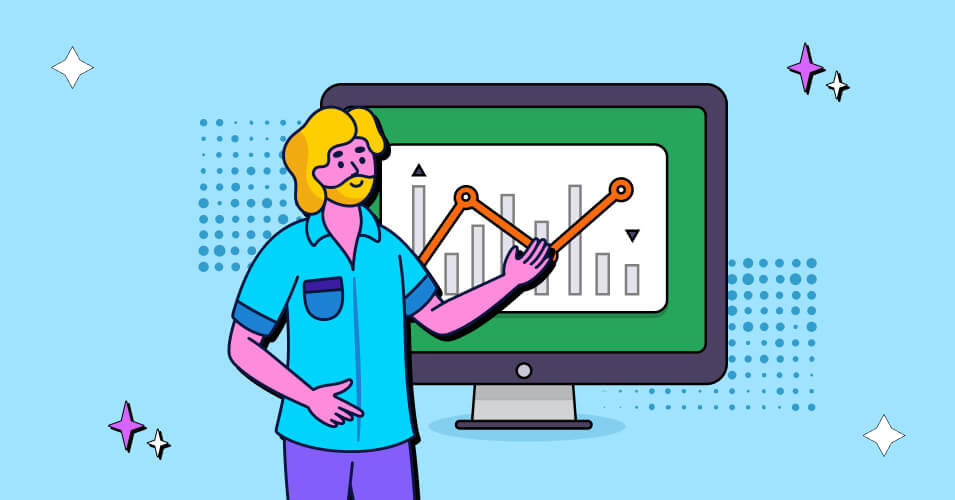 Crafting an engaging website involves more than just a catchy design and a few blogs. To increase user engagement and traffic, the website journey, design, messaging, performance, and structure all play their own role.
Generating new leads and increasing user engagement are the most important tasks that every business needs to successfully address to grow, and your WooCommerce website is no different.
From lead generation and customer engagement to turning them into permanent ones, we're here with some insider tips. If you're wondering how to increase website engagement, take a look below.
Lead generation
Organic lead generation's ultimate objective is to collect relevant data from potential clients so that they can be developed and turned into paying clients. But finding the ideal lead for your offerings sometimes can be a trouble.
Getting past these obstacles and attracting customers to your online store is only half the job done.
What is lead generation?
Lead generation means recognizing, engaging, and nurturing potential buyers' interest in your products which leads to conversion.
What is user engagement?
You need to persuade website visitors to stay in your sales funnel when you launch an online store, blog, or website.
User engagement is how your business maintains its reputation as a trusted and recognized brand to clients.
The shift from stranger to customer is a lot more natural when they show organic interest in your company. At that point, you must provide them a motivation to remain, explore, and join the flow of traffic.
What makes a website engaging?- 10 tips and tricks
Let's go over the user engagement strategies now that you know how lead generation fits into the engagement process.
Here are a few pointers for going the extra mile to engage those generated leads.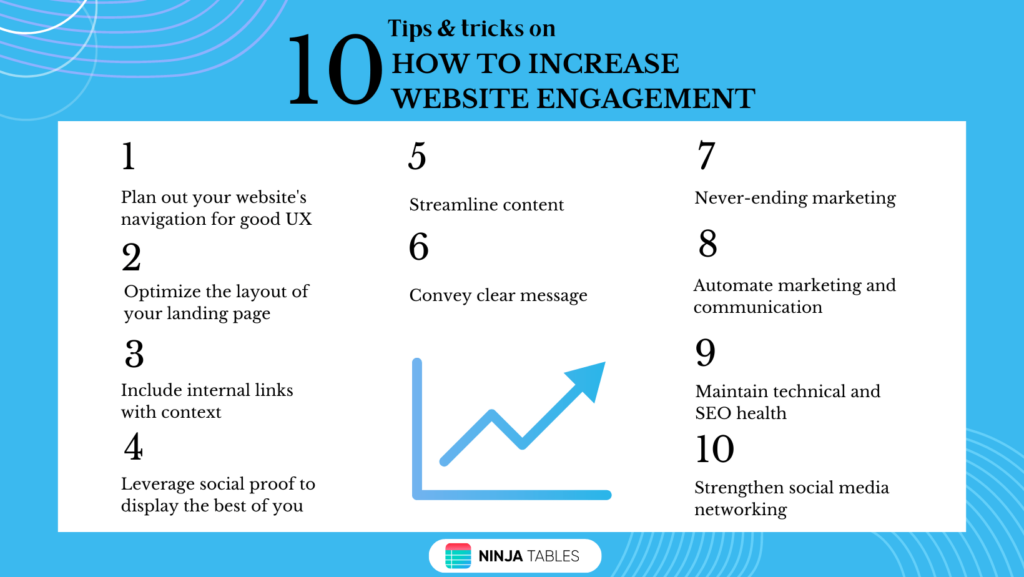 Plan out your website's navigation
You don't want your visitors to roam around aimlessly. Unsure of how to set up your primary navigation? Think about the intention of the visitor.
High-value pages, such as the product and service pages, must be highlighted.
Avoid the urge to cram everything into a single navigation bar.
When someone visits your website for the first time, you don't want to overwhelm them.
In our experience, simplified navigation enhances engagement.
Add CTA for them to take an action.
Optimize the landing page layout
To generate a conversion and practice lead engagement, your first impressions must be compelling enough.
Your landing pages must hold visitors' attention once they arrive at your website.
Think of every page on your website as a conversion funnel.
Colors and graphics are not always important. Give them proper value through the content.
Try to keep them engaged without distractions like too many moving graphics or popups.
Include internal links of context
These links' main objective is to point users to relevant content on your website.
Contextual links point people in the direction of other resources without taking attention away from your key CTAs.
Furthermore, internal links create a distinct data chain on your website and support the distribution value. It leads to lead engagement.
Leverage social proof
Modern audiences strive to stay updated with the latest trends, driven by the fear of missing out (FOMO).
Capitalize on this by leveraging real-time sales and interaction notifications.
It gives your visitors a sense of urgency to buy your stuff immediately. After all, no one likes to be excluded.
Streamlined content
Regularly update your content to reflect the latest offerings and trends.
When thinking of a brand, people associate it with little details often. It's called brand awareness. Other than the product lists, you may also display a dedicated section for your blogs, content, or information to engage leads.
The blogs definitely need to be well-designed with a table of content and proper visual guides.
Convey clear message
The secret to generating qualified leads and increasing website traffic is to align your value proposition with the target population's needs.
Avoid excessive business jargon and communicate your message concisely.
Clearly convey your company's identity, offerings, mission, and what your business is about.
Never-ending marketing
Now how to increase website traffic organically? Like knowledge, marketing is an endless yet eventful process.
Keep up-to-date sync with the trending and compatible marketing techniques under your sleeves to give all a little jazz from time to time.
If you keep your visitors satisfied, entertained, and engaged, it'll give long-time traffic organically.
Automate marketing and communication
Implement a personalized, customer-focused communication system.
Consider audience interests when using communication data to build effective campaign strategies and engage leads. Utilize tools like automatic follow-up emails for communication and increase user engagement with content automation.
Maintain technical and SEO health
You must prioritize SEO optimization in lead engagement strategy. Make sure your website display is responsive on all kinds of devices.
Don't compromise your product table or media display. Use stackable table features for mobile responsiveness of product tables.
Strengthen social media networking
In today's scenario, you can never ignore the power social media holds for businesses.
'Pull marketing' tactics such as influencer marketing, reels, review clips, content creation, and personalized brand association are to name a few.
Different types of content that drive website traffic can be used to increase user engagement. Stay relevant and ace your marketing game.
11 strategies to increase website engagement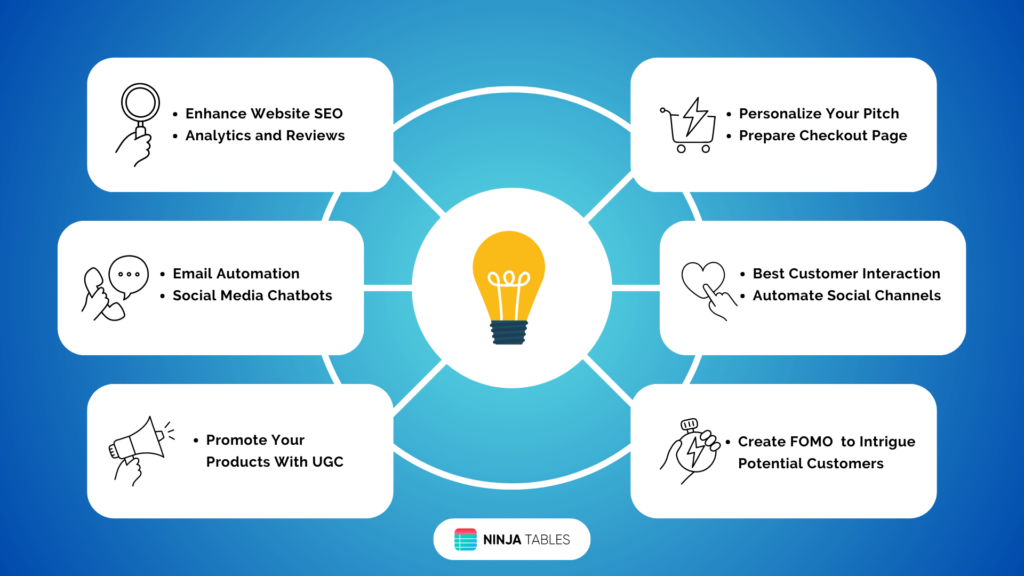 Extend SEO strategy to drive higher volumes of organic traffic to your website.
Drive website traffic with content to engage the audience and boost credibility.
Make the most of social media by integrating chatbots and promoting interactive experiences.
Craft personalized pitches that speak to each person's needs.
Dive deep into analytics and reviews to make data-driven decisions.
Drive your interactive customer communication to the next level.
Leverage FOMO marketing techniques by using sales notification popups to encourage customers to make purchases.
Automate email marketing to engage leads and smoothly promote conversions.
Tap into streamlined and automated social media channels.
Develop a finely-tuned checkout page that collects information for automated email reminders.
Use high-quality website engagement tools and plugins for better website performance.
From lead generation to boosting engagement
Nowadays, simply finding leads is not enough if the objective is to utilize relevant leads and convert them into customers.
An unbranded lead could look ideal, but it has little to no practical value.
To put it another way, the objective nowadays is to move beyond organic lead generation to engagement, ensuring successful campaigns.
Engagement comes in here to close the communication gap between you and your visitors. Launching a lead generation campaign without focusing on customer retention is a common error.
Get them to stick around and explore if you want to turn visitors into paying customers and get conversion.
Lead generation and increasing engagement together improve the campaign's marketing success.
It doesn't have to be a choice between one or the other.
Lead generation, user engagement, and driving traffic altogether
First, a customer learns about your company via one of your marketing platforms, such as your website, blog, or social media.
A call-to-action (CTA) is a picture, button, or message that prompts website visitors to click.
That CTA directs the user to a landing page, a website created to lay information or service details.
Once on the landing page, your visitor roams around, checking out the details. If your resources match their vibe they're most likely to spend a few good minutes on your website.
Now you have a new competent visitor. And, yes a customer, as long as you engage leads correctly.
See how it all works together?
Final thoughts
As you may expect, the majority of businesses have a lead generating strategy. They mostly target the viewers using similar marketing campaigns. How can you guarantee that customers respond to your content differently than competitors?
Make sure customers instantly feel associated with your brand and stay at your online doorsteps.
Once you've united all of these pieces, you can start producing organic leads to increase traffic for your sales funnel conversion.
We've talked about some of the most useful techniques to focus on increasing engagement on your website. So start implementing these incredible ideas to elevate your performance.
If you have any questions or insights, please feel free to share them in the comments section below.
Ninja Tables– Easiest Table Plugin in WordPress