How to Write a Google Review for a Company + Examples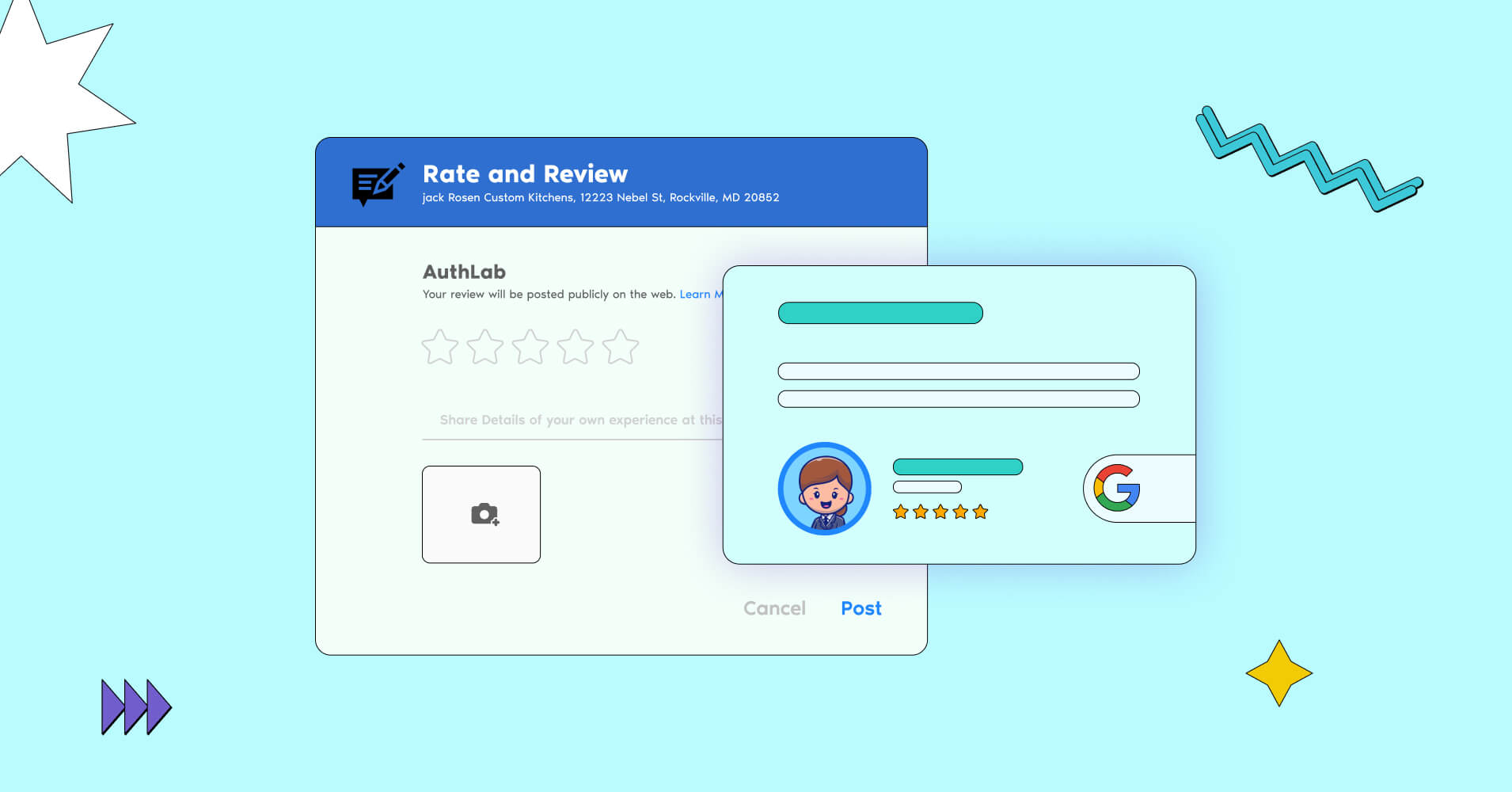 It's not the nineties anymore when a buyer sees a beautiful ad on the TV and starts buying. 95% of people read online reviews before buying anything. And over 81% of them are likely to visit Google Reviews before visiting a business.
After seeing the stats you must realize the importance of Google reviews. So if you are a business needing reviews or a customer eager to write reviews for beloved companies, believe us you can make a difference with your reviews.
Here today, we'll accompany you with a comprehensive walkthrough of the importance of sharing your valuable Google reviews and finally how to write a Google review for a company, ensuring that all your customers can easily grasp the steps involved.
Let's explore.
How Google reviews help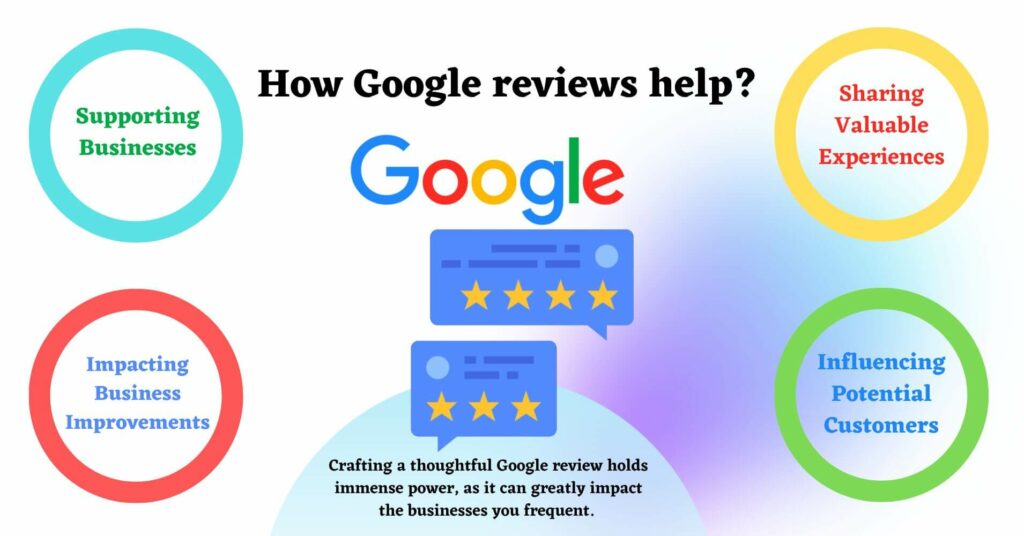 Crafting a thoughtful Google review holds immense power, as it can greatly impact the businesses you frequent.
Your feedback serves as a pillar of support for local establishments, influences the decisions of potential customers, and fosters an environment for business growth and improvement.
Moreover, it provides you with a platform to share your experiences and connect with others in a meaningful way. Let's explore some compelling examples of how Google reviews can truly make a difference:
Supporting Businesses: Sharing a review of a neighborhood business makes you an advocate for it helping promote offerings and attracting more customers. You contribute to the success of the business and strengthen the community economy.
"Last week, I enjoyed savoring the best latte at Creamo Coffee House. The barista's warm and friendly demeanor paired with the meticulously crafted foam art made it a memorable experience.
(Example)
Impacting Business Improvements: Your constructive feedback catalyzes businesses to identify areas in need of improvement. Highlighting specific issues inspires them to address shortcomings that help future customers.
While I enjoyed my meal at The Lemon Garden, it was not overly busy but took an extended period for our food to arrive. I hope they focus on improving efficiency. I look forward to a better experience next time.
(Example)
Sharing Valuable Experiences: You can share your experiences with a wider audience which helps businesses in understanding their strengths and weaknesses while offering potential customers an honest perspective through your review.
My visit to Panshi Inn left much to be desired. The unhelpful staff and delayed delivery were disappointing. I sincerely hope they work on improving their customer service in the future.
(Example)
Influencing Potential Customers: Your well-crafted review holds the potential to sway the decisions of potential customers, guiding them towards remarkable establishments or exceptional products.
Recently, I had the pleasure of indulging in the mouthwatering Margherita pizza at Cafe Aurko. The crispy crust and fresh toppings came together perfectly. I strongly recommend it for a classic pizza experience.
(Example)
Writing a Google review empowers you to share your experiences, connect with others, and contribute to success. So, embrace the opportunity to make a difference through your valuable feedback.
Why Google reviews matter for a company
Google reviews hold tremendous significance as they contribute to boosting a business's credibility and elevating its SEO ranking. As the most popular search engine, customers place greater trust in businesses adorned with positive reviews on.
Furthermore, favorable reviews pave the way to higher rankings on Google search results, underscoring the necessity for businesses to manage their Google My Business profiles diligently.
In summary, here is a beautifully encapsulated list of the remarkable benefits bestowed by Google reviews:
Elevating SEO Ranking: Positive reviews contribute to a business's visibility and prominence in search engine rankings, ensuring a greater online presence.
Credibility boost: Google reviews establish trust and authenticity, augmenting a business's credibility in the eyes of potential customers.
Informative Insights: Google reviews provide valuable opportunities for potential customers to gain insights about a business before deciding to engage with it, enabling informed choices.
predicting Customer Needs: Reviews serve as a powerful tool for businesses to understand and predict the needs and desires of their esteemed customer base.
Reputation: Google reviews allow businesses to take charge of their online reputation by actively monitoring and responding to customer feedback.
Considerations Before Leaving a Google Review
Now you know how Google reviews help and how it matters for a business. Let's see what we need to consider before writing a Google review for a company.
Non-anonymous reviews: Google requires all customers/users to sign in with their Google accounts before being able to submit a review, ensuring transparency and accountability.
Public visibility: Your Google reviews will be displayed publicly, showcasing your profile name and picture, and contributing to an open and authentic review ecosystem.
Wide reach: Expect your Google reviews to appear not only on Google services like Maps and Search but also on various third-party websites and applications that utilize Google services to present a Google reviews widget.
Compliance with policies: It is essential to adhere to Google's policies when crafting your reviews. Take the time to familiarize yourself with these guidelines for a successful and effective review.
Business review control: Businesses cannot delete negative reviews themselves. However, in the case of a fraudulent or fake review, businesses have the option to report it for further investigation.
Best Practices for Writing a Google Review
Unlock the potential of your Google review by employing these valuable tips, ensuring its helpfulness and informativeness.
Embrace specificity: Avoid generic statements like "good" or "bad" and instead delve into the specifics. Elaborate on what precisely contributed to your positive or negative experience.
Uphold honesty: Resist the temptation to embellish or fabricate details. Maintain the integrity of your review by providing an authentic account of your experience.
Foster constructive feedback: If your encounter was less than satisfactory, offer constructive suggestions on how the business could enhance its operations or customer service.
Stay current: Time is of the essence. Reserve your reviews for recent experiences, refraining from reviewing businesses you visited years ago. Keep your feedback relevant and timely.
By incorporating these valuable guidelines, you will create a Google review that not only aids fellow users but also serves as a beacon of helpfulness and insight.
How to Write a Google Review for a Company
Always remember, your honest reviews serve as guiding beacons for others, empowering them to make well-informed decisions while wholeheartedly supporting local businesses.
Delve into the realms below, where meticulously crafted step-by-step instructions, adorned with captivating screenshots, reveal the path to writing a Google review on both mobile and desktop platforms.
How to Write a Google Review on a Desktop?
There are two places where customers can submit Google reviews for a business: Google Search and Google Maps. Now, let's delve into the specifics and explore each platform in more detail.
Write a Google review in Google search
Here is a refined version of the steps for leaving a Google review on the desktop in Google Search:
Step 1: Open Google search results and enter the business name of the company.
Step 2: On the right side of the search results, locate the Business profile.
Step 3: Scroll down and click on the Write a Review button.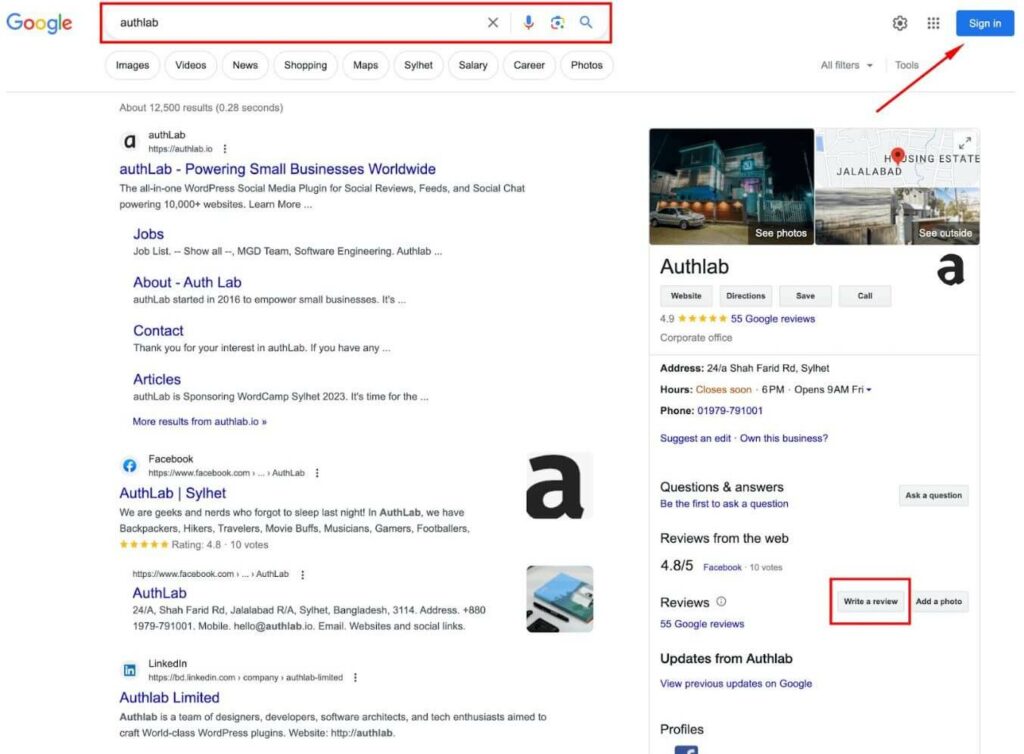 Step 4: A pop-up window will appear, prompting you to log in to your Google account.
Step 5: Once logged in, you will gain access to the review form where you can write your review and even upload photos.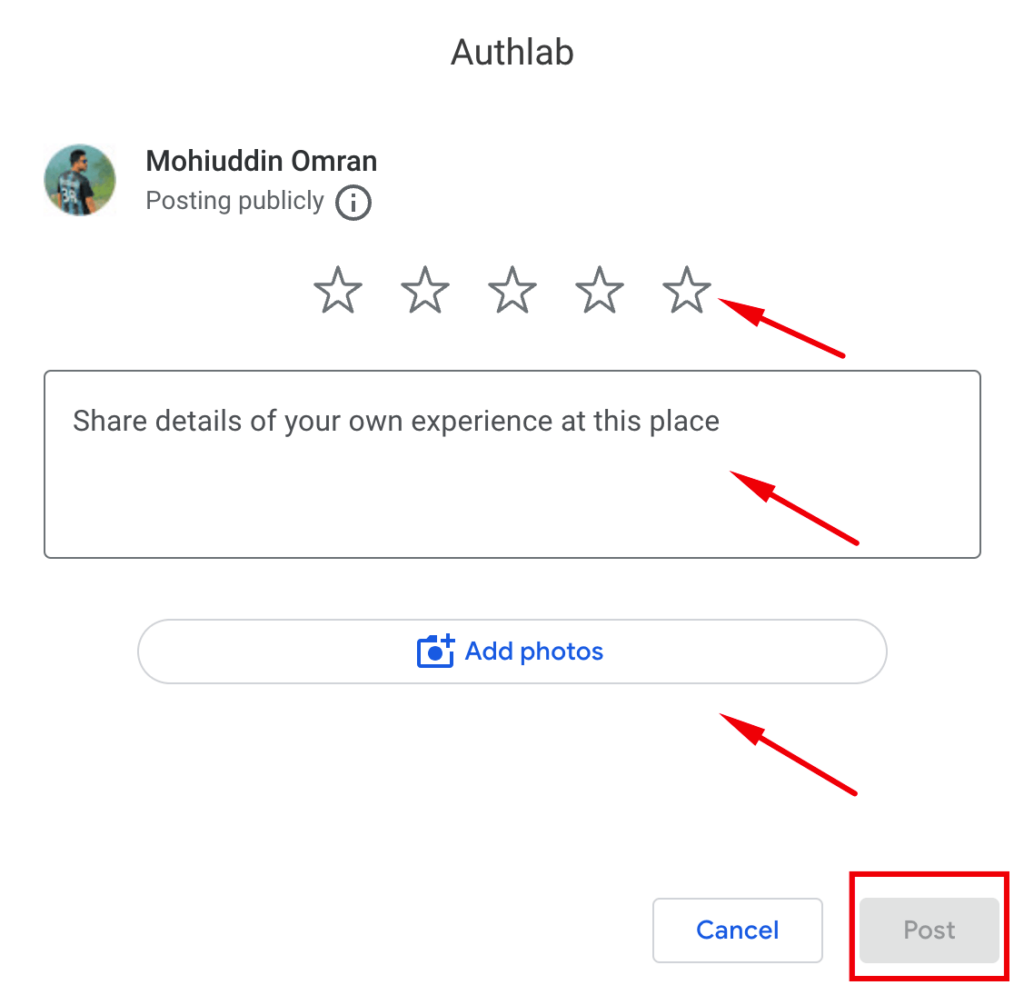 These steps are easy to follow, allowing you to leave a Google review for a business using Google Search on your desktop.
Write a Google review on Google Maps
All the ways of giving reviews on Google are almost similar. So, if you found the location of your desired agency or shop on Google Maps, you can follow the below steps to review a business there.
Step 1: Launch Google Maps and search for the desired business.
Step 2: Once the business information is displayed, go to the left-hand panel and click on the Review button.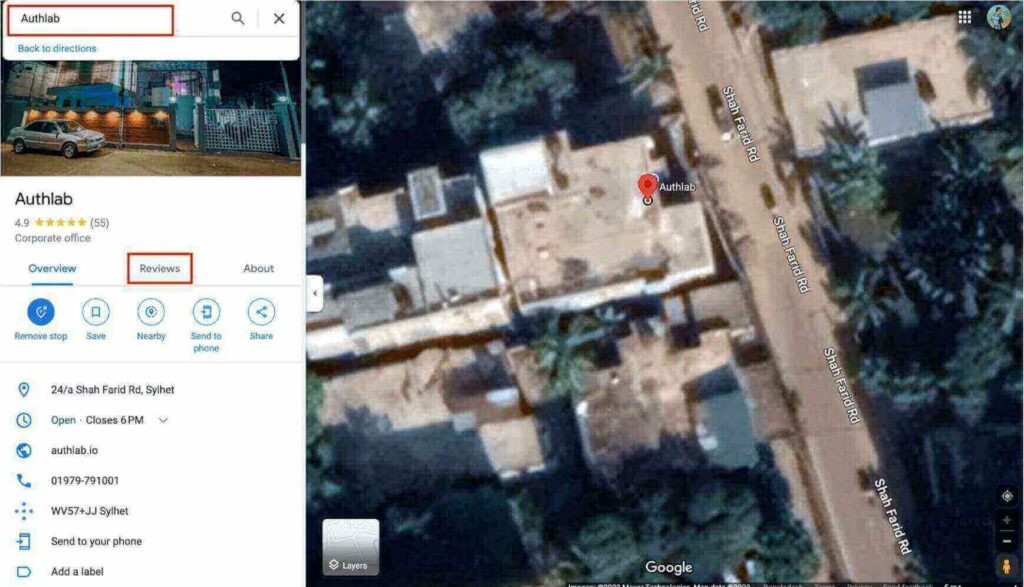 Step 3: You will get a review page where all reviews and ratings are displayed. Click the Write a Review button in the middle, and a pop-up window will appear where you can write your review. After completing the review, click Post.
Step 4: To view your review, refresh the page, and it will be visible in the Reviews section.
By following these steps, you can leave a Google review for a business using Google Maps.
How to Write a Google Review for a Company on Mobile?
Just like on a desktop, there are various methods for leaving a Google review on a mobile device. It is even more convenient for users to do so on mobile because they may be physically present at the business location where they wish to write the review.
Additionally, businesses often provide review links through email or QR codes, making it effortless for customers to tap the link and directly leave Google reviews through a form. Here is a guide on how to accomplish this on a mobile device.
Write a Google review in the mobile browser
To compose a Google review using the mobile browser, please follow these instructions to enhance your experience:
Step 1: Open Google.com in your mobile browser and enter the name of the business. 
Step 2: From the search results, navigate to the Reviews section and tap on the star icons to assign a rating (Choose 4 or 5 stars for a positive review, 3 stars for a neutral review, and 1 or 2 stars for a negative review).
Step 3: A popup will appear, allowing you to write your review and attach photos if desired.
Step 4: After completing your review, tap on the Post button to submit it. Your review will be visible within a few minutes.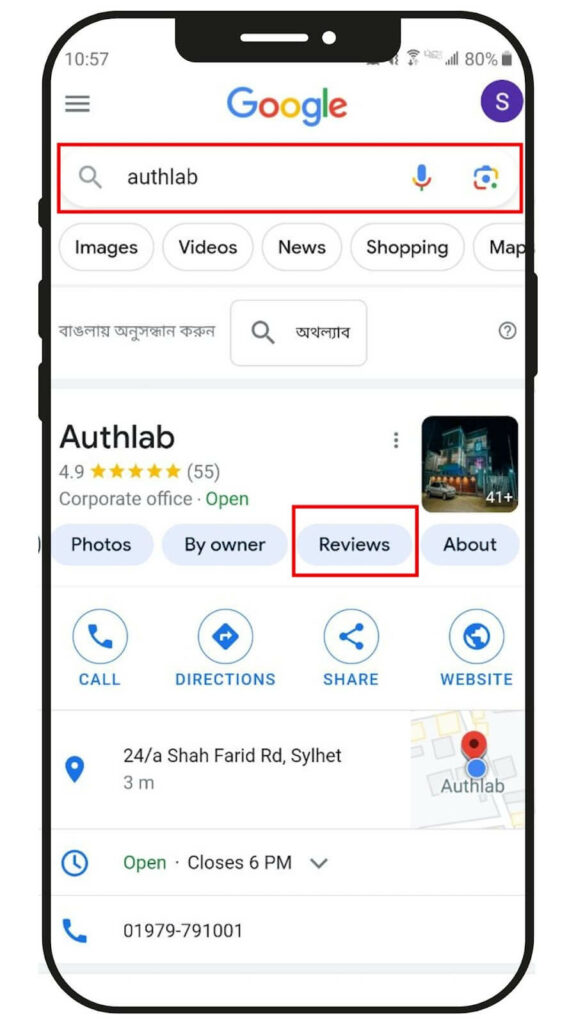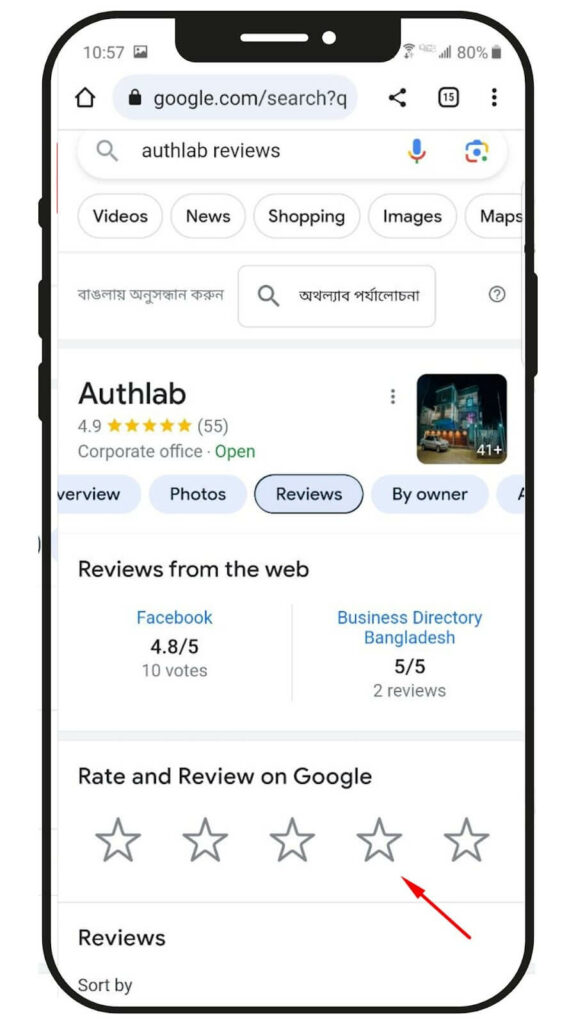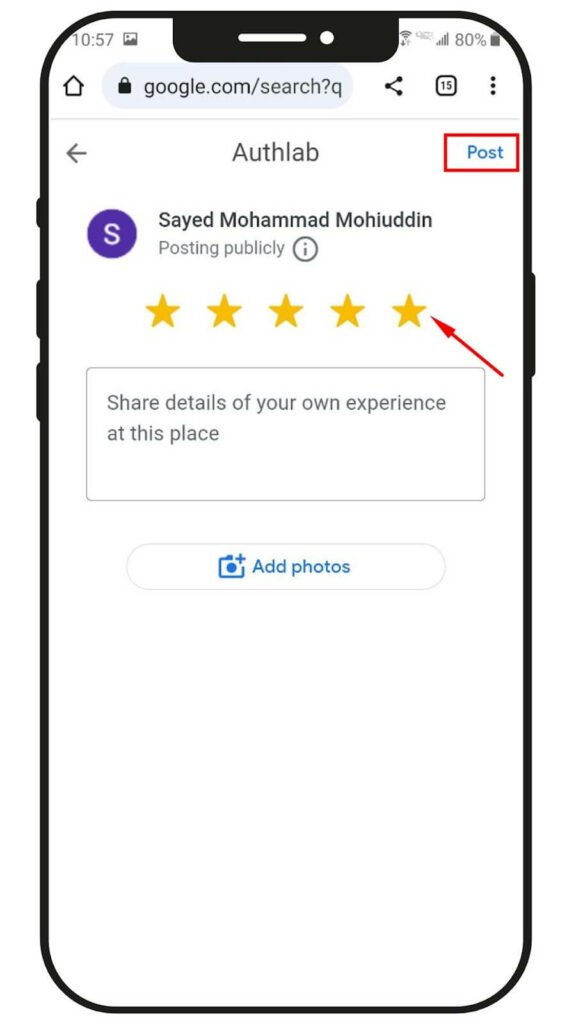 By following these steps, you can effortlessly write a Google review through the mobile browser, enhancing the accessibility and convenience of sharing your feedback.
Write a review in the Google Maps app
The process of submitting a review in Google Maps is similar to the aforementioned steps. The only distinction is that you need to utilize the Google Maps app and conduct the search within the app itself. Here are the steps for writing a Google review using the Google Maps app on your Android or iPhone device:
1. Google Maps: Begin by opening the Google Maps app on your iPhone or Android device. If you don't have the app, you can download it from the Google Play Store or App Store.
2. Locate the Business: Enter the name of the business you wish to review in the search bar located at the top.
3. Access the Reviews: Scroll down on the business profile page until you reach the 'Reviews' section.
4. Select the Star Rating: Tap on the star icons provided in the Rate and Review section to indicate your preferred rating.
5: Compose Your Review: Utilize the input area to write your review, expressing your thoughts and opinions.
6: Submit Your Review: Tap the 'Post' button to submit your review. Congratulations! You have successfully written a Google review on your Android or iPhone device using the Google Maps app.
By following these steps, you can effortlessly share your feedback through Google Maps, providing valuable insights to others and contributing to the business's online reputation.
How to Edit a Google Review?
If you need to make corrections or add more details to your Google review, you can easily do so by following these steps in Google Maps, just you need to be signed in to your Gmail account.
Step 1: Go to the review section from your desktop, mobile browser, or Google Maps app, and go to the review you added to a company.
Step 2: Choose Edit review right under the review. And make the necessary changes or additions to your review.
Step 5: Once you have made the desired edits, click Post to update your review.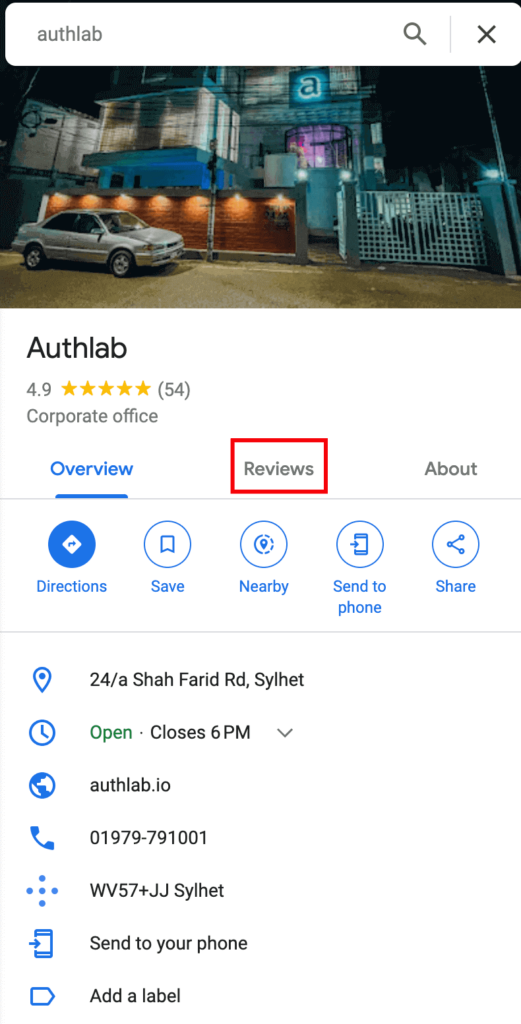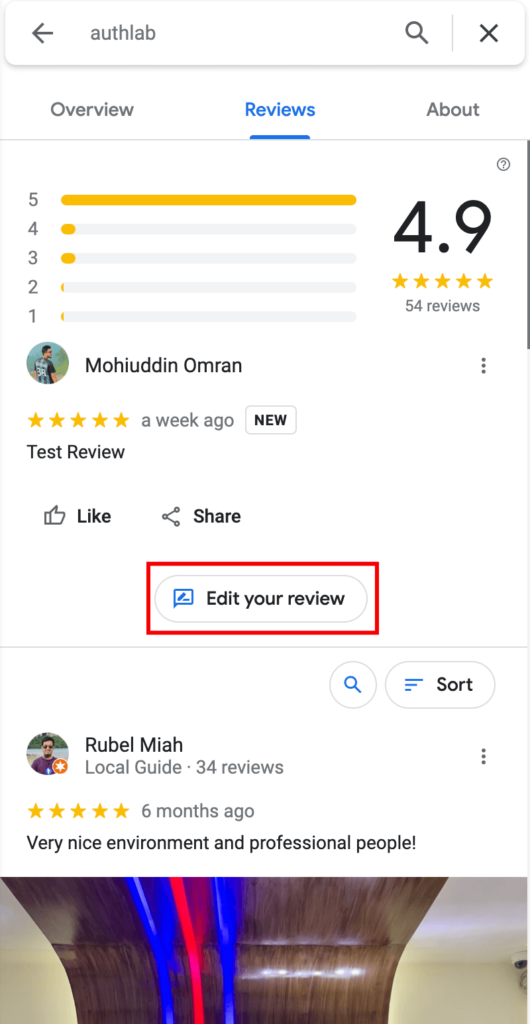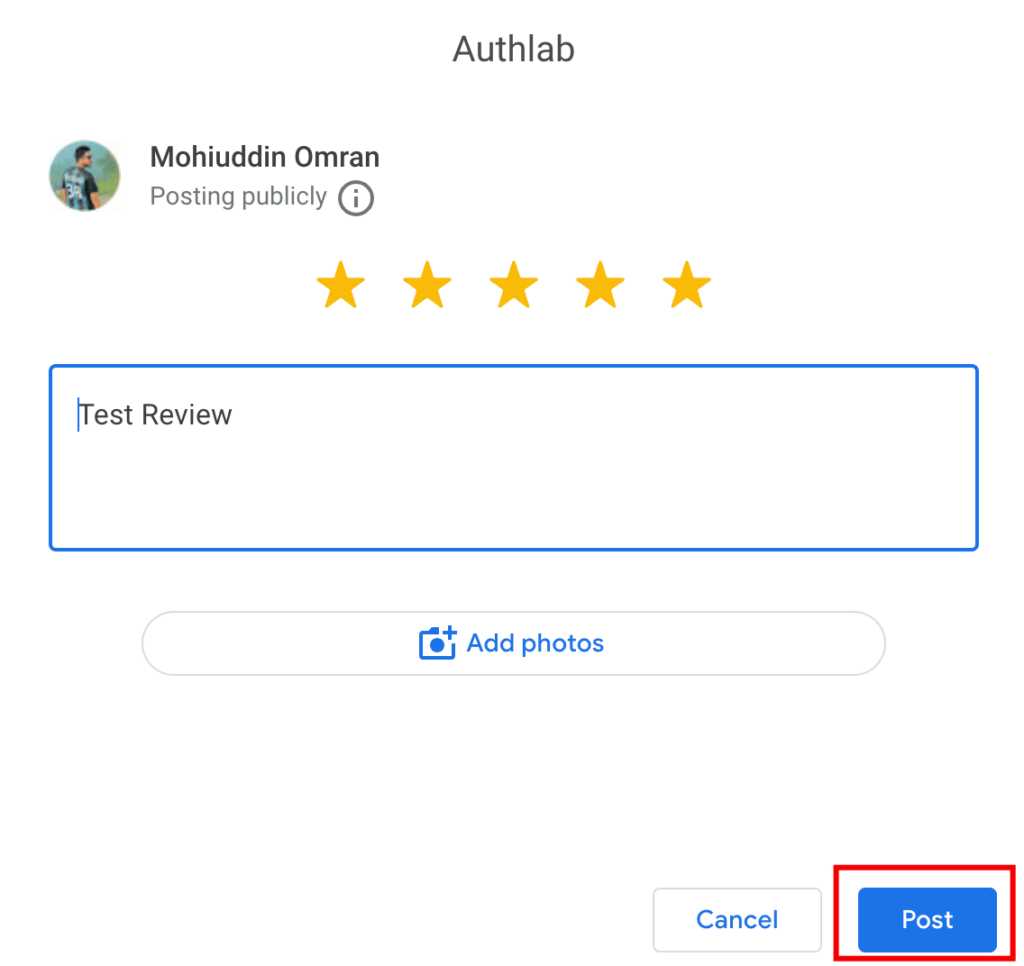 Please keep in mind that it is quite common for customers to edit their Google reviews, particularly when businesses actively manage reviews and promptly respond to any negative feedback.
How to Delete a Google Review?
If you have submitted a review and wish to remove it, you can do so. To delete your own Google review you can follow the above steps of editing reviews or you can do so following the below steps.
Step 1: Click on the menu icon located in the top-left corner.
Step 2: Select Contributions from the menu options and scroll down to find the review you wish to delete.
Step 3: Choose Delete review from the available options.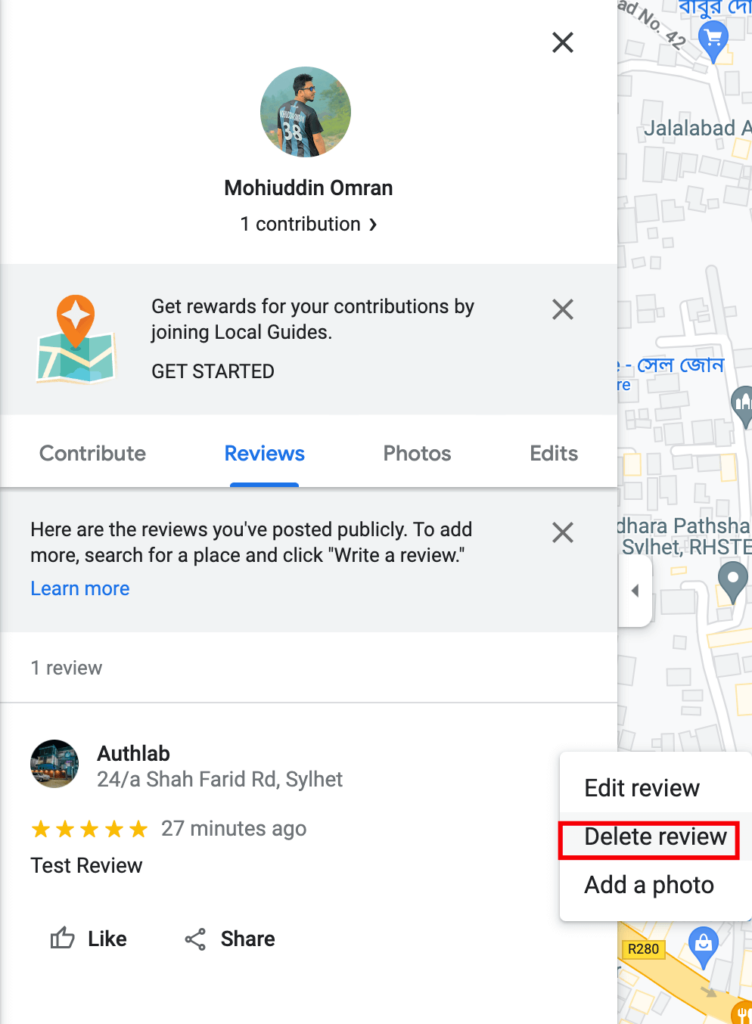 By following these steps, you can easily delete your own Google review through Google Maps. However, please note that the actual owner of the business can't delete Google reviews.
In the case of a fake or inappropriate review, the business owner can flag it as inappropriate and rely on the Google team to decide to delete it.
Earn from your Google reviews
Users contribute to Maps voluntarily. There is no way to earn money by contributing to Maps.
BUT!
Yes, there is a 'BUT' because you can use these reviews on your website to showcase your testimonials. And that can bring you a lot of credibility for your website or business.
If you are a blogger or someone who wants to make an identity by reviewing things, you can easily create tables for free to showcase your reviews on your WP Websites.
Easy user interface

Drag and drop table builder

Advanced table building option

Templates and 100+ table styles

WooCommerce Integration

SEO friendly tables

Only CSV & JSON supported

Not all tools are available in free version
Like, if you are a restaurant reviewer, you can write blogs on a list of all the restaurants nearby. Your review can help people to get a better view of the quality and make their decisions easier.
1
2
3
Hot Grills Point - Yum!
★★★★★ (299 Reviews)
Get Hot Grills & Spice Any Day!
Book Your Table: Now
Booking Open: 9:00
Booking Ends: 18:00
Sweets & Stuff -

 

Desserts


★★★★★ (99 Reviews)
Get Hot Grills & Spice Any Day!
Book Your Table: Now
Booking Open: 9:00
Booking Ends: 18:00
Food On FIRE - Spicy
★★★★★ (199 Reviews)
Get Hot Grills & Spice Any Day!
Book Your Table: Now
Booking Open: 9:00
Booking Ends: 18:00
Good Food Day -

 

Bistro


★★★★★ (1000 Reviews)
Start a good day with good food.
Reservation: On Spot
Oenophile -

 

Wine Tasting


★★★★★ (999 Reviews)
Visit for a fun ride with fun wines.
Reserve: Open
Chef's Den -

 

Food Hub


★★★★★ (499 Reviews)
Best for food all over the world!

Reserve: Now
Reservation Open: Call or visit
Shop Closes: 20:00
And finally, If you want to showcase your Google reviews on your WordPress website you can use WP Social Ninja. Integrate this social media plugin to perform all-in-one functions for managing your Google reviews.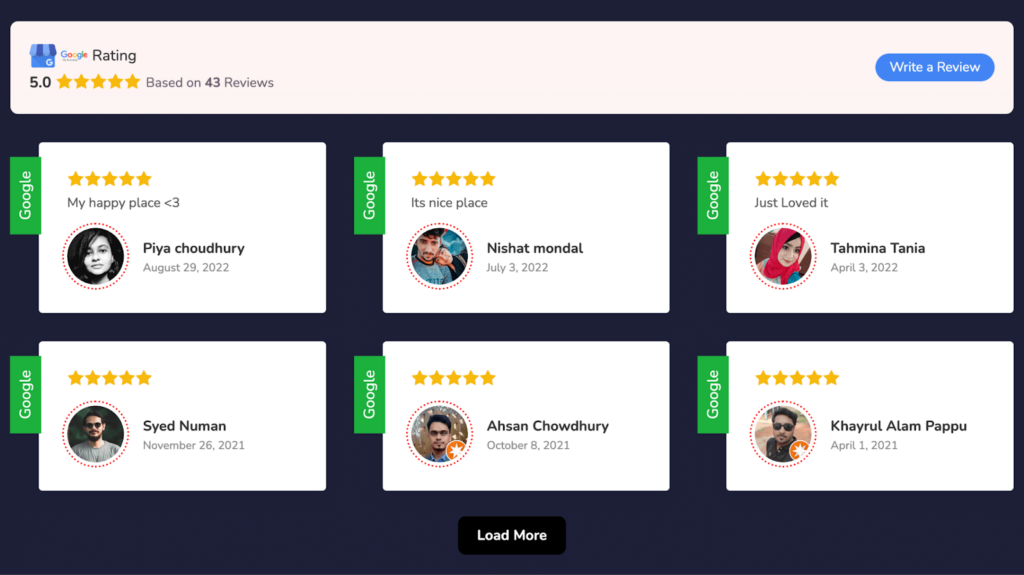 Some Frequently asked questions on Google review
Are Google reviews free?
Google Reviews is a free service to enhance the online business that empowers you to gather invaluable feedback from customers who have completed a purchase on your website.
Why can't I see my Google review?
Occasionally, Google reviews fail to appear due to technical difficulties. It could be because the review violates one of Google's policies. Furthermore, it might also occur if a reviewer has flagged the review for some reason.
How do I write a review on Google?
If you want to share a review on anything, you have to be honest in your expression. Elaborate on the product or service, highlighting the specific ways that benefited you. Provide specific details, to make your review more impactful and valuable.
How do I write a business review on Google?
To write a review for a local business on Google, follow these steps:
Search for the business on Google.
Scroll down on their listing or click on their reviews in Google Maps.
Click "Write a Review."
If you're not already signed in, a sign-in box will appear. Sign in using your Google account to proceed with leaving a review.
Why can't I write a Google review?
To ensure transparency, Google requires users to sign in with their Google accounts when submitting a review. Anonymous reviews are not allowed. Businesses are unable to remove negative reviews independently, but they can report fake reviews if necessary.
Where can I write a Google review for a company?
There are many review sites where you can find reviews on businesses and you can review them too.
Google Business Profile (formerly Google My Business)
Facebook Page Reviews.
Better Business Bureau.
HomeAdvisor.
ConsumerAffairs.
Glassdoor.
Foursquare.
Can I write a review without having a Google account?
Previously, it was feasible to write reviews on Google without an account. However, at present, it is no longer possible to submit Google reviews without a Google account.
Is a Google Business Profile free?
Absolutely! The Google Business Profile is completely free. By creating a profile, you can ensure that your local business appears on search engines and is easily discoverable by people seeking online reviews.
In short
Google Reviews offers valuable benefits for both customers and businesses. To make the most of this opportunity, it is important to provide a comprehensive, objective, and respectful description of your experience. 
Leaving a Google review not only allows you to express your appreciation for a business's services or products but also increases its visibility to a wider audience.
Considering the widespread use of Google in our daily lives, your potential customers are likely to come across these reviews. Thus, collecting Google reviews becomes vital for local businesses aiming to enhance their online presence.
Ninja Tables– Easiest Table Plugin in WordPress