Introducing Ninja Tables 5.0.0: Smoother, Lighter, and More Powerful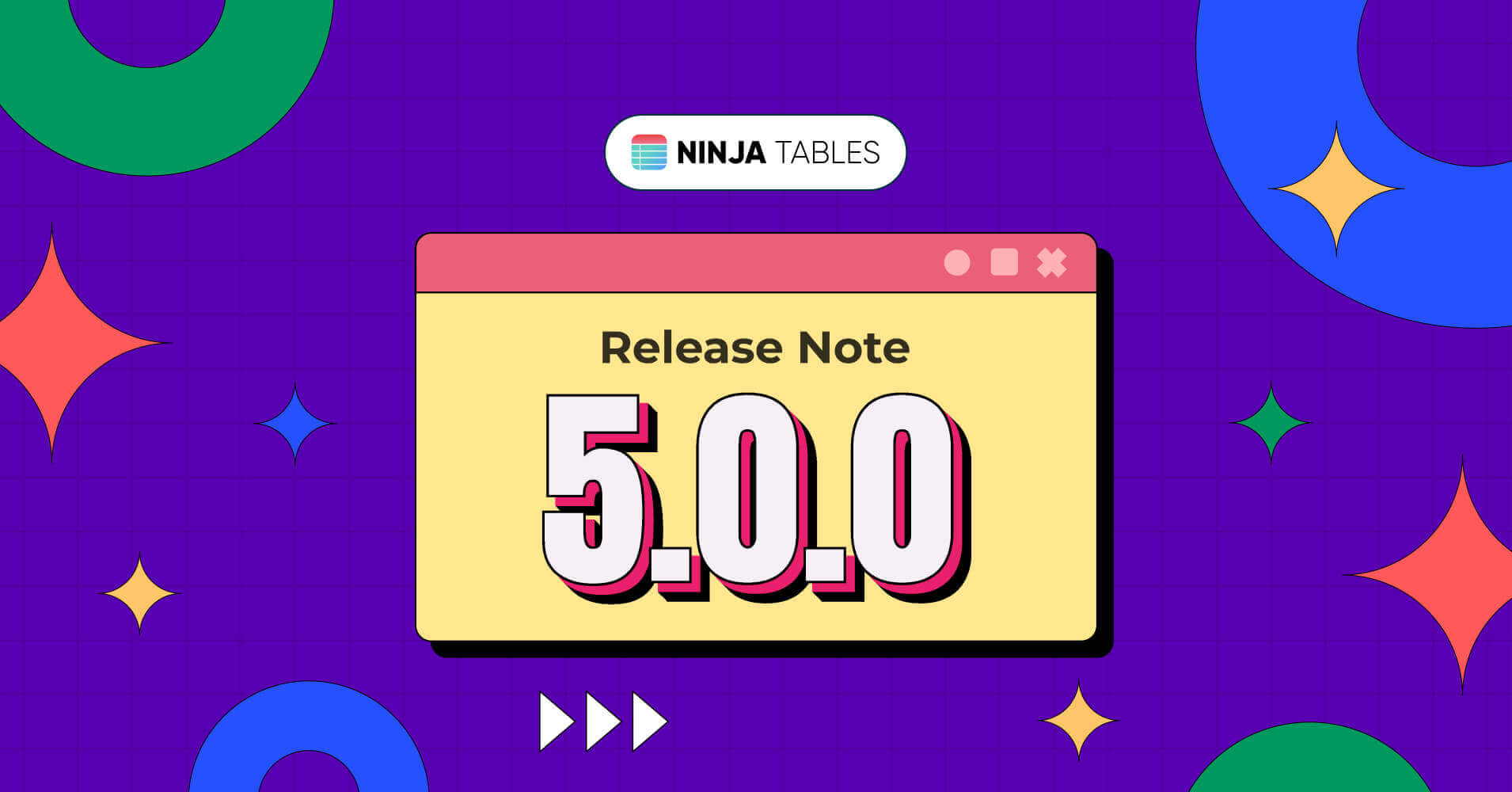 'Team Ninjas never settle for less,' with this spirit – we've been working hard to push the boundaries of excellence.
We're thrilled to introduce our highly anticipated first major update of 2023 – presenting Ninja Tables 5.0.0!
In this update, we shifted our focus to bug fixing and fine-tuning our entire plugin to enhance the overall performance.
So let's find out what's inside this updated version of Ninja Tables 5.0.0.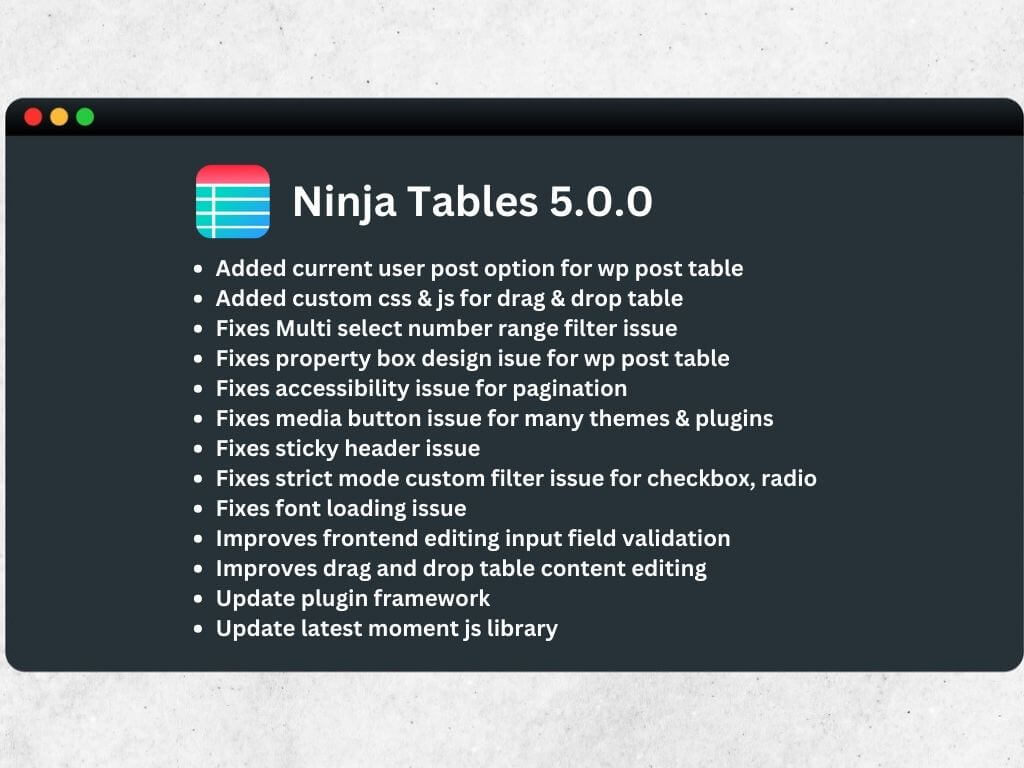 Updated Framework: Feel the Power of the Latest Technology
The updated framework enhanced existing functionalities, improved table customization options, and added better compatibility with the latest WordPress 6.2.
Have a look at the major updates this framework brought:
Design stunning drag-and-drop tables with improved functionalities.
Added custom CSS and JS to the drag-and-drop table, allowing you to personalize however you want.
Ensured accurate filtering with the fixes made to checkboxes and radio buttons.
Improved pagination experience so you can easily navigate through your tables.
Our current framework update has also provided a developer-friendly interface in the plugin's backend- allowing faster development, easier maintenance, and improved troubleshooting.
Smoother UX: Experience An Effortless User Experience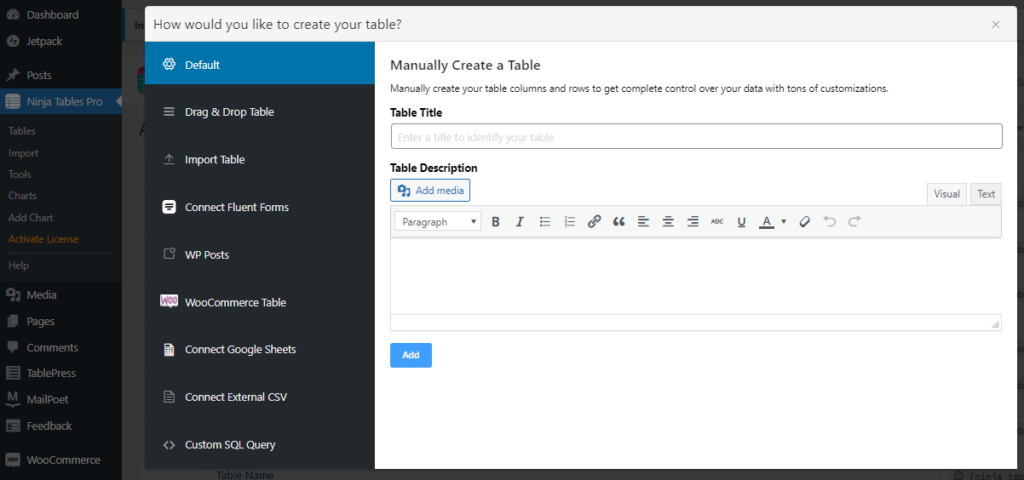 Since Ninja Tables is a feature-rich table maker, it's understandable some of you faced minor issues with the initial loading speed of the table. Now, with the changed framework, it's been resolved!
We made several changes to our plugin architecture such as fine-tuning our code structure and improving the cache mechanism in order to provide a better and faster user experience.
These changes now enabled users to experience:
Faster loading times both for the plugin and table interface
Smoother user interactions
Improved table performance
As a whole, the framework update will ultimately provide you with an enriched and effortless user experience.
Bug Fixes: Eliminating Glitches
We, the Ninja team, always value our customer feedback so we continuously try to eliminate bugs and glitches.
Like all previous updates, we fixed some major bugs in the current update of Ninja Tables 5.0.0.

Let's see what changes these updates brought:
Resolved glitch issues while designing the table.
Eliminated the design issue related to the property box in the WP Posts Table.
Fixed multi-select number range filter and property box design for the WP Posts table.
Fixed the sticky header issue by ensuring it remains fixed and visible even when scrolling.
Fixed font loading speed, ensuring all font load and get appropriately applied.
Updated the Moment.js library to its latest version, allowing you to easily display dates and times in different formats.
Improved the validation of input fields in the frontend editing feature,
Fixed media button issue for many default themes ensuring better integration.
Feature Request Implementations: Your Feedback, Our Priority
In the latest update of Ninja Tables, we added not just one, but two significant implementations that will add even more value to your table
WP Posts Table: User-Specific
Due to some limitations, users couldn't create WP Posts tables specific to their own posts before.
But now you can!

We introduced a dedicated field in the WP Posts panel, to effortlessly build customized tables using just your own posts.
Drag And Drop Table: Custom CSS & JS Field
The Drag and Drop table module previously only had an HTML cell element. Now, we've introduced CSS and JS fields specifically designed for the drag-and-drop table format.
Whether you are a coding expert or have a knack for customization, you have access to customize your drag-and-drop table however you want.
Consequence
So, that was the update we promised at the beginning of the year 2023. Now we are a more powerful community with 80K+ happy users.

We are very excited that now we can execute most of your feature requests ASAP. And with this dedicated framework, we believe we can provide you with a lot of new updates and features.
As a consequence of this big release, we assure you that you are not facing any issues.
For the Free users, just update the plugin from your WordPress plugin dashboard and feel the smoothness of this amazing WP data table builder plugin.
The Premium Users, just update your free and pro versions and take control of all your website tables, personalize them, and design like a pro. We assure you there are no limitations, the only limitation can be your creativity.
And the users who didn't update their pro licenses, we recommend you renew your license ASAP. There can be a small conflict, but that won't break any of your tables. But, for the uninterrupted and best experience, opt-in for Ninja Tables Pro.
Create Smart Data Tables Easily!
What's next?
At Ninja Tables, we believe that progress is a never-ending journey. We're thrilled to announce that Ninja Tables 5.0.0 is just the beginning of an exciting year ahead!
Our dedicated team of Ninjas is hard at work, to ensure Ninja Tables keeps getting better and better. So, stay connected, more surprises are about to come in the coming days.

Till then we believe this latest version will give you an enhanced performance, efficiency, and speed – so you can get more done in less time.
What are you waiting for? Get your Ninja Tables Pro license now!
Ninja Tables– Easiest Table Plugin in WordPress