A Beginner's Guide to Ninja Tables Drag and Drop Builder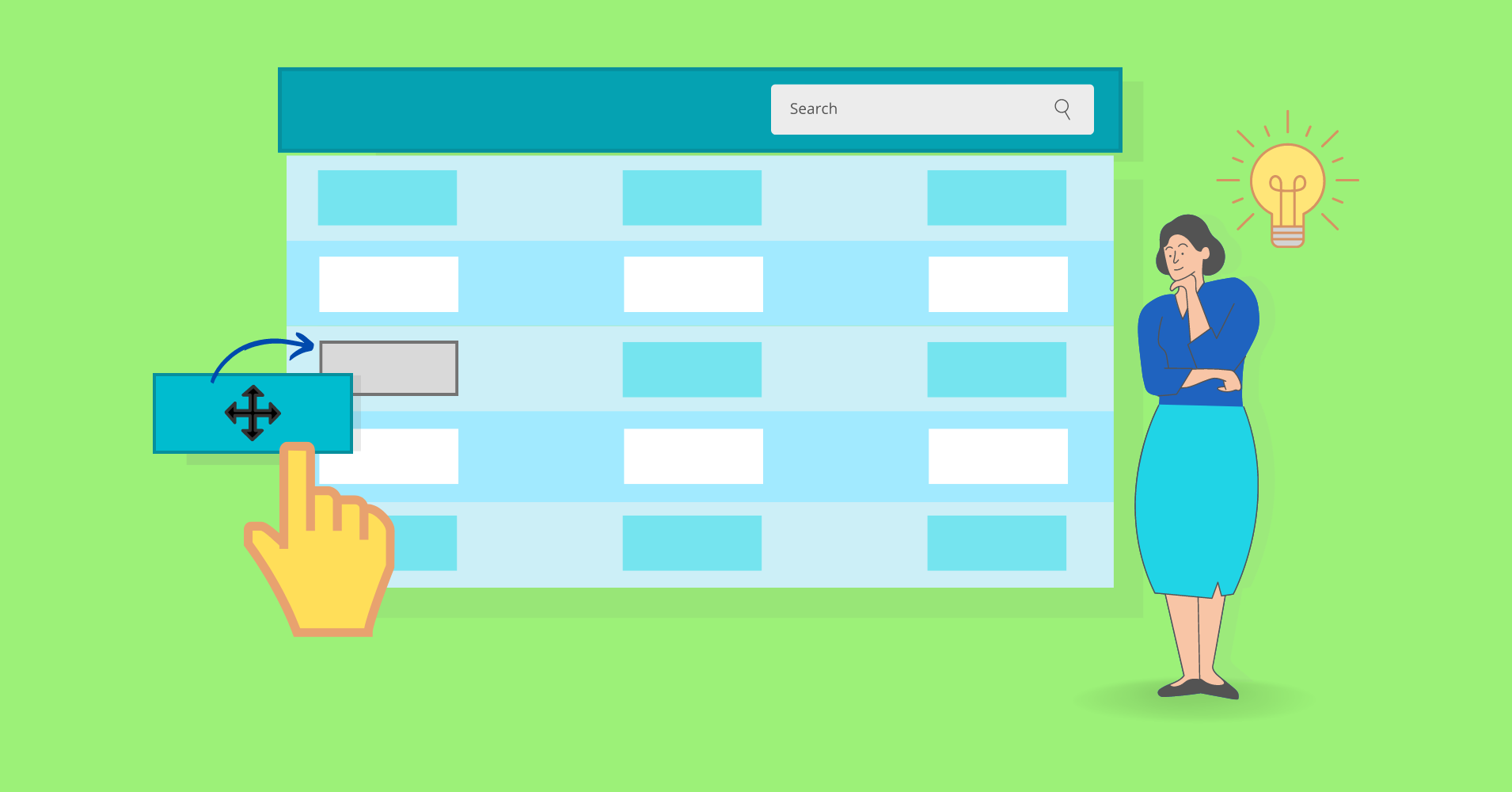 A perfectly organized and smart-looking website is hard to find. Displaying data in a table makes things much easier for the audience. With a WordPress drag and drop table plugin, your website can look the most organized.
And we bring Ninja Tables for that. Create tables in no time with the drag-and-drop table element function. It's like a table builder in a table builder!
How to use Ninja Tables drag and drop table feature
The recent update tweaked and fixed many previous features of this table plugin. However, adding the "Drag & Drop" module was a game-changer!
Creating advanced and stylish tables with the feature-packed plugin was already a massive deal. But users can now also create simple tables by dragging or repositioning table cell elements.
First of all, install and activate Ninja Tables on your WordPress dashboard.
P.S.- "Drag and Drop" is available in the free version
(Some cell elements are pro)
You can create a drag and drop table by picking any of the following options.
Manually create a table with drag & drop
Step 1: Click the "+/-" buttons or type the desired numbers to add rows and columns
Step 2: Click "Create"
Step 3: Pick and drag any table element to drop on the table
You can drop multiple elements in one cell.
Import CSV/JSON
This feature is amazing because you can edit any table with the drag-and-drop options when you import its CSV/JSON file.
Drop the imported file to upload
Paste the URL of the table you want to import (Pro)
If you have a WooCommerce product table made with advanced Ninja Tables features, you can import the table here and customize it with the star rating element or buttons.
Edit prebuilt table templates
Finally, here's the fun part!
No need to break a sweat to build tables from scratch. Ninja Tables drag and drop gives you four prebuilt templates you can customize per your requirement.
Pricing Tables
Comparison Tables
Employee Tables
Schedule Tables
The tables are made with dummy data. You can change everything, including row/column numbers, cells, colors, etc.
Customization features of Ninja Tables drag & drop table
When you enter the drag-and-drop editor, you'll find three primary tabs-
Other than these, two buttons sit on top of the table-
Elements
| | |
| --- | --- |
| General table elements | Advanced table elements |
| Text | Styled list |
| Button | Ribbon |
| Icon | Progress |
| Rating | Text icon |
| List | |
| HTML | |
| Shortcode | |
| Image | |
Settings
Cell padding

Text alignment

Separate columns/rows

Height/width

Accessibility (Table role)

Table

Presentation

List

Row group

Table border size

Border color

Inner border

Inner border color/size

Margin top

Font size

Font color

Font family
Responsiveness
General
Enable responsive table
Mode options
For mobile, tablet, & desktop
Top row as header
Static top row
Manage cells
Click on a cell to get cell-specific options.
Hold the "Shift" button on your keyboard and select multiple cells to merge them together. Do the same to split cells.
The selected cell will be highlighted for you to manage anything about it.
Other than managing stuff like merge/split or row/column settings, you can also select a column to add a background highlight on it.
Simply click on a column and pick the box shadow color from the menu.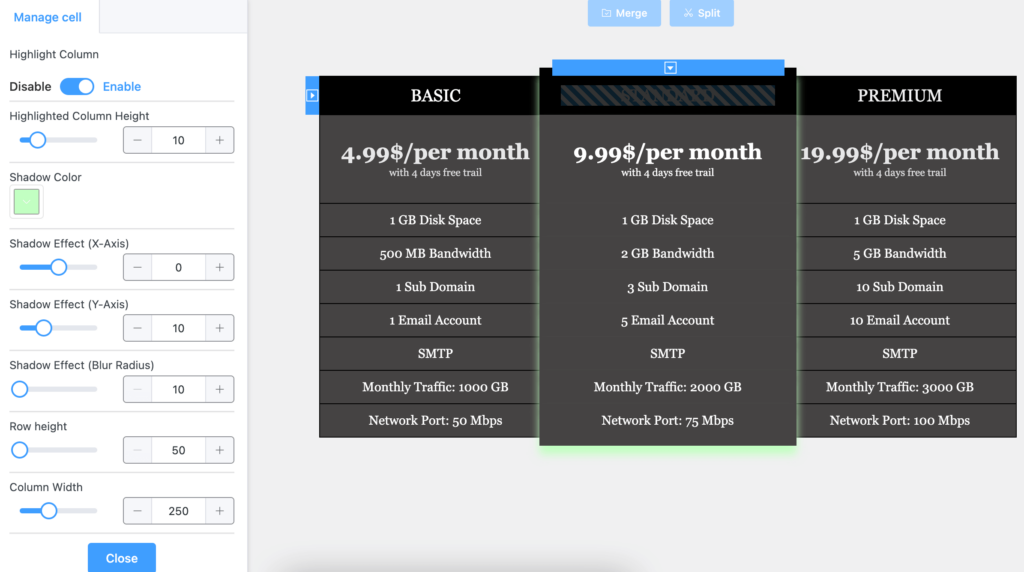 Customize the pricing tables for your webstore fast!
Background
This is a quick-designing way, so you don't need to go to settings and change colors.
Ninja Tables features: Quick overview
As we've mentioned, the "drag-and-drop" feature is available in free and pro versions of Ninja Tables. It's an extra table creation mode and contains some exclusive features of its own. For example, star rating, progress, list items, etc.
Get a quick overview of all the features below.
Features
Pro
Free
Unlimited data

check

check

Multimedia

check

remove

WooCommerce product table

check

remove

Google Sheets Auto-sync

check

remove

Drag & drop table builder

check

check

Fluent Forms integration

check

check

Custom color scheme

check

remove

Import-export

check

check

Conditional formatting

check

remove

Transform value

check

remove

WP posts

check

remove

Pre-built templates

check

check

Custom filter

check

remove

Select Field, Lightbox, & Button/Link

check

remove

Cell merge

check

check

Drag & Drop
Stackable tables

check

remove

Ribbon, icon, styled list elements

check

remove

Charts

check

check
Powered by Ninja Tables
And there's more to this plugin if you know your way around it.
Check out the docs or learn the different ways to create a table online.
Finishing Notes
Ninja Tables is already a fully customizable and feature-packed table plugin. And "Drag and Drop" is a bonus addition to the menu. This entire plugin gives you maximum flexibility and customizing options to create smart and responsive tables in no time!
With or without this drag-and-drop function, Ninja Tables is the best WordPress table plugin out there! But this new addition definitely makes it more irresistible.
Drag and drop table elements to create smart online tables and stop worrying about big data arrangement.
Ninja Tables– Easiest Table Plugin in WordPress