Valentine's Day Marketing Ideas, Strategies & Examples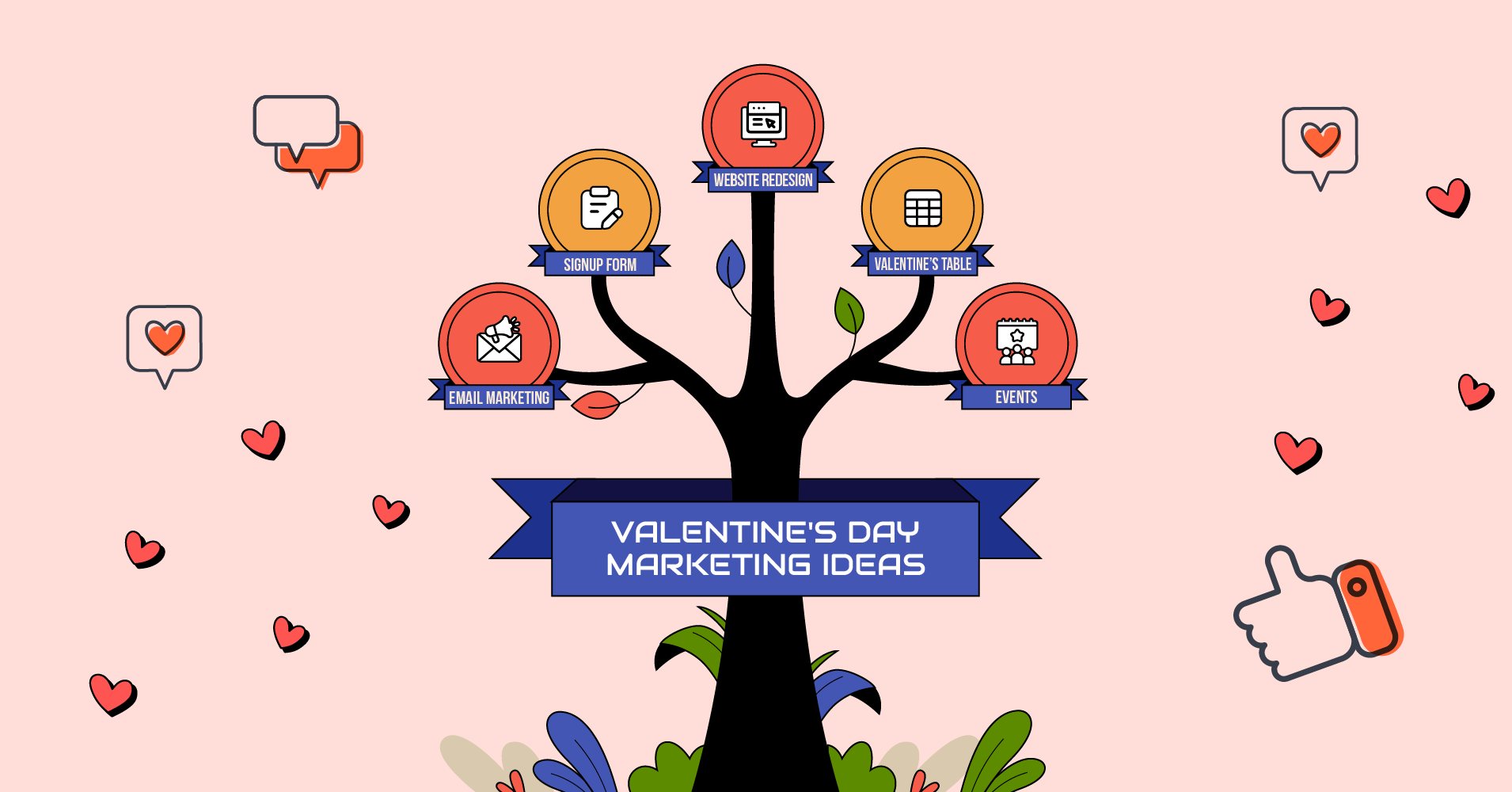 Spending on Valentine's Day reached $23.9 billion last year in the US alone. We can easily say that Valentine's Day is one of the most significant opportunities for marketers.
It's time to leverage this romantic day for your business. But, Not every idea for Valentine's Day marketing works in e-commerce, though. Nor do they work for all companies.
So, without any fluff or assumptions, this article will discuss 14 actionable proven ideas based on real-life brand Valentine's Day marketing ideas, strategies & examples that work for businesses you can model this year and beyond.
14 Buzzing Valentine's Day marketing ideas
Your customers celebrate and love Valentine's Day. You can't underestimate what they like if you want to be a great businessman. That's why if you want to leverage its full potential, you need to Implement some Valentine's Day marketing ideas.
Decorate your website for Valentine's Day
One easy and effective way to boost your business for Valentine's Day is to give the website a makeover. For that, you can do the below tasks.
Add a hero image or video
Welcome your audience with love. You can Add a hero section image or video on the homepage that represents Valentine's Day.
Add banners featuring Valentine's Day greetings
Use creative writing skills and make banners to meet your users with a love-filled Valentine's greeting. And since you're promoting something use this opportunity to add a subtle promotion of your offers.

Change your color palette
Changing your color palette can give your website a Valentine's Day vibe. Choose colors that represent the occasion, like pink, red, or white. Spice it up with color palette generators made for Valentine's Day, like SchemeColor.
Tweak your logo
The tried and true strategy. We know you are familiar with Google Doodles. Google tweaks the homepage logo as a commemoration of every special event. It can be a great option for your website too.
Add a touch of love to your images and graphics
It is convenient to attract your customers by decorating your site with symbols that illustrate the day, like hearts, chocolates, flowers, or stuffed toys. Let your website looks like it's Valentine's Day.
Design your tables
Your website may contain many tables like WooCommerce tables, comparison tables, product tables, or even pricing tables. To leverage the full potential of the day you need to customize the design of your tables.
Designing and customizing tables has become very easy with Ninja Tables
Run a Valentine's Day campaign
One of the best Valentine's Day marketing ideas is to promote a campaign. Offer customers a cross or up sale to encourage gifting their loved ones to celebrate love. Or if you give a discount you can add a promo code that indicates Valentine's Day.
Create Valentine's Day newsletter signup forms
You can create a signup form and generate leads for your Valentine's Day campaign. It is one of the best tried and true ways to boost your lead generation with excellent incentives that venture your audience.
In that case, you have to create a newsletter content strategy and a newsletter signup form with three important elements:
A Valuable copy
Some eye-pleasing visuals
Eye-catchy call-to-action button
To Valentinify the form, you have to use love-themed images, texts, and a lovely CTA. You can use a great form builder plugin to make beautiful popups for your visitors based on the goals.
A conversational form made with Fluent Forms Pro
For example, create a sales-focused newsletter signup form offering X% off their purchase or giving them a gift guide or file to help them out. And finally, use some best newsletter plugins to please your customer with regular follow-ups.
Email a Valentine to the customers
Show love to loyal customers by sending them Valentine's emails. You can thank them for the support along with a discount code or a little gift to show appreciation. The graphic team can create a designed email that aligns with your brand identity.
Email marketing automation for Valentine's Day campaigns
To make your campaign successful you must use the easiest and most eligible marketing channel in the market. But overflowing with celebratory emails can cause spam and unsubscribe buttons clicked rather often.
So, you have to set email automation with email personalization best practices to make customers fall in love with your emails and business. You can try the below to-do list for your Valentine's Day marketing automation,
Segment the email list
Perfectly schedule the emails
Add a catchy Valentine's Day subject line.
Create a special Valentine's Day design and copy.
And that promotions can run as long as you want. Make your campaign worth buying and keep the automation accurate so that your customers get attracted to it.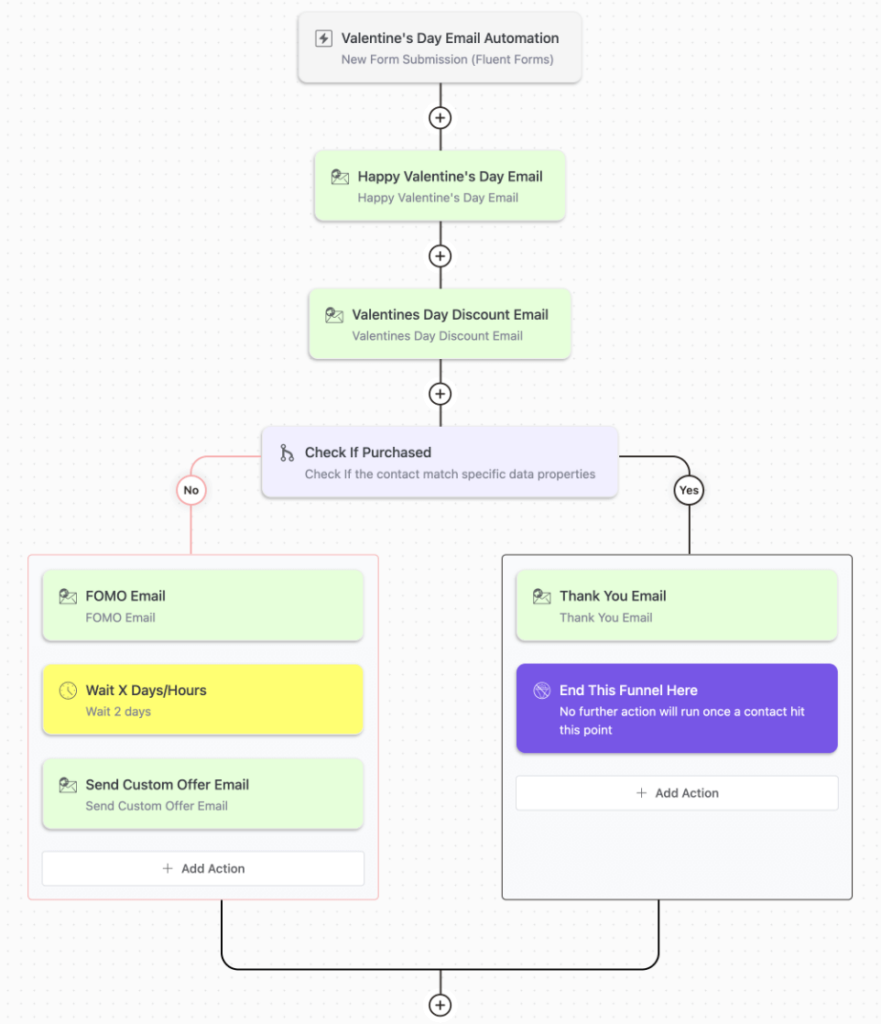 You can make awesome email automation funnels and engage your customers with email marketing. FluentCRM is one of the top email marketing plugins of the WordPress repository.
Offer limited product lines
If you're selling niche products for Valentine's now's the best time to promote them. Allot a dedicated space that immediately catches the attention of your users on your website for these products. Highlight some best-selling products and showcase the offers.
Host Valentine's Day events
Valentine's Day is to celebrate Love. It can be for your husband or wife, partner, friends, or family. It is a day to express love and feeling. Make it a full-day celebration. Host activities, games, movies, food, and drinks. Make it happy for the users.
As an example, SOMO art studio hosts a painting event, named 'Paint & Pour', where couples can paint and celebrate their Valentine's Day evening.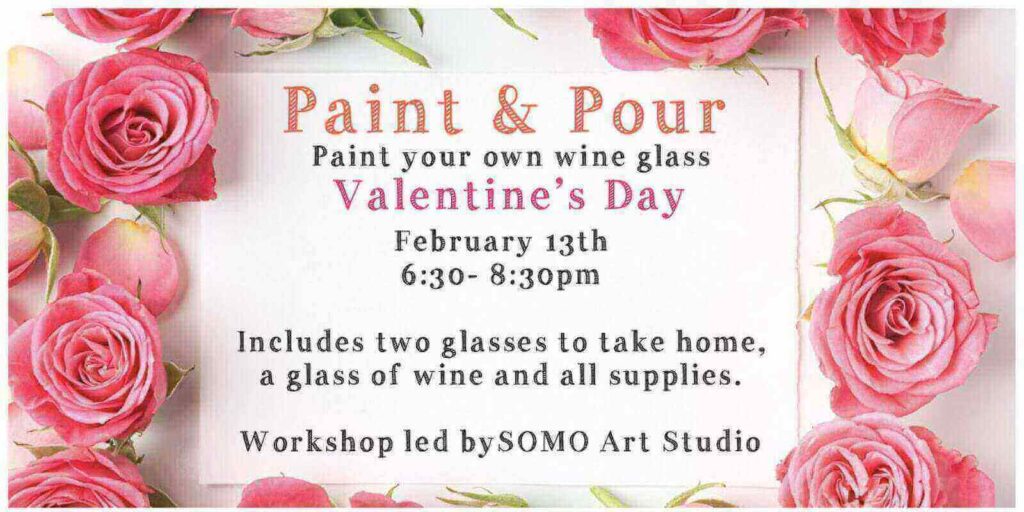 Celebrate non-romantic love
Many people don't have someone special for Valentine's Day. Celebrate those customers too. Even you can promote non-romantic love. Many people can shop your products for the homeless or those who need some affection.
Celebrate Galentine's Day
To all Parks and Recreation fans, it's time to commemorate Leslie Knope's favorite holiday, Galentine's Day. Promote products to cater to all your gal pals on Galentine's Day. As Leslie describes it, 'It's only the best day of the year'. Make it meaningful with your offers and let Ladies celebrate ladies.
'Spread The Love' referral campaign
It can be a good way to run a referral program on Valentine's Day with the slogan "Spread the love." Implement a program with desirable rewards or gifts for both parties in acquiring new customers for you.
Run promotional ads on social media
Social media promotional ads are short-term marketing techniques for instant customer incentives to boost sales. It is one of the most popular Valentine's Day marketing ideas to expand your brand's reach.
Promote self-love
Independence is hot, you can use Valentine's Day marketing campaign to promote self-love. This is a trendy concept now. Add content that supports self-love like a fancy dress just to feel good or good food for the self.
Promote Anti-Valentine's Day
A YouGov study shows that many Americans are truly against Valentine's Day. Depending on your business, promoting anti-Valentine's can be a solid concept to capitalize on and target the heartbroken or people who just hate Valentine's Day.
Don't forget a singles event
Solo on V-Day? Whether your customers are happily single, just dumped, or dating long-distance, you can't forget them. You can remind your customers that the most important relationship we have is the one we have with ourselves.
Street Food Cinema presents a bloody Valentine's horror event for singles. Those events are a great way to entertain the singles and grab this customer base.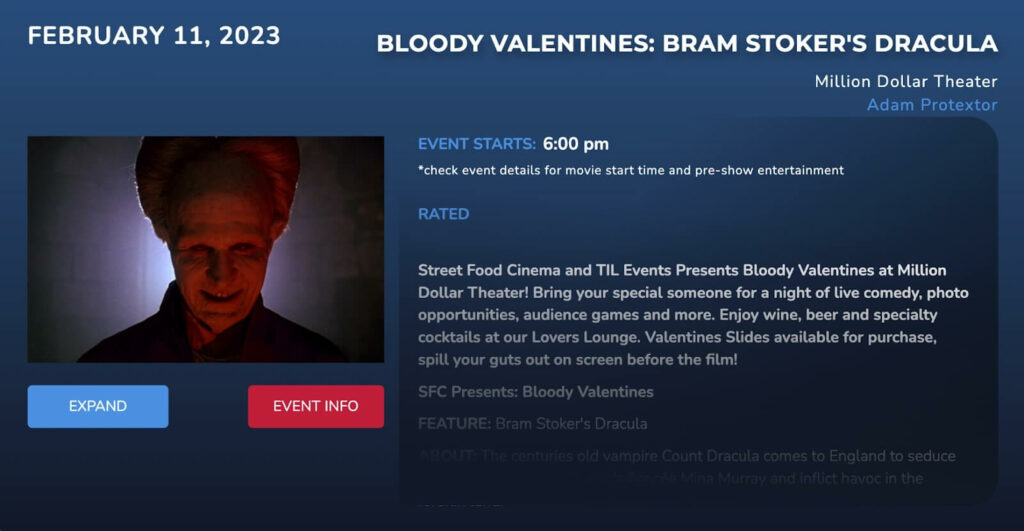 Start Celebration of love 2023
Valentine's Day celebration doesn't have any limits. It can take the form of a fancy date, an event, or a much-needed me-time. Know your buyer persona, consider how your target audience feels about this day, and arrange your campaigns to suit their taste.
You can check these 11 buzzing Valentine's Day marketing ideas and try out Valentine's ideas for your business to celebrate love.
So go out there and help your customers. Help them make something fun, sweet, or outstanding, and tell us in the comments how it goes!
Ninja Tables– Easiest Table Plugin in WordPress