Why Use Table Plugins | Benefits & Importance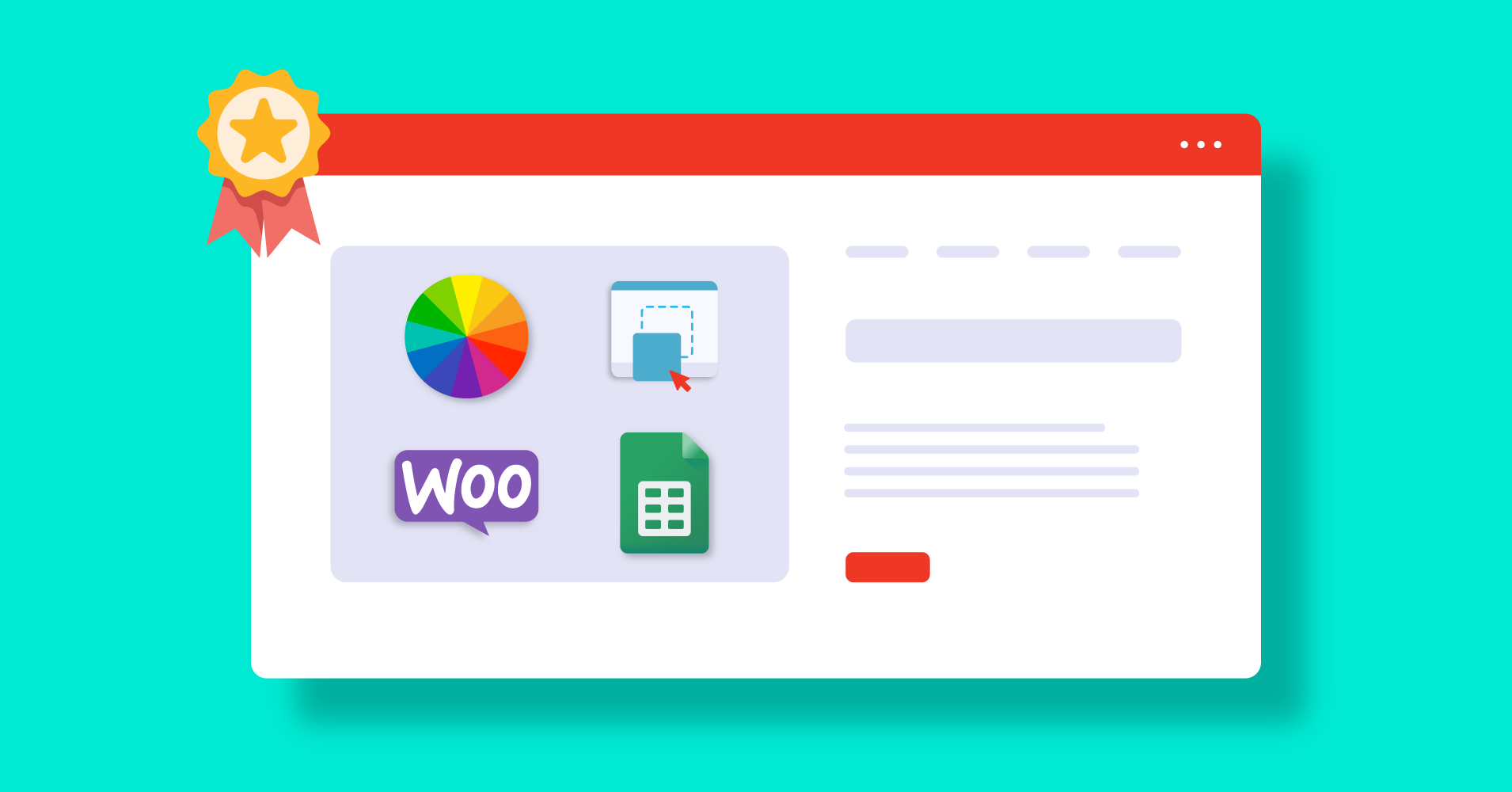 Every WordPress website owner has one goal in common- keeping the visitors engaged and intrigued. As a result, they want to structure their content in a visitor-friendly way. The benefits of online data tables are undeniable in this case.
Tables with data are easier to keep up with rather than a textual data presentation. Because of the advantages of tabular presentation of data, using a WordPress table plugin is nothing new.
If you haven't noticed this until now, you better pull yourself together. A WordPress website with tabular data is more comfortable for your visitors than a long paragraph! Tables with data are to the point and easier to focus on as well.
We are going to discuss how table plugins are useful for data presentation on your site. Similarly, we'll show you the most powerful benefits of arranging data into a table.
Here's a quick navigation for you.
Top benefits of online data tables- Example with a table plugin
Let's assume you have never used a table plugin in WordPress because you had no idea how to work with it. As long as you have at least some experience with MS Excel, this article should be able to get you through.
What do you think helps the most? Presenting your content in boring 4-5 line paragraphs or organizing it all in a table so that visitors can grasp all of it quickly?
For example, wasn't it easier to see your report card tabulating everything when you were in school? It's the same for websites with massive data, though more crucial.
A table plugin user can tabulate data just like in Excel, with cells, rows, and columns. This process is much simpler than cramming a page with paragraphs.
Users of a quality table plugin know about the benefits of online data tables for their website.
All these features (and more!) are found in responsive and user-friendly table plugins.
For now, we will be showing you all the advantages of using Ninja Tables in presenting data.
All types of table
Firstly, the point of using a table plugin is to create data tables like WooCommerce product tables, pricing tables, or any kind of tables with various data formats.
Ninja Tables integrations, for instance, Fluent Forms and WooCommerce, let users create tables with form entries and product tables store owners. Also, embed Google Sheets to your table and customize it however you want.
There are 9 different ways to create tables with Ninja Tables.
Default
Drag and Drop Table
Import Table
Connect Fluent Forms
WP Posts
WooCommerce Table
Connect Google Sheets
Connect External CSV
Custom SQL Query
In case you have no coding knowledge to create an HTML table, a table plugin is the smartest solution.
Learn how to create Amazon affiliate product comparison tables.
Search/filter
One of the best things you can do in a data table is to search for specific data from the search bar or apply certain filters.
Here's the Ninja Tables custom filter window where you can customize everything. Likewise, you can have an exact match search filter.
See a dummy WooCommerce table for example. You can select product categories or search for the product you're looking for from the search box.
Calculation
If you have a numeric table and want the sum of a row or a column, you can use the Ninja Tables Transform Value, and Custom JS features, respectively. Here's the documentation on row/column calculation.
This feature helps users to present numeric content in a more user-oriented way.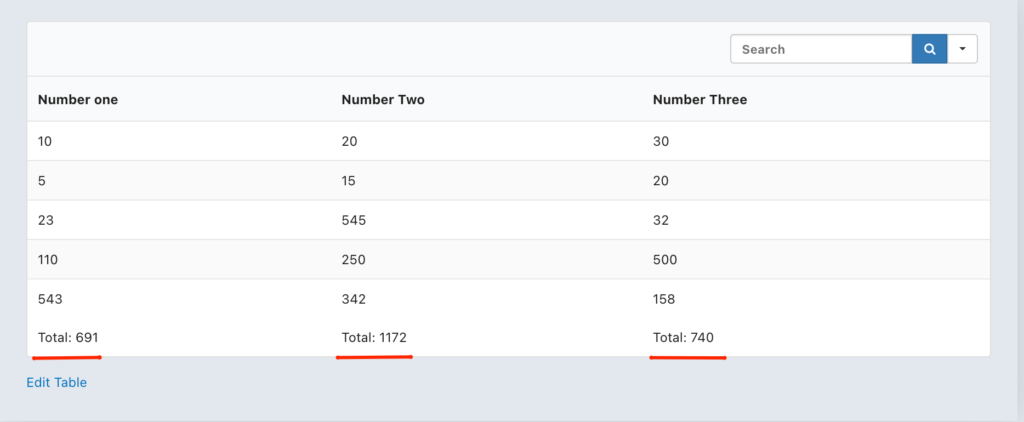 As you can see, the last row shows the column data sum.
Add/delete data
Users can include as many columns and data as they want. Ninja Tables can handle an uncountable amount of data and still be editable after the table is complete. Simply click on the Add Column or Add Data buttons to add more.
Manual data insertion is also possible. Just click on a cell and type.
This feature is much simpler in "Drag and Drop Table."
Charts
It's not always the data tables that attract visitors. As long as your page has a dynamic presentation, it's great. So, adding charts and graphs is something important here too.
Very few table plugins come with this feature, and some aren't even available in the free versions. However, Ninja Charts is a free feature in Ninja Tables and can create charts from table data.
Dive in to learn how to create WordPress charts for FREE!
Full control over data
When you're adding data in Ninja Tables, you can select the entire column's data type. The data can be text, HTML, image lightbox, numeric, or even a button.
You can also determine the responsive breakpoints for a column. Select whether or not you want the column to show up on mobile, tab, or desktop. And if you use the transform value feature, you can hyperlink plain texts.
Selecting user role permission is another aspect Ninja Tables should get credits for. Users can enable Frontend Editing and make the table editable at the front. This helps in getting data from everyone.
Coloring and highlighting
When it comes to designing, Ninja Tables has to be one of the best!
Users can design (color and stylize) the tables with three styling libraries- Semantic UI, Bootstrap 3 & 4, along with two coloring options- Predefined and Custom Scheme.
You can color the header, footer, table body, and everything on the table. At the same time, decide on the table border, sorting, layout, etc. from the styling libraries.
And coloring tables in the Simple Mode is super simple as well! Ninja Tables does not hold you back from having fun in coloring tables.
Moreover, the conditional column formatting feature is a premium feature that users can apply to highlight a cell based on the cell value.
Not just highlighting, you can change cell content, row/column CSS class, and remove or restore defaults.
Sticky header and stackable tables
If you have a large table with thousands of rows, the header might disappear as you scroll down.
Enabling the sticky header option will make the header stick at the top by default so that the column names are still visible as visitors scroll.
As for stackable tables, it's convenient for users of all devices. You can set the target device to mobile, laptop, tablet, etc., and also customize the stacked appearance. The table becomes responsive to every device with this feature enabled.
These are only a few benefits of a table plugin. You can find a lot more to explore once you start using one. Check out all Ninja Tables documentation to get to know it better.
Ninja Tables– Easiest Table Plugin in WordPress
Advantages of tables
So far, we have shown you some of the functionalities that come with table plugins. But here's a question: What are the advantages of using tables in managing data?
The main advantages of tabular data for WordPress sites-
These are only a few advantages of the many you will notice over time. These are also the factors you should prioritize while designing a data table for your website.
Organized
We can't stress it enough! You already have a rough idea that the tabular data presentation format is more convenient for people who visit your website. Because of separate columns and rows for different data, the content seems more informative and easy to follow.
Visually appealing
It's always about convenience when it comes to WordPress tables. Since plugins like Ninja Tables can create tables with all data types, color the table components, and even create charts, it's always the go-to solution for users.
Easy table builder
Table plugins are required to make table creation easier and faster for users. Ninja Tables gives users all sorts of table creation options in one plugin. You can either create an advanced table or a basic table with a drag-and-drop builder. Let's not forget Google Sheets, WooCommerce, or form data tables!
Responsive
Quality table plugins always ensure a responsive layout for all kinds of devices. If the table has an immense amount of data, the table must have unlimited rows and columns. As long as the table plugin you use is responsive to all device screens and doesn't collapse, all is good!
Quick grasping
A table with different data types organized in rows and columns means it's easy to understand the content. Suppose you have the statistics of weekly sales to show, and you have arranged it all on a table with separate data cells. This presentation is more pleasant than writing a paragraph with statistics, thanks to row or column headings.
If you want to have charts with table data, go for a top table plugin with this built-in customizable feature. A table can also come in handy when summarizing your entire content.
Search and filter
It's troublesome to find data from textual content. The search and filter option of tables can solve this problem in seconds! The exact match search and custom filter attributes are effective for large tables, and Ninja Tables is equipped with both.
What are the advantages of representing data with tables Ninja Tables? Just the points above and much more!
"This plugin allows you to create a simple integrated table with a Google Spreadsheet and display it on a website. The software is superb and the support is likewise. Keep up the good work."

-Ninja Tables user trout458 (@trout458), July 2022, WordPress.org
What now?
Another question could be tagging along- What are the disadvantages of using tables to present data?
While we're on the subject of WordPress tables, here are some problems that could arise if the plugin is not up to the mark.
Unless you're using a high-end plugin, the row/column width or big amount of data can collapse and not respond to every device
A product's image might not be clear if the plugin has no image lightbox feature
The absence of horizontally or vertically scrollable bars
Some plugins are not SEO-friendly
Limited customization option
You clearly don't need to worry about these if you are using Ninja Tables!
Conclusion
We have discussed the advantages and benefits of online data tables. All the positive outcomes totally depend on what plugin you have chosen.
Plugins like Ninja Tables are the ultimate solution if you want to customize and configure the table with a truckload of data and, at the same time, keep it responsive and dynamic.
By now, you must have realized the advantages of data presentation in tables for WordPress. With a proper table plugin, you can ensure that your visitors have the smoothest experience going through your content!
Ninja Tables– Easiest Table Plugin in WordPress