Online Pricing Tables Without Coding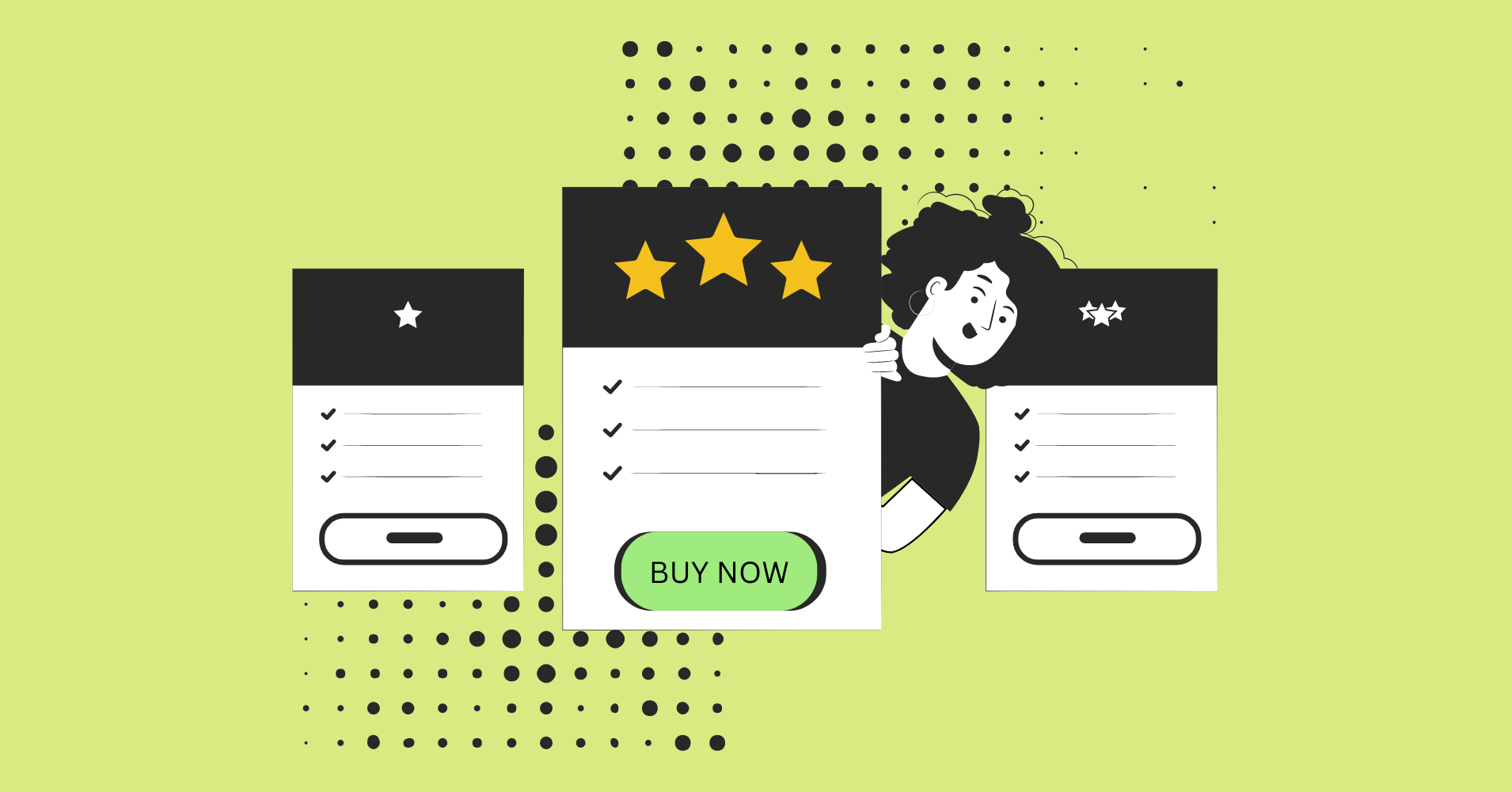 It's gonna get crazier for online product sellers because the deal season is coming up soon. And creating pricing tables to fit the mood for every deal is, more or less, time-consuming. Not to mention, some require custom coding.
Online customers need a clear visual presentation of the product prices when it's about discount deals. And even on regular days, it's better to show the price details upfront.
Create pricing table online for your business, and customers will decide what price is better for them from the table.
What is a pricing table?
These tables show product features or packages with different levels of prices. You can show the best price of a product in the tier-pricing system with a side-by-side presentation.
It's a visual way to let customers know what they're paying for.
What is a pricing table on a website?
This is how it looks on a business website's pricing page with the pricing table best practice.
Any business offering services or selling products needs a table for price tiers. SAAS websites and WordPress plugin owners get the best use out of it.
How do you create a pricing table?
Experts can use HTML or CSS pricing tables in WordPress websites. But you can do that even without knowing a single line of code! All you need is a top-notch plugin.
Create pricing table online without coding
Pricing table plugins can sometimes be easy solutions. But who wants to cram their dashboard with multiple plugins? Besides, custom coding is not everyone's cup of tea.
Here's where Ninja Tables users win by a long mile.
The new Ninja Tables not only gives you options to create pricing table online free but also offers lots of customizable features!
You are all set if you're already using this plugin for the WooCommerce store.
Ninja Tables pricing table templates
Pick a template from pre-built tables in the "Drag and Drop Table" module.
Any template you pick from here is customizable using the table cell elements, colors, cell management features, etc.
For example, we've selected a template to edit.
Add or remove cells from any column/row and make the table fit your product. Drag a table cell element from the sidebar menu and drop on the table.
The "Advance" menu below has four more cell elements.
Change the color of the cell/row/column/text from the "Background" button.
See how the colored column has a box shadow in its background?
Ninja Tables lets you do that easily!
Click on "Manage Cells" and select a column; you can see more customizable options on the sidebar.
From here, you can highlight the selected column.
This feature is perfect in the deal season when you want to highlight the best price of your product from the tier-pricing system.
Add a shadow or change the column background color to make the best price pop!
Check out the detailed video on editing pricing table templates.
Create a pricing table fast manually
When it's "Drag and Drop," you can make any table your deal page needs. And with Ninja Tables, creating pricing, product, or comparison tables becomes much easier.
Even if you don't want the pre-made templates, you can create tables for pricing from scratch using the "Drag and Drop Table" option. Or, you can import a table you already have!
Add as many columns/rows as you want with the manual "Create" option. Or import using a CSV/JSON file or URL.
Take a look at the beginner's guide to Drag and Drop.
Pricing tables using advanced table maker
There's nothing the advanced features can't do!
For example, you can create a table for product pricing in the default Ninja Tables module. You just need to customize the table with "Button/Link" data type or "HTML Field."
| Single Site License | Agency License | Unlimited License |
| --- | --- | --- |
| $129 | $249 | $399 |
| 1 Domain License | 20 domains | Unlimited Domains |
| Lifetime Plugin Update | Lifetime Plugin Update | Lifetime Plugin Update |
| Lifetime Priority Support | Lifetime Priority Support | Lifetime Priority Support |
| All Features Included | All Features Included | All Features Included |
| Purchase Once for a Lifetime! | Purchase Once for a Lifetime! | Purchase Once for a Lifetime! |
| | | |
This is Ninja Tables discount prices as an example only using the special discounted price details.
We added an image for the "Buy" button, and the data type is "HTML FIeld." The button can be linked to make it actionable. Control the font sizes as you wish.
Quick solution during the deal season
We got Halloween, Black Friday/Cyber Monday, and Christmas deals coming up one by one. Some of you probably don't have enough preparations for the Halloween discount deal.
But here we bring Ninja Tables with pre-made table templates for your discount deal pages.
Choose a template and edit the pricing details
Add product image if needed
Extra custom button
The "Drag and Drop Table" module allows you to insert any cell element to customize the tables.
Are you ready for the deal and discount season? Learn pricing table examples and ideas for more insights.
Create a three column pricing table from the default templates and add more columns or data as you need.
TL;DR
Whatever kind of table you need for your WordPress website, Ninja Tables is ready to serve!
Create pricing table online with its advanced features or use the "Drag and Drop" functions. The pre-made tables are all customizable, no matter what business you want them for.
In short, Ninja Tables is all you need when the discount deal seasons arrive.
Luckily, this top-notch pricing table creator is FREE in the Ninja Tables Drag and Drop module! Just drop elements, and you're ready. But to unlock maximum features, go pro!
So, hurry up and grab Ninja Tables before time runs out. No need to install other plugins to show price levels.
Ninja Tables– Easiest Table Plugin in WordPress