How To Create WP Posts Table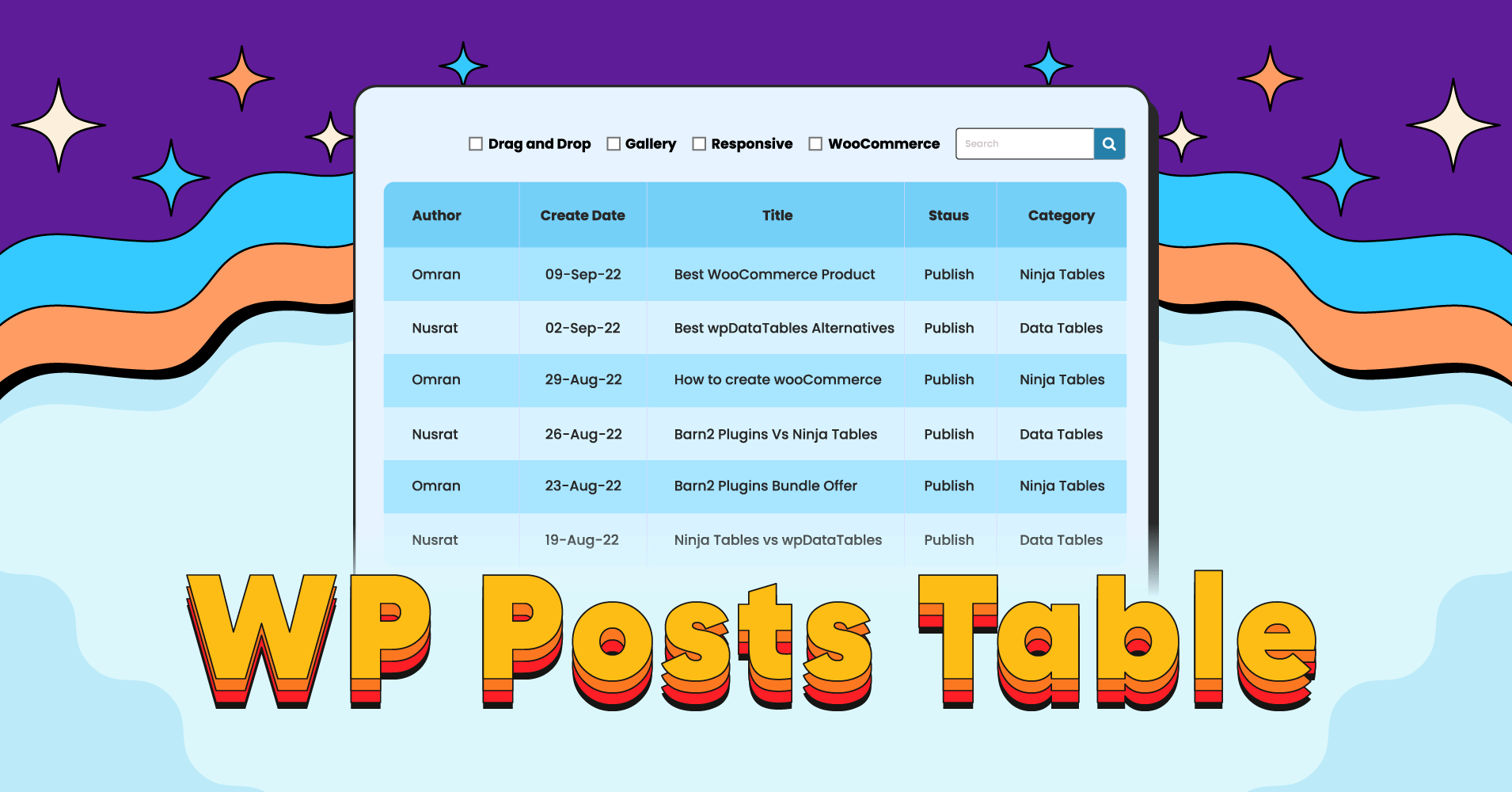 Need some quick fixes for your WordPress blogging site appearance? Pull the data from WP posts and display them in a tabular format to keep everything in one place. We got some tips for you!
Use a table plugin to create WP Posts tables with all your blog post data and customize them with the plugin features.
A fantastic plugin to do the job just right is Ninja Tables. Not only a WordPress post table, but this plugin can also help you design, customize, and control the table layout.
Why consider a table plugin to create a table from WordPress posts?
Suppose someone with a blogging website in WordPress has a lot to say! They talk about different topics every day and post under multiple categories.
Take this site, for example. We post about WooCommerce, marketing tips, plugin reviews, or specific plugin features.
So, here's a WP posts table with search and filter options that includes all the blog posts so you can find the one topic you want to see.
Select a topic from the filter and find all the posts under it.
Needless to say, we've used Ninja Tables here.
3 steps to create WP Posts tables
As you can see in the table above, Ninja Tables simply makes organizing WordPress posts easier!
Note down the steps to create WP Posts tables with Ninja Tables.
Step 1: Select "WP Posts"
Hit the "Add Table" button from Ninja Tables dashboard and pick "WP Posts" from the table creation menu.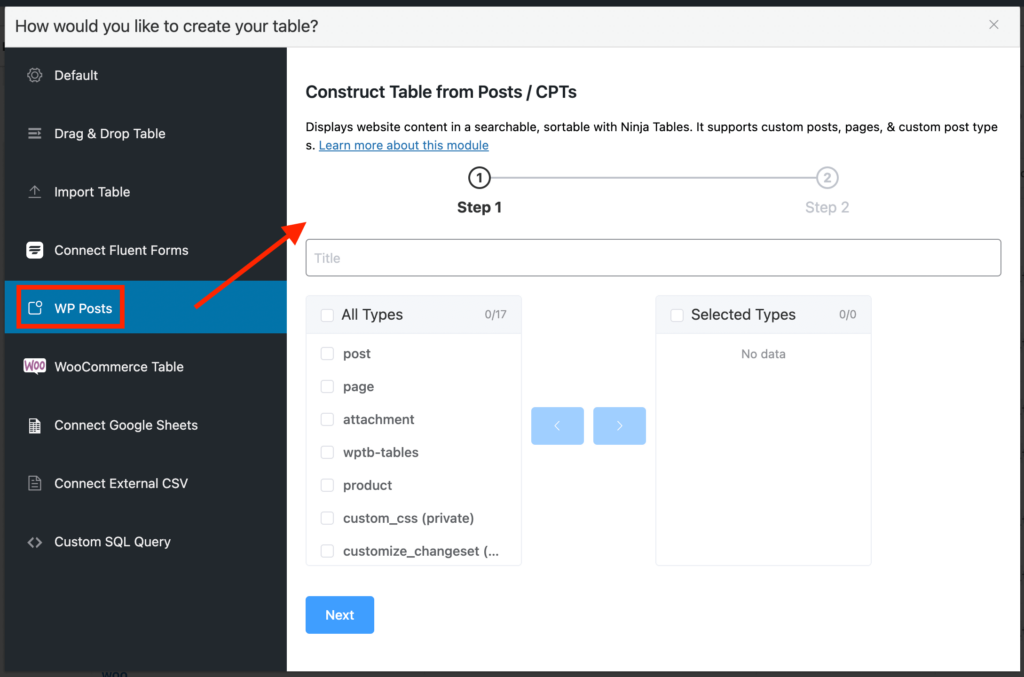 You'll now see a window where you get to select the content you want on your posts table.
From here, you can display your website content in a sortable, filterable, and searchable table arrangement.
Give the table a name first.
Step 2: Select post types
Since we are showing WP Posts in table, we have selected "post" from the box on the left side and shifted it to the box on the right.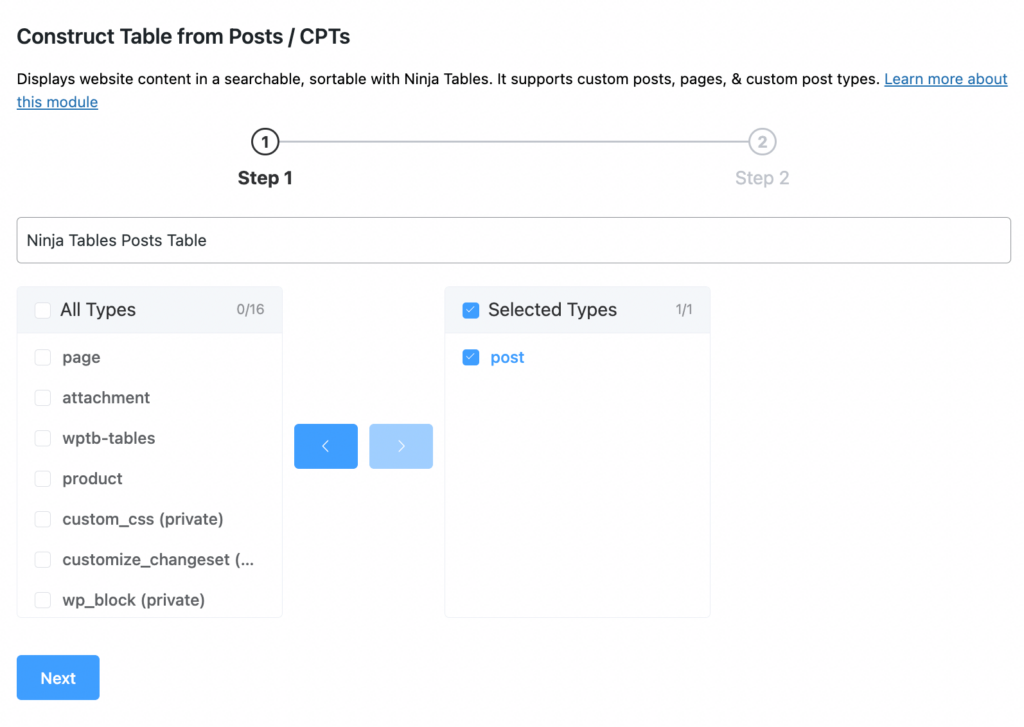 Select the content of the right box and hit "Next."
Step 3: Select properties
The properties you pick from the left will be the column of your post data table.
We've selected four properties to make the columns.
Post_author
Post_date
Post_title
Post_status
Post_category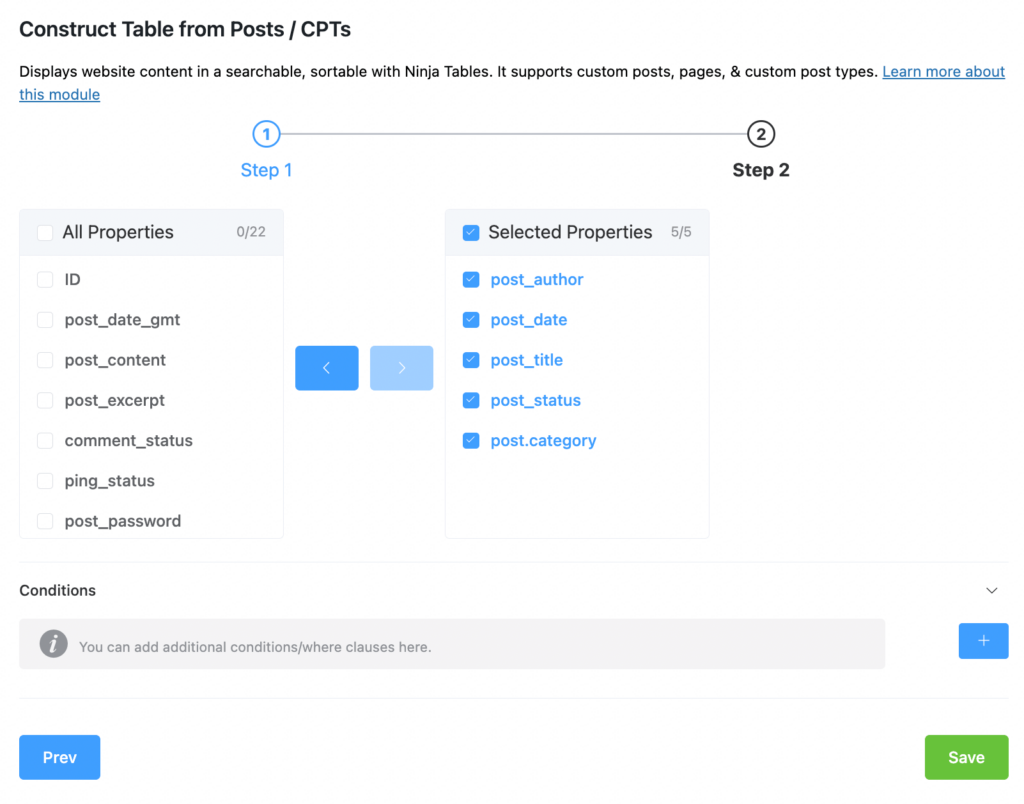 Properties are shifted to the right-side box the same way as earlier.
You can also add a condition from the section below.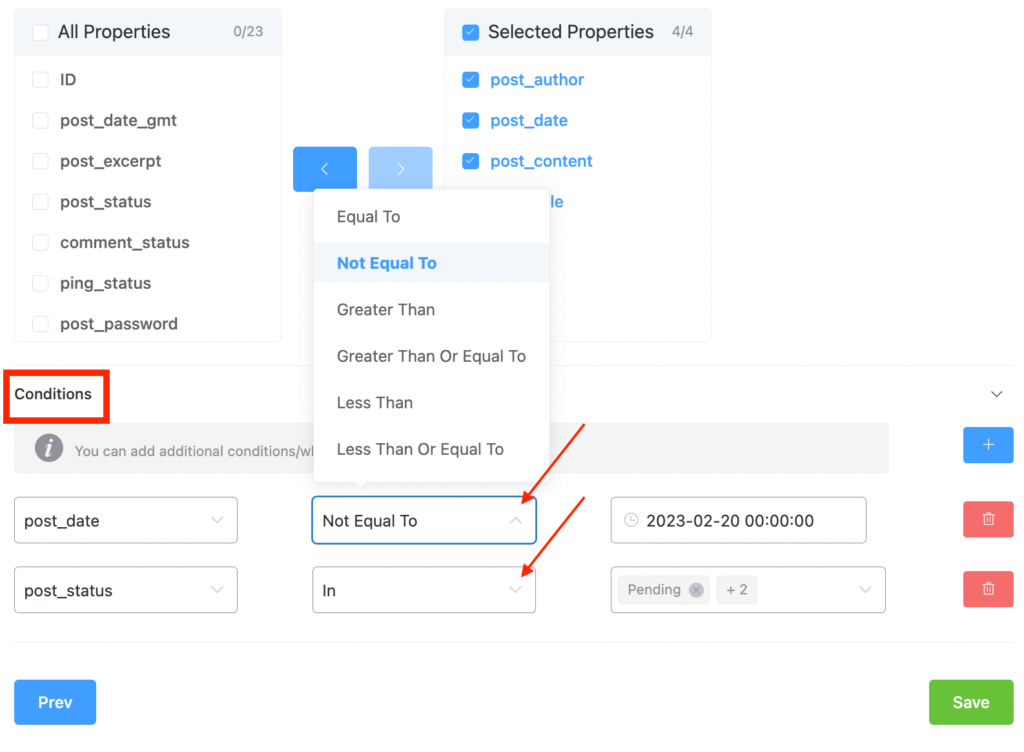 Click "Next" and that's it!
Results
This is how the Ninja Tables WP post table looks in the backend-
Now you can edit the post table from the tabs above.
Add or remove properties and conditions from "Query Settings"
Add a new column to the table with other data
Color customize from "Table Design"
Add "Custom Filters"
Customize "Table Configuration"
Use custom CSS/JS to change core design and style
Export the table
Bonus!
If you want to show the featured image of the post on the table, you only need to add a new column and select "Featured Image" for the "Field Type" section.
Here's what to do to configure the column:
Give a name to the column and select field type and value from "Dynamic Post Data Settings." Both boxes have dropdowns from where you select the type and value.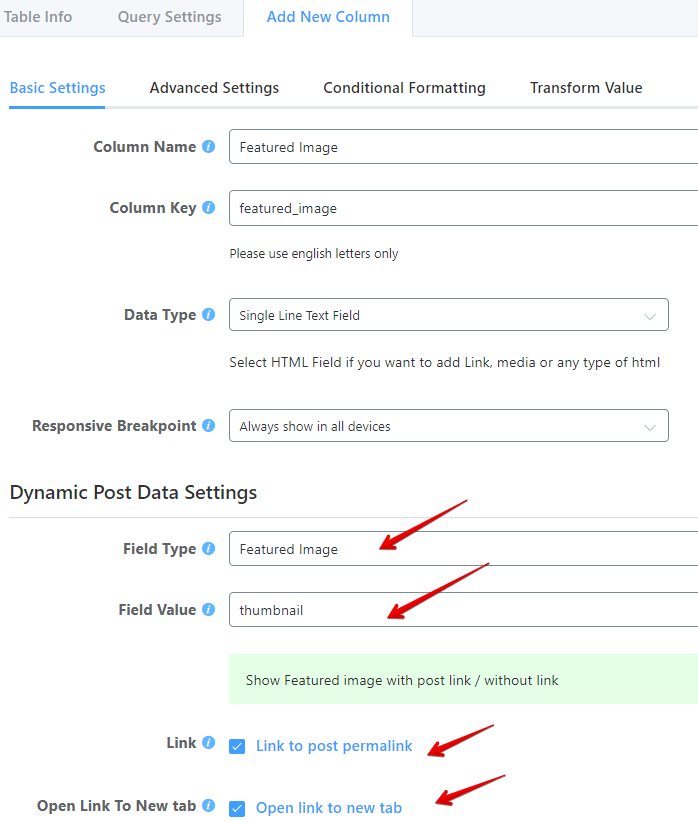 Check the boxes required for links if you want. The featured images will be linked to corresponding posts and open in a new tab.
Here's a demo of how the posts table with featured images looks like: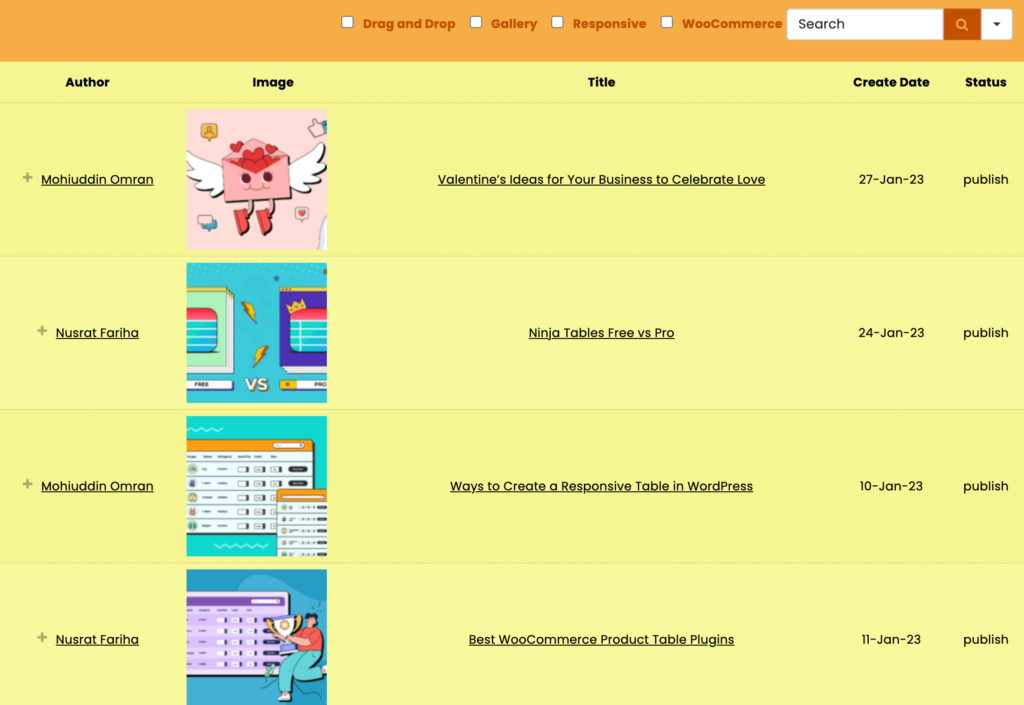 Control the column width from the column's "Advanced Settings," add conditions, or transform value.
And let's not forget the ACF integration (Advanced Custom Field) makes this plugin more powerful!
Summary and video tutorial
Is Ninja Tables the best way to add data to WordPress tables from posts?
Ninja Tables is not just the only way to create tables with WP posts. You have other options like- Posts Table Pro plugin.
But Ninja Tables is the most cost-effective way even if you put the truckload of features aside! It's not just a table for WordPress posts but you won't need some other WordPress post plugin if you have it.
You can take a look at the head-to-head comparison and come to the conclusion that Ninja Tables is the best Posts Table Pro alternative for you.
We've talked about creating posts table with Ninja Tables. You can watch the video tutorial for a better understanding.
Construct table from posts using Ninja Tables fast, smooth, and effortlessly!
Final notes
Ninja Tables is the perfect WordPress sortable table plugin to create WP Posts tables. It's user-friendly and feature-rich all while being within your budget!
Pulling data from posts, showing custom columns, advanced custom fields, shortcodes, post meta fields, and featured images in an interactive data table becomes easier with this plugin.
Skim through the documentation on this WP posts integration for a detailed recap and hit us up for any query.
Ninja Tables– Easiest Table Plugin in WordPress