Effective Summer Marketing Tips to Boost Your Sales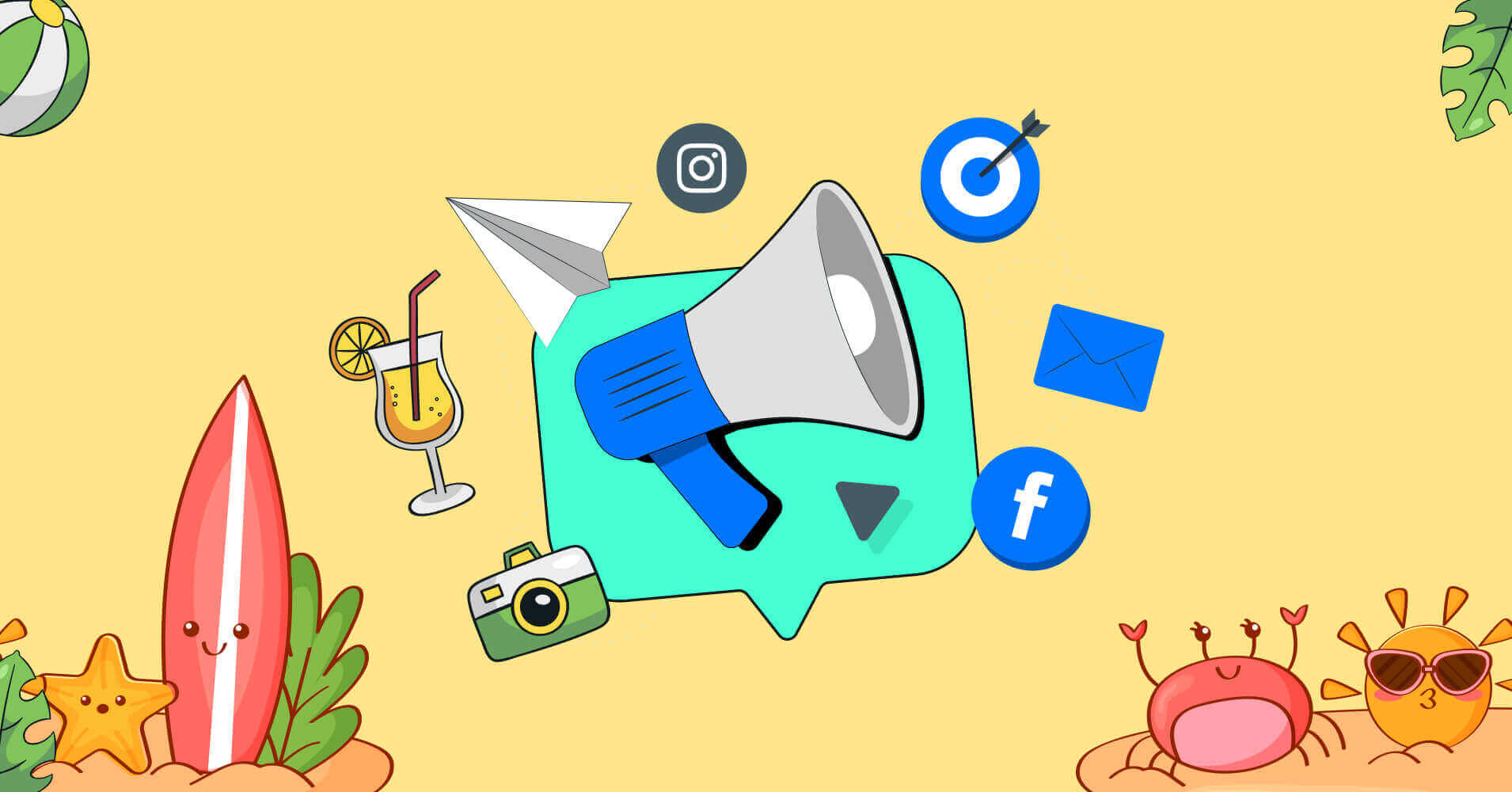 Dozens and dozens of marketing campaigns. Hundreds of tips for better sales. But what are the effective summer marketing ideas that can actually help increase sales and revenue?
With the Summer season at its peak, all the marketing teams are busy looking for ideas and tricks for sales. After all, summer is a fantastic time for businesses to amp up their marketing efforts and engage with customers in exciting ways!
Summer isn't always about beaches and barbecues (Sorry!). With the warm weather and relaxed vibes, people are more receptive to new experiences and products. So, it's really easy to sell more only if you deliver right.
What are the top marketing ideas? That's what we're here to tell you!
Best marketing tips to boost Summer sales: Summer marketing ideas
The busiest season in online shopping and the biggest sales season for sellers- Easily it's the sweet summer!
Now if you're thinking:
-How can I get more sales in the summer?
-How do you make a summer campaign?
We have the answers for you.
Note down the 11 summer marketing ideas to boost your business and effectively engage with your target audience.
Summer vibes everywhere!
Colors and designs that bring the summer feel are what your website needs.
Customize your landing pages with summer flavors so that your audience gets on board with the summer vibes.
Tap into the summer energy by infusing your marketing materials with bright colors, cheerful visuals, and summer-related themes.
Some places to add the summer branding:
Hero header colors and graphics
Navigation bar color
Buttons
CTA (text or image)
Footer
Webpage copy
Discount deal page
Product tables if your business requires
Emails or SMS (pamphlets or banners if your business is offline)
Social media
Decorate brick and mortar store with summer theme
Separate section to sell summer products
It's easy to capture attention with vibrant visuals and engaging copy to create a sense of excitement if you know how to do it right!
You can see how Ninja Tables is showing off the summer feels and pitching the summer discount news at the same time.
Offers and freebies
Discounts, BOGO, special gifts, giveaways, coupons- These are great summer sales campaigns to attract your target audience.
Take advantage of the summer season by offering exclusive promotions and discounts on regular products or maybe even products specific to summer. For example, swimsuits, shorts, slippers, pool essentials, sunglasses, etc.
Make up special packages, limited-time offers, or summer-themed bundles for your audience and customers.
To be honest, people love to get special discounts, seasonal or not. If you can utilize summer to create a sales campaign and sell more, why not do it? Summer, spring, winter, or even Christmas doesn't matter!
Find an opportunity to sell and treat your customers with a discount.
Fun outdoor events
Online or offline stores both can organize outdoor events for summer season.
If your country experiences cold and snow most of the year, summer season is the perfect time for you to gather your customers at a fun summer activity and maybe even gain new ones.
Become partners with local summer festivals, set up booths, arrange contests, or sponsor some activities to keep people engaged.
An ice cream company can gain a lot of exposure by sponsoring a beach party during summer. Set up a booth with ice creams and catchy banners.
Simply put- People love ice cream, it's summer, new customers, and more exposure!
Social media contests
Love it or hate it, you can't ignore social media's impact on marketing. And summer is just another perfect time to run social media platforms smartly to gain attention.
Encourage your audience to share their best summer vacation photos or stories and to tag your social handles. Offer prizes for the winners with the most number of likes. This way, you can easily get user-generated content and expand your social media reach, engagement, and brand awareness.
Also, posting summer ideas, tips, and summer-themed graphics will help you keep the excitement of the season alive.
Got any unique summer social media campaign ideas? We're all ears!
Mobile-optimized website
There's no alternative to mobile responsiveness. Your website simply has to be accessible and readable for your audience no matter what device they use.
When it's summer, people will probably be out having fun rather than sitting inside with a laptop. They're definitely taking their smartphones everywhere. Ensure website mobile-friendliness and optimize for a seamless UX.
Let's not forget that mobile optimization will improve your search engine rankings and make it easier for customers to navigate.
Summer-themed emails
We've already mentioned how spreading summer vibes in emails can attract people. If email marketing is your primary way of reaching out to customers or potential customers, designing emails with a summer theme is a must.
Share your seasonal promotions, discount offers, updates, or summer tips with proper graphics and copies. Craft perfectly summer-themed email subject lines and personalized email body to provide valuable content that compels the receiver to open the email.
Start looking for summertime newsletter ideas and emails that align with your business. Make it look professional all while keeping the fresh summer attitude.
Collaborations
You can collaborate with some other company and promote the business, sales, and engagement of you both. A cold drink company can easily collaborate with a company that makes sunscreens.
Customers can receive free sunscreen as a prize if they scan the QR code from the cold drink bottle's label.
Influencers are not necessary in this case. However, you can promote your brand better if you collaborate with an influencer to amplify your reach and get a boost in summer sales.
This could take a chunk of your budget, but if you can execute it properly, their endorsement can introduce your business to a wider audience and generate valuable leads.
Summer-related content
Blogging or video content is not just for SEO. The more informative content you put out the more visibility you get.
You are the expert in your industry and niche. Create content that offers valuable information and keeps the theme aligned with the summer season.
Publish blog posts, videos, or social media posts that provide tips for what to do in summer, quick summer vacation guides, or DIY ideas relevant to your products or services. This adds value to your target audience and makes you a trusted resource.
Your blog section, social channels, and your YouTube channel deserve summer-ready content just like your landing pages.
Be efficient with SEO to appear on the first page when tourists look for anything "near me."
Summer holiday bundles
Summer means vacation for most people. Planning summer holidays way before summer comes is actually a thing now!
You can't lag behind in this case. Start planning for summer marketing before summer's here. Throw on summer products together to make a summer holiday bundle and show your customers how the bundle can save both their time and money.
For example, put sunscreen, beach sandals, swimsuits, and sunglasses in one bundle. Assign the price reasonably and see how fast customers get their hands on the bundle!
User-generated content (UGC)
This is somewhat similar to arranging social media contests if you ask people to post their summer holiday stories and tag you. But a UGC can also be a blog, an interview, or a video.
Make summer marketing fun and keep your customers happy. They'll advocate for your brand or business if they're being valued.
Summer campaign supporting a cause
People will engage better if your brand or business stands for something good. Your summer promotions can align with a charitable cause or some initiative.
Sponsor or donate to a fundraising event. Advertise how a portion of your revenue goes back to the people in need.
If people know they're making a difference just by buying something from you, they'll feel proud and maybe buy some more. At least, they will do the word-of-mouth marketing.
This will showcase your company's values, create a positive image, build customer loyalty, and increase awareness.
And the best part is, this doesn't have to be done only in summer.
That's it for today!
Summer means lots of opportunities to revamp your marketing strategies and connect with your target audience in countless exciting ways.
By spreading the summer vibes, seasonal offers, fun summer events, and optimizing your offline/online presence, you can make a huge impact on your sales growth.
Implement the 11 effective summer marketing ideas we've shortlisted here and watch your business thrive during this fresh and sunny season!
Hopefully, you'll be well on your way to successful summer marketing campaigns if you follow these tips. Stay creative and make this summer your most profitable season!
Got your own summer promotional ideas? Do let us know in the comments.
Ninja Tables– Easiest Table Plugin in WordPress