Ninja Tables 4.3.1: Bug Fixes And A Lot of Improvements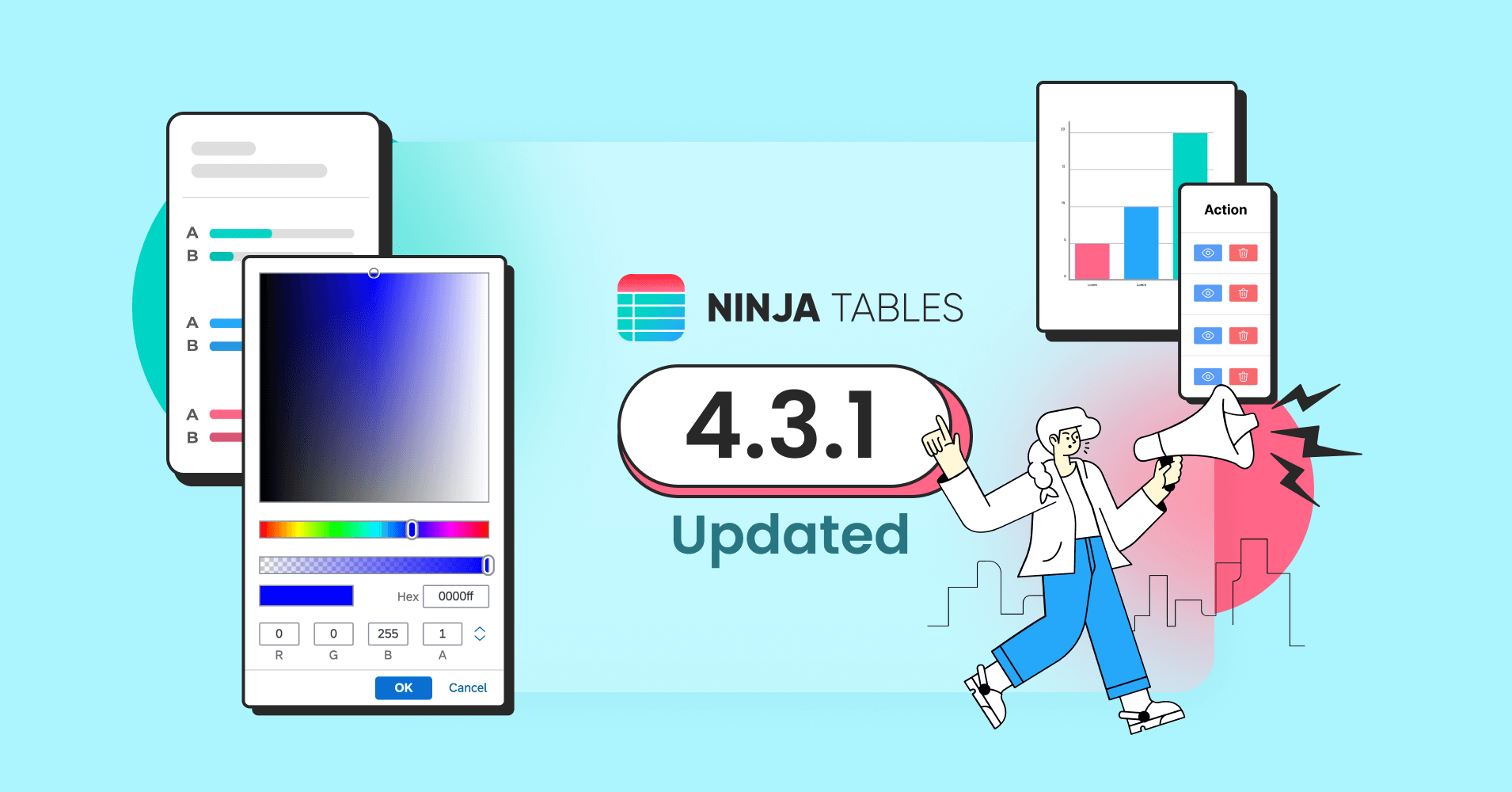 Hello Good People, Welcome back to another Ninja Tables product update!
Our developers work all day to make the plugin easier to use, bug-free, and the most efficient table builder plugin for users. Today we brought you lots of bug fixes and improvements for Ninja Tables.
Ninja Tables contains two table builder modules. The simple mode contains a drag-and-drop table builder, and there is an advanced table builder where you can create and customize almost any kind of table. This update improved both of those.
So without further ado, let's check out the fixes and improvements.
Drag and Drop Table Builder Improvements
Drag and drop table builder is a big initiative for those who need to create tables the fastest way possible. Even for beginners, it's like a stroke of luck. This Ninja Tables update improved the drag-and-drop table builder and took it to a completely new height.
Table Column Highlighter For Drag and Drop table builder
Highlighting the most preferred product is one of the classic and most efficient ways to visualize comparison or pricing tables. Now with the latest version, You can easily make tables with highlighted columns.
You just have to click on manage cells, Select your desired column, and get the Highlight switch to disable or enable the highlighter to make it happen easily.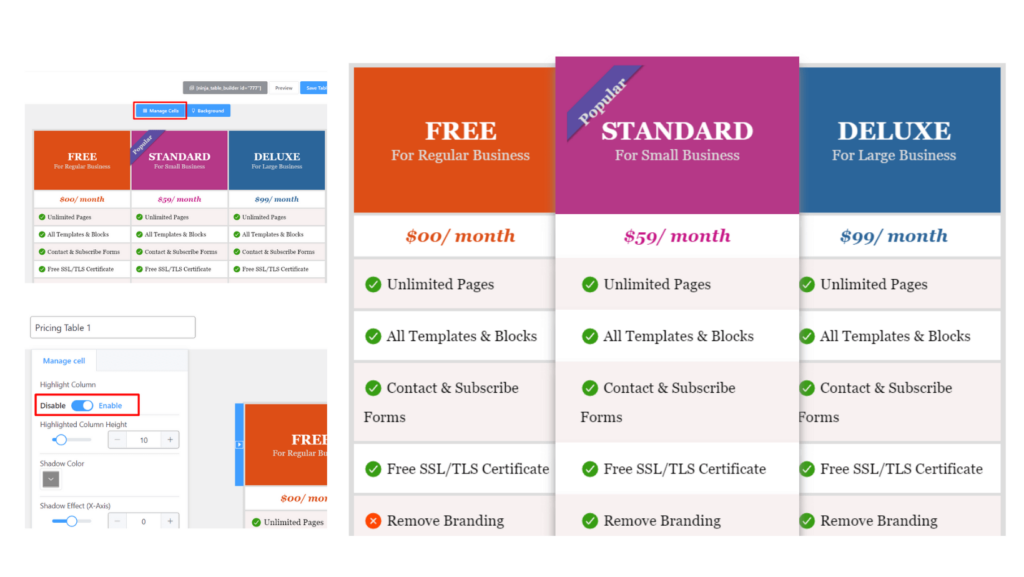 Responsiveness update for Drag and Drop table builder
Mobile web traffic accounts for more than 51%. Even mobile phone users also make up most of search engine visits. So, It's no longer enough to design for a single device.
With our table builder plugin, you can create responsive tables for your websites without compromising the UX. As a new addition in this version, you can select from a column or row when you want to choose your cell stack direction in the table responsive view.

A lot of updated Pre-made templates
Ninja Tables decided to simplify things a bit for you. For the beginner, templates are like blessings. And experts can use these templates to generate tables faster than ever.
The plugin provides a lot of templates for pricing tables, comparison tables, employee tables, and schedule tables. The new version is more wealthy with the updated templates. Even with the free version, you can use some of those templates.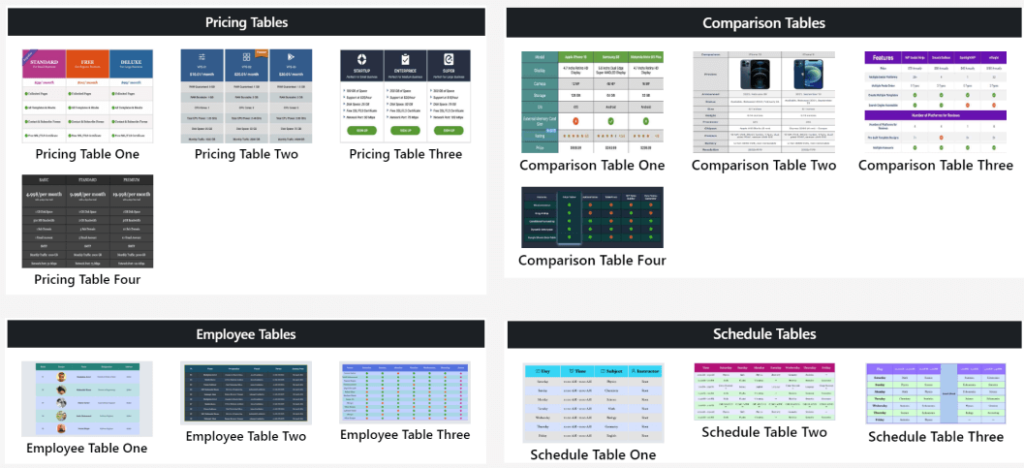 We're offering a limited time discount on Ninja Tables Lifetime Licenses (Up to 50%). Don't forget to check out the deal!
Advanced Table builder improvements
Advanced Table builder is the best way to make almost any kind of table. There were some issues and bugs that needed to be fixed. And after this update, it's massively improved for the users.
Fixes for sticky header issue
We apologize to those who faced sticky header issues on desktop and mobile devices. It took a little bit longer to fix the alignments of the header.
Ninja Tables is now fully efficient for movable tables where you need a swipeable sticky header with the table body. We promise you beautiful tables without any kind of sticky header issue.
Fixes WooCommerce custom product variations issue
Ninja Tables offer you deep integration with WooCommerce. Some of our users reported issues with WooCommerce custom product variations.
Our data table plugin introduces you to the stunning WooCommerce product page. You can have the most efficient WooCommerce product table effortlessly. We put an end to all the issues with WooCommerce product variations. Happy retailing, guys!
This is a dummy table. No order will be placed if you select and add products to the cart.
And now the table id integers are big integers
It was an issue for the big table owners. They had to face issues when making tables with many rows or columns. Now, Ninja Tables table id integers are big integers. Welcome to the era of unlimited rows, columns, and data in your tables.
Wrapping up
That concludes Ninja Tables 4.3.1 updates. We tried our best to solve issues and upgrade functionalities. But there will always be room for improvement. So don't forget to share your feature idea's with us in the comment section.
You can give us a 5-star rating on the WordPress repository if you enjoy what we've accomplished so far and what we're working on. We truly appreciate it.
And if you haven't tried Ninja Tables yet, go ahead and tour the free version. You'll surely love it.