Best WooCommerce Product Table Alternatives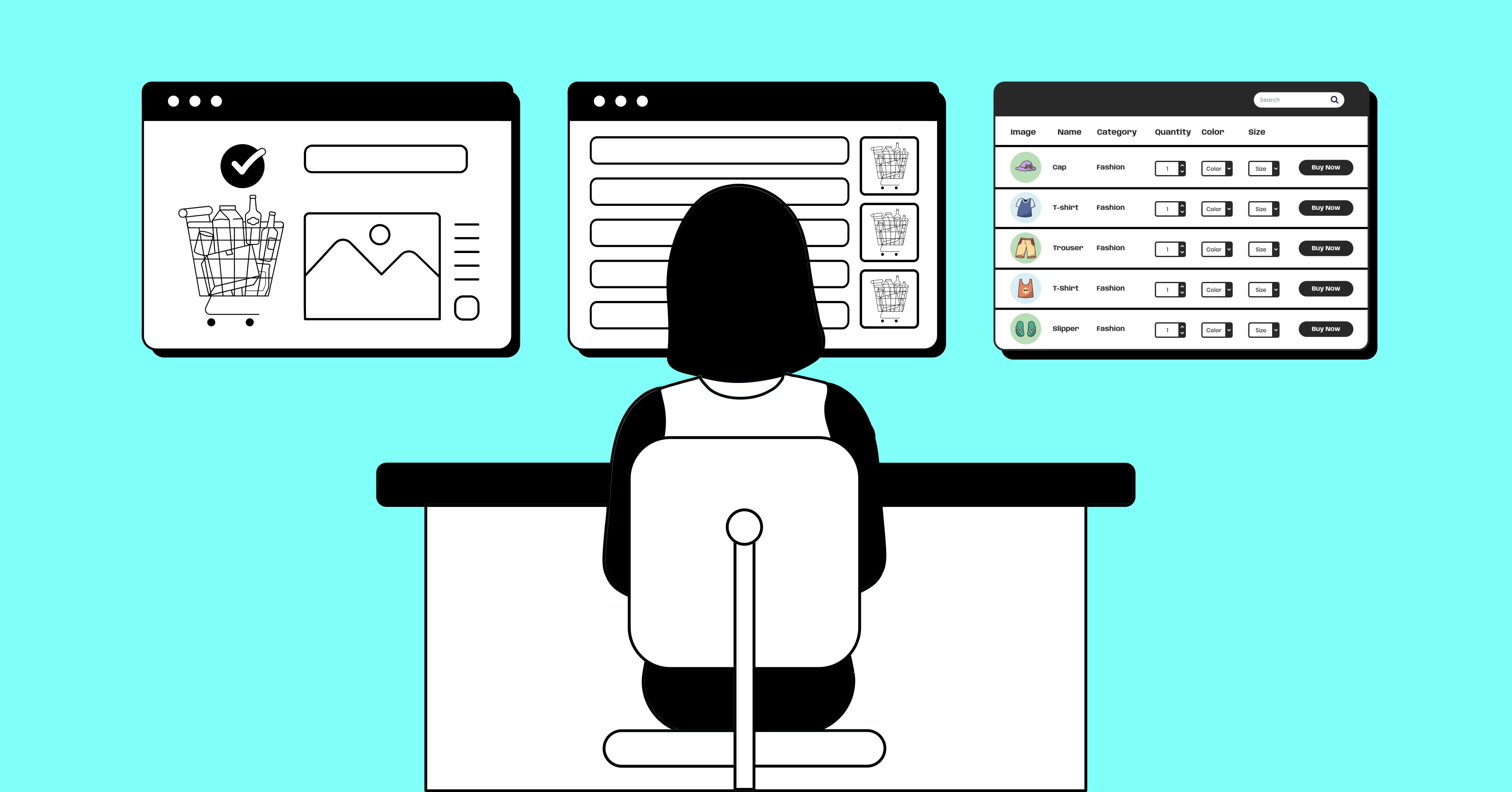 There is nothing to freak out if the WooCommerce plugin isn't tickling your fancy anymore. You can find the next best thing, an alternative, in this article.
WooCommerce Product Table by Barn2 Plugins is one of the most efficient plugins used by 8k+ users worldwide. Barn2 made it to help you provide a personalized shopping experience to consumers. But is there are better options than that?
This article will look at the offerings and best-matched WooCommerce Product Table alternatives based on our community recommendations in your industry.
What WooCommerce Product Table offers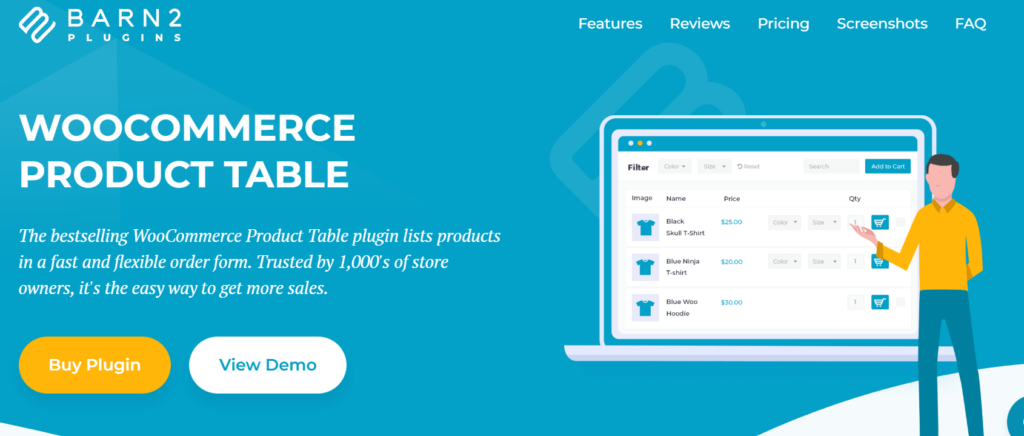 Some plugins do most of your job, and some specialize in only one thing. WooCommerce Product Table fits the latter. It's developed for you if you just want to showcase WooCommerce products on a table.
But the functions of this plugin are admirable and give you a plethora of control over how your product tables look.
Here are some of the features that give the plugin a good level of flexibility.
Create tables for all products or separate them into different categories
Multiple options to handle product variations
Four filter widgets to provide a user-friendly way for people to sort the table
Display and filter by custom taxonomies
Display custom fields as columns
Show add-to-cart button, including AJAX functionality that doesn't require a page reload
And beyond all those features, it generally has the benefit that it's handy to customize the plugin to do exactly however you want.
But, after all these, there are better options than that.
And some of them come with many exclusive features with less effort and price! Let's see those WooCommerce Product Table replacements to ease your eCommerce journey and boost your sales.
Top 4 WooCommerce Product Table alternatives
We often need alternatives for development and better output. WooCommerce Product Table is a great plugin for showcasing your WooCommerce products. But from the list of many competitors, you need something more than that to stand out from the crowd.
We handpicked the best products from the list of many plugins to help you with the best alternative for WooCommerce Product Table. We focused on the features, ease of use, and sustainability to help you find the best one.
Ninja Tables
Ninja Tables is a product table plugin for WooCommerce websites that offers the easiest way to browse, search, and buy products online.
To add the table, you don't need coding skills. Instead of investing time and effort in writing code to create the table, you can use its effortless WooCommerce Product Table integration.
It's a simple yet robust plugin that enables product table creation in just some easy steps. You can embed the table anywhere on your WooCommerce site by pasting a shortcode.
Also, you can add the tables automatically to the shop and category pages on your site.
Features of Ninja Tables WooCommerce plugin:
Deeply integrated WooCommerce
Easy to list many WooCommerce products with just one click
Instant search and sort filter
Control over data visibility
Quick addition of products to the cart
Compatible with almost all the WordPress themes
Pro Tip:
You can also create product comparisons, pricing, and almost all kinds of tables from its simple dashboard. The drag-and-drop table builder helps you create your table the fastest way possible.
AzonPress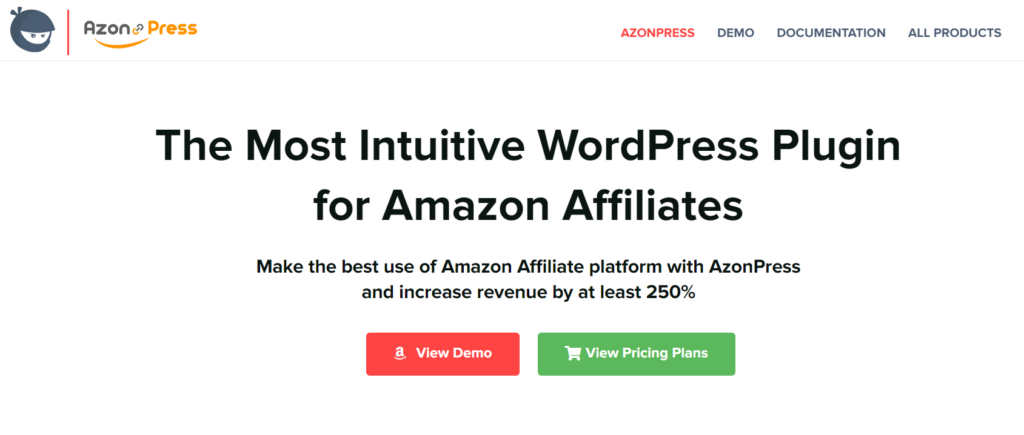 AzonPress is a WordPress plugin for Amazon and other affiliates. You can search and choose the desired product from Amazon to add it automatically to your product tables. Your tables will enable your audience to make faster, better decisions.
You can also use AzonPress to create product comparison tables and many more use cases. With the fantastic customization options of this WordPress plugin, you can alter every aspect of the tables.
AzonPress provides templates that have been expertly designed.
Key Features of AzonPress
Automated updates for products
Table templates and comparison tables
Responsive tables
Easy and flexible customization
24/7 support
Woo Product Table- by CodeAstrology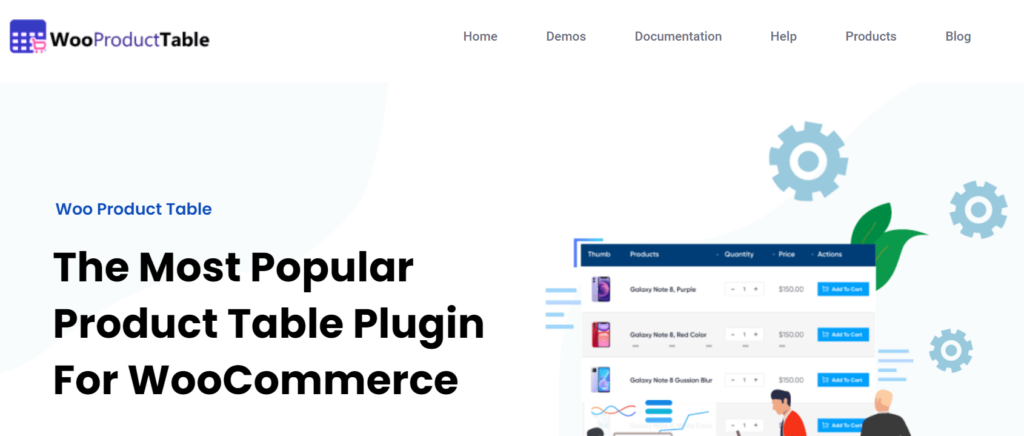 If you just began to run a WooCommerce site, starting with a free plugin like this can be a better decision. Then you can switch to its premium version for extended features.
Woo Product Table plugin enables you to convert products displayed in a tabular format using a shortcode. You will have to create the product table once and then embed the shortcode anywhere on your website pages or posts.
Features of Woo Product Table Pro plugin:
Create a shop page in tabular format
Easy to customize the table
AJAX-based add-to-cart option
Advanced Searchbox
Editable table text
Free WooCommerce Product Table View- by CommonNinja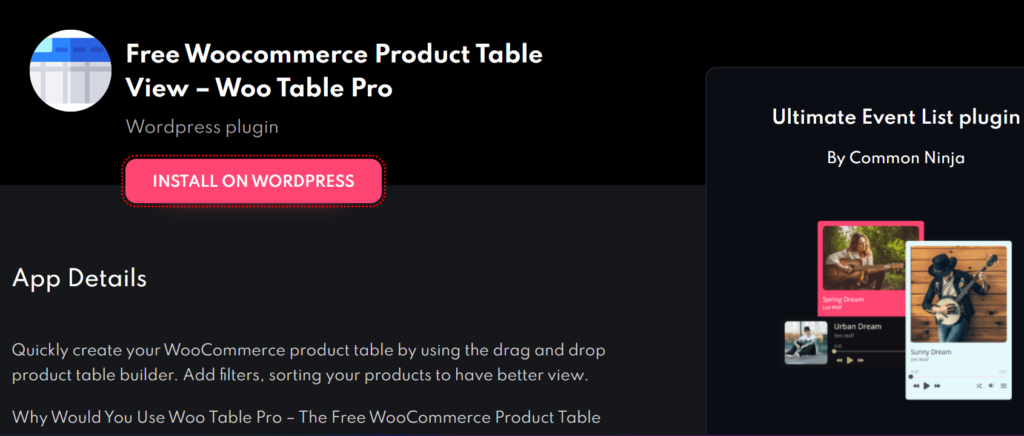 With premium WooCommerce plugins, you can anticipate getting the features you're looking for.
But what if you have similar features in a free plugin?
The Free WooCommerce Product Table View is a plugin by CommonNinja helps you to create product tables on your site easily using its drag-and-drop builder. It has several user-friendly features, like repositioning columns using drag and drop features.
Features of Free WooCommerce Product Table View:
Custom widgets to filter products by attributes, rating, or price
No limit on the number of tables
Full support for product variations
Shortcodes to display product tables
Our Verdict- How to choose which plugin is right for you
We have discussed some of the most efficient plugins for your needs. These are user-friendly and perfect alternatives for your WooCommerce shop.
However, Ninja Tables is one of the most eligible competitors for WooCommerce product tables. It's not only a product table plugin but also a complete table builder with many more features.
This plugin enables you to make and customize product tables easily. Also, it's effortless for a beginner to understand the features and functionalities.
So, the bottom line is that you can go for any of these plugins as an alternative. But trying out Ninja Tables is recommended.
Below we are showing this comparison blog in a tabular format.
The table is made with Ninja Tables.
| Plugins | WooCommerce Product Table | Ninja Tables | AzonPress | Woo Product Table | Free WooCommerce Product Table View |
| --- | --- | --- | --- | --- | --- |
| Unlimited Products | ✓ | ✓ | ✓ | ✓ | ✓ |
| Automatic Product Update | ⤫ | ⤫ | ✓ | ⤫ | ⤫ |
| Comparison tables | ⤫ | ✓ | ✓ | ⤫ | ⤫ |
| Responsiveness | ✓ | ✓ | ✓ | ✓ | ✓ |
| Free Version | ⤫ | ✓ | ⤫ | ✓ | ✓ |
| Pro Package Starting Price | $99 | $49 | $39 | $59 | $0 |
Final Note
We stayed as unbiased as possible when listing all these plugins. These are all worthy opponents of WooCommerce Product Table.
Among these alternatives, which do you personally think stands out?
Try the best one you found here. Be strategic with your WooCommerce store when you want to boost sales.
Ninja Tables– Easiest Table Plugin in WordPress
You can check out Best wpDataTables Alternatives for Your WordPress Tables before deciding on your data table plugin.
And let us hear about your thoughts in the below comment section.