How to Design A Converting Pricing Table to Engage Customers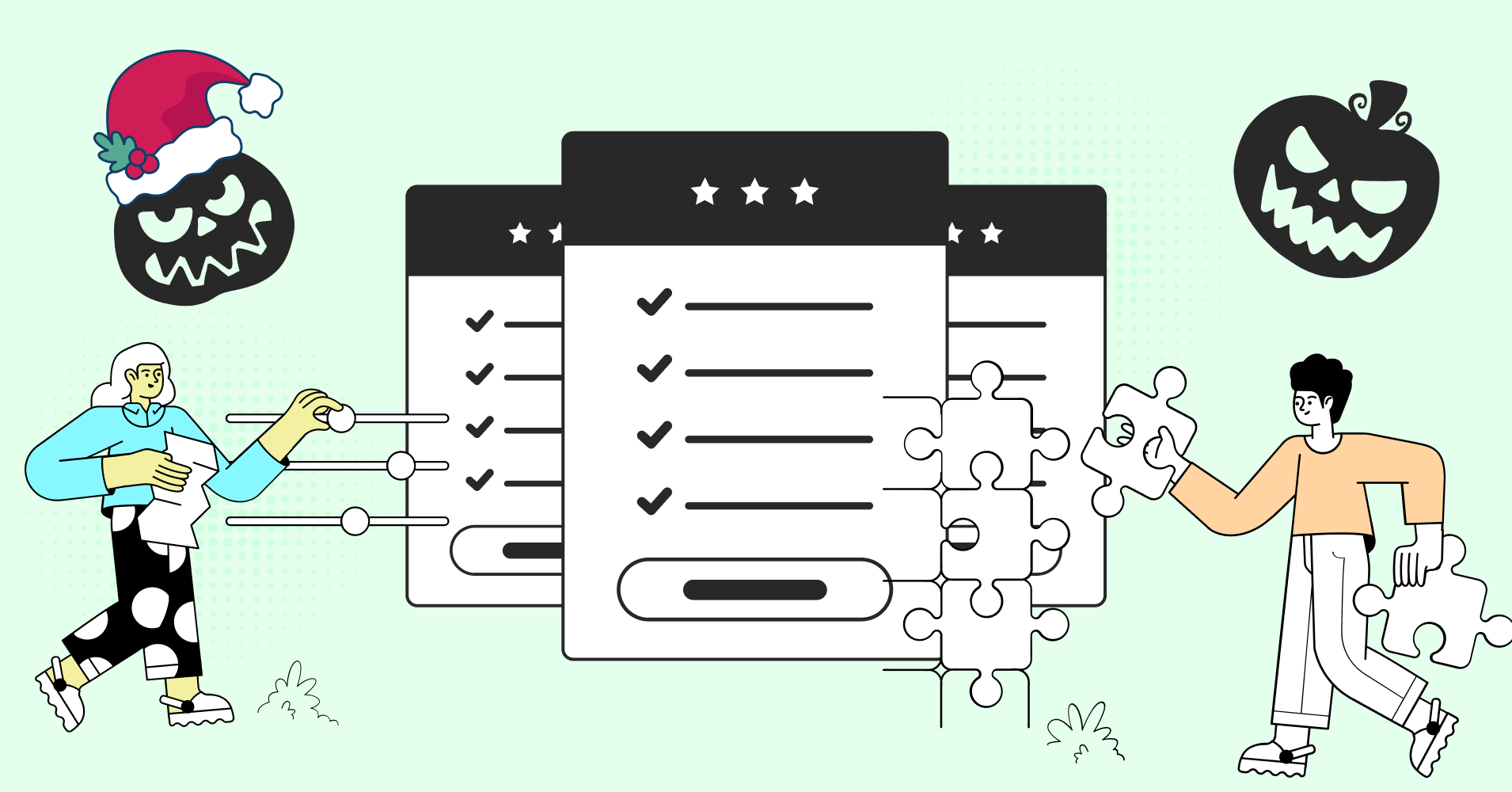 Hello folks, the craze of the discount season has started with Halloween and will continue until Christmas and the new year. Are you ready with your schemes?
Many deal sites and shopping platforms are all set with their resources, pages, and blogs. But during a hectic deal season, what is the most important thing to do?
You must have the converting deal page and pricing tables. Here in this blog, we will demonstrate the easiest way to quickly create pricing tables and customize them during the hectic deal season.
How to quickly create a pricing table
There are HTML and CSS to make the pricing table which is a time killer and not suitable for everyone. Even customization of the tables is much more sturdy.
For WordPress users, we come with the easiest and fastest solution. Just copy and paste the shortcode, and you are done. Yes, we are talking about the robust table builder plugin for WordPress- Ninja Tables.
With Ninja Tables, it's very easy to create any kind of table. And when it is a hectic deal session, it's effortless to reuse those. There are a lot of beautiful templates to customize and make stunning pricing tables.
Use Ninja Tables for pricing tables
Ninja Table comes with two easiest table maker modes- simple mode and advanced mode. In simple mode, just drag and drop table elements to make stunning responsive tables. There are a lot of other benefits too.
And Ninja Tables' advanced mode is a breeze. You can do almost anything to any extent with it. When you feel you are stuck, the HTML and CSS come into action. It will just amaze you with the variety it contains.
Install Ninja Tables
Plugin installation in WordPress is very easy. For Ninja Tables, just search it by name or 'Data table plugin' and install and activate it.
You can purchase the Ninja Tables Pro to use all its amazing features of it. To buy it go through the installation documentation. There is an in-depth video tutorial too.
Create pricing table: Select your template
Many will say that creating a pricing table is not a piece of cake. But here I say it's easier than that. Just choose your design, and Ninja Tables will do the rest for you.
Go to the Ninja Tables dashboard, and Click on Add Table. Now, click Drag and Drop Table from the left sidebar of the pop-up.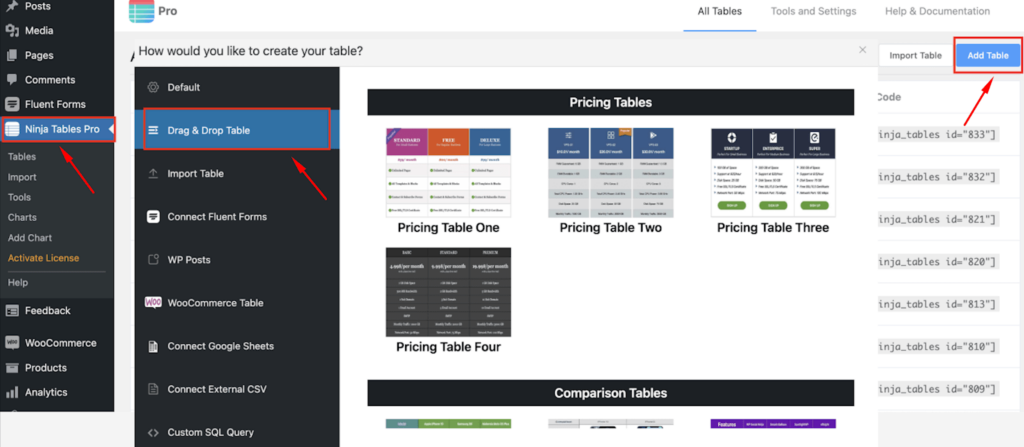 Edit your pricing information
So here are pricing table samples. Select your desired table, and now it's time to edit these to your preferences. You can edit all the texts from the text fields.
Fill up your price and give information about your plans. There is a highlighting ribbon in the middle table. You can customize that too. You can use all the elements on the left bar. Add star ratings, a progress bar, a button, or anything you want.
Maintain the pricing table best practices and give all the information you want to give to your customers. You can customize column and row colors too. Design your pricing table like a PRO.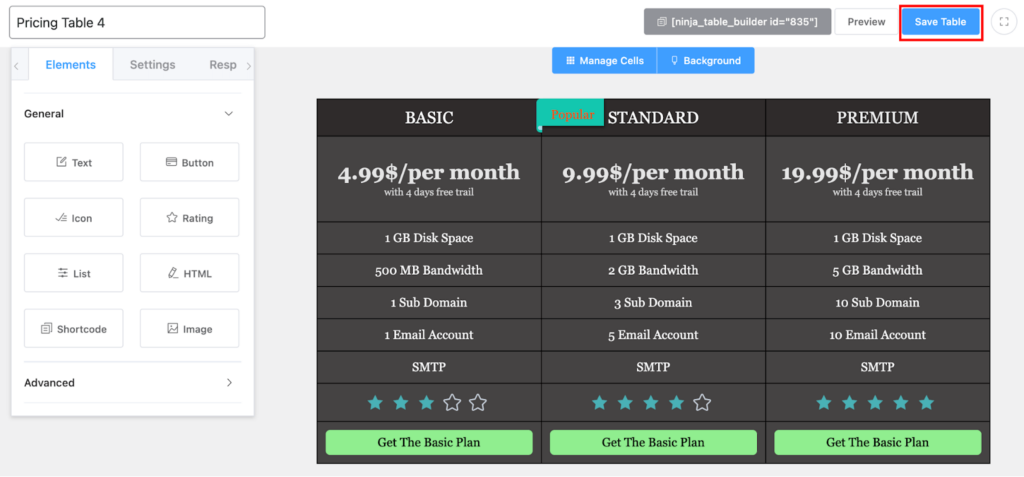 Highlight your preferred column
Highlighting the most preferred information and keeping it centered is a tried and true strategy for marketing.
Make your preferred plan centered and highlight the column. Don't worry, you don't need to code a page for that. Ninja Tables provide you with the best highlighter option.
Click on manage cells, Select your desired column, and get the Highlight switch to disable or enable the highlighter to make it happen easily.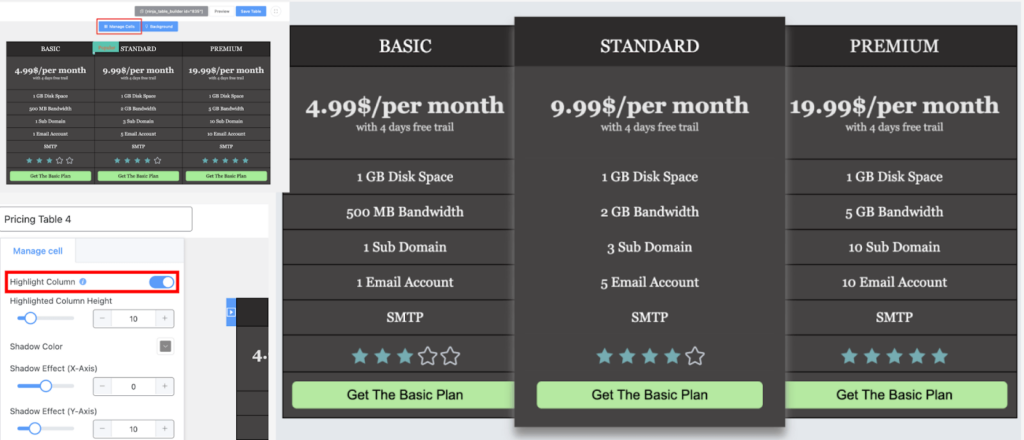 Check the responsiveness
More than 51% of all web traffic is from mobile devices. Users of mobile devices also make up the majority of visitors to search engines. Therefore, designing for a single device is no longer sufficient.
You can design responsive tables for your websites with our table builder plugin without sacrificing the UX. Ninja Tables lets you choose your cell stack direction in the table responsive view by selecting from a column or row.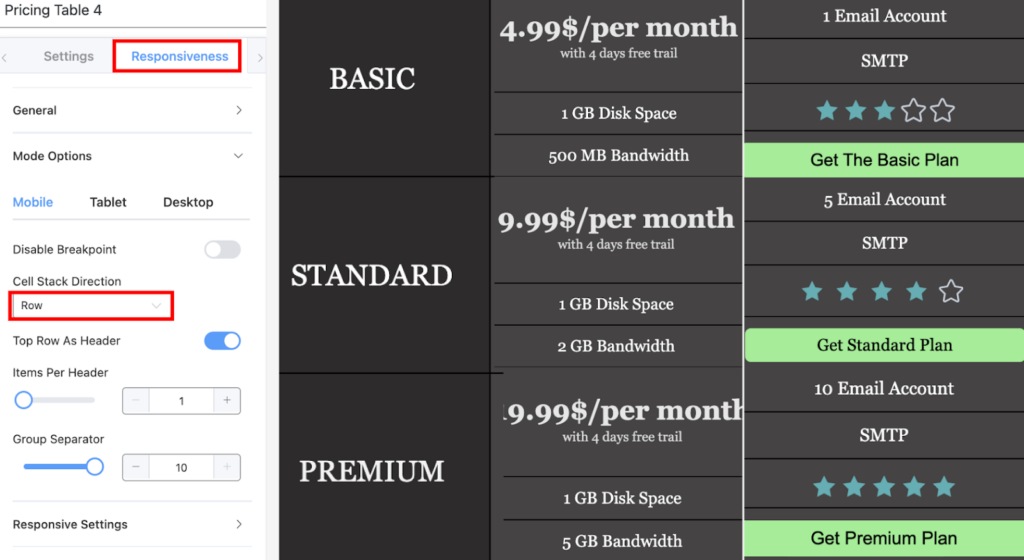 Try another way: Ninja Tables advanced mode
Ninja Tables advanced mode is a quality table plugin to create and customize website tables to any extent you want. It has a lot of integrations, design options, custom filters, and, finally, HTML and CSS.
It is a robust table builder option for all beginners and developers too. Create your table once and design it with Bootstrap or semantic UI however you want. You can easily edit your pricing information, table colors, icons, images, links, and even your table background.
Here let's see the Ninja Tables Pricing table made with this plugin.
Customize your table during the hectic deal season
Personalization and customization is the key to success in the twenty-first century. Now there are plenty of options. You have to gain your customer attention if you want to stand out from the crowd.
With Ninja Tables, you can customize every aspect of your tables within minutes. In this step, let's see how we customize the above table for the Halloween deal Session.
Halloween Deals Customization
You can easily design your WordPress Tables with Halloween vibes. Customize all your tables like this during a deal season. Not necessarily with a scary Count Dracula!
Single Site License


Agency License


Unlimited License

Single Site License

 Agency License      

Unlimited License

$309/year
$216/year

$499/year
$349/year

$749/year
$524/year

(1 Domain)

(20 Domain)

(Unlimited Domain)

check   Lifetime Update                    

check   Lifetime Update                    

check   Lifetime Update                    

check   Lifetime Priority Support

check   Lifetime Priority Support

check   Lifetime Priority Support

check   All Features Included       

check   All Features Included       

check   All Features Included       
Add any table background image you think customers will like.
Design a compelling pricing table, and win customers
So here you see all the table building, design, and customization options with Ninja Tables. It saves your time and gives you the best experience with table building. It's not only feature-rich but also gives you the easiest customization options.
It's better to have a single solution for multiple tasks. WPManageNinja has done a great job on that. It's a complete solution for all kinds of website tables. Even provides some more features like an image gallery maker.
Hopefully, that article will help you with your tables. If the question is, how can you quickly customize & embed a pricing table during the hectic deal season? The answer is plain and simple- Ninja Tables.
So, Have you tried Ninja Tables? You can check the free version of it on the WordPress repository.
Ninja Tables– Easiest Table Plugin in WordPress