Optimize WooCommerce for Higher Conversion Rates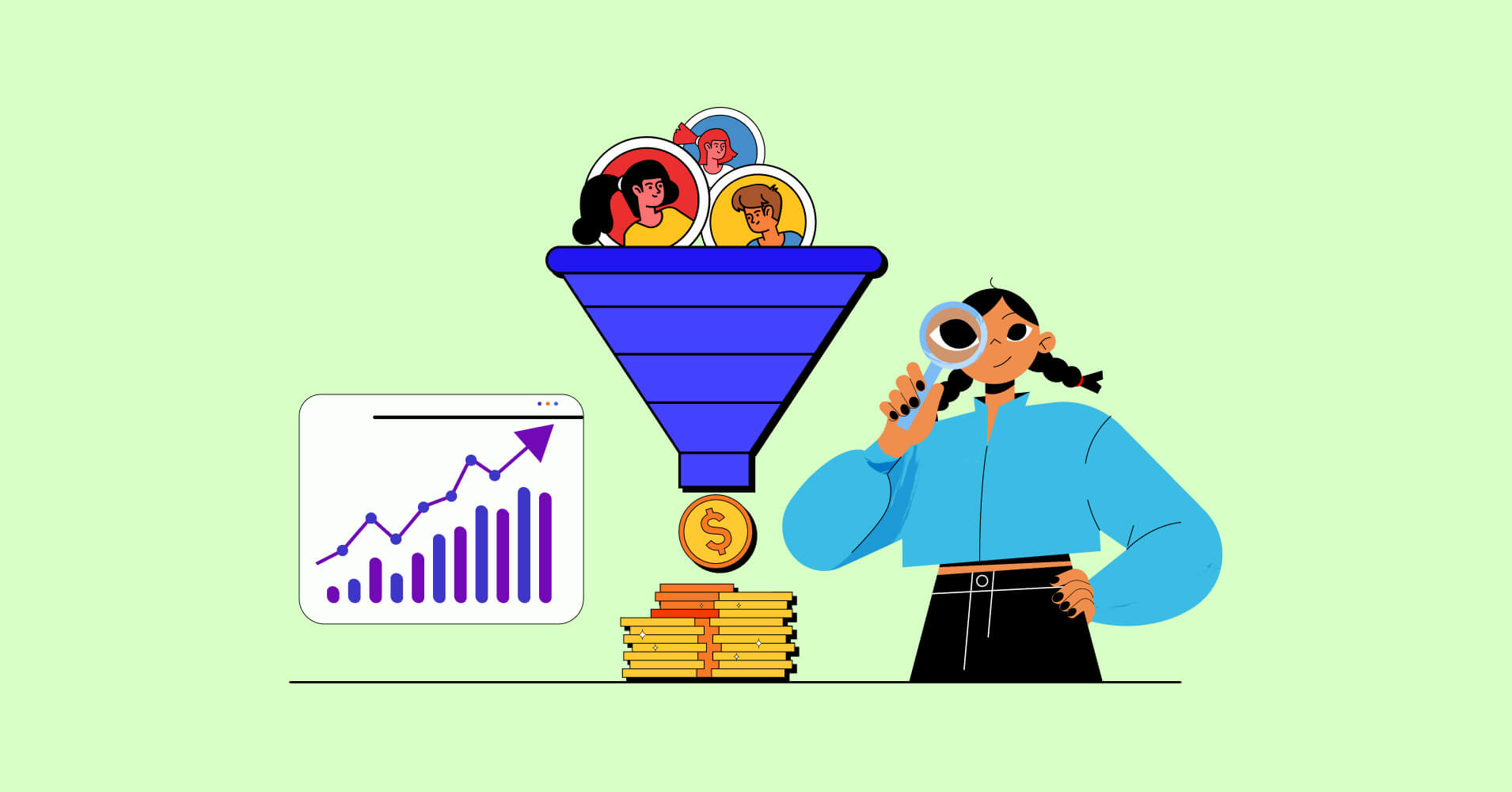 Imagine your WooCommerce store is getting a huge amount of traffic. Now imagine the sales and revenue of your WooCommerce store are off the charts! Which one do you think sounds better?
Massive traffic but no conversion only leads to an increase in website visitors and not sales. That's why you need some tips to increase WooCommerce conversion rate.
Conversion rate optimization for WooCommerce is a long yet easy process if you do it right. Don't worry. We'll walk you through it.
Website traffic vs conversion: What's important?
An influx of traffic to the website is everyone's dream. But to an online store owner, conversion is the real and more important metric.
Don't get too happy if your WooCommerce website traffic is increasing. Huge traffic still means nothing if none of it is converting to customers.
Huge traffic tells you how many visitors you're getting. And conversion rate is when the visitors are taking the action your business requires. In WooCommerce store's case, the required action from visitors is completing a purchase.
If visitors are buying from your store, the conversion is successful. This just means you need to keep the visitors engaged and interested so they convert into your customers.
Tips to increase WooCommerce conversion rate
If you're focusing on traffic influx and website visitors more than the number of sales, STOP.
WooCommerce conversion optimization isn't something simple. It's not difficult either. You just need to ensure the best user and customer experience.
Here's a short checklist to increase WooCommerce conversion rate.
Responsiveness
You don't know what device your customers or potential customers use. So, you need to keep your WooCommerce website responsive for all devices.
People are always on their phones now and not on bigger devices like desktops or laptops. Make sure to focus on mobile conversion optimization. Not optimizing your online store for mobile phones means you are missing out on a big chunk of potential customers.
Ensure a higher conversion rate by making your WooCommerce store responsive for mobile, tablet, desktop, and laptop.
Make the product rows stackable on mobile phones for a better view.
Store UI
Presentation and design play a vital role in customer conversion. Keep your WooCommerce website free from frequent pop-ups, overwhelming colors, unorganized sections, and unnecessary texts, images, or gifs.
The website needs to be clean yet full of content and easily navigable. For starters, you should organize WooCommerce product information in a data table. This way, customers can see details of the products before they make a decision to buy.
Here's how a searchable, filterable, and customized WooCommerce product table should look.
It's a dummy table
Make the data tables on mobile show up perfectly with a high-quality table plugin.
A smart website needs a planned layout that excludes anything distracting. The headings and texts should follow a hierarchy and the media should load fast. Also, the CTA and "Add to cart" buttons should be clear and placed properly.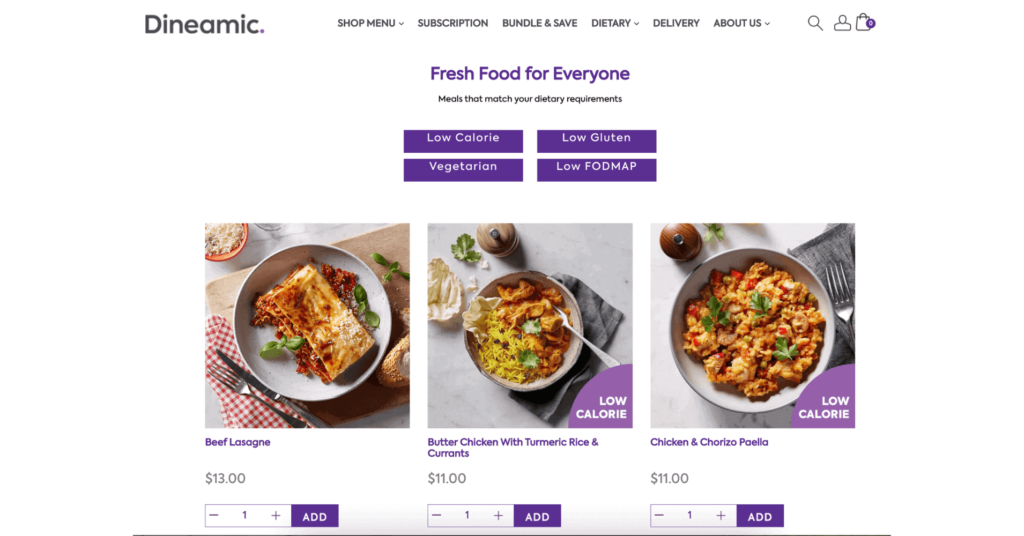 Dineamic is an Australia-based WooCommerce meal delivery service and the website looks pretty clean but detailed.
Learn how to integrate WooCommerce with a table plugin for a smart product table view.
HQ media
You can gain attention from ads but converting people into customers requires more.
The website and the WooCommerce products should have high-quality HD pictures or videos for customers to decide whether or not to check them out.
If you're using a product table, you can upload multimedia and you must keep quality in mind. A smart product table plugin has "Lightbox" feature which makes selling products easier! Customers can click a picture and the image appears bigger, with a dark shaded background so the focus falls on the picture alone.
Click on an image to open in lightbox
Using the image/video lightbox feature of the product table, customers can see if the product is worth their money. You better upload real HQ media for them to decide!
Reviews
When you're browsing WooCommerce stores and notice 5-star ratings and satisfactory customer reviews for a product, you are most likely to check it out.
Similarly, showcasing testimonials from real users will gain you more customers. In a product table using a table plugin, you can add a column for user reviews or ratings.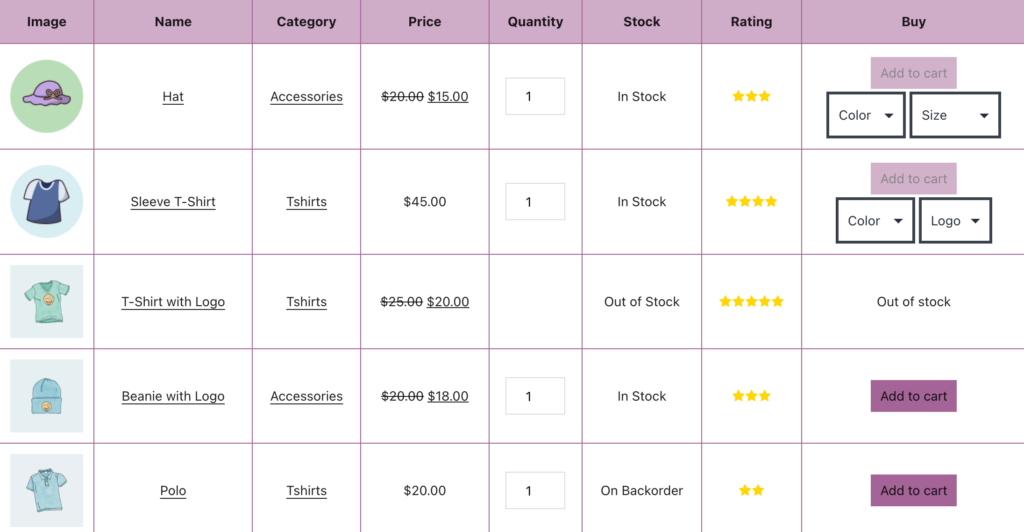 Easy checkout
A high cart abandonment rate in online shopping is a massive loss of conversion. There are a ton of reasons why customers will add products to their cart, proceed to checkout, and still leave without purchasing.
The top reasons for cart abandonment are-
Unexpected shipping cost
No free shipping offer
Time-consuming, complicated, and confusing checkout page
Limited payment options
Security
Requiring user account
No coupon code
No return or refund policy
Website crashes or loads slow
Too many ads or pages
Understand your website visitors, value their time and interest, don't make the checkout process messy, and ensure a smooth conversion.
Promo & FOMO
If you're not running ads, promotions, or other marketing campaigns, no wonder your conversion rate is low!
Social media ads, Google ads, social media posts, emails, YouTube videos, website banners, and popups; don't leave anything out.
"Refer a Friend" option on the website works as a brilliant word-of-mouth promotion and the referrer gets a discount on their purchase. This trick can spread the word for you fast.
Create a sense of urgency and trigger FOMO (fear of missing out) by adding a timer on your website for discount offers or adding a reminder of products going out of stock fast.
Just don't overuse any of these! Receiving constant promotional emails, texts, popups, or reminders can get really annoying and this may end up in you losing more of your regular customers than increasing conversion rate.
Personalize
Making the website and WooCommerce product pages personalized is another way of increasing conversion.
Know your customers' demographics to show them products they'll like. Send marketing emails or discounts specifically designed for an individual, based on their preference, age, location, and previous visits.
Here are some ways to personalize WooCommerce websites:
Email marketing personalization
Tailored discount offers for individuals
Personalized homepage
Product recommendations
Location-based product display
You can offer a visitor to take an on-site quiz (optional) to gather info on their ​​taste, budget, etc, and create a personalized product display for them. "Pick up where you left off" and "Remember my choice" are two crucial options you wanna add.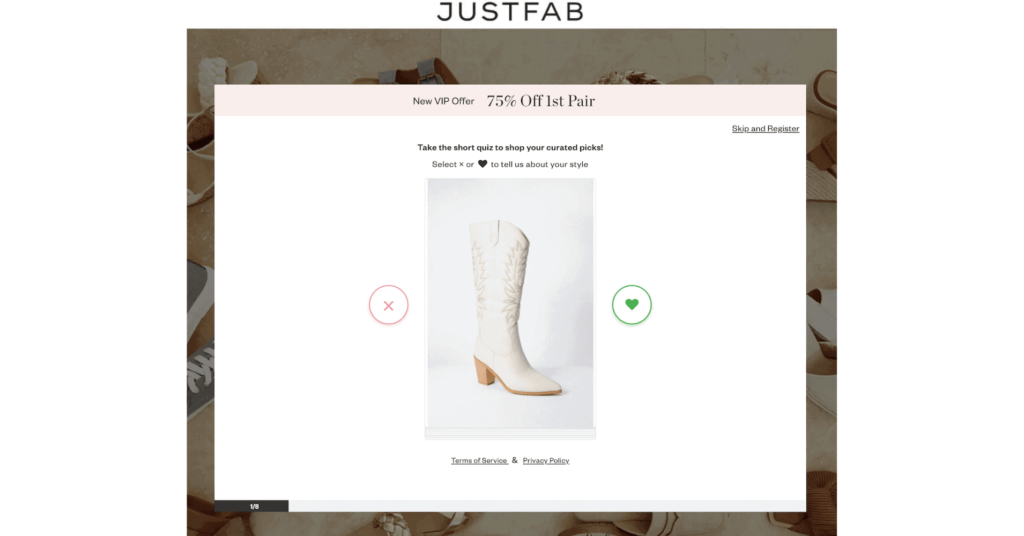 Trying to sell tandoori chicken to a vegan means nothing. WooCommerce personalization is important so that a potential customer sees the products he wants to see. It's a successful way to boost conversions.
But hey! Don't be intrusive and creepy with customers' personal info!
Live support
When you go to an offline supershop, you may or may not need assistance from the staff. But you know there is staff in the shop to help you if you're having trouble with a product.
Imagine someone visited your WooCommerce store, chose a product, but suddenly noticed another similar product, and started reconsidering the purchase- which one to buy or which one's better. During all this, if there's no assistance from your end to guide them, you are most likely to lose a customer.
Live chat applications help online stores with live customer support. If your store has the live chat feature, the person having trouble making a purchase decision can ask questions about the function and quality of both products.
It's better to help them with real human support behind the other end of the screen. However, a chatbot can help just as well if you create a proper conversation tunnel for it. The bot can at least ensure a money-back guarantee for you.
Getting help before considering a purchase can most definitely boost conversion rate.
Conclusion
Looking for tips to increase conversion rate in WooCommerce? Keep making sure your website gives good vibes!
We have listed some ideas to increase WooCommerce conversion but not all of these can give you the desired success since every business is different and has different goals.
But ensuring responsiveness, product table presentation, easy checkout process, and being all and all helpful can definitely bring some results.
What's your trick to optimize WooCommerce for higher conversion rates? We're all ears to learn more.
That's it for today. Good luck with your business!
Ninja Tables– Easiest Table Plugin in WordPress