9 WordPress Data Visualization Plugins You Can't Overlook!
Looking for suitable WordPress data visualization plugins but not able to find the right one?
We know it's hard to pick when there's a handful of plugins available in the directory.
But you've come to the right place for the solution.
In this article, we'll categorically compare nine incredibly valuable plugins. These plugins aren't just visualization tools; they're versatile solutions that can fulfill your data collection and organizational needs.
Before we dive into this article, let's take a quick look at some reasons you need to check out some of the best data visualization WordPress plugins.
Why Do You Need WordPress Data Visualization Plugins?
What will draw your attention first – an interactive chart or a boring spreadsheet with mammoth-like data?
As humans are visual creatures, it's easier to digest visual information rather than plain text.
Now, imagine you've got a mountain of data, but aren't serving them with the right tools! Will anyone understand what information is hidden in the data?
That's why we need the right tool for the right representation.
Here are a few reasons why you need WordPress data visualization plugins:
Help discover new patterns and errors in data.
Provide insights for better analysis and prediction.
Allows swift handling of complex and unstructured data.
Maximize the error detection and correction process in datasets.
Speed up the decision-making process to promote business growth.
Types of Data Visualization Tools in WordPress
While the WordPress repository is filled with numerous plugins, not all qualify as the best WordPress visualization tool.
So, we've carefully sorted and selected categories that exhibit shared characteristics and offer invaluable data presentation capabilities.
Here are the 3 categories we identified for effective data visualization:
Form Builder Plugins
Table Builder Plugins
Chart Builder Plugins
In the following sections, we'll dive into the best data visualization tools within each of these categories.
WordPress Form Plugins: Collect and Visualize Data
Whether you need to compile user inquiries or conduct surveys, WordPress form plugins provide customizable fields to suit your data collection needs.
Moreover, best form plugins for WordPress have built-in charts, graphs, and reports-building features. Thus you can present your collected data in a visually appealing manner.
Let's do a comparative analysis of top-form builder plugins.
Fluent Forms
If finding a lightweight forms plugin is your concern, Fluent Forms is the (best) option available in the WordPress directory. This robust yet lightweight plugin is tailor-made for your data collection needs.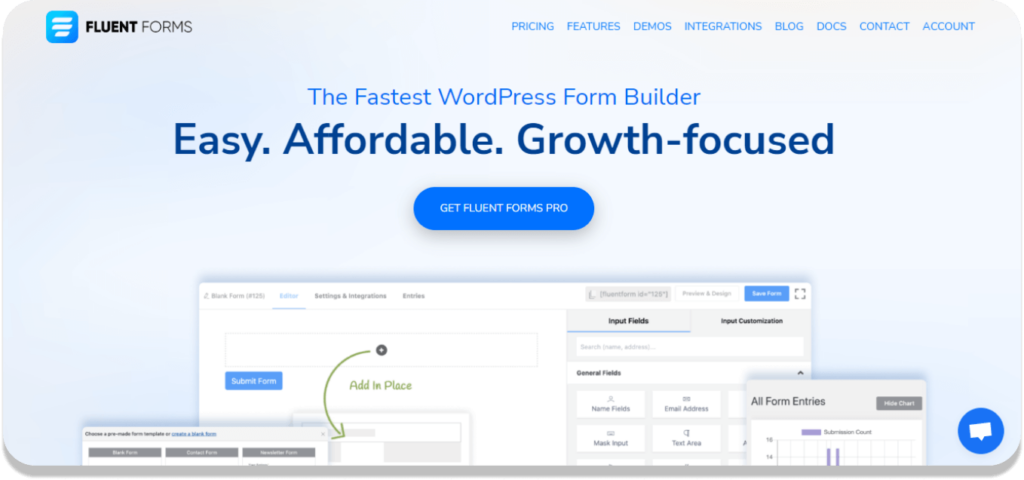 But, what if you have to present your collected data on a chart or graph? Here's where Fluent Forms shines with its unique data presentation feature.
This powerful capability lets you present your data in visually stunning bars and pie charts, adding a whole new dimension to your insights.
In the past couple of years, if any form plugins achieved drastic user growth then it had to be Fluent Forms for its easy-to-use nature and feature-rich capabilities.
People love it because:
It helps build interactive conversational or multi-step forms with easy customization options.
You can create forms in a minute, thanks to its drag-and-drop interface and array of pre-designed templates.
Transforming your entries into engaging visual data reports is made easy by this.
You can create fully responsive forms that are accessible across all devices.
You can create trendy quizzes with advanced scoring to provide an engaging element on your website.
Price: This WordPress contact form plugin offers flexibility with both annual and lifetime plans, starting at just $79 and $349 respectively.
Formidable Forms
Formidable Forms is an advanced form builder in WordPress that lets you create complex form types with ease.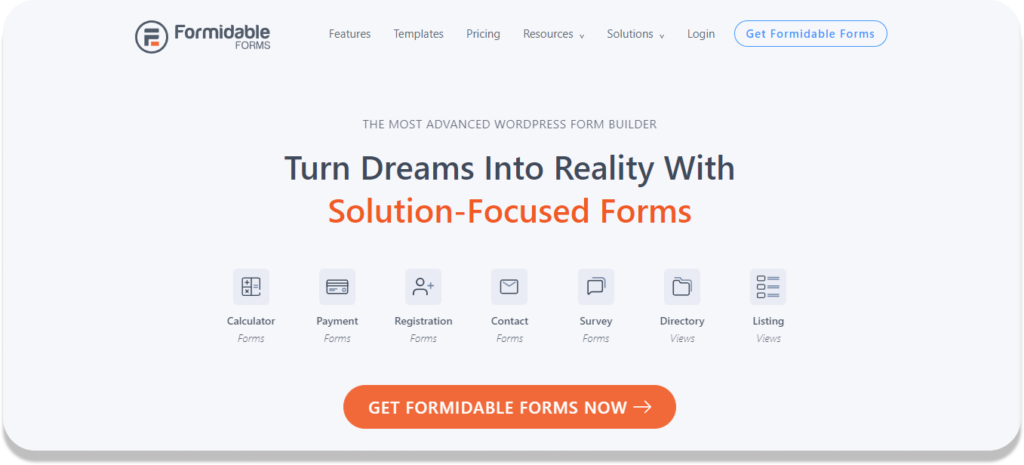 From surveys and payment forms to registrations and quizzes, it can be your all-in-one solution. Plus, you can use it to plot your data on different graphs and charts such as bar graphs, line graphs, pie charts, area graphs, and many more.
However, Formidable Forms is specially tailored for advanced and complex tasks, some users might find some features a bit complex to handle at the beginning.
People love it because:
It allows integrated view options to transform your entries into front-end content to display on your site.
With this plugin, you can create a custom calculator for mathematical calculation and can customize it.
You have the freedom to fine-tune your HTML code to align with your preferences.
Using this tool, you can add Bootstrap styling to all your designed forms.
Price: Formidable form offers both free and premium plugin installation options. However, the core features are in the premium plan, which starts at $199.50 annually.
WPForms
With an impressive user base of over 6M, WPForms takes the crown as one of the best form plugins for WordPress.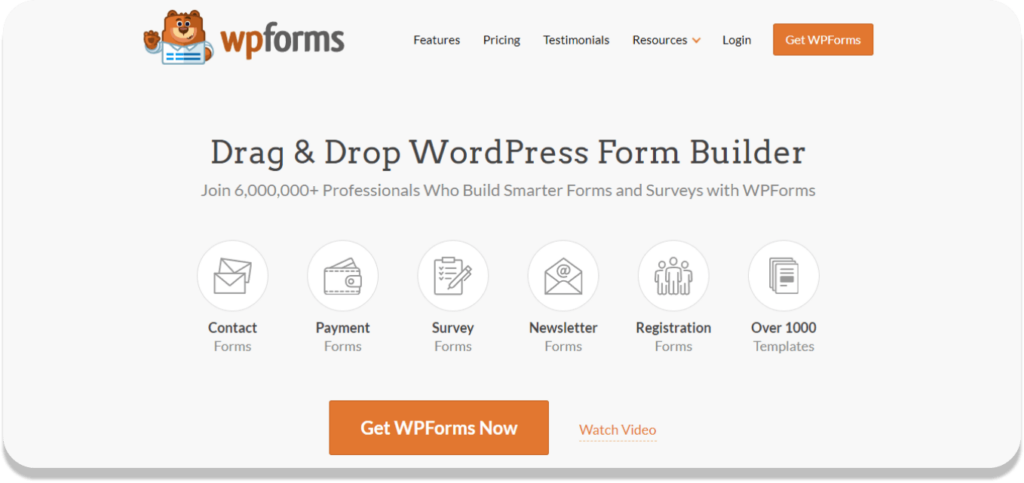 This plugin boasts a user-friendly interface that allows you to design contact forms swiftly, using pre-designed templates.
Notably, it doesn't stop at collecting data; it also transforms that data into insightful surveys, beautifully visualized through charts and bars. However, you'll need to install and activate the Survey and Polls addon from WPForms Addons to bring a visual appearance to your data.
People love it because:
Collected entries are conveniently stored in the WordPress database for easy management and access.
It has a drag-and-drop interface so you can easily create contact forms.
You or your team members can answer incoming inquiries and leads, through instant messaging.
It has a variety of add-on options to expand its capabilities.
Price: The plan for this contact form builder starts at $199 annually.
WordPress Table Builder: Organize and Showcase Data
Whether you are a WordPress user or a developer, you definitely have experienced the hurdle of making data tables for any site. It's a work of struggle, especially for someone who doesn't know anything about coding
So, WordPress table plugins are a lifesaver in terms of organizing your valuable data in an easy-to-use customizable format.
Now, let's look at some of the best WordPress table builders you can integrate with your WordPress site.
Ninja Tables
When it comes to designing tables, it's the (most) effective and fastest table maker that blends well with any WordPress version.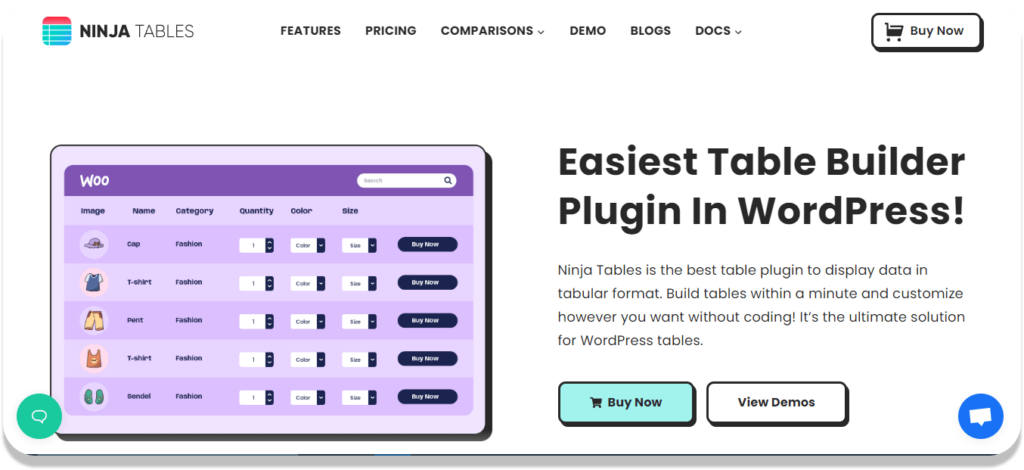 Ninja Tables is a feature-rich plugin that lets you make responsive tables and SEO-friendly tables for your WordPress site.
The interface of this plugin is designed with beginners in mind – ensuring that even novices can navigate it with ease.
And, if you want to format, filter, or customize your tables – Ninja Tables lets you build tables for your site however you want.
People love it because:
It comes with a drag-and-drop table-building feature and premade customizable templates.
Custom designing data tables is easy and fun.
You can effortlessly import tables from other table plugins like TablePress.
Auto-sync with Google Sheets and WooCommerce and Fluent Forms integrations helps business or personal websites.
Its simple user interface makes it easier to access all the features.
You do not need any coding knowledge to use it for making tables.
It provides you with vast data import and export options.
Price: Ninja Tables offers freemium and premium versions. The Pro version comes with annual and lifetime plans starting from $47 and $248 (Special Discount!).
wpDataTables
wpDataTables is an excellent tool for making stunning tables for your WordPress website. With this versatile plugin, you can effortlessly craft responsive and customizable tables.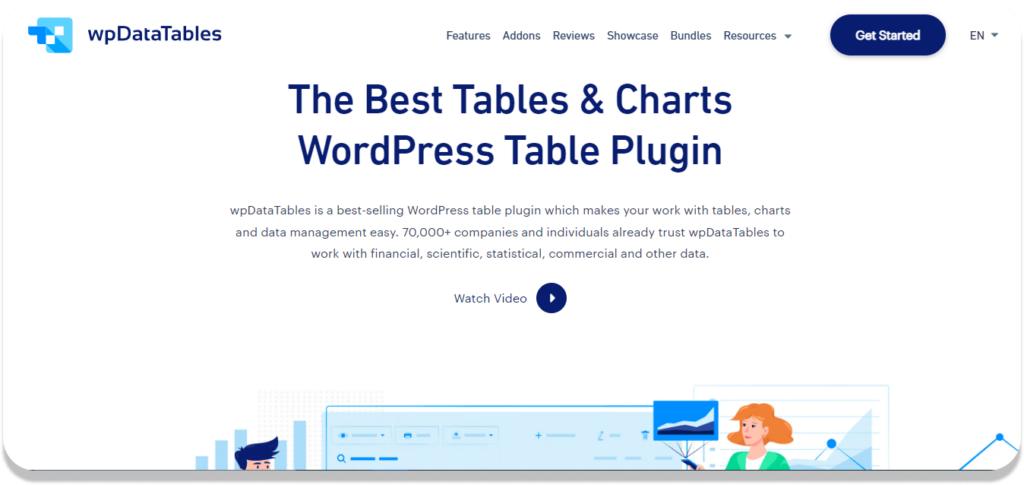 It's an easy-to-use and very well-designed plugin consisting of many features that suit anyone, from beginners to advanced levels.
People love it because:
It can import and export data from external Excel, CSV, and Google Spreadsheets.
You can apply conditional formatting to your data tables.
It has advanced sorting and filtering options.
You can convert your tables to charts with ease.
It has add-ons for Gravity forms and Formidable forms.
Price: The WPDataTables tables pro version's price starts at $169 for the annual plan and $285 for lifetime access.
TablePress
TablePress is a powerful and leading plugin for making customizable tables. It's an advanced table builder that is specially designed for developers' use.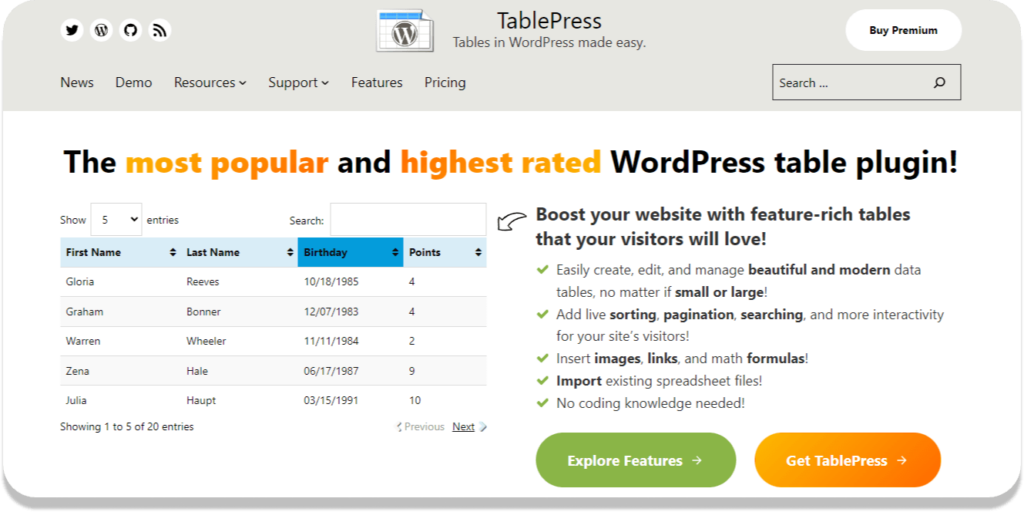 If you've ever worked with Excel or Google Spreadsheets, you'll feel right at home with this plugin. Its interface mirrors the simplicity and functionality of these spreadsheet giants.
People love it because:
It allows you to create tables from scratch but you can also import from Excel, CSV, HTML, etc.
You can add links and images to the table.
Tables made using this tool can easily be sorted, and filtered without much hassle.
Developers can get advanced loading and server-side processing features in this tool.
Price: TablePress offers both Free and Premium versions, with the annual Pro version available for just $79.
WordPress Chart Plugins: Interactively Visualize Data
While WordPress users with coding skills can create tables, the real headache comes when you want to make interactive charts.
So, chart plugins are designed to remove the stress of making charts online. Typically, a chart builder offers a wide range of chart types such as bar charts, line graphs, pie charts, scatter plots, and more.
Let's compare some top charts plugins that offer versatility options for your data visualization needs.
Ninja Charts
Ninja Charts is a powerful Free chart plugin with a dynamic interface, designed to make charts for your WordPress website.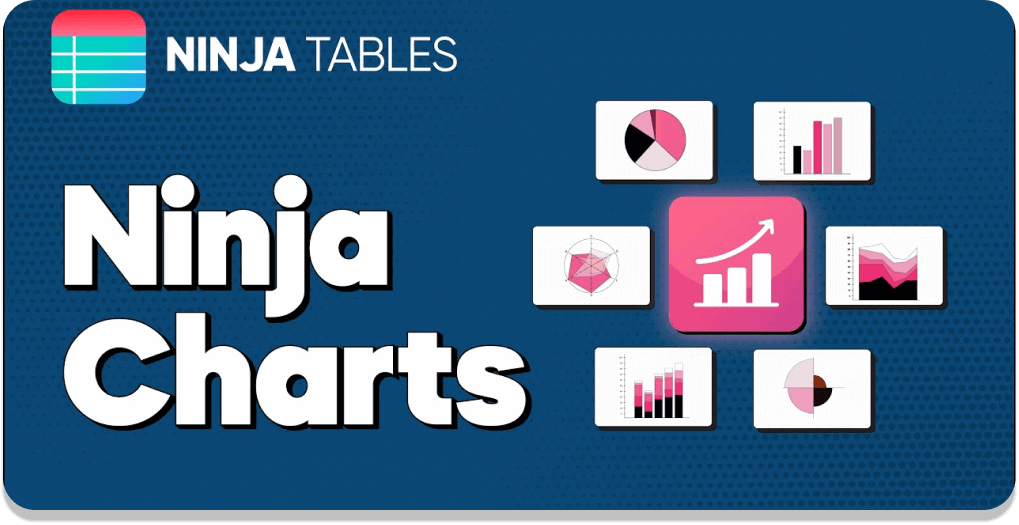 With this plugin, you've got the power to create 10+ customizable chart types, and effortlessly display them on your website using the automatically generated shortcode.
Here is an interesting fact:
Ninja Charts is hooked with the Ninja Tables plugin. But you can use Ninja Charts for FREE without adding Ninja Tables to your dashboard.
And, you can make charts manually or by retrieving your data directly from Ninja Tables and Fluent Forms
People love it because:
You can make charts using Google Charts or Chart JS.
It allows you to create charts within a table plugin. No need to use multiple plugins.
You do not need any coding expertise for making interactive charts.
You can import table data from TablePress and effortlessly transform them into charts within Ninja Tables.
It has an easy interface and all the charts are customizable.
You have the flexibility to create responsive and SEO-friendly charts.
Price: It's the Best part! Ninja Charts is a completely free plugin!
Want to get the most out of it? Bundle it up with Ninja Tables.
Visualizer
Much like its name suggests, Visualizer is a plugin with an incredible quality for transforming your data into a multitude of charts and graphs.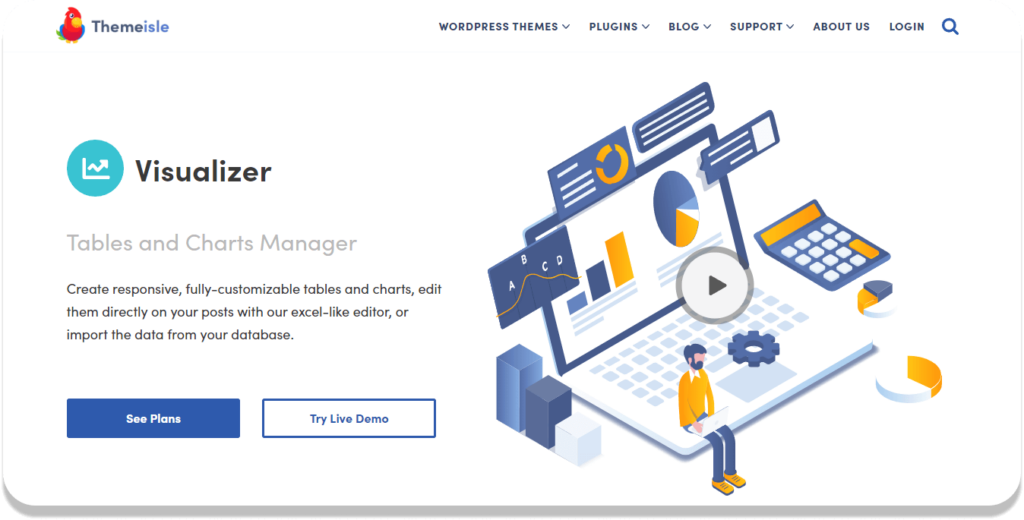 You can make multiple types of charts even with the free version of this plugin and if you opt for the pro version you can unlock even more functionalities and chart-making options.
Visualizer isn't just about charts; it's also a tool for making interactive tables. However, it shines better when it comes to chart creation.
People love it because:
It allows 9+ charts-making options with the free version.
You can have responsive charts that are accessible from any device.
It will enable automatic data synchronization from multiple sources.
You can add advanced control to your tables and fully customize them.
Price: It has free and premium versions that start from $129 annually.
iChart
iChart is another excellent plugin for responsive charts and graphs makers.

It made visualizing your data easy by helping you build Pie charts, Bar charts, Line charts, Polar Area charts, and many more.
All these are customizable as well as responsive on different screen sizes, such as mobile tablets, and computers.
People love it because:
It allows you to make 7+ charts-making options.
Chart size can be optimized to adjust with the website loading speed.
It has Chart JS implementation to add beautiful, responsive graphs to your website.
It allows multiple import-export options and has a live preview feature.
Price: It has free and premium versions. The Pro version price starts at $19 which is best for bloggers and personal site owners.
Wrapping Up
So, there you have it – all the essential details about WordPress data visualization plugins.
We aimed to provide you with an insightful comparison of the best data visualization tools within the WordPress ecosystem.
We trust that this side-by-side analysis will assist you in making a well-informed decision when selecting the tool that aligns perfectly with your requirements.
And, finally, if you decide to go with Ninja Tables then don't forget to check our blog and documentation panel to get a brief idea of the plugin and its functionalities.
Ninja Tables– Easiest Table Plugin in WordPress