Ninja Tables 2022 Year in Review: What's New, What's next?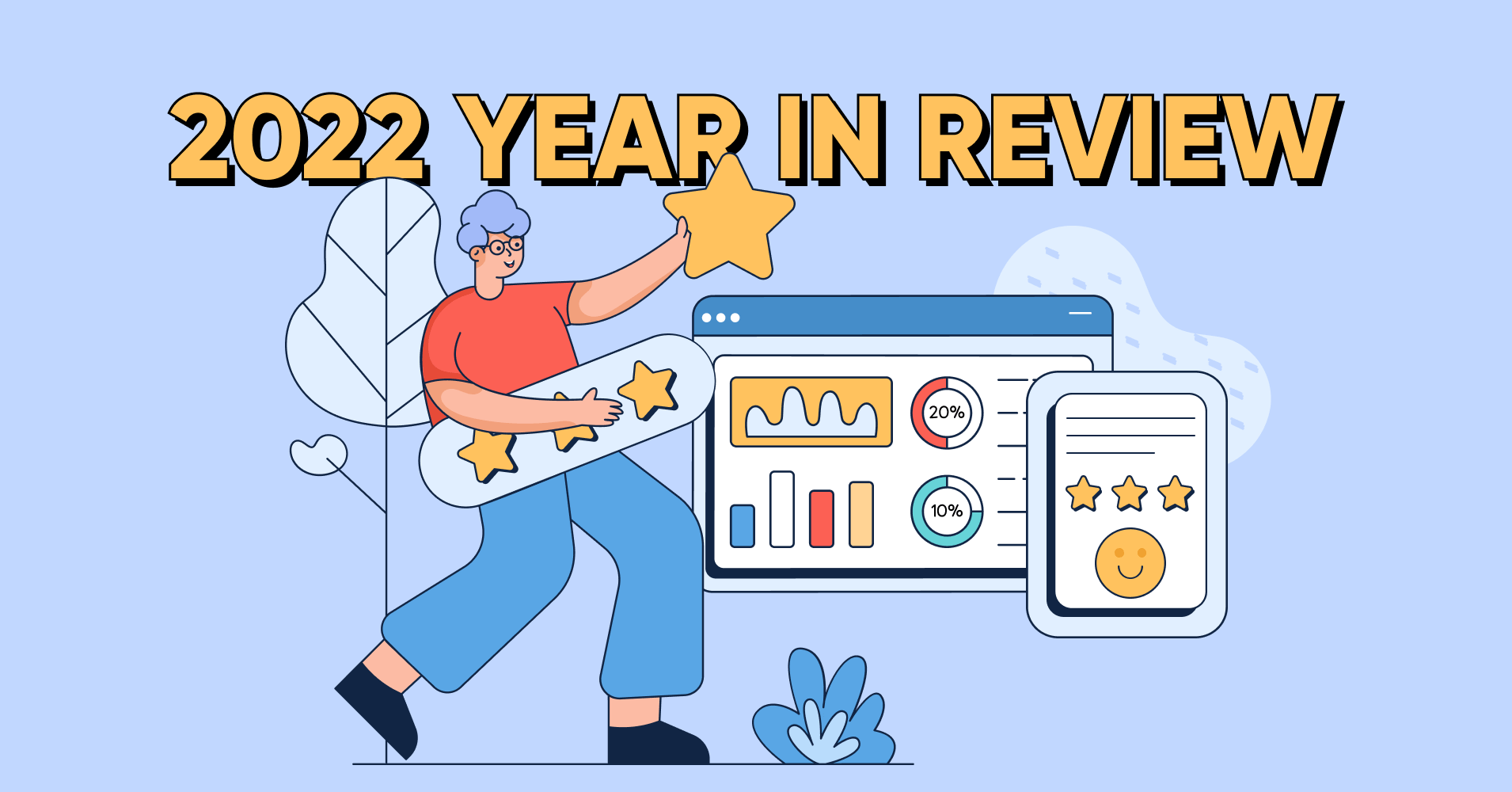 Did you know that it's been one heck of a party?
Yes, you read it right. The Ninja Tables just completed another extraordinary year. And not to mention, it has already been a new standard for creating and customizing your WordPress tables and displaying them on your website in the easiest possible way.
We, The Ninja Tables, a wing of WPManageNinja. As the very first plugin of it, it has been 4 years since we developed it with full effort. Now, it will not be an iota of exaggeration if we assert it to be the industry leader to be the easiest and feature-packed, yet flexible tool to generate almost any kind of tables for your WordPress website.
So, what made 2022 so special for Ninja Tables? That's what is explained in this blog as Ninja Tables 2022 year in review. Let's see what's new and what's next. Well, let's take a sneak peek at the numbers.
We Crossed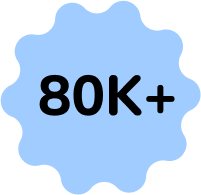 Active Installations
Up From 70k in 2021
We Surpassed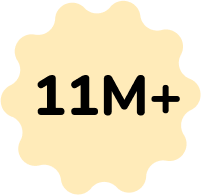 Plugin Downloads
Up From 8M in 2021
We Received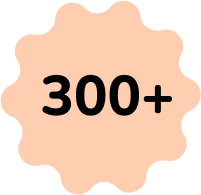 5-Star
Ratings
Up From 220 in 2021
Those are the analytics, to say the least. Without further ado, Let's dive into the details.
Back to the office
That was the best part of 2022 for the team Ninja Tables. After surviving the weirdest pandemic of the century, we rejoined our workplace in the first quarter of the year.
The team started at a full pace after two years of working from home and got new features, updates, and much more. The long-lasting pandemic effects reshaped the office environment, but the teamwork made it possible for the whole team.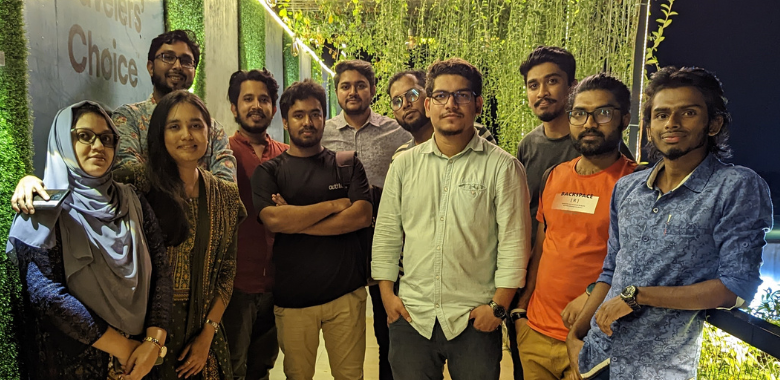 Ninja Tables at its 5th precious year
This year was the 4th anniversary of Ninja Tables, and it's been a wonderful journey! Now we're stepping into the 5th.
Bringing the dream into reality, experiencing tremendous growth, having an amazing user community, and making WordPress better every day have been amazing for the team and users worldwide.
We celebrate birthdays with delicious and beautiful cakes too!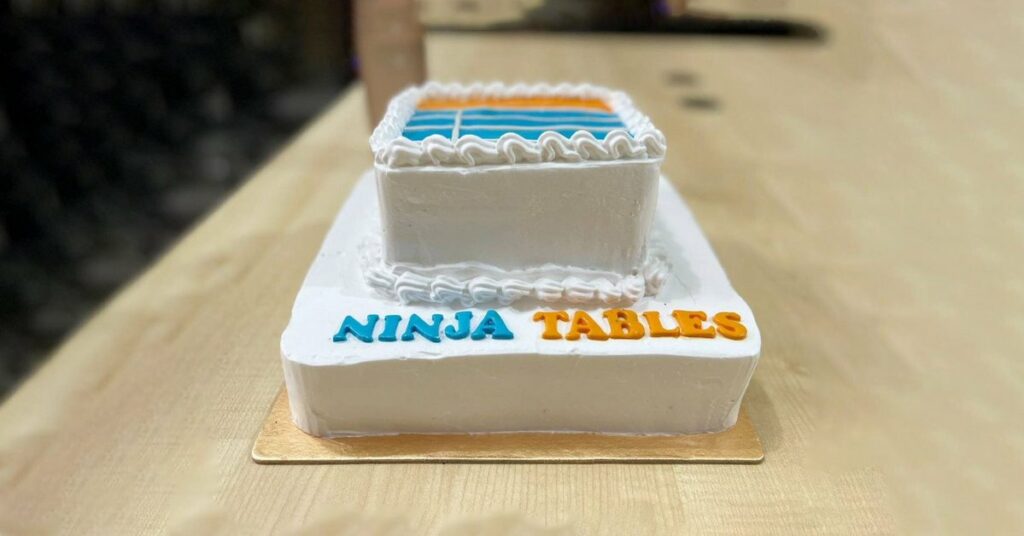 By February 2023, Ninja Tables will be 5.
It's a long journey with a lot of experience. So far, we've been successful with that procession, and the result is obvious —Ninja Tables is one of WordPress's most popular table builder plugins.
Touched the 80K happy users benchmark
Ninja Tables started the journey in 2019 with just 25k installations. After four years, in 2021, it was 70k, but within just a year, the user base is now 80k, more than three times from the beginning.
It is now the second biggest WordPress table builder plugin after the mighty and free TablePress table builder. Even the free version of Ninja Tables has been downloaded more than 11 million times from the WordPress repository.
* The beautiful growth chart above was made with the Ninja Charts addon. You can download it for free and make dynamic pie charts, bar charts, or any kind of charts you can think of! It's a gift from us.
Ninja Tables got a home to call its own!
Unlike all other plugins of WPManageNinja, Ninja Tables didn't have a dedicated website to call its own. It was under the mother site, WPManageNinja, until now.
But in mid-2022, Ninja Tables got a home to call its own. The dedicated website with the best UI makes the tour beautiful for users worldwide.
The new pages come with a retro vibe, and the elaborated feature pages of every feature can give you a complete overview of that robust plugin.
Additionally, comparison pages help you compare all other table builders. Finally comes the dynamic blog and the doc page. Our eligible content writers enriched those with more than 40 helpful blogs to help you out with crucial business decisions. And the number is getting bigger every week.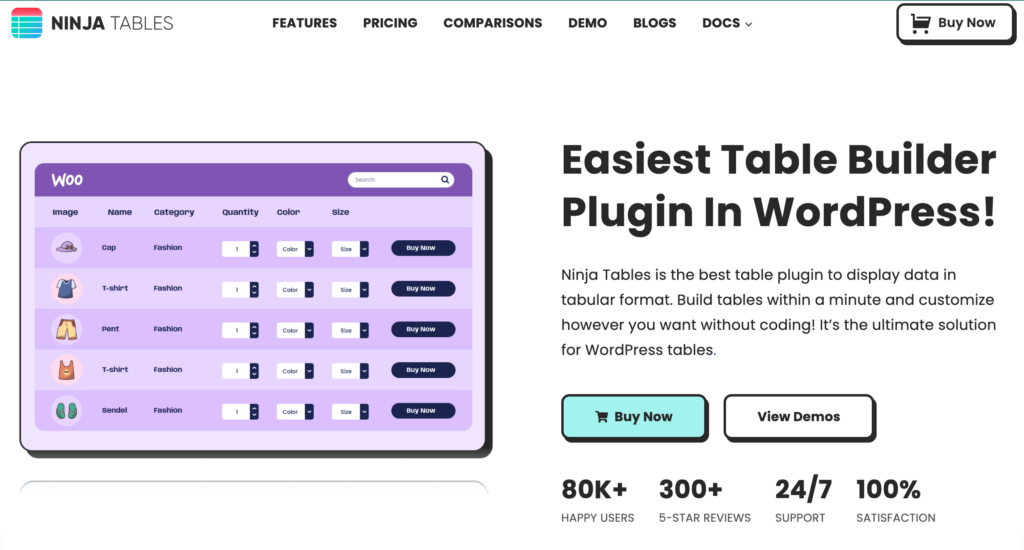 A big discount and a lot of new beneficiaries
By this October 2022, Ninja Tables launched a deal with upto 50% discount on lifetime licenses (which is still up for grabs!) It was the biggest discount deal ever for Ninja Tables.
Users were really happy with this offer. They showed much love, and Ninja Tables got thousands of new beneficiaries who just got out of any hassle with their website tables for a lifetime.
A lot of updates and improvements
As a user-centric company, we believe in listening to user feedback and suggestions, then implementing them rapidly. For this reason, we spent these four years helping each other.
Ninja Tables had a lot of updates and improvements this year. There were some complaints, and we fixed them all. Now you can call it the best and bug-free table builder plugin. But there will always be room for improvements and adding features as your suggestions.
Updates and Improvements!
Ninja Tables is now 4.3.2. There are a lot of changes in 2022.
Drag and drop table builder
The best addition in 2022 was the drag-and-drop table builder. And now you get two table builder plugins in a single plugin.
A plugin in a plugin!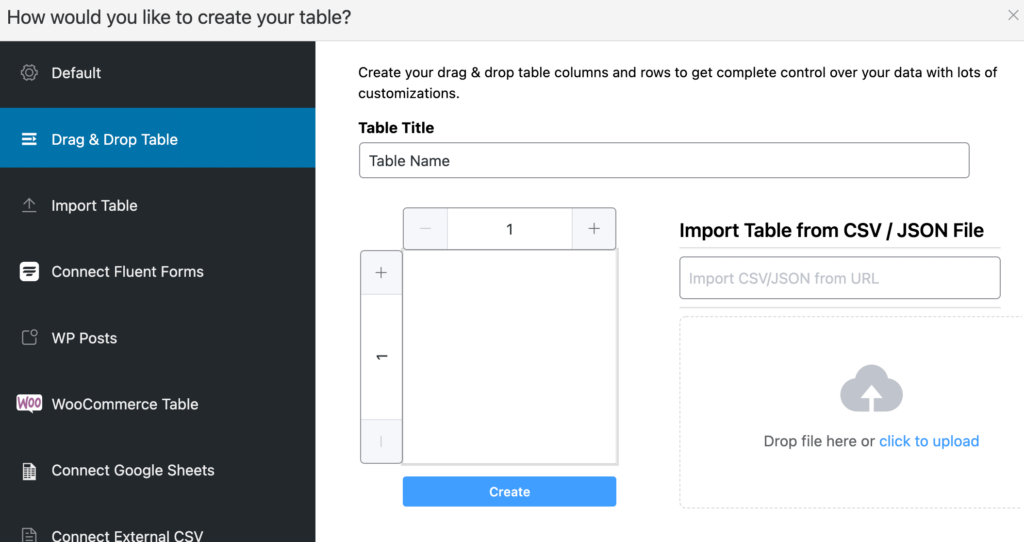 There is all the customization and designing option for your drag-and-drop tables. Many table elements, images, and HTML fields made this table builder more powerful. Finally, the amazing responsiveness option made it super efficient for the users.
Pre-made templates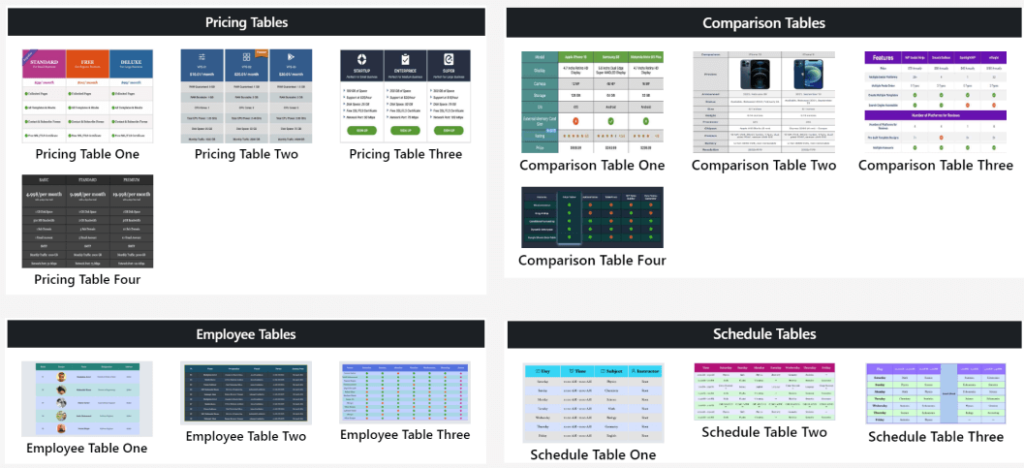 Ninja Tables decided to simplify things a bit for you. The plugin added a lot of templates for pricing, comparison, employee, and schedule tables.
In 2022, it's been more wealthy and efficient. Even with the free version, you can use some of those templates.
Improved user interface
Ninja Tables had one of the most user-friendly interfaces, but we didn't stop there. We made it more clean and amazing so that you now have the easiest table-building facility with the best user experience.
Huge update for Ninja Charts
In 2022, there has been a big update in Ninja Charts. It is now decorated with a completely new user interface and many new features, like a newly added preview button and many more.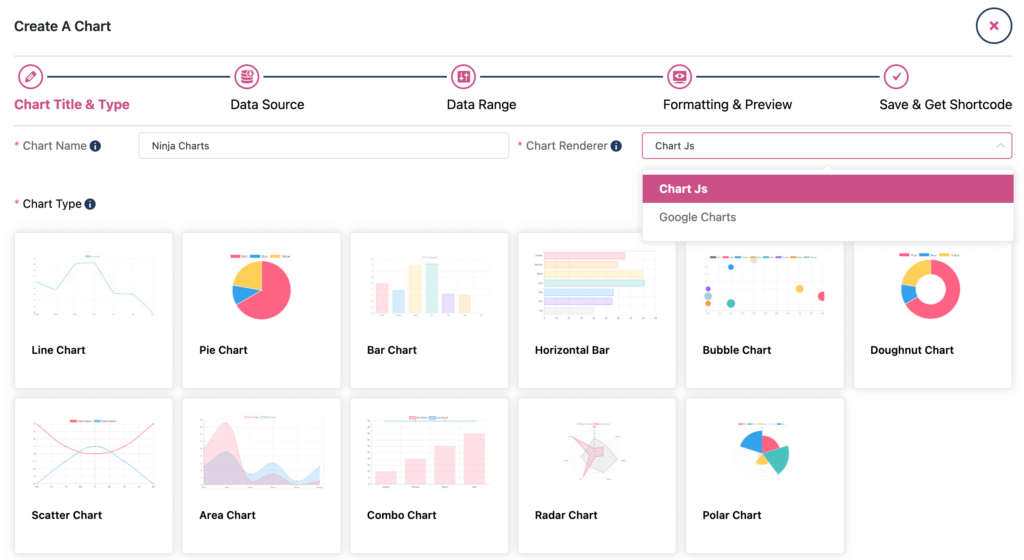 The background isn't plain white anymore!
Colum highlighter for drag-and-drop tables
Highlighting the most preferred product is one of the classic processes to visualize comparison or pricing tables. Now, You can easily highlight your columns when you create your tables.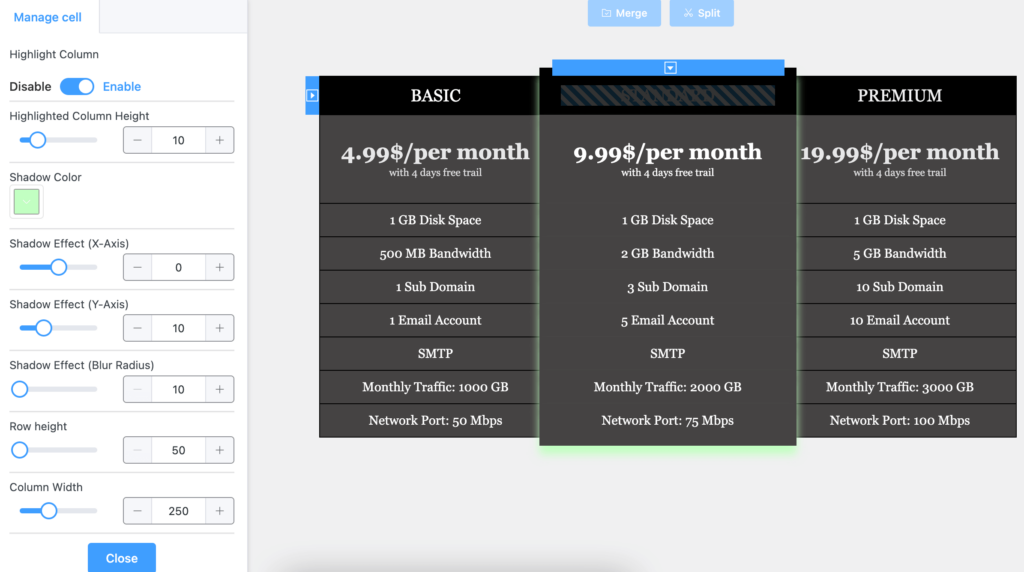 Users love Ninja Tables
Users are happier than ever to have such a feature-rich and robust table builder like Ninja Tables. By this year, we gained a lot of positive reviews as the users liked it very much.
In the review portal of the WordPress repository, there are 300+ five-star reviews about this table builder. Additionally, many other organizations also reviewed us.
We always follow all our reviews thoroughly. We appreciate the appreciation and consider their criticisms as a feature request.
See What Our Users Say
Just a little portion of all the reviews we can brag about!
What to expect in 2023
Ninja Tables is for the users, of the users, with the users. We start our days with customers' queries and end them with their solutions. Every support ticket, feature request, and review is equally important to us.
If we define it for ourselves, the resolution is serving the users to their needs. We want all your tables and charts to look awesome. And as performance is always our concern, we will be working on making Ninja Tables more lightweight and faster.
Notable updates
We will have a few major feature updates and more integrations and improve overall performance. You may expect at least 1 update every month for this plugin.
Increase social interactivity: Facebook and maybe more
We are active on Twitter with 800+ followers, and they benefitted from it in many ways. Our dedicated social media team supports users with new updates, queries, and announcements.
Recently we are on Facebook too. Many of our users asked for a dedicated Facebook page where they can easily have what they need. It will help them keep more updated with Ninja Tables.
That's not all. We're on YouTube to help you visualize the tutorials and other Ninja Tables videos on our WPManageninja youtube channel. Hopefully, this year there will be a complete table builder course for you in our playlist.
Better functionality & support
As we said earlier, there is always room for improvement. Ninja Tables developers are constantly working on new ideas and features.
There are a lot of integrations with WooCommerce, Google sheets, Fluent Forms, and many other plugins. We are going to add some more soon.
New year oath: Making users happier
It's our motto to make users happier than ever. We will introduce every help and feature they need from Ninja Tables.
Our support team is online 24/7 to solve any issues with this plugin. You are just one ticket away from having VIP support from the Ninja Tables support heroes.
More offers and discount deals
Our users love discounts, and we respect what our users desire. That's why we try to flair our users with many offers and discounts. In 2022, there was the biggest (up to 50%) discount on Ninja Tables LTD.
Now, we are set to give a massive discount on all Ninja Tables licenses this Christmas and New Year's deal season. You can follow our discount deal page for exclusive deals all year long.
Don't forget. The discount is still up for grabs.
Bonus: Contribution to WordPress
Being one of the top companies worldwide by the number of WordPress core contributors in version 6.0(Arturo) and 6.1(Misha), Ninja Tables and the mother company authLab introduced many enthusiastic people this year.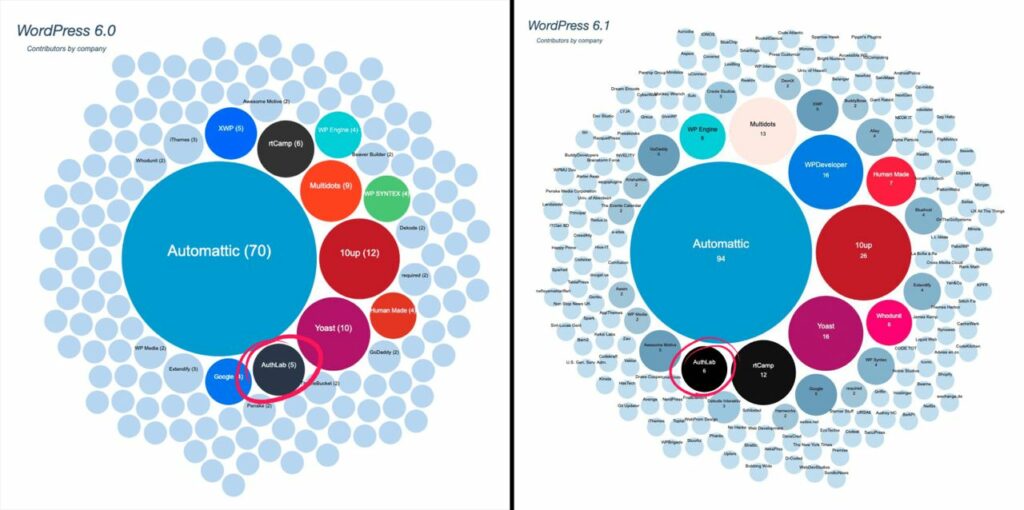 Ninja Tables is in the eligible hands of those genius folks. They are enriching this beautiful plugin as well as WordPress.
Here you can see Sumon Sarker (Ninja Tables' lead engineer) as a core contributor to the major release alongside our other geniuses.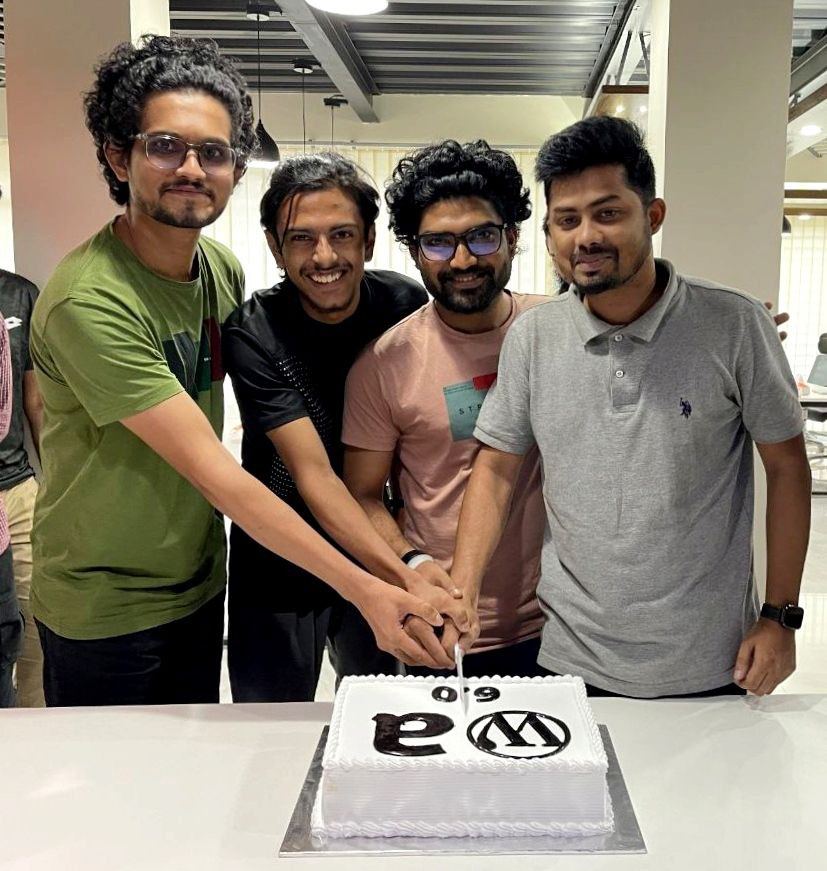 Wrapping up
Definitely, 2022 was a great year for team Ninja Tables since we developed a lot and have been evolving over the whole year. It made some real enhancements to the company's growth process.
Now, we are more organized and blessed with thousands of loyal customers. A big thanks to all who have been keeping trust in Ninja Tables and the team behind it.
No, it's not the end. It's merely the beginning. The beginning of new challenges to overcome, new goals to achieve in the coming years, and of course, new hopes.
We are committed to making 2023 a better year for you. Are you on board?
Ninja Tables– Easiest Table Plugin in WordPress