Introducing FluentBooking: WordPress Scheduling Plugin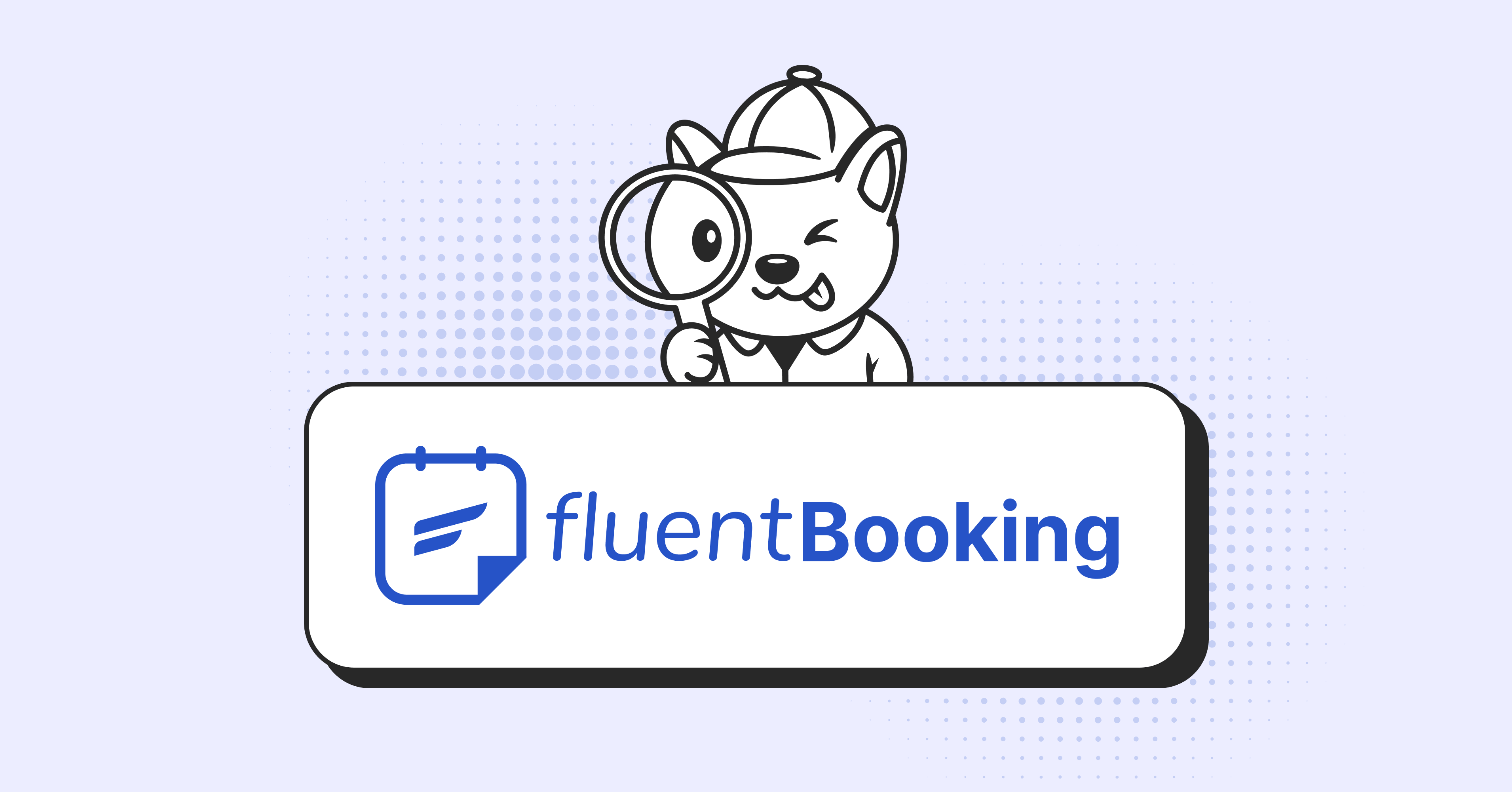 Let's get real. Jotting down the time and date of a meeting you just scheduled on a sticky note is not a good idea at all. Like you, we all struggle to maintain schedules manually.
You need an online appointment booking solution that automates it all. Luckily, FluentBooking, the ultimate WordPress booking tool was just launched on October 18, 2023.
And hey, it's not just your run-of-the-mill plugin!
This multipurpose booking tool does everything for you; from schedule management to email reminders. It's the only tool you'll ever need!
If you're looking for a good synopsis of this scheduling automation plugin we have a detailed FluentBooking review for you.
Spoiler alert: It's simply awesome!
FluentBooking review: A quick scan
What is FluentBooking?
In simpler terms, FluentBooking is an appointment booking solution to solve all your complex appointment needs. It's developed by WPManageNinja, the home of all the "Fluent" and "Ninja" plugins.
With FluentBooking you can- Make unlimited calendars and meetings, sync events with your appointments, and integrate with necessary tools like FluentCRM, Fluent Forms, Google Meet, Google Calendar, Zapier, etc.
From sharing your availability to managing appointment reservations, FluentBooking is there for you! It's a multipurpose scheduling plugin that makes your job easier.
It comes with easy usability so that even beginners can figure it out.
FluentBooking features
Let's take a moment to discover what sets this great booking plugin apart from others.
Multiple meeting types: One-on-one, one-to-many, Google Meet, In-person meetings, etc. You can customize unlimited meetings.
Unlimited hosts and calendars: Make as many calendars and schedule all you want because there's no limit to hosts or calendars!
Availability management: Set up your availability. Display the availability and avoid double-booking or date overriding. No manual availability checks once you set up a schedule.
Meeting duration: Customize the meeting duration depending on your preference. Set a fixed duration or offer flexible choices.
Google Meet integration: Create and manage meetings or appointments in Google Meet. No back-and-forth emails. FluentBooking shares the URL with both attendees automatically.
Booking pages: Create stunning booking pages or share the booking URL. It's customized to appear as a landing page.
Phone Call Meeting: Manage meetings made through phone calls.
Custom meeting link: Share a customized personal link.
Appointment insights: Gather valuable appointment information, guest data, and be prepared for meetings with a personalized touch.
Google Calendar integration: This integration is a real-time 2-way sync to avoid scheduling any conflict.
Zoom integration: Manage meetings arranged in Zoom. Integrate your Zoom account and send meeting details straight to your Zoom client. Zoom URL gets sent via email automatically.
Stripe payment: Easy payment method using Stripe. Integrate FluentBooking to Stripe and get paid for your services. You can use G-pay and Apple Pay easily.
Notifications: Personalized and automated email notifications let no meeting slip through- Unlimited reminders, booking confirmation and cancellation emails, custom shortcodes, etc.
FluentCRM integration: Send email reminders, see who you're interacting with, sync email data, re-establish communications, or add people to the mailing list using FluentCRM.
Fluent Forms integration: Create smart appointment booking forms, gather attendee insights, and generate leads through Fluent Forms.
WPFusion: Automate events, eCommerce, memberships, automated workflow, etc. using WPFusion.
Webhook and Zapier: Access to any webhook-supported tool and 1000+ Zapier Integrations.
Automated notifications and reminders: Automate booking confirmation emails, meeting reminders, booking cancellation emails, and more.
Date overriding: Control your availability by overriding a pre-defined date or time.
Shortcode compatible: Use the shortcode anywhere on your website.
Booking management: Manage past and upcoming events from one place and get detailed booking info. Filter appointments by host, save time and increase productivity.
Multiple time zones: Automatic conversion to respective time zone. Clients book meetings on their own time and automated time conversion sets it to your local time.
Rescheduling: Cancel or reschedule meetings and notify the recipients.
Report and analytics: Get all booking and appointment form performance reports, track conversion rates, check meeting activity and timeline, and every other analytics organized in one place.
6 custom field types: Customize the field type by choosing text, number, email, or others. Capture information via custom fields.
Calendar integrations: Integrates with Google Calendar and Outlook.
Intuitive interface: Easy and interactive interface so clients face no trouble.
Responsiveness: Makes sure the booking pages don't break down on any display.
Everything in sync: Keep calendars, CRM, and your team members in sync.
Twillio integration: Stay tuned for more integration like Twillio.
FluentBooking alone can simplify your booking and appointment system. It's a tool like no other!
Fluent Forms and FluentCRM integration add fuel to the game. Even if you choose to use FluentBooking as a standalone plugin, it includes all the features you need to streamline your booking and appointment processes!
How to use FluentBooking
Installing and activating FluentBooking is as simple as any other plugin.
Go to your WordPress Dashboard → Plugins → Add New and search for FluentBooking, then install and activate it.
The plugin UI is simple and easy to understand.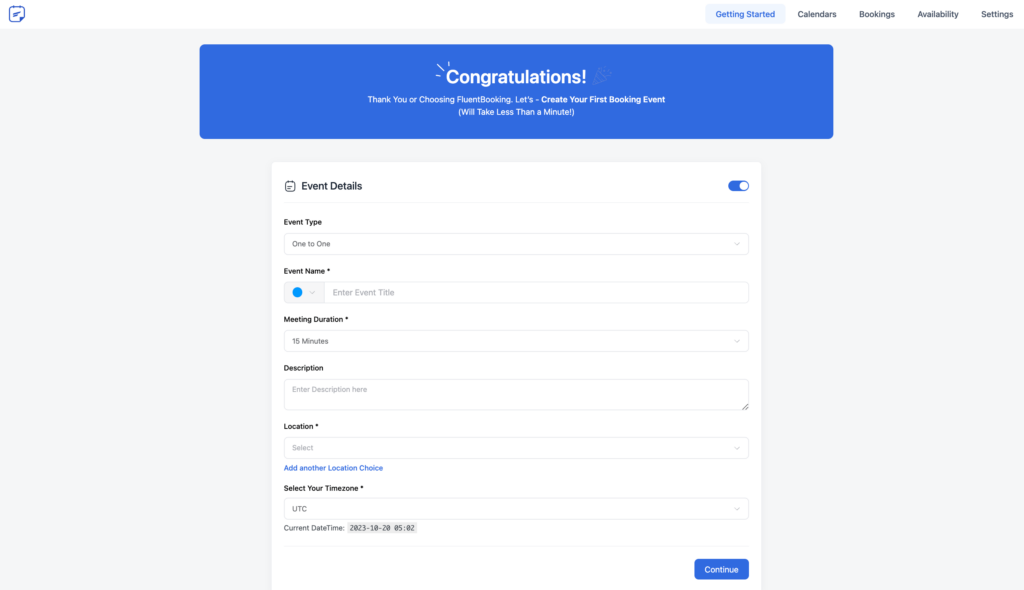 Move to the "Calendars" tab to set up a new calendar or manage the existing appointments or schedules.

You can check all your appointment bookings in a 360-degree view from the "Bookings" tab.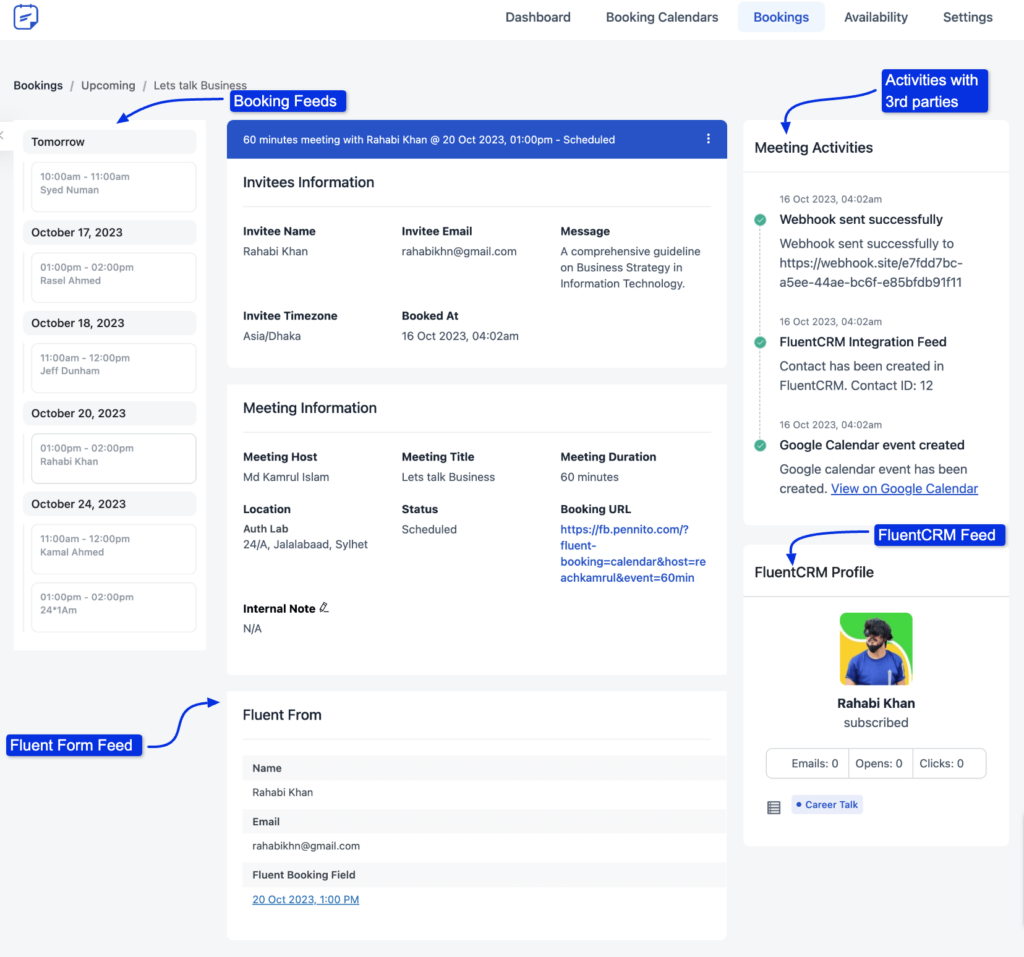 Manage your Zoom, Google Meet, or Google Calendar meetings from Global Settings. You can also set up Twillio and Stripe.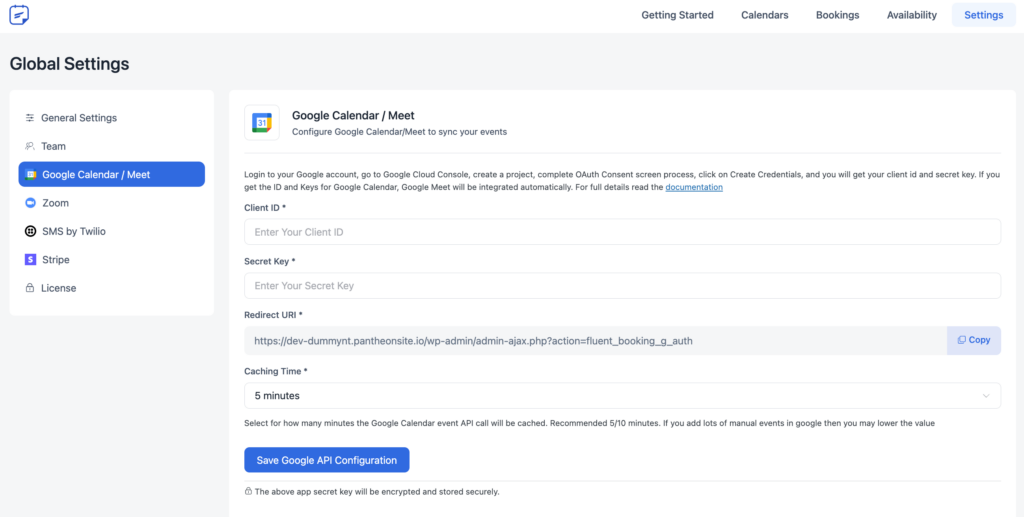 Who can use FluentBooking?
FluentBooking is perfect for people who want a smooth appointment and booking system with ZERO technical skills.
It's suitable for:
Personal service
Sales
Customer service
Marketing
eLearning
Recruitment
Documentation & tutorials
FluentBooking documentation is detailed and simply explained. And the support team is always hands-on for you!
Keep your eyes on the WPManageNinja YouTube channel for tutorials.
User reviews
Those who know the "Fluent team" and WPManageNinja, and those who don't, everyone was excited for FluentBooking long before the official release!
The initial response we're receiving is just incredible! 😍 Thank you all for your overwhelming love and support. Rest assured, the team at @WPManageNinja is fully dedicated, and we won't let you down! 🫶

Get it now if you haven't –https://t.co/Ws1HL10SrY pic.twitter.com/zqobly2Hww

— FluentBooking (@FluentBooking) October 18, 2023
This plugin also received a video review from industry expert, Augustine Mak.
For a plugin that started its journey recently, FluentBooking has a lot of hype around it, and all for good reasons!
FluentBooking pricing
This plugin has no free version. Try FluentBooking Pro and if you need help, the support team is always there. You also get a 14-day unconditional money-back guarantee.
| | | |
| --- | --- | --- |
| | | |
| | | |
| | | |
| Lifetime Priority Support | Lifetime Priority Support | Lifetime Priority Support |
| | | |
| | | |
Pricing table powered by Ninja Tables
Lucky for you, FluentBooking is in celebration mode!
This is your chance to grab the FluentBooking Lifetime deal and never look back.
Act fast and get the plugin while the LTD offer lasts.
Why get FluentBooking?
Juggling the client flow to book appointments and then separately fix up time seems like a full-time job!
Also, the back-and-forth confirmation emails, keeping track of conversations and schedules, and finding a schedule so it doesn't overlap are overwhelming.
But you got a friend in FluentBooking!
This all-in-one scheduling and booking plugin makes everything "Fluent."
Let clients easily book appointments while you prioritize your core tasks.
Designed for easy accessibility, responsiveness, and adaptability.
Stay in the loop with its effective USPs providing instant availability updates.
This plugin seamlessly gathers attendee data for future reference.
Automation email systems widely hold the fort in fostering customer relationships.
It offers multi-time zone support and convenient calendar features.
No need to worry about complex technical skills; let the plugin work its magic. Here's where you hit the jackpot!
FluentBooking FAQs
Do I need Fluent plugins to use FluentBooking?
– No. You can use FluentBooking as a standalone plugin.
Do I need coding skills to use FluentBooking?
-No coding skill is required for FluentBooking because of its intuitive interface and user-friendly layout.
What payment gateways are available in FluentBooking?
-FluentBooking integrates with Stripe. Connect your Stripe account and use G-Pay or Apple Pay.
What conference tool integrates with FluentBooking?
-FluentBooking integrates with Google Meet and Zoom. More platform integrations are coming soon!
How costly is FluentBooking LTD and how long will it last?
-There's no hidden cost in the FluentBooking LTD price. You will pay for the LTD once and enjoy the priority support and updates for a lifetime.
Forget the old hassle of appointment scheduling!
It's time to shift gears and dive deep into cultivating the best client relationships.
For those already familiar with WPManageNinja's pioneering plugins, the latest offering, FluentBooking, is developed to exceed expectations. It's an advanced solution that ensures standard booking and scheduling functions, and eases your workflow and efficiency.
This article on FluentBooking review was a quick outline of its features, pricing, and benefits. Once you start using this plugin, you'll realize how awesome it is and how much time and effort it saves you!
Your unwavering love and support are the driving force that keeps @WPManageNinja going 🥰

We are deeply grateful and committed to continuously providing you with the best 🫶 pic.twitter.com/0pDauMLO95

— FluentBooking (@FluentBooking) October 19, 2023
Grab the FluentBooking Lifetime Deal now and set the wheels in motion to take full control of your appointment and schedule management.
Ninja Tables– Easiest Table Plugin in WordPress