wpDataTables Alternatives: Best Way to Visualize Table Data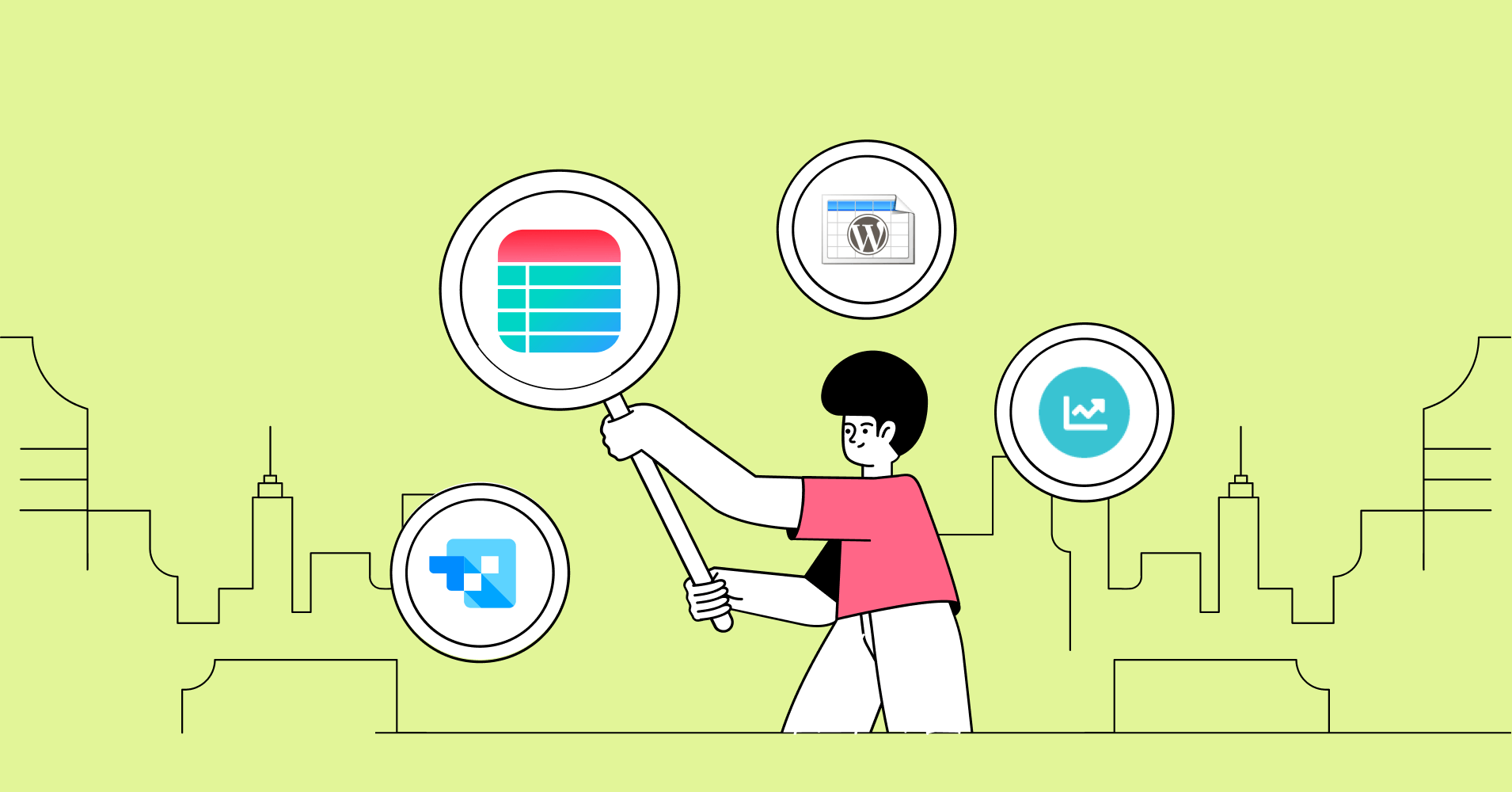 Looking for the best way to display data or charts on your WordPress website?
Whether you're sharing data, comparing prices, or anything else, you are using a table builder plugin for that. And there are a lot of WordPress table builder plugins in the repository.
wpDataTables is one of the front liners of that list, with 60k+ active installations. But, it's neither the single option nor the only best one. There are pros and cons for all the plugins competing with each other.
In this article, we'll review this plugin and show you some wpDataTables alternatives that can help you make your website look stunning.
Table plugins make arranging data on your WordPress websites easy and effective. That's what wpDataTables does. You can make tables with a huge number of data and easily make them responsive.
It has an easy interface, and you have plenty of control over your tables. You can also use it for visual product comparison tables, pricing tables, etc.
Let's see the pros and cons of this plugin.

Pros
Create tables from scratch
Import from external sources.
Conditional formatting
Sort and search option
Front-end editing and export
Make charts from the table
Responsive table
Cons
No WooCommerce integration
Google Sheets is a one-time import
Templates unavailable
No Form integration
Less styling options
1 Domain - $56

3 Domains - $82

Unlimited - $175
There are downsides to every good thing we use. wpDataTables is one of the potent plugins for WordPress, dealing with enormous amounts of data. But there can be more efficient plugins for that. Even some are more powerful than that.
Here is a list of our handpicked wpDataTables alternatives for you to choose as your data table builder. All of them are desirable with their own sets of features.
Top 5 wpDataTables alternatives
There can be many plugins in this list. But we are listing the top 5 handpicked wpDataTable alternatives that are feature-rich and fulfill all the requirements a user can demand.
Ninja Tables
As an alternative to wpDataTables, Ninja Tables is a great choice for users. Sometimes, it's more efficient than that. Ninja Tables offers a truckload of features and organizes dynamic data, all while ensuring fast loading speed.
WPManageNinja has done a great job developing it with everything a table plugin should have. It's a complete table builder plugin for WordPress websites.
Ninja Tables easily tops our list with 80k+ active installations.
Pros
Drag and drop table builder
WooCommerce Integration
Google Sheets Integration
Lots of styling options
Conditional formatting
Sort, filter, and search
Integrated Ninja Charts
Responsive table
SEO friendly tables
Cons
No Pdf import-export options
No Front-end export functionality
1 Site - $59

Agency - $98

Unlimited-$224
TablePress
TablePress is second because it's the oldest and only free plugin in that niche. It's a free, open-source plugin for WordPress that allows you to create Excel-like tables.
It lacks some features, but you can buy add-ons to push the functions to the maximum. TablePress joins the leaderboard with 800k+ active installations.

Pros
Responsive table
Excel-like interface
Style tables via CSS
Highlight rows
Works with all data
Excel, CSV, HTML, or JSON import
Cons
Time-consuming
Adding image & links is troublesome
Only creates built-in style tables
Free, you have to buy a lot of addons
WP Table Builder
WP Table Builder is an efficient alternative that offers an easy user interface and a lot of table builder elements. Its drag-and-drop builder gives a great experience to the users.
It's a plugin for noobs and those who want some basic data tables for free. With 50,000+ active installations currently, this one leads the way for free plugins.

Pros
Responsive table
Drag and drop table
Cell management mode
Pagination and text
Works with any data
Import in CSV/JSON
Cons
No WooCommerce integration
Table templates unavailable
Limited customization
The free version is limited
1 Site - $59

1000 Site - $179
Data Tables Generator by Supsystic
You can easily process and manage an SEO-friendly table with this Data Table generator by Supsystic. The features are comfortable and undemanding.
The plugin has 30,000+ active installs.

Pros
Unlimited data
Responsive table
Interactive charts and graphs
Calculate numeric values
Multimedia & contact form button
Cons
Limited Free Version
Limited customization
Not WooCommerce-friendly
Data Tables Generator by Supsystic

Single Site - $46

5 Sites- $149

6+ Sites - $149
Visualizer
Here's another freemium plugin rich with attractive features! The good folks at Themeisle ensured users could manage reciprocal tables and graphs with this plugin.
Almost 40,000+ users are using their charts, editing, and customizing features.

Pros
Responsive table
Animated Charts
Cell management mode
Excel, CSV, Google Sheets.
Google Visualization API, ChartJS
Cons
Limited Free Version
No Drag and drop builder
Limited customization
Not WooCommerce friendly
1 Site - $99

3 Sites - $199

Unlimited-$399
Honorary Mentions
Here's a short list of some more.
League Table
Posts table Pro
WP Table Manager
Ninja Tables Vs. wpDataTables
Ninja Tables and wpDataTables reign top of the table builder plugin list because of their user-friendly features and support.
These two have a big user community and good ratings too. It can be unclear for a newbie to choose one of them for their website.
| Features | Ninja Tables | wpDataTables |
| --- | --- | --- |
| Unlimited data | check | check |
| Multimedia | check | check |
| WooCommerce product table | check | remove |
| Google Sheets | check | check |
| Drag & drop table builder | check | remove |
| Fluent Forms integration | check | remove |
| Custom color scheme | check | check |
| Custom filter | check | remove |
| Charts | check | check |
| Conditional formatting | check | check |
| Transform value | check | remove |
| WP posts | check | remove |
| Pre-built templates | check | remove |
| Gravity Forms | remove | check |
| Cell merge | check | check |
| Ribbon/badge | check | remove |
Clearly, Ninja Tables stands out with lots of features and flexibility.
You will also get a detailed comparative study of Ninja Tables vs. wpDataTables, taking their features and abilities into account.
Select the best alternative for wpDataTables
We tried to stay as accurate and unbiased while summarizing this article. All the plugins here are deserving and worthwhile alternatives.
Ninja Tables is pretty apparent because of the massive number of features and ease of use. Check out the free version of Ninja Tables to confirm. Even the free version provides a lot of functionalities.
Ninja Tables– Easiest Table Plugin in WordPress
Hopefully, this article helped you choose your substitutes. Moreover, before selecting, don't forget to check TablePress alternatives.
Let us know your thoughts in the comments below.