wpDataTables Review: Pros, Cons, Pricing, and Substitute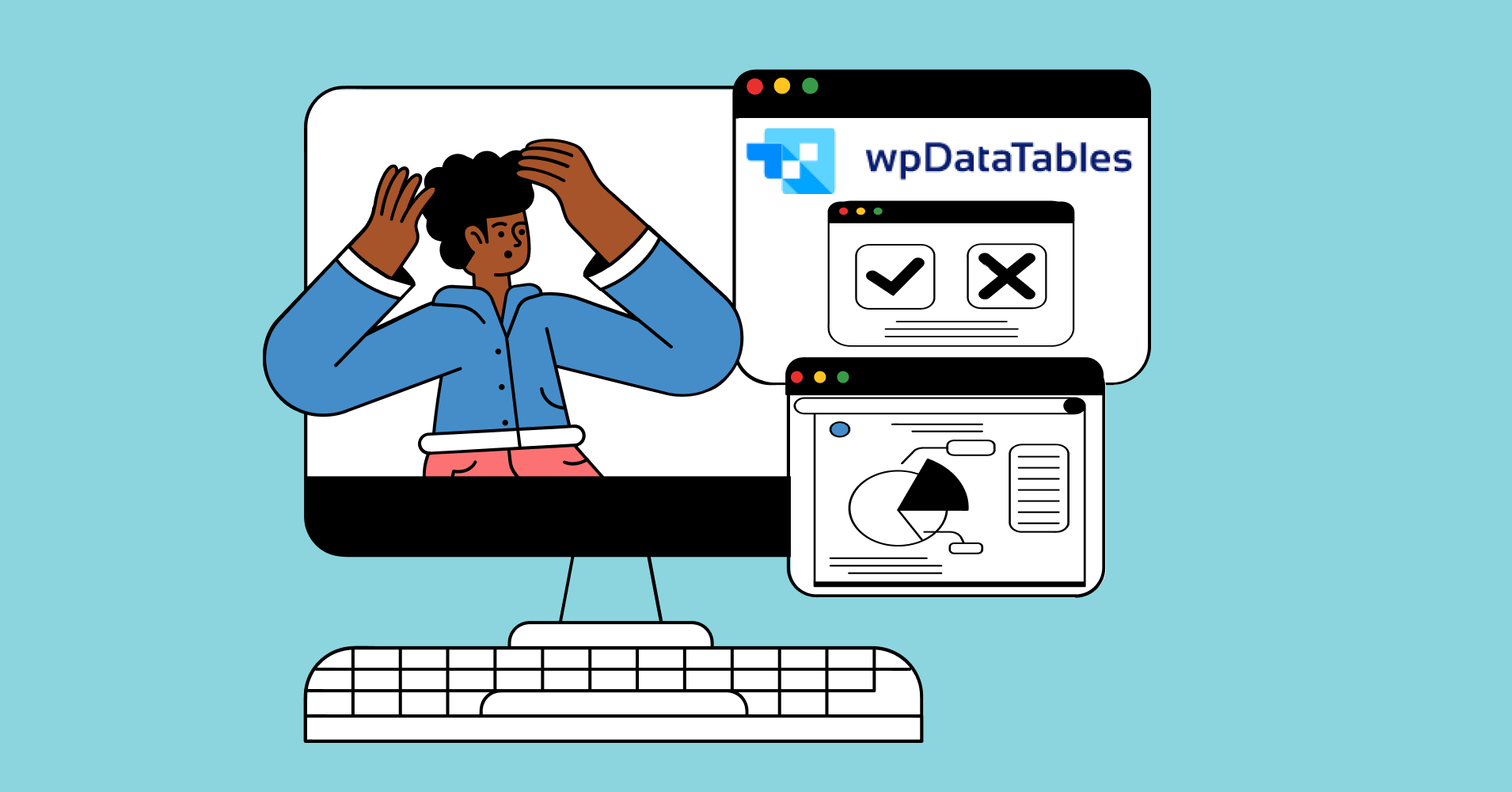 Creating tables for websites was always a hassle. WordPress appeared as a monsieur for the techy and non-techy folks worldwide. It introduced people to plugins to save time and effort. With them, tables are made within minutes without a single line of coding.
wpDataTables is also an addition like those. It's one of the leading table builders for WordPress websites. TMS plugins worked hard to make it efficient.
Here in this article today, we'll talk about wpDataTables, what it offers and lacks, and whether it is worth using it. So, without further ado, let's start with the wpDataTables analysis.
What is wpDataTables?

wpDataTables is one of the leading table builder plugins that helps build charts and tables for WordPress websites. You can import table data or make them from scratch to create tables.
You can use this to create the below-listed tables for your website,
Statistics table
Pricing table
Finance table
Premier league table
Products table
Amazon comparison table
One of the most amazing features of the table builder is it enables you to make SEO-friendly and responsive tables. And additionally, it's really easy to set up, use, create tables, and embed.
wpDataTables installation
wpDataTables contains a dedicated website to get the plugin easily. There is a free version of this plugin in the WordPress repository.
The installation process is very easy, like the other WordPress installations. After installing and activating, you can make tables from the dashboard. It's very easy to create tables with it. When you are stuck somewhere, there are documentation and tutorial videos.
Features of wpDataTables
A buyer's decision highly depends on the features a product provides. Let's see the pros and cons of this plugin.
wpDataTables Free Features
wpDataTables Pro Features
Pros and cons of wpDataTables
Every good product has pros and cons. There is always room for improvement.
wpDataTable is a great plugin for users. Let's see the pros and cons of this plugin that amazed the 60k+ users of it.
wpDataTable Pros
Table customization options
Ease of use
Front-end Editing
HTML option
A lot of export and import options
Great support impresses all
A lot of Integrations
wpDataTable Cons
The free version is limited
No templates are available
Limitations with dates and filtering
Many users complain about bugs
Front-end editing options are not up to the mark
Great tool, but need Insert capability

This is a great tool that adds front-end editing capabilities for our website users; however, a user can Add a New entry, Edit, or Delete but not Insert a row.

daviddelcastillo in WordPress
Pricing of wpDataTables
| | | |
| --- | --- | --- |
| | | |
| | | |
| 1 year of premium support and monthly updates | 1 year of premium support and monthly updates | 1 year of premium support and monthly updates |
| | | |
| | | |
| | | |
| | | |
| | | |
This pricing table was made by Ninja Tables
We already talked about the limited free version of wpDataTables. And then there are annual and lifetime versions of it on their dedicated pricing page.
wpDataTables lifetime version prices:
Developers Lifetime– US $589 for unlimited domains
Pro Lifetime– US $389 for three domains
Basic Lifetime– US $199 for one domain
WordPress Users Reviews for wpDataTables
Almost 93% of consumers say online reviews influence their purchasing decisions. Online reviews can make or break your company's success.
The positive reviews reassure potential customers trust your brand, products, or services. And negative reviews help your brand to improve or change the way you work. Both of them are important for success in the long term.
Let's see some reviews of the users of wpDataTables.
The product is upgrading consistently. And it is very good with the support too. Here one user just praised their product.
Excellent Product and Support ( )

WPDataTables is an excellent WordPress Plugin. What you are able to accomplish with this is plugin is nothing short of amazing. Their support is even better…..

JoeLyons23 in WordPress
wpDataTables should be aware of their product crashes when someone creates tables with their valuable data.
Crashes ( )

Easy to use and good customizations. But it crashes a lot when I'm updating a table which is time wasting. I happens every second time…..

Freddy @ SteadyGo in WordPress
All the plugins contain some bug when it is in a beta version. But when you want to go big, you must be bug-free.
Beware of bugs ( )

A great deal of effort went towards simplifying the interface, creating slick js transitions at the expense of ease of use and basic functionality…..

Pepper_Brand_Managers In WordPress
There can be mismatches or issues. But when a customer asks for a solution, you must take action ASAP.
Not Worthy For Paid Version At All ( )

You have to re-enter license key each and every time you need to update the plugin from the repository. Developer accepts and has no intention to solve this.

jomateix in WordPress
All these reviews were fetched from the wpDataTable review portal in WordPress. Reviews are equally important, whether it is positive or negative.
The best alternative for wpDataTables
Above in this article, you have seen a bird's eye view of wpDataTables. It's a great product as a table and chart builder. But there can be better than that. And when the question is about the best data table builder plugin, the answer is Ninja Tables.
Ninja Tables is a robust Table Builder plugin that amazed 80k+ users worldwide. It's a combo of two table builders in a single plugin. It comes with an advanced builder and the simplest drag-and-drop table builder.
It's the easiest table builder option for beginners and even developers.
Select your table template and provide the table data
Customize your table from 1000+ customization options
Copy and paste the shortcode to embed the table into a post/page
Build any table and make them responsive for any screen size using Ninja Tables.
Unlimited data tables
Charts
Comparison tables
Product specification table
Amazon product comparison table
Employee tables
WP Ninja Tables is the best Data Table Plugin in WordPress – no doubt whatsover ( )

Ninja Tables has the following fantastic advantages:

1. It takes in really large amounts of data ( unlike most other plugins)…..

satsblr in WordPress
It is a table builder plugin to create customized WordPress tables from scratch. These tables can be anything but simple.
Here is the list of the functionalities and elements of this table builder Plugin
Drag and drop table builder
Pre-made templates
Table design customization
Charts
Fluent Forms integration
Stackable table
Import-Export
Buttons/rating
Cell split/merge
Custom SQL /Remote external SQL
Unlimited Table Colors and Customization
Live Connect with Google Sheets
WooCommerce Product Table
WP Posts Integration
Conditional Formatting
FrontEnd Table Editing
Transform value with HTML
Select Field, Image/File/Lightbox, & Button/Link data type
Custom Filter
Ninja Tables– Easiest Table Plugin in WordPress
Ninja Table Vs. wpDataTables
| Features | Ninja Tables | wpDataTables |
| --- | --- | --- |
| Unlimited data | check | check |
| Multimedia | check | check |
| WooCommerce product table | check | remove |
| Google Sheets | check | check |
| Drag & drop table builder | check | remove |
| Fluent Forms integration | check | remove |
| Custom color scheme | check | check |
| Custom filter | check | remove |
| Charts | check | check |
| Conditional formatting | check | check |
| Transform value | check | remove |
| WP posts | check | remove |
| Pre-built templates | check | remove |
| Gravity Forms | remove | check |
| Cell merge | check | check |
| Ribbon/badge | check | remove |
Ninja Table Vs. wpDataTables comparison by Ninja Tables
Final words
We always want the best option to use and utilize. And the selection and decision phase is a vital part of this. There are a lot of options in front of you. So you must select your best option. We know no one wants to spend money and regret it.
wpDataTables is an eligible plugin to have for your website. You can have a free version travel of it from the WordPress repository. It is a decision to buy something with a trial.
Additionally, you can check wpDataTables alternatives to know about some more competitors of this plugin.
That's all for today. Let's meet with something new in the next blog.