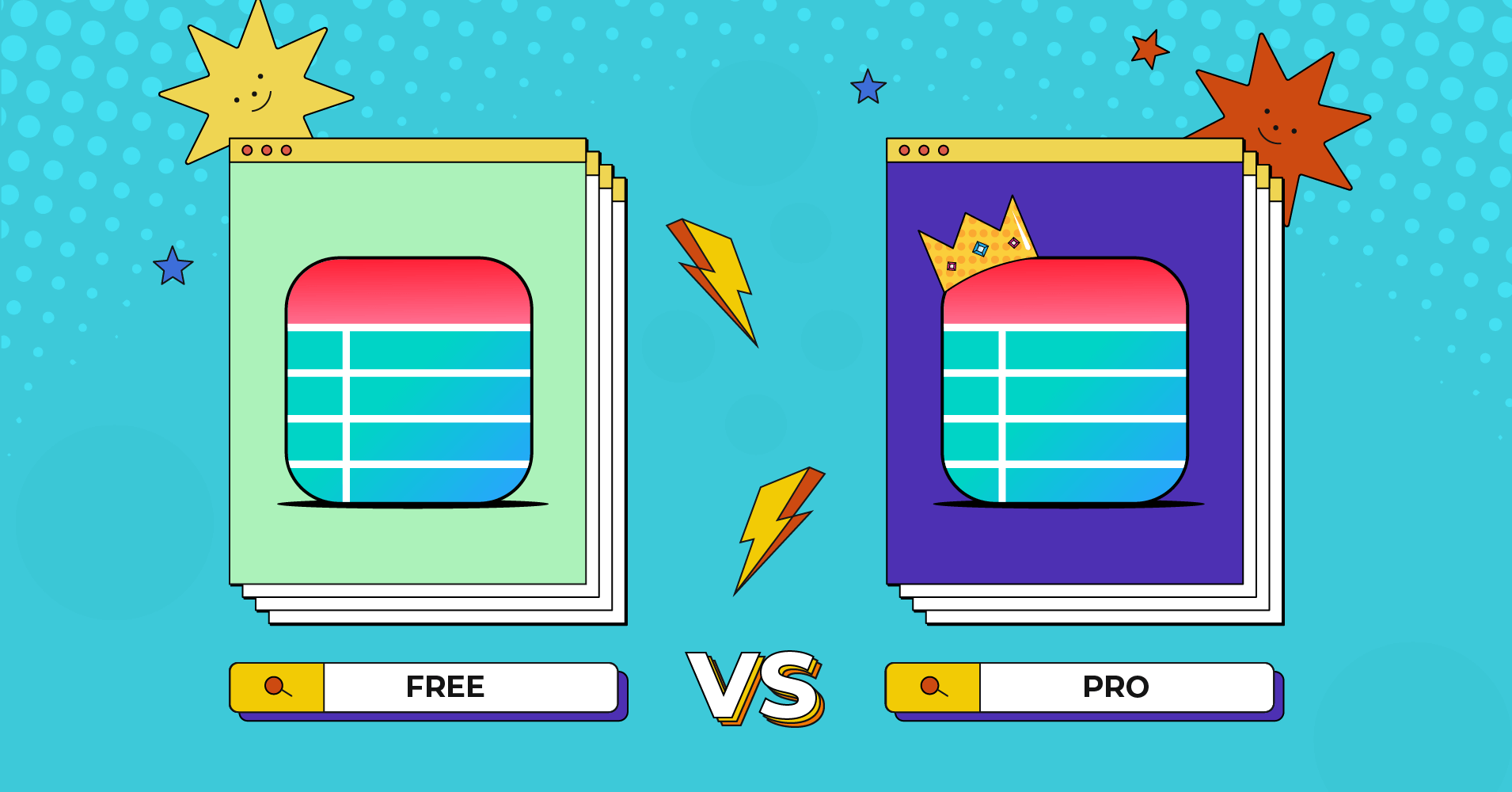 A smart website requires smart data showcasing. And if you want an organized and visually appealing website, Ninja Tables is your savior. But there's still confusion regarding whether to get the free version or pro.
So, we'll be discussing the differences between Ninja Tables free vs pro, including the features, functionalities, limits, and benefits.
Here's a checklist.
Why Ninja Tables?
Data and information are only pleasing to look at if they're placed nicely.
A long paragraph with texts, numeric values, and links gets boring and looks cramped up. But if you organize them in tabular format, your site will look clean and fresh. Besides, you can add more data and design the tables to look cooler.
That's why Ninja Tables is the best table plugin! It can show unlimited data in a customized and filterable data table, while keeping the website clutter-free.
Visual relief by avoiding long paragraphs
Unlimited entries
Multimedia
Customization control
Multiple third-party integrations
Search, filter, and sort
Design and layout
Everything gets organized in one place
Ninja Tables free vs pro features
As a freemium plugin, Ninja Tables has both free and pro versions. You can try out the free version of the plugin or go straight to getting the pro!
You can do that in 3 easy steps-
Step 1: Install and activate Ninja Tables
Step 2: Add tables and input data
Step 3: Customize your table
Here's an overview to summarize Ninja Tables free vs pro features-
Features
Pro
Free
Unlimited data

check

check

Multimedia

check

remove

WooCommerce product table

check

remove

Google Sheets Auto-sync

check

remove

Drag & drop table builder

check

check

Fluent Forms integration

check

check

Custom color scheme

check

remove

Import-export

check

check

Conditional formatting

check

remove

Transform value

check

remove

WP posts

check

remove

Pre-built templates

check

check

Custom filter

check

remove

Select Field, Lightbox, & Button/Link

check

remove

Cell merge

check

check

Drag & Drop
Stackable tables

check

remove

Ribbon, icon, styled list elements

check

remove

Charts

check

check
Now, let's get into the details.
Table types
Just one click on the "Add Table" button and you will see all the types of tables you can create with Ninja Tables.
Default table
Drag and Drop Table
Import table
Connect Fluent Forms
WP Posts (Pro)
WooCommerce table (Pro)
Connect Google Sheets (Pro)
Connect external CSV (Pro)
Custom SQL query (Pro)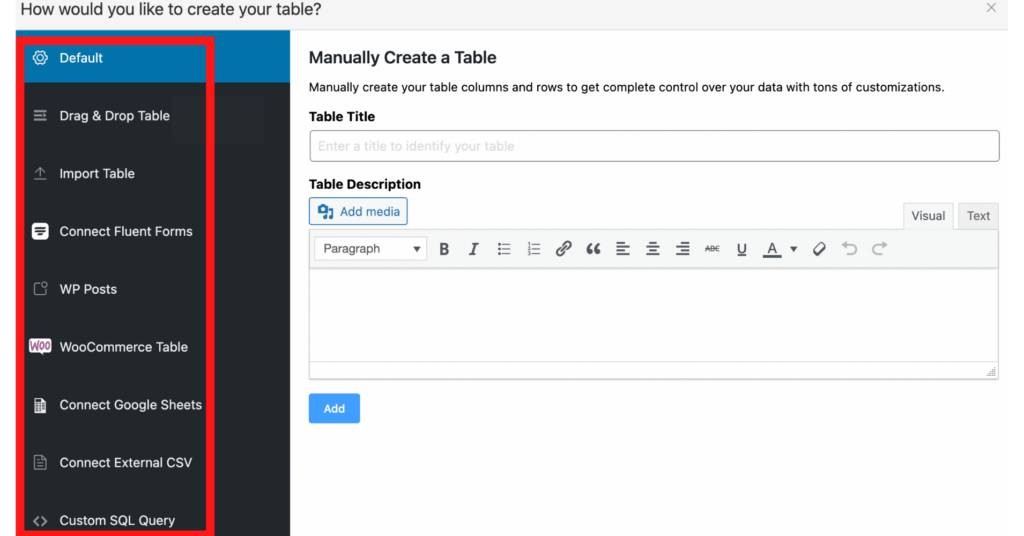 You can also import tables from TablePress and Data Tables Generator by Supsystic.
Check out the details of the 9 ways to create tables in WordPress with Ninja Tables.
Why get Ninja Tables pro?
The premium version is always what you can count on because of the huge line-up of features.
Here's why you need to pick Ninja Tables pro.
WooCommerce product tables can organize all product details in a smart way.
Custom filter and search to find products and data fast.
Custom design and colors to make table appearance cooler.
Unlimited dynamic data- multimedia, links, buttons, lightbox, numbers, texts, shortcodes, and more.
Quick options for building data tables.
Import-export existing table.
Google Sheets integration.
Fluent Forms entries in customized tables.
Conditions in cells.
Stackable tables.
WordPress posts in table of contents.
Take a look at the features page for a sneak peek of the functions.
Ninja Tables reviews (free & pro)
After the latest update in the plugin, Ninja Tables has been receiving lots of good reviews on wordpress.org.
Most of the users are pro users who love all the features Ninja Tables has to offer. But the free version also has a separate fanbase!
I've been using Ninja Tables Pro for the past 3 years or so, and I've never had a problem. Great plugin! – natashaelaine77.
…using this plugin in various and diverse projects over the years. It keeps amazing me, both in terms of regular improvements and richness of features…- morvayphotos.
…If you need to manage tables in WordPress don't hesitate, Ninja Tables is the best plugin…I recommend the pro version, the price is right and reasonable, and the functions are unmatched…- hubsienda.
I have used Ninja tables for years and Ninja tables Pro for about three years. It perfectly fulfills our requirements…- Kari Selovuo.
This plugin is so useful and fit, that, although the free version does everything we wanted, we will purchase the paid version as a show of support.- tradernet.
This plugin does so much with my fairly simple data. I started with the free version, but with the ease of use, I decided I could definitely use the pro features to my advantage. I was right…- sashton.
Ninja perfectly solved my problems on WP tables, everything meet my requirements, even it's free, functions are so strong, bravo!- nickfang.
Excellent Plugin, free features allow you to do a good job. Now if you want to increase more you can go Pro. Thanks.- luismgr1980 (Translated).
Ninja Tables currently has 340+ five-star reviews (4.6 out of 5 stars). And the support team is active 24/7, regardless of free/paid version users.
Bonus
For multiple purposes, the free version comes in handy. So, getting the pro version to get simple work done is not necessary.
For example, building data tables quickly with "Drag and Drop Table" doesn't require the Ninja Tables pro version. You can also import CSV/JSON files to edit tables by dragging and dropping cell elements. Or edit readymade templates for pricing tables or comparison tables.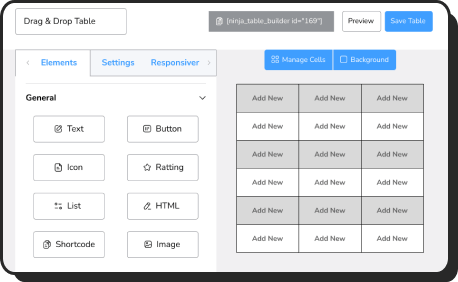 A few cell elements are available in the pro version. But otherwise, this mode is perfect for quick table creation without a single line of coding!
Another useful feature of Ninja Tables is the chart addon. Ninja Charts is a standalone plugin that directly integrates with Ninja Tables and Fluent Forms. Or you can manually create a chart and customize it.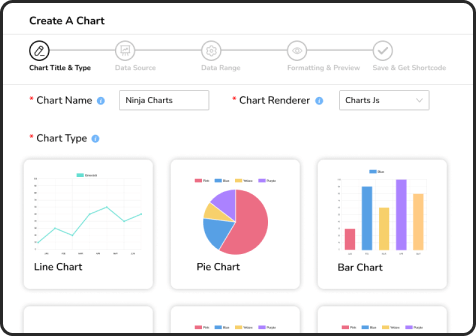 This chart plugin works with both free and pro versions.
Check out the Ninja Tables demo page to see how this plugin can create beautiful data tables for you.
Ninja tables pricing
| | |
| --- | --- |
| (Current Special Sale Price) | |
| | |
| | |
| | |
| | |
| | |
Ninja Tables FAQs
While looking for the best table plugin, you might have some questions in your mind. Here are the answers to some frequently asked questions regarding Ninja Tables.
What is Ninja Tables in WordPress?
Ninja Tables is a WordPress table plugin that helps you create all kinds of tables you want. It also integrates with WooCommerce, Google Sheets, Fluent Forms, Ninja Charts, etc.
Is Ninja Tables free?
Ninja Tables is a Freemium table plugin with free and paid versions both.
How do I activate Ninja Tables Pro?
Installing and Activating Ninja Tables:
Navigate to the WordPress Admin Dashboard → Plugins → Add New.
Type Ninja Tables on the search box, click Install Now, and Activate it.
Navigate to your WordPress Admin Panel → Plugins → Add New → Upload Plugin.
Is Ninja Tables SEO-friendly?
Any table you create with Ninja Tables is SEO-friendly, and every data is visible to search engines. Advanced Table (Legacy) as Table Render is recommended.
How do you use a Ninja Tables?
Install and activate the plugin, pick any table mode (Simple or Advanced) and add as many rows, columns, and data cells you want. Customize the table following the intuitive plugin UI.
Wrap-up
If we rewind everything we've been discussing here, one thing is confirmed- Ninja Tables Pro can be your best pal if you want to maximize your website's smart appearance.
The free version is fast, simple, and easy to use for basic data tables. But to unlock a huge load of features and create fully customized dynamic tables, the pro version is the best!
We showed you a detailed comparison of Ninja Tables free vs pro. Now the decision is yours.
Doesn't matter what version you pick, Ninja Tables is gonna serve you just right!
Ninja Tables– Easiest Table Plugin in WordPress