TablePress Review: Is It Worth Upgrading to Pro Or Not?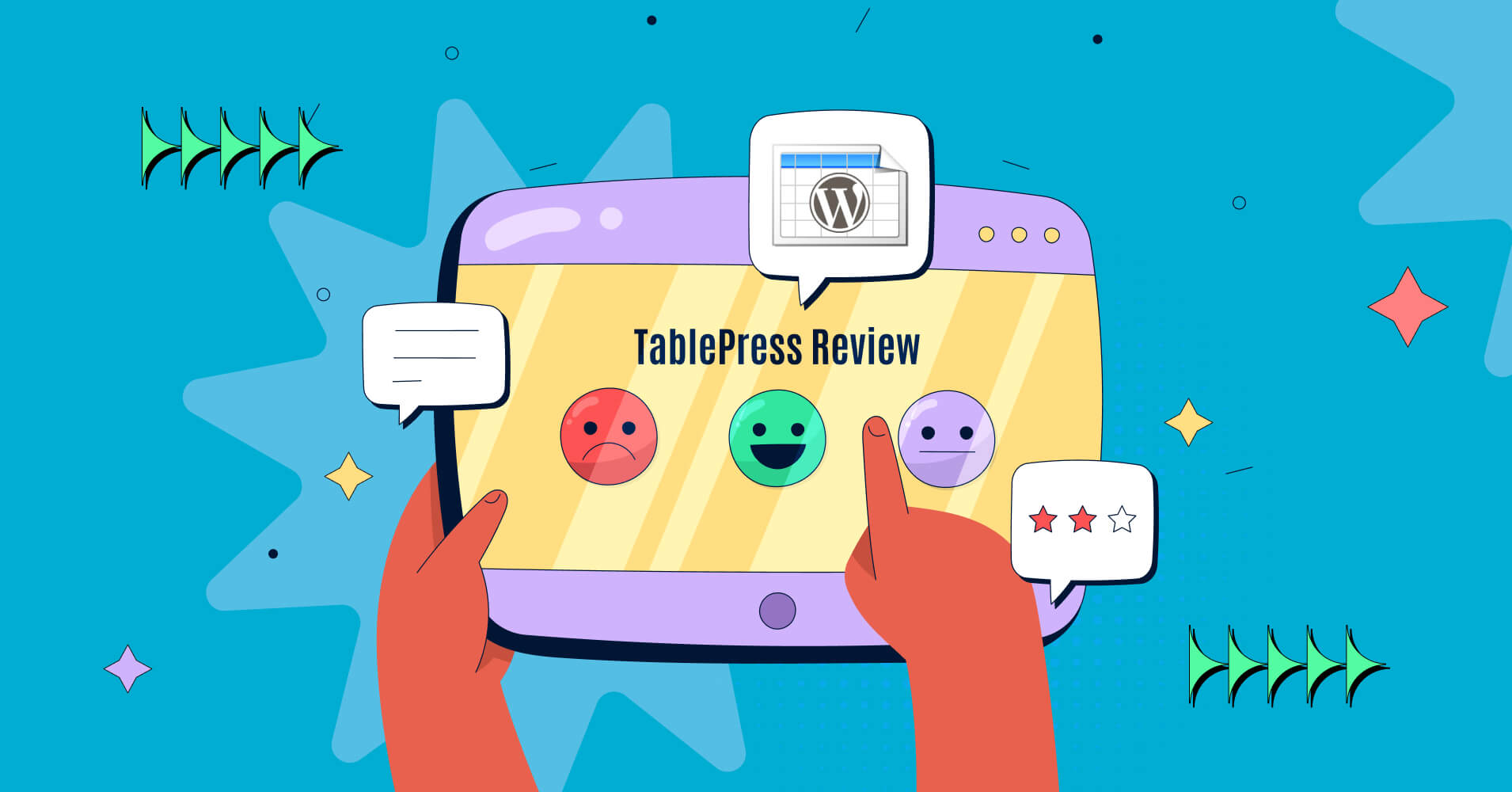 TablePress is the undisputed champion for WordPress data table maker plugins with 800k+ active installations. It stacks up very well against the competitors, but there are some vital details you need to know.
Since its inception in 2009, TablePress was a free and open-source table builder plugin for WordPress. Although you can find the source code on the website, TablePresss introduced a Pro and Max version this year.
So before upgrading to TablePress Pro or Max, let's dive into TablePress review, to see if the plugin is worth using or upgrading to Pro.
What is TablePress?
It would be ​​redundant to talk about the definition of TablePress. It's the most popular table builder plugin for WordPress beginners.
TablePress stands as the most favored WordPress plugin for tables with its widespread usage and ratings. It enables the creation of visually appealing tables and seamlessly integrated them into posts, pages, and sections of your website.
Is TablePress free?
Technically, TablePress is free. But until 2023, it was free and efficient at the same time. But after that time it left a less efficient free version where it restricted most of the basic features like responsiveness, filters, buttons, and a lot like these.
Story behind TablePress
Let's begin with the creator of this influential plugin. Tobias Bäthge is a German baseball enthusiast and software developer from Magdeburg. He has been actively involved with WordPress plugins since 2008.
The story behind the inception is quite fascinating. In 2009, Tobias desired to create a table for his German baseball team's website. However, he was not satisfied with the table format and didn't want to mess around with HTML tables in the code.
Consequently, he rewrote the code of an existing plugin, leading to the birth of TablePress. He never expected it to become such a hit and surpass all his expectations.
TablePress is currently the highest-rated and most popular WordPress plugin, with version 2.1.2 available at the time of our testing.
It runs smoothly on WordPress 5.8 or higher, and anyone can create a table without any prior coding knowledge, as the interface is similar to other core WordPress UIs. Tables can be imported and exported from/to Excel, HTML, CSV, and JSON files.
TablePress features
The TablePress free version has the basic features, which are enough for most marketers. But when you are a company or a marketer with advanced marketing strategies you must go for the premium version. See all the features listed below,
[Pro]Responsive Tables: TablePress enables you to make your tables look good on different screen sizes.
[Pro]Fixed Rows and Columns: You can fix the header/footer row and the first and last column when you scroll the table.
[Pro]Buttons: There are buttons for downloading, printing, copying, and changing table column visibility.
[Pro]Row Grouping: By TablePress you can group table rows by a common category, title, or even keywords.
Export-Import from tables: You can export or import your tables from TablePress.
Styling with CSS code: You can make tables with a little HTML and CSS knowledge by TablePress.
[Pro]Cell & Row Highlighting: This feature lets you add CSS classes for cell and row highlighting based on the content.
[Pro]Counter Column: You can make the first column an index or counter column with the row position by TablePress.
[Pro]Individual Column Filtering: It's one of the good features. Now you can add a search field for each column to the table head/foot row.
[Pro]Alphabet Search: You can show Alphabet buttons on the table to filter rows by the first letter.
[Pro]Custom Search Builder: TablePress tables can show a search builder interface for filtering from groups and conditions.
Row and Column Order: Order the columns in different ways when a table is shown.
[Pro]Row Filtering: Display only those table rows with the specified keywords.
[Max]Automatic Periodic Table Import: regularly update tables using an established import source.
[Max]Automatic Table Export: After being edited, tables can be exported and saved to files on the server.
[Max]Advanced Loading: For quicker loading, load the table's data from a JSON array.
[Max]Server-side Processing: To speed up the loading of big tables, the server does sorting, filtering, and pagination.
[Max]Advanced Access Rights: Individual users should only be allowed access to specific tables.
[Max]REST API: Use the WordPress REST API to read table data in external apps, for example.
TablePress review: pros and cons
Now we know about the history and features of TablePress. Sure, here are some pros and cons of using TablePress. Let's deep dive for the reviews and insights from us.
Pros:
TablePress is a user-friendly plugin that allows easy creation, and management of tables on WordPress websites.
Tables can be embedded into posts, pages, or other site areas using various methods, including Shortcodes and block editors.
It is compatible with various file formats, including Excel, HTML, CSV, and JSON, making it easy to import and export tables.
TablePress is highly rated and widely used, so there is a large community of users who can offer support and guidance.
Cons:
TablePress is a costly plugin, when you want most of its features, you must buy the premium version.
The default table styling options are relatively basic and may require additional CSS customization to achieve a more sophisticated look.
Some users have reported issues with the responsiveness of tables on mobile devices, which can result in distorted or overlapping data.
Some users reported issues with table securities which can be a big issue for the website owners
TablePress does not offer any built-in data chart maker capabilities, so users who need to create charts or graphs will need to use additional plugins or tools.
The TablePress plugin interface appears somewhat cluttered and disorganized. In comparison to other table builders, it lacks the same level of tidiness and cleanliness.
TablePress pricing
There are three forms of TablePress, TablePress Free, Pro, and Max. The free version has limited usability, which may disappoint some users as not all tools are available.
For instance, the free version lacks responsive tables and various customization tools, which can be problematic if you need to create numerous tables. However, the Pro and Max versions offer a wide range of tools to facilitate website management.
Table management and editing

Embed via Block or Shortcode

Frequently Asked Questions

All Features of TablePress Free

Individual Column Filtering

All Features of TablePress Pro

Priority Email Support with Personal Success Manager

Automatic Periodic Table Import
Installation and use

Creating tables in WordPress using TablePress is a breeze. Once you install the plugin, head to the TablePress section and click on the Add New Table option.
Next, provide a name and description for your table, and specify the number of rows and columns you intend to use.
After that, simply input your data into the table. Once you've arranged your columns, you can proceed to add your TablePress data to the rows.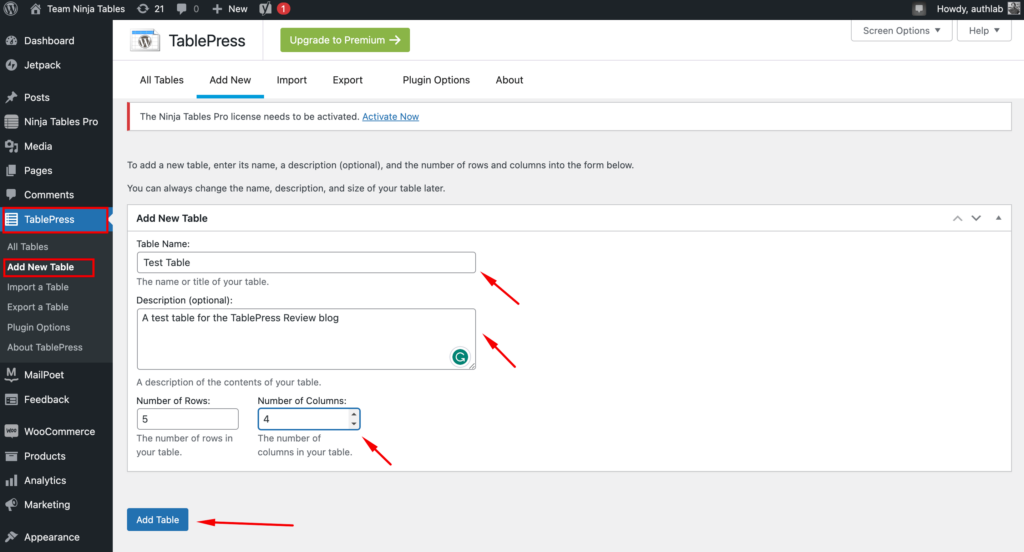 The best TablePress alternative?
If you're looking for an alternative to TablePress, then look no further than Ninja Tables, the #1 table builder plugin for WordPress with 80k+ active installations.
This powerful plugin enables you to create responsive tables, as well as other types of tables and charts, with ease.
One of the standout features of Ninja Tables is its ability to import data seamlessly from a variety of sources, including WooCommerce, Google Sheets, CSV, and JSON files.
Ninja Tables comes packed with advanced features, such as,
Drag and drop tables
Responsive tables
A lot of table templates
Highly SEO-friendly table
Conditional formatting
1000+ customization options
Advanced sorting and filtering
WooCommerce integration
Google Sheet integration
SQL tables
Cell merge
Export-import tables
Ninja Charts for all kinds of charts and graphs
..and many more.
With such an extensive list of features, Ninja Tables is an excellent choice for anyone looking for a dynamic table plugin for WordPress. Be sure to check out the Ninja Tables vs TablePress to be sure about your desired table plugin.
Create Smart Data Tables Easily!
Some of the interactive tables you can create with Ninja Tables
You need to have a look at some of the other tables from the demo section.
Product review table
Ninja Tables generates a review table for TablePress with ratings, pros, cons, and usability.
Personal Ratings (4 out of 5 stars)

Basic functions are available

The refund policy of 30 days

Easy and makes tables faster

Advanced Table Customization

Quite expensive

Not completely intuitive
Product comparison table
A table made for the best WordPress plugins to create Amazon product comparison tables.
WooCommerce product table
Ninja Tables is the best solution for the list view of the WooCommerce product table.
WooCommerce product table customized for Christmas
A table made with Ninja Tables advanced module and customized with a Christmas vibe.
Customized pricing table
Ninja Tables pricing table customized.
Restaurant menu Table
A complete restaurant menu table with filter and search for the restaurant website owners.
A Nice Restaurant Menu
Google Sheets integrated Restaurant reservation table
A restaurant reservation table with Google Sheets integration.
| Logo | Name | Reviews | Price range | Reserve |
| --- | --- | --- | --- | --- |
| | Hot Grills Point | star star star | $100 | Reserve |
| | Sweets & Stuff | star star star star | $200 | Reserve |
| | Oenophiles | star star star star | $200-$1000 | Reserve |
How to migrate tables from TablePress to Ninja Tables?
If you are about to migrate from TablePress to Ninja Tables, don't worry you don't need to lose any of your tables. Ninja Tables lets you import your tables from TablePress in one click.
Besides importing tables from CSV/JSON files you will find the "Import Other Tables" option under the "Import Table" option.
Step-1: Go to Dashboard-> Ninja Tables -> Import
Step-2: Click on the import button near TablePress.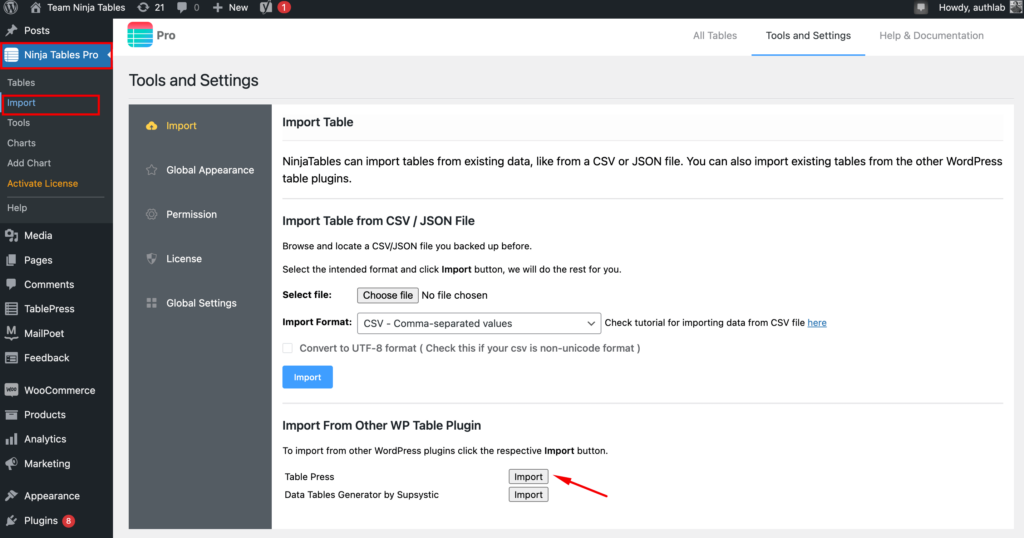 Step-3: You will see the list of your tables with an import button near every table you made with TablePress. Just click the button and your tables are automatically imported into your dashboard.
Final thoughts on TablePress
TablePress is unquestionably the most-rated and highest-user WordPress table builder. With this, you can make much more than just data tables. But as an opportunity seeker, we know you want the best option possible.
We tried to share our first-hand user experiences with you. And mentioned the best alternative we got so far. Ninja Tables is your one-click solution for all your website tables. The only limit is your creativity.
Ninja Tables– Easiest Table Plugin in WordPress
Want to know How to Write a Review on Google? We got you covered.
Let us know your thoughts on this blog in the comment section. And if you want to try any of these tables in the blog comment with a screenshot and your email address. Follow us on Facebook, Twitter, and youtube for all the updates and articles from us.