Best WooCommerce Product Table Plugins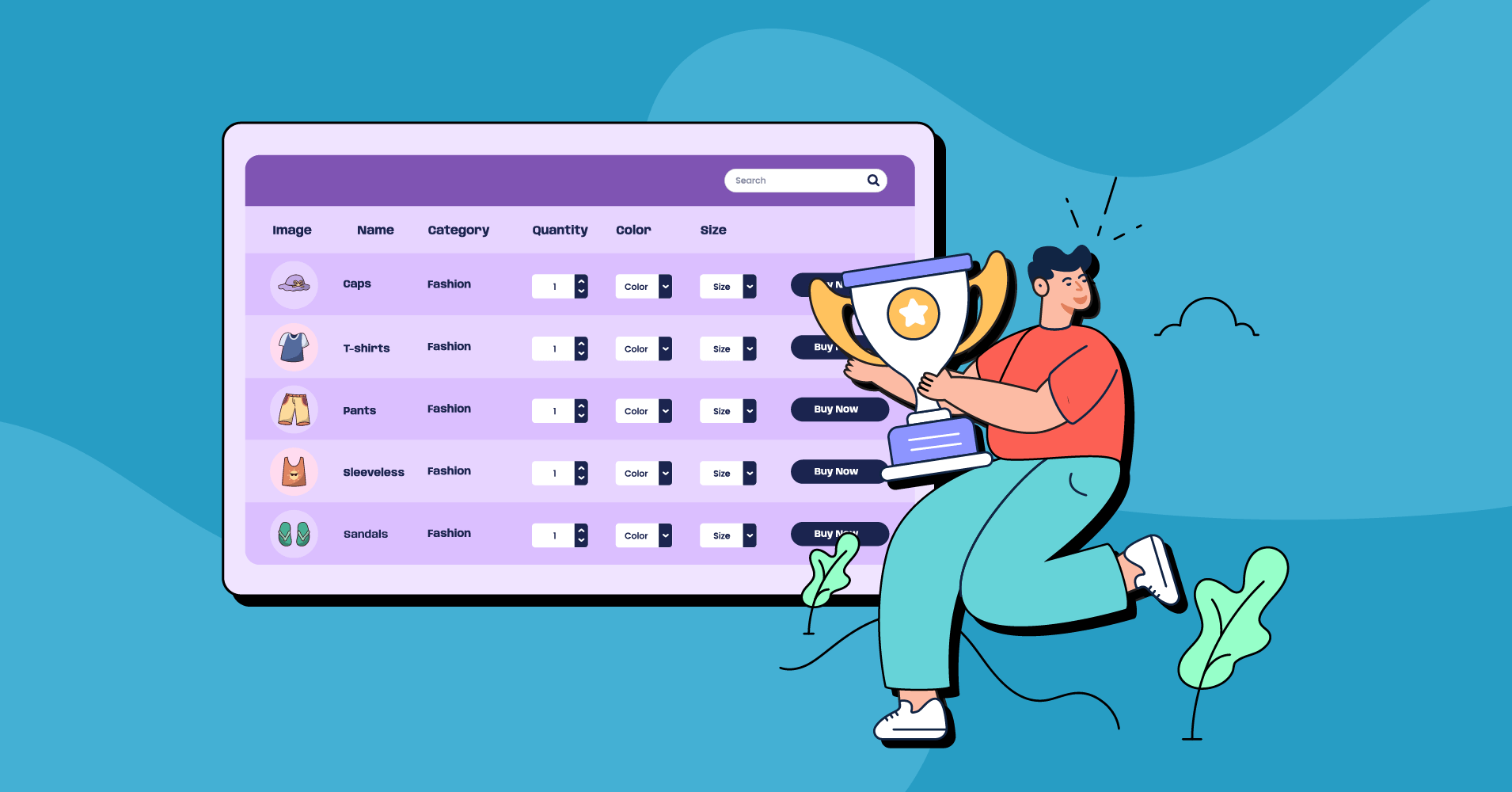 It's 2023. With a colorful history, WooCommerce is still the most popular WordPress plugin for eCommerce stores, powering 4M+ websites right now. But the default WooCommerce plugin is still limited in some ways. For example, organized data display, product filtering, or customizations to enhance table appearance.
WooCommerce alone can't give you a personalized product tables experience. Besides, the grid format is not ideal for data presentation when customers want to see every necessary detail of products.
In this blog, we'll discuss some of the best WooCommerce table plugins that help you showcase product data in smart tabular format.
WooCommerce and data tables
Custom products display of WooCommerce is possible with a WordPress data table plugin. While WooCommerce primarily shows products in separate blocks, table plugins will arrange them all in customized table rows.
You can also add more data and columns if you pick the best plugin for WooCommerce table customization!
Here's a quick overview of the 5 best WooCommerce table plugins that you can pick from.
| Plugin | Active Installs | Ratings | Visit |
| --- | --- | --- | --- |
| Ninja Tables Pro | 80k+ | | Visit |
| Product Table by Barn2 Plugins | 1k+ | | Visit |
| WC Product Table | 10k+ | | Visit |
| Product Table for WooCommerce | 8k+ | | Visit |
| Product Table by WooBeWoo | 2k+ | | Visit |
Powered by Ninja Tables
Now, let's get into the details.
Best WooCommerce product table plugins (Free & Pro)
With the growing number of online shoppers, eCommerce online stores have rapidly grown in number too. And as always, WooCommerce is everyone's first choice!
So, here we bring you the top 5 WooCommerce table plugins that you should check out in 2023.
Start taking notes!
Ninja Tables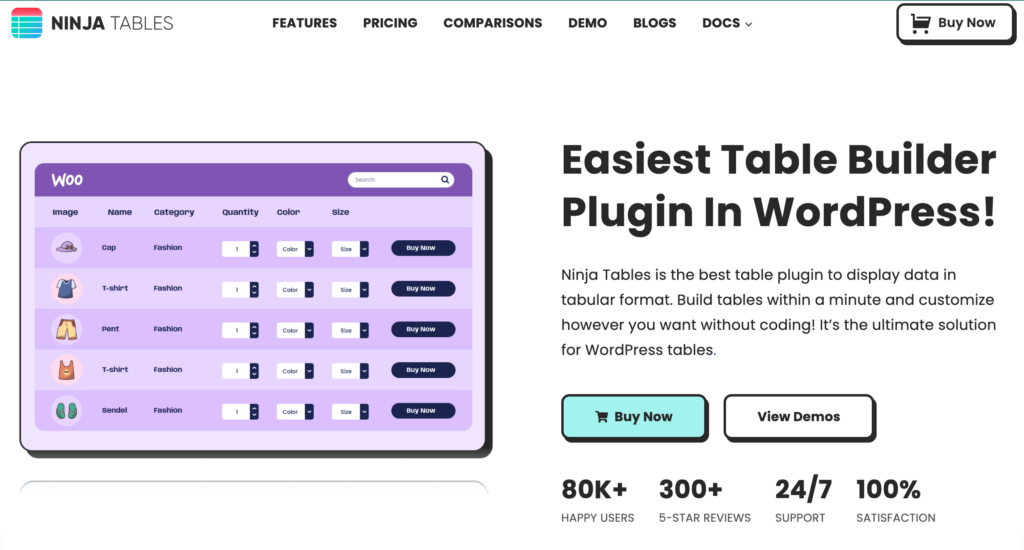 For a coding-free, fully customizable, and smart feature experience, go with Ninja Tables to create tables with WooCommerce products!
This plugin has direct integration with WooCommerce and can fetch every data from the WooCommerce database. Also, you can add more data and columns to the table.
Key features
Table design, unlimited color, and styling options
Sort, search, and filter
Import-export
Drag and drop table builder
Conditonal formatting
Value transformation
Responsiveness
Custom CSS/JS
Table background image
Unlimited data
Reviews, prices, and demo
Ninja Tables currently have 300+ five-star reviews on wordpress.org and the website shows multiple demo tables.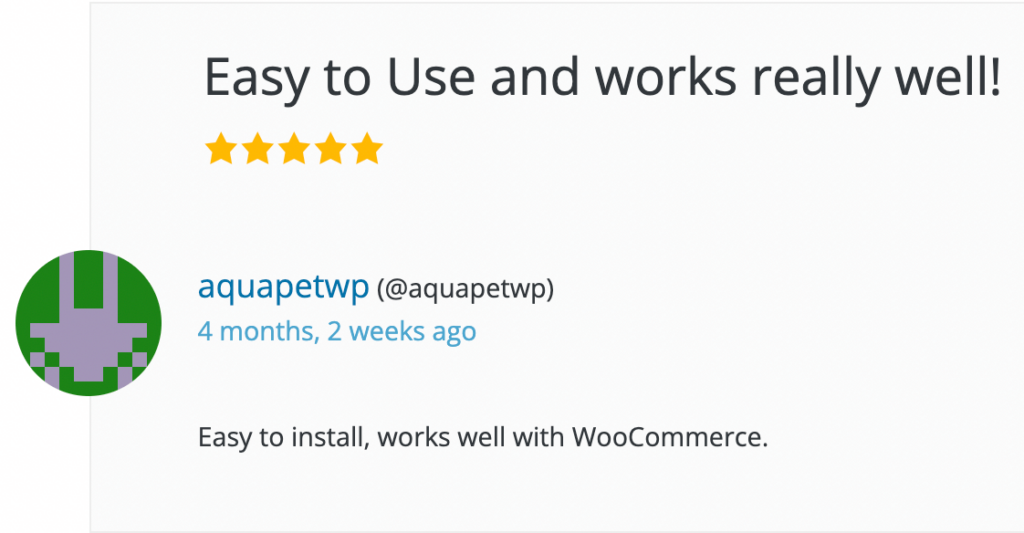 Price plans start from $49. There's a free version, but it doesn't support WooCommerce.
With tons of features and customization options, Ninja Tables Pro is worth every penny for your WooCommerce business!
Learn how the Ninja Tables WooCommerce integration works.
WooCommerce Product Table by Barn2 Plugins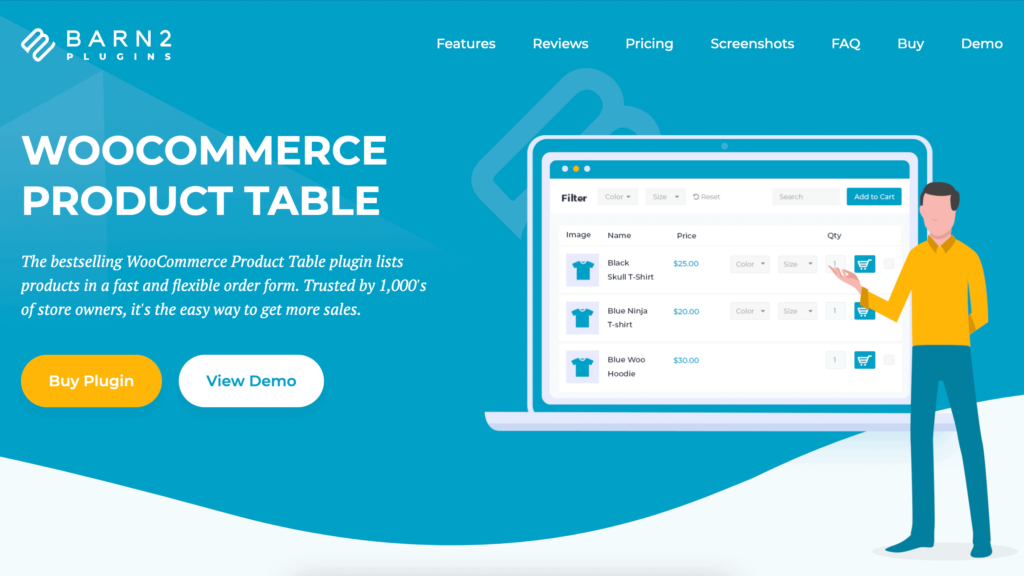 Coming in 2nd on our list is the WooCommerce table plugin by Barn2. You can organize multiple products and add category pages easily.
The search and filter option in the product table helps customers find what they need.
Key features
Multiple products and variations
Product search and sort
WooCommerce wholesale, restaurants, and order forms
One-page ordering
Show unlimited data
Custom table size
Responsive
Reviews, prices, and demo
No free version is available, so no reviews on wordpress.org.
Rated 4.97 out of 5 stars on the website.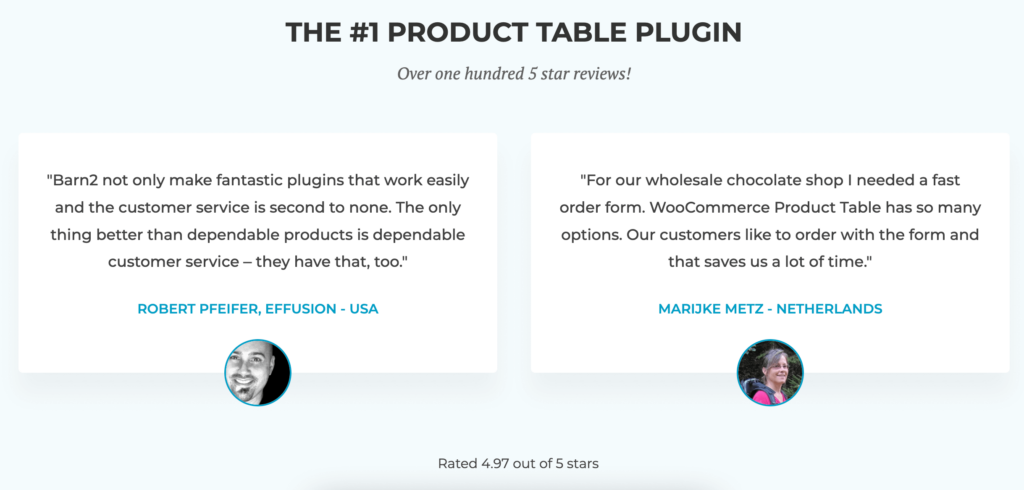 Two pricing plans are available for WooCommerce.
One Plugin- WooCommerce Product Table price starts at £79
Two Plugins Bundle- WooCommerce Product Table + Quick View price starts at £119
Check out the live demo table from the website.
WC Product Table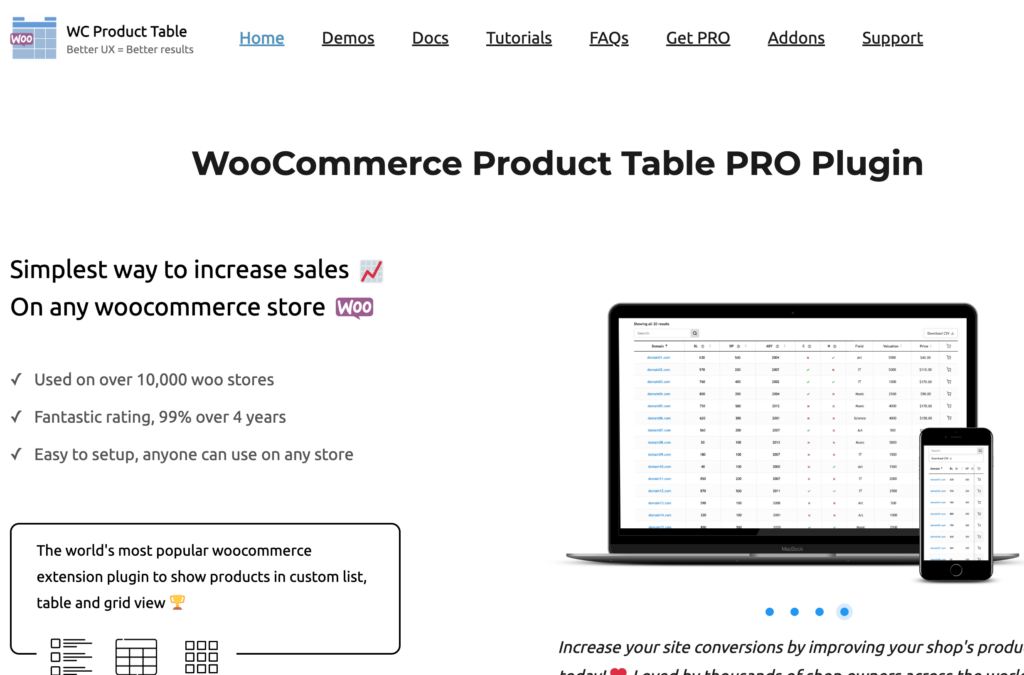 An intuitive and complete package for WooCommerce business is WC Product Table plugin. Create responsive tables for products and organize your store perfectly.
This plugin gives you the flexibility of showing variations of products in product reviews. Sort and filter products by their names, availability, price, etc.
Key features
List products with description and image
Additional grid format option if user wants
Search and filter
Add/remove products from list
PDF print
Reviews, prices, and demo
With 200+ five-stars, this plugin is a promising choice for your business.
In wordpress.org, you can see users are either unhappy with the support or the plugin layout.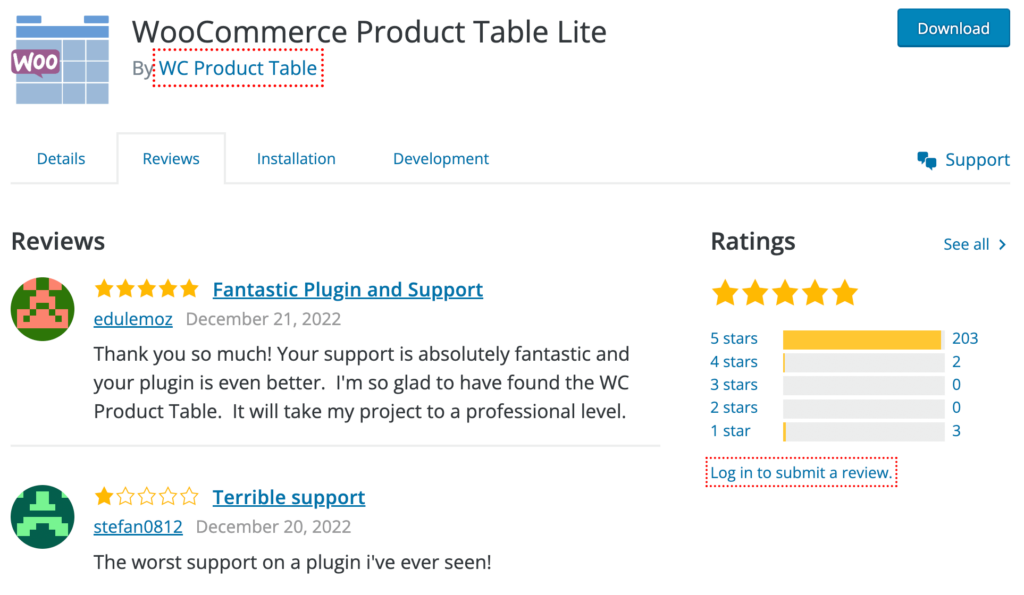 Free and Pro, both versions are available for WooCommerce uses. The free version is, of course, limited. The pro plan starts from $49/year.
Check out the WCPT demo (free & pro) from the WC Product Table website.
Product Table for WooCommerce by CodeAstrology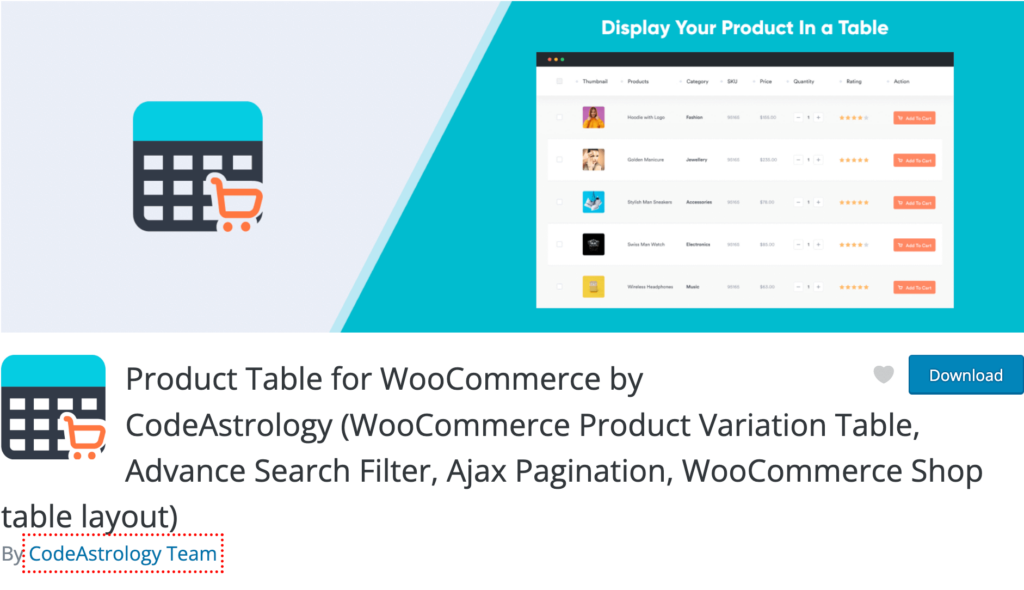 Since product tables are used for smart presentation, this plugin walks side by side easily with the top 3 plugins listed here.
Woo Product Table by CodeAstrology presents your products in searchable and filterable tables.
Key features
Drag and drop columns
Table design
Advance filter
Restrict columns to logged-in users
Floating cart
Variation product table
Reviews, prices, and demo
Seeing 200 five-star reviews, we say this plugin deserves a little more.

Some features like designing, settings for each table, ACF Field, etc. are missing in the free version. Pro price starts from $49/year.
The Woo Product Table demo page is rich with examples.
Product Table by WooBeWoo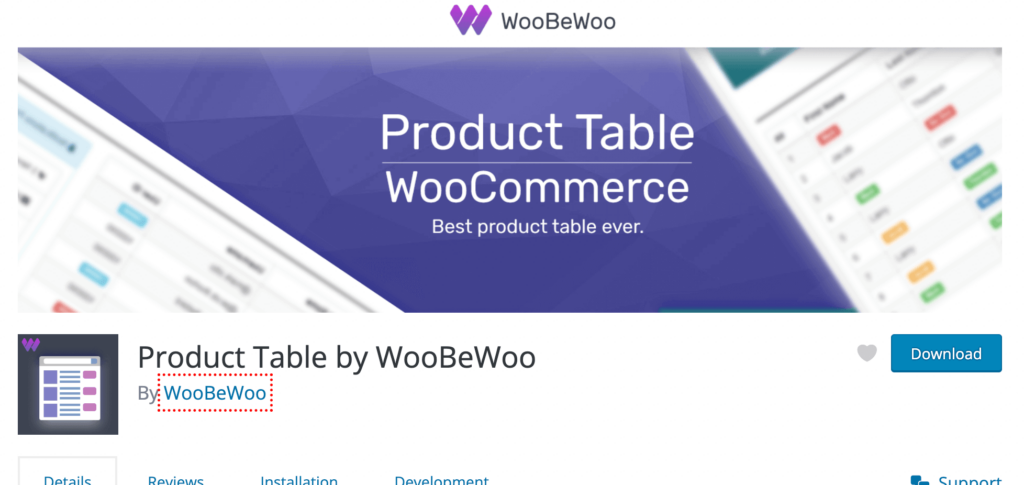 List your WooCommerce products in perfectly responsive, searchable, and filterable product tables with this plugin. Product Table for WooCommerce is an extension for WooCommerce business owners that want quick order forms, large product catalogs, restaurant orders, price lists, or wholesale.
Key features
Quick table navigation
Unlimited products in lists
Product filter
Add products automatically
Reviews, prices, and demo
This plugin has 27 five-star reviews and 2k+ active installations. You can see the 6 demo tables on their website.
The free version is rich enough, but the pro version is full of potential and the price plan starts at $49/year.
Wrap-up
All the plugins mentioned in this listicle are user-friendly and reviewed by genuine users.
SInce we've talked about their main features, prices, reviews, and demo tables, you can pick one from the top 5 WooCommerce table plugins listed here and try it out.
If you want our honest suggestion, we'd say go for Ninja Tables! It's a multipurpose table plugin with lots of dynamic features, including WooCommerce and other integrations. Enjoy the advanced features along with the basic ones and create any type of table you want for your website.
So, what's your plan for a good products table?
Ninja Tables– Easiest Table Plugin in WordPress
---