Ninja Tables & WP Table Builder Compared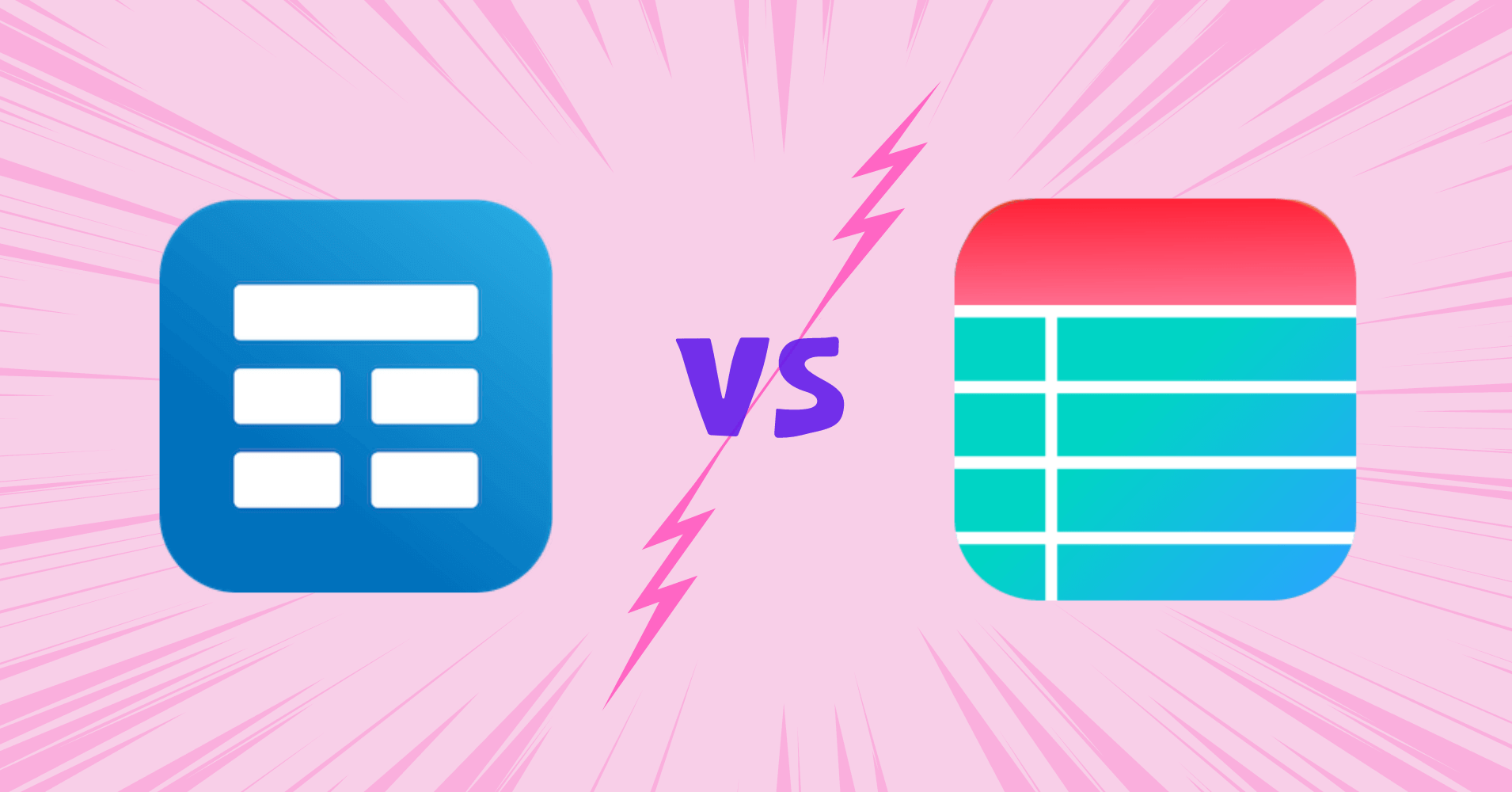 It's hard to pick one table plugin for a WordPress website because the list is long. However, we can narrow it down to the top two, depending on the ease of use- Ninja Tables and WP Table Builder. But which one to pick ultimately? Here we'll discuss Ninja Tables Vs WP Table Builder as a comparative study.
We picked these 2 because they offer a drag and drop table builder function, unlike many other table plugins. On top of that, they both are unique in their own way. While WP Table Builder only offers a drag and drop function, Ninja Tables offers beyond that.
Get a first-hand experience in using Ninja Tables and WP Table Builder after you're done checking out these points below-
Let's begin.
Detailed Comparison | Ninja Tables Vs WP Table Builder
You won't get the full picture if we're just comparing features. So, we'll be discussing different aspects of these two plugins and show you which one is better in which sector.
Ninja Tables Vs WP Table Builder comparison-
Table types
Ninja Tables lets you create multiple different sorts of tables, all of which are fully customizable.
But WP Table Builder solely focuses on the drag-and-drop process of creating tables.
User-friendliness
Whether you're a noob or an expert, user-friendliness and smooth functionality are what you should look for in any plugin.
So, what's the best?
Ninja Tables lets you get very creative with lots of easy-to-use features.
| | |
| --- | --- |
| | |
| | |
| | |
| | 9 types of table creation options |
| | |
| | |
| | |
| | |
Ninja Tables makes you a master of interactive data tables with limitless options. For example, custom coloring, cell conditions, value transformation, WooCommerce integration, Google Sheets table, and many more.
While in WP Table Builder, you can only create and customize tables using the drag and drop feature.
Responsiveness
Online tables should fit any device, regardless of the screen size. It's because the audience should be able to see the entire table without having to zoom in/out or scroll.
| | |
| --- | --- |
| | |
| Responsive for all devices | Responsive for all devices |
| Adjust responsiveness in real-time for basic table | Adjust responsiveness in real-time for basic & advanced table |
| | Responsive breakpoints for columns |
| | Stackable table configuration |
Since Ninja Tables has advanced and drag-and-drop builders both, users can decide the responsiveness for every table.
Integrations
As a complete solution for all your data presentation-related problems, Ninja Tables does not hold back when integrating with other useful plugins or tools.
Fluent Forms

WooCommerce

Google Sheets

TablePress

Data Tables Generator by Supsystic

External CSV and JSON files
Customization
Having multiple table creation options, Ninja Tables makes customization more dynamic.
WP Table Builder offers full customization of all the limited features that come with it.
| | |
| --- | --- |
| | |
| | Custom table color and design |
| | Conditional Column Formatting |
| | |
| | |
| Manage Cells & Background | Configure a particular column |
| | |
Core features
Without mentioning how rich Ninja Tables is, we brought you the feature list you can check out yourself.
Ninja Tables and WP Table Builder have a few things in common, like drag-and-drop, coloring, etc. But the thing about Ninja Tables is that this plugin has two table builder functions- Basic with drag-and-drop and advanced table.
So, the features and integrations are quite high in number.
Drag & Drop

Import from TablePress

Default

Drag & Drop Table

Import table

Connect Fluent Forms

WP Posts

WooCommerce product table

Connect Google Sheets

Connect external CSV

Custom SQL query

WooCommerce

Fluent Forms

Ninja Charts

WP Posts

Table color (text, border, cell, etc)

Responsiveness

Cell padding

Table color (text, border, cell, etc)

Hover animation

Responsiveness

Padding, sorting, pagination

Stackable table configuration

Conditional Column Formatting

Highlight cells with conditions

CSV/JSON files in advanced table builder

CSV/JSON files in drag-and-drop builder

Import from TablePress

Import from Data Tables Generator by Supsystic

Filter permission

Default data filtering

Custom filter

Pricing table

Comparison table

Employee table

Schedule table

Ribbon, Text icon, Circle rating, list

Pro elements for basic drag-and-drop

Editable at the frontend with defined user role

Button/link data type for advanced table

Button and star rating element for basic table

Turn texts into hyperlinks

Manage cells by merging or splitting

Row/column data calculation

Unlimited row/column & data
NOTE: The comparison table can become outdated with plugins' updates. Please contact us in that case.
Reviews
Sometimes you need to take other people's word to trust a product. If the multi-faceted features of table plugins failed to convince you, there's always real user testimonials or reviews.
See how people are feeling about Ninja Tables.
Ninja Tables reviews
This plugin made people happy with the features and support. These are only the recent ones we brought.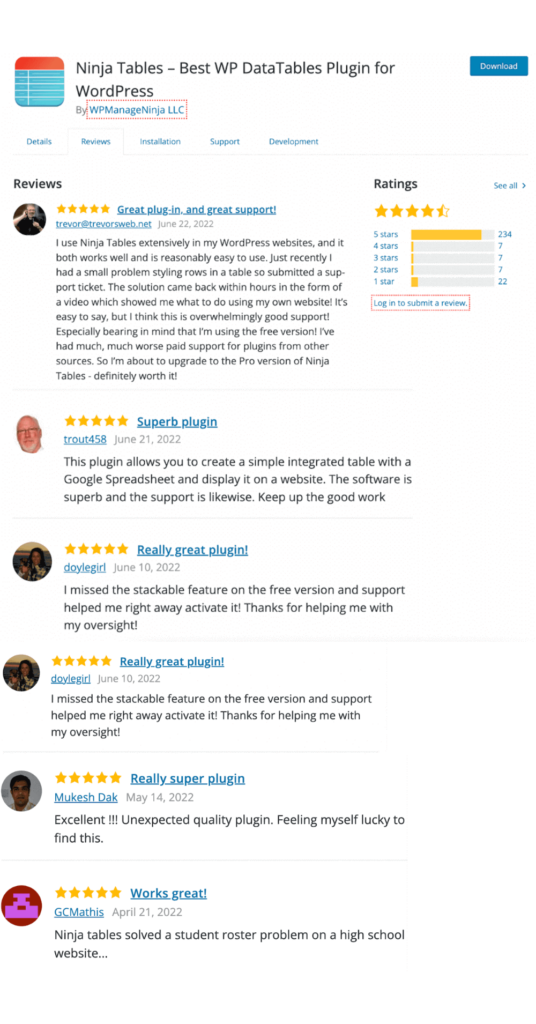 Maybe your experience with Ninja Tables will also help someone decide. Get this plugin and join the huge family of users.
WP Table Builder reviews
A simple table plugin that only creates a drag-and-drop basic table can be awesome too, and WP Table Builder is the proof of that.
Here's what users say.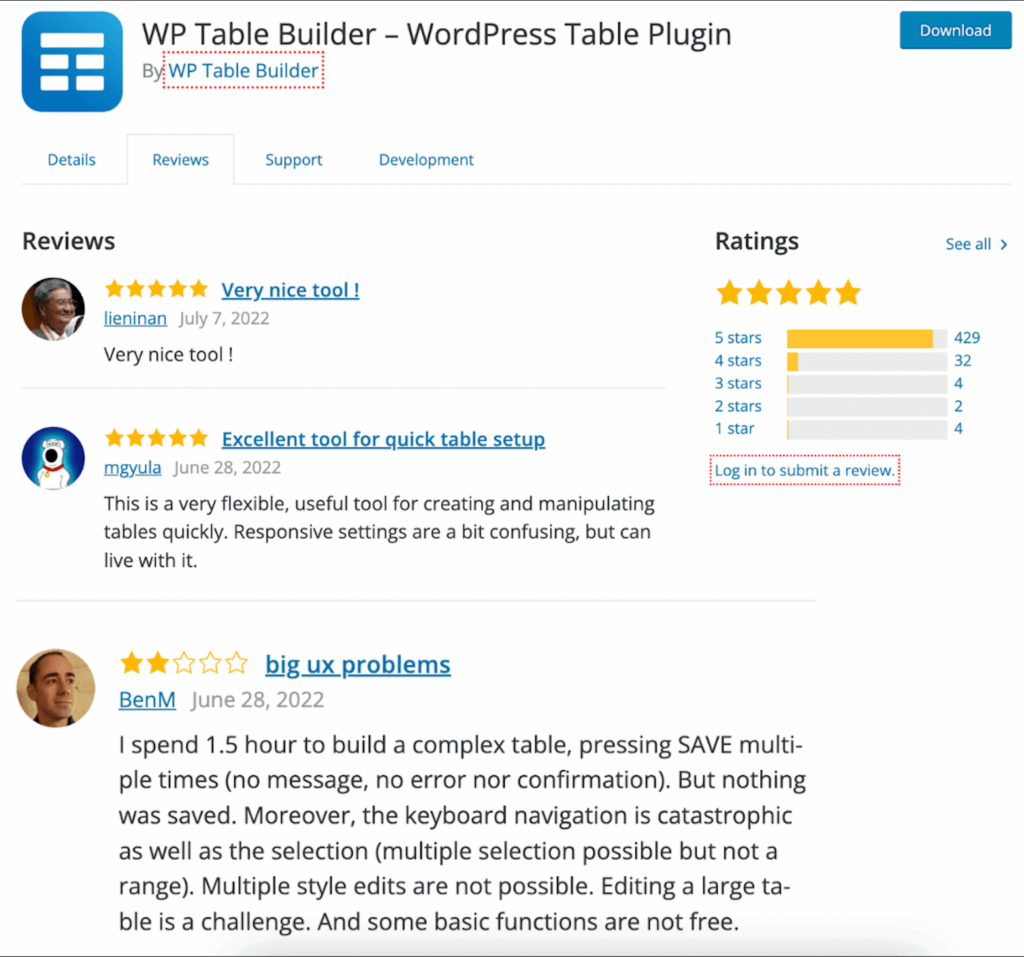 Just like the plugin, these happy reviews are short and simple!
Support and documentation
Both plugins have dedicated support teams so that you get the help you need right on time.
Likewise, Ninja Tables documentation and WP Table Builder documentation are all detailed with proper examples. But Ninja Tables has a long list of docs, which is understandable because this plugin has lots of features.
Pricing
After reviewing table creation styles, user-friendliness, features, and ratings, the one thing that seals the deal is pricing!
Ninja Tables price plans
Plugins with rich features do need to be a little expensive. But the pricing seems pretty reasonable if you look at the overall stuff Ninja Tables is giving you, including the basic drag-and-drop and the advanced options.
| | |
| --- | --- |
| (Current Special Sale Price) | |
| | |
| | |
| | |
| | |
| | |
WP Table Builder price plans
This one is basically free with the drag-and-drop function and the cell elements. But a few features are paid- for example, premade table templates, circle rating, icons, etc.
| Price plan | Cost |
| --- | --- |
| Starter | $39/yr |
| Pro | $79/yr |
| Lifetime | $249 (Billed once) |
Extra facts to-go
We've discussed how Ninja Tables and WP Table Builder resemble and vary from each other at the same time. One plugin (former) gives you literally everything you need, and the latter gives you a simple solution to online tables.
WP Table Builder facts
Text strikethrough option
Undo/redo
Amazon affiliate product table, food menu, or service specifications table
60,000+ active installations
Ninja Tables facts
Amazon Product Listing, product specification table, league points table, cryptocurrency table, IMDB top chart table. Check out Demo.
Click embedded Fluent Forms to fill them up from the table
Custom post type
King-like support!
80,000+ active installations
You can see how this WordPress.org user is happy with Ninja Tables.
WP Table Builder and Ninja Tables alternatives
Both of these plugins are more or less the only easy ways to create drag-and-drop or dynamic tables. But if you're still curious, here are some other alternatives to check out.
wpDataTables
TablePress
Data Tables Generator by Supsystic
Visualizer
TL;DR
That's it!
We've explained all you need to know about Ninja Tables Vs WP Table Builder. It can get confusing choosing the best plugin for WordPress tables. But narrowing down the aspects and feature comparisons can give you a clearer vision.
After comparing usability, prices, features, reviews, and other stuff, now you know which plugin is better for your website.
It goes without saying that Ninja Tables is giving tough competition to any other plugin! What do you think?
Ninja Tables– Easiest Table Plugin in WordPress