Paymattic: The Ultimate Payment and Fundraising Plugin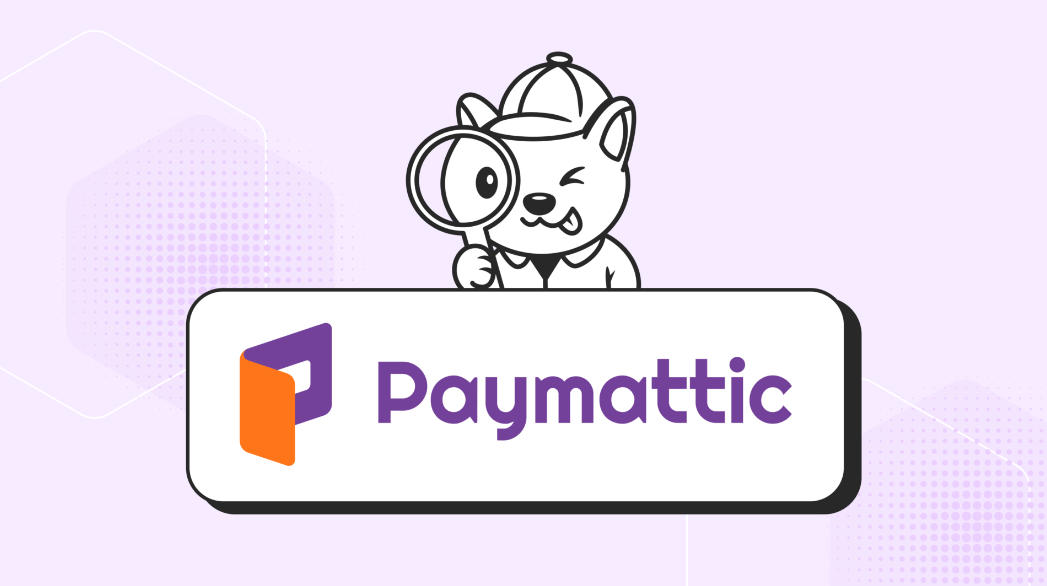 When you came here to read our Paymattic review, we suspect you have an online business that serves your clients in return for revenue. And it's important you have a proper solution for accepting transactions.
You must set up a payment gateway on your website in order to accept payments from clients who purchase from you. And for that, it's crucial to choose the right payment gateway plugin.
A good payment plugin will help your clients to transact flawlessly. There are a lot of WordPress payment gateway plugins, so it is easy to get confused about which to choose.
What helps Paymattic to stand out from the crowd? This review article will show what it offers and why it can be a great choice for your needs.
Paymattic Review: Features and Overviews
Paymattic is a smart payment plugin that works like a multipurpose plugin to help you with Payment, Donation & Subscription Forms and gateways. It covers 8 different payment gateways within a single plugin.
The free version lets you use the Stripe payment gateway, while the premium version will enable you to use PayPal, Mollie, Razorpay, Paystack, Square, Payrexx, SSLCommerz, and Stripe along the way.
If we simplify all the significant features, the list is below,
Easy user interface.
Input and rearrange fields with drag & drop facility.
Stripe(free) & 7 other payment gateway supported.
Advanced form settings option.
Custom currency feature.
Advanced payment form scheduling feature.
From designing & styling options.
Alterable payment status.
Advanced reporting features
360° customer profile with advanced filtering
Ratings(4.6 out of 5 stars)

Easy user interface

Drag and drop form builder

Advanced form settings option

Templates to help the beginners

Advanced reporting and analytics

Smart payment form scheduling

Free version is limited

LMS integration is only for pro users
The table is made with Ninja Tables
How to make a payment form with Paymattic?
If you install the free version of Paymattic, you can do it from the WordPress plugin repository or install it from your admin dashboard. To do this,
Go to the Dashboard → Plugins → Add New. Now search for Paymattic, then install and activate it.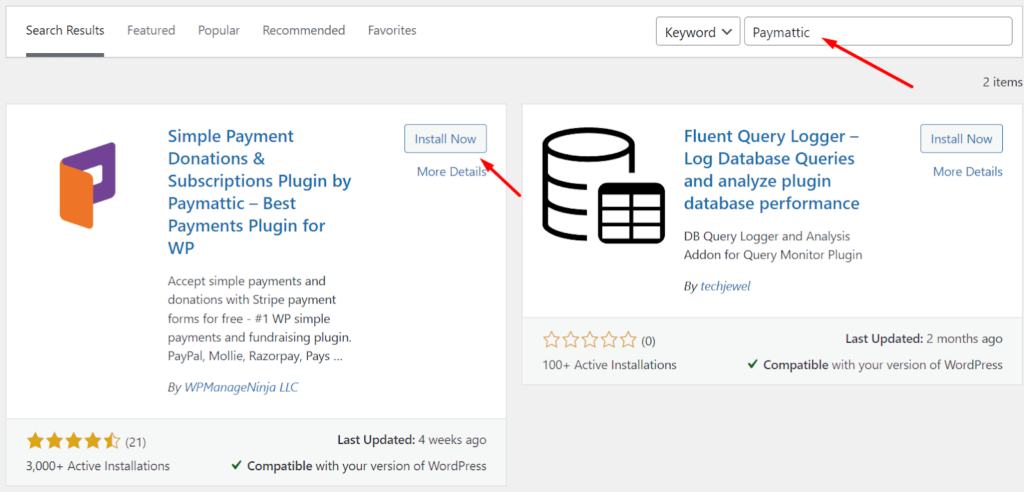 If you want the pro version, download it from the official website. Then upload it from your plugin dashboard. You can check out how to activate the pro version license from the official doc page.
After installing, you will find the options on the WordPress dashboard. Now, you can easily create a new payment form with it. To do this,
Go to the Paymattic Dashboard
Click on the Add New Form located in the top right corner

It will open up with 50+ form templates of four different categories. You can sort the templates from the search bar or by categories. Here we select the payment form, and now we need to customize and set it up.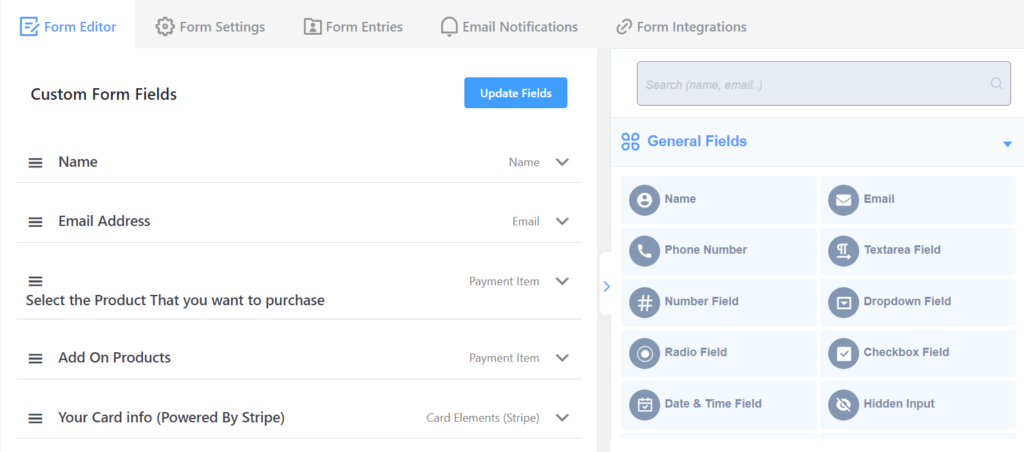 Now you can drag and drop the elements you need on your payment form and click on the Update Fields button.
Configure your form according to your needs. You can specify the products on your form and use the Product Fields section. Head to the plugin's official page to learn more about creating your first payment form using Paymattic.
Payment confirmation settings
You can set confirmation messages while payments are submitted. This feature enables you to show a confirmation message to your clients while they submit the respective payment using the payment form.
On the Confirmation Settings page, you can set the confirmation type and the message you want to display. You have the control to show it on the same page, another page, or on a custom page if you want.

Payment Method Settings
In Paymattic, you must integrate payment methods when installing and activating it. There is a dedicated doc page for all kinds of payment method integration. 
You can use the Stripe payment gateway for free in the free plugin version, and the other gateways are supported only in the pro version. Moreover, you will get Stripe Test Keys and Live Keys options configured with all the credentials for both testing and live purposes.
In the payment setting of any form in your Paymattic dashboard, you can control the limits of accepted methods, transaction types, stripe metadata, push form data, and much more.

Currency Settings
Paymattic comes up with a Currency Settings option with all the forms you make from the dashboard.
You can easily go as per global settings or set it as you want. You can set Stripe checkout locality, currency, currency sign position with the separator, etc.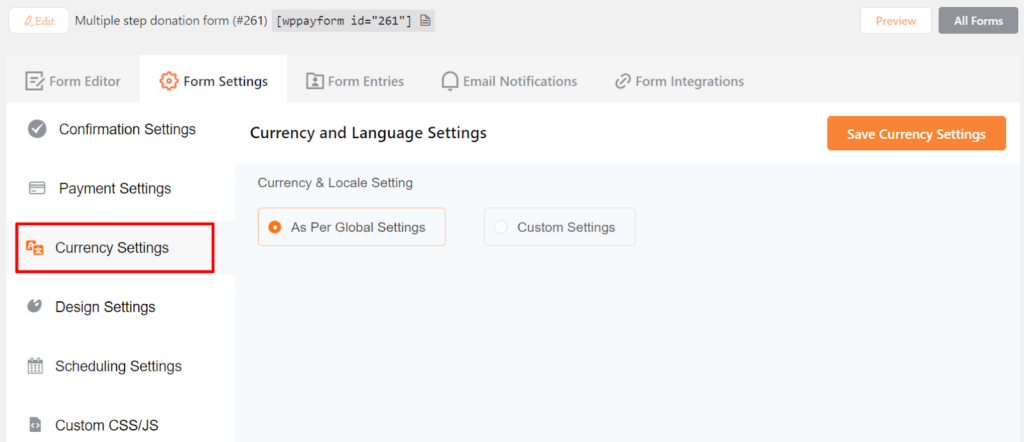 Designing payment form
Designing a payment form is very crucial for having a smooth transaction. In Paymattic, you can design it as per your wishes. There are many options and templates for designing it.
This option will allow you to configure label alignment, asterisk position, and submit button position.
Moreover, under those, Form Element Styling is in the Design settings tab, where you can style the font weight. Or, you can simply enable default form styles from here.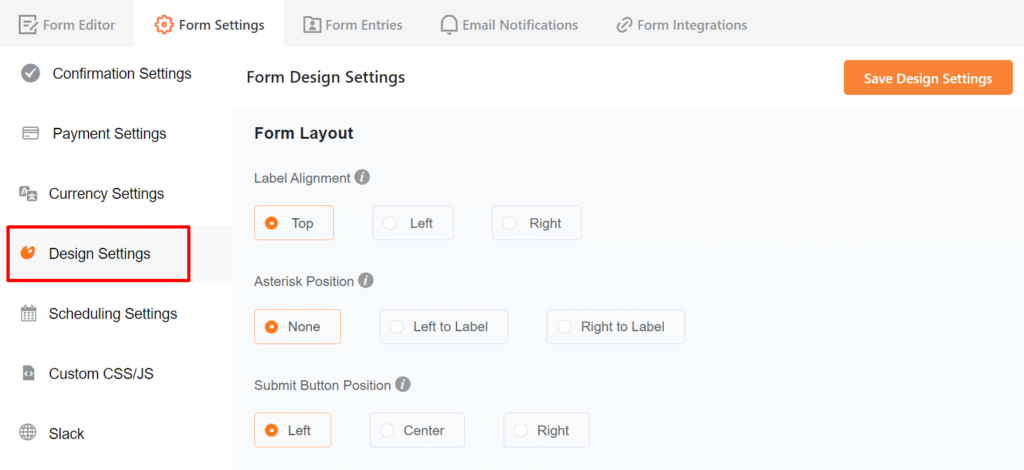 Reports dashboard
One of the most amazing premium features of Paymattic in its report and payment analytics. Here you can track all the payment data and statistics. You get sorted information on your payment methods, statuses, and form performances.
You can enter the customer's profile and sort the top customers from this module. Moreover, track all the recent activities from this easiest dashboard.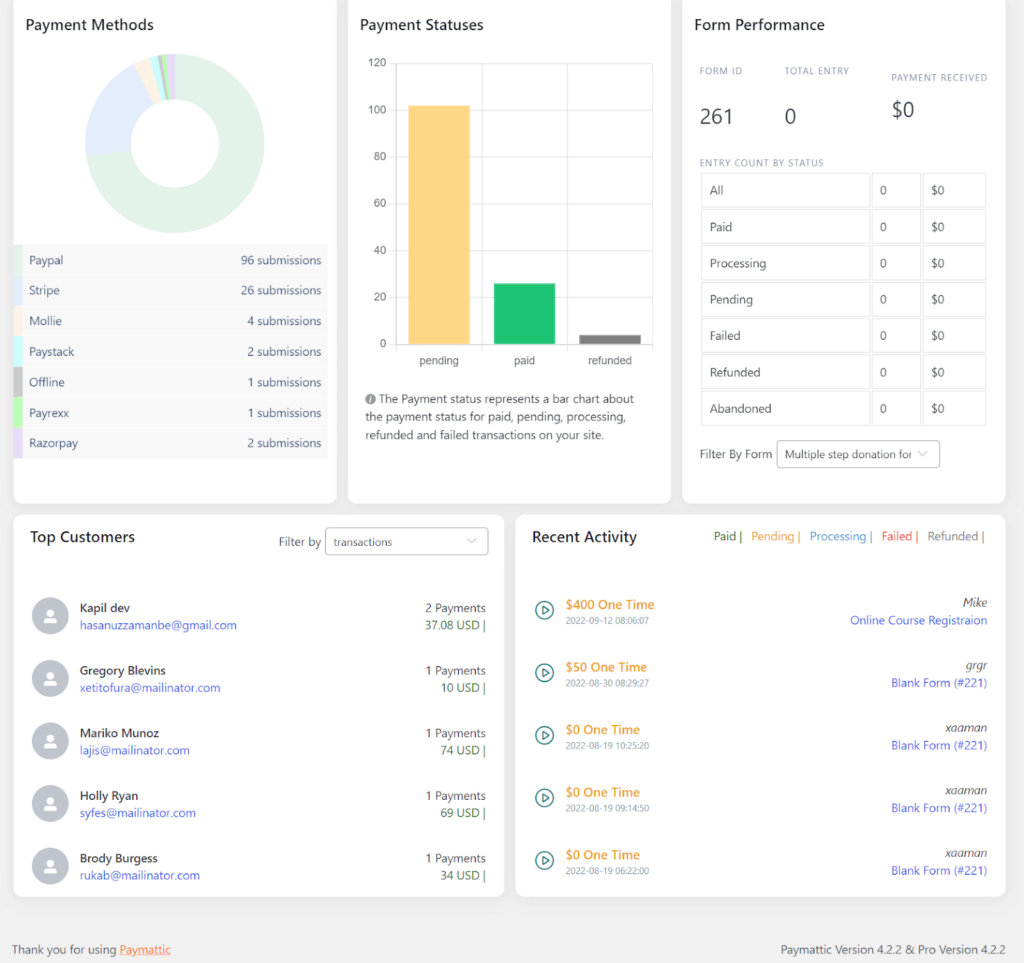 Beyond payments
It's the extended part of the features section of this blog. But one of the important parts. Paymattic is not only a payment plugin but also it offers deep integration with some LMS platforms. For selling online courses, you can easily integrate with,
TutorLMS
LifterLMS
Learndash
You can easily integrate FluentCRM, Mailchimp, and Active Campaign for email marketing to set up your newsletter content strategy, payment, donation, or subscription email campaigns. And finally, for the notification, you won't have to worry. You get Twilio, Telegram, Slack, and Zapier integration with Paymattic.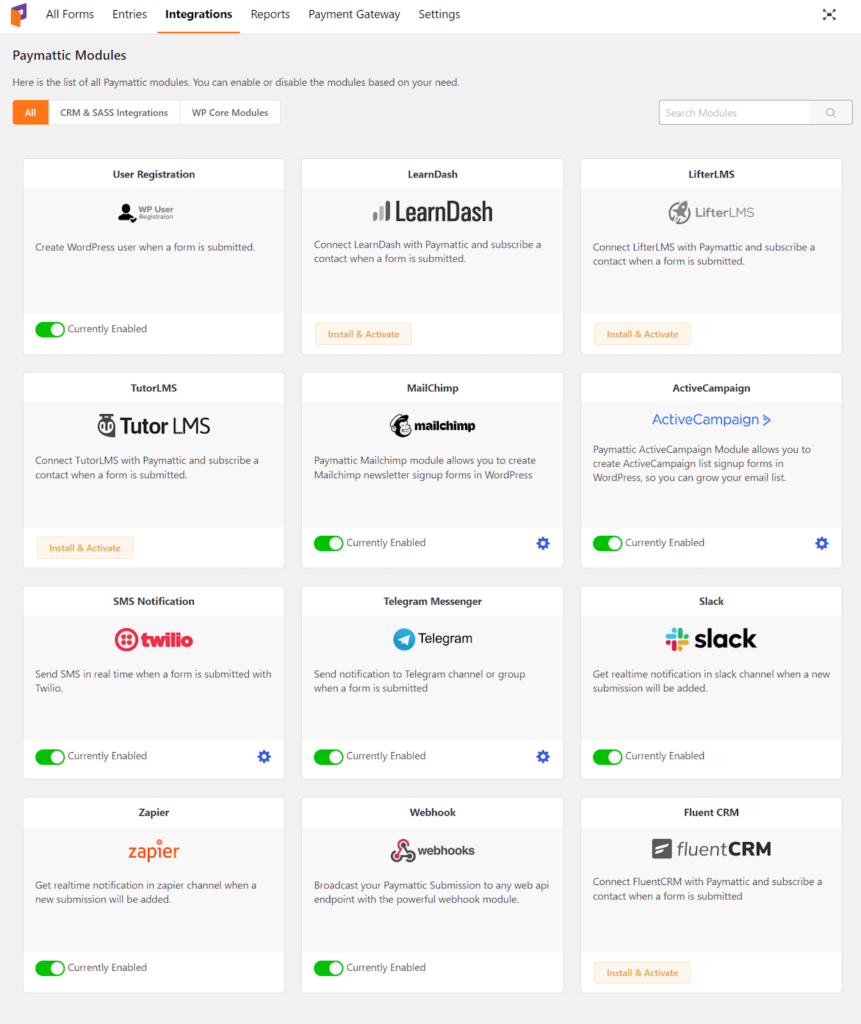 Donations are necessary for non-profit organizations to continue their good deeds and pledge to the world. Many professionals, not just NPOs, solicit donations by offering free goods in exchange.
Paymattic helps your website to create distinctive and engaging donation forms to collect charity from them. There are donation form builders and templates to help you with non-profit fundraising.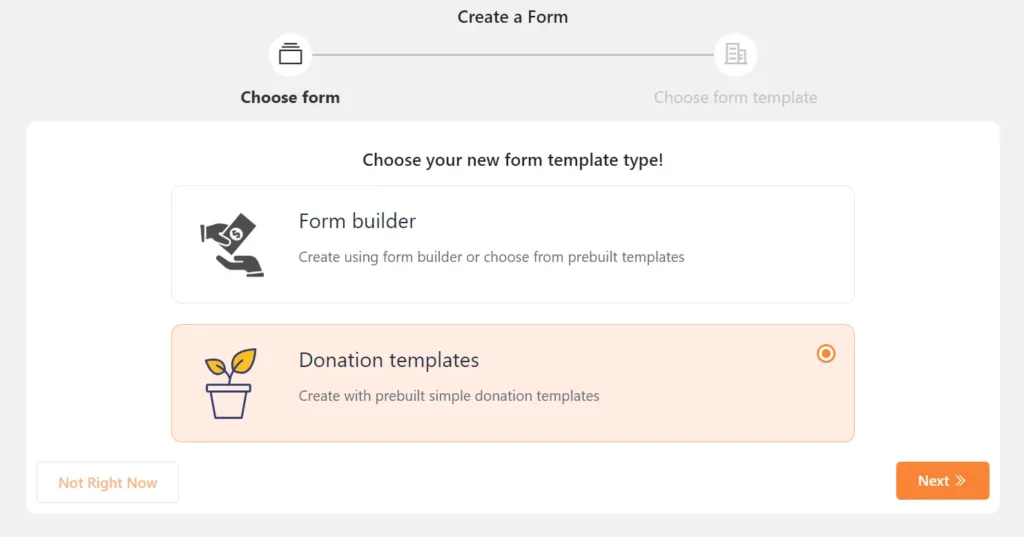 Adding the donation forms in tables to fill up directly from the table is an easier way to raise funds. Ninja Tables can be a great option for that.
Pricing and Support
Paymattic is a freemium plugin for your payment, donation, and subscription forms. The free version provides limited features. Even this is also eligible for appreciation.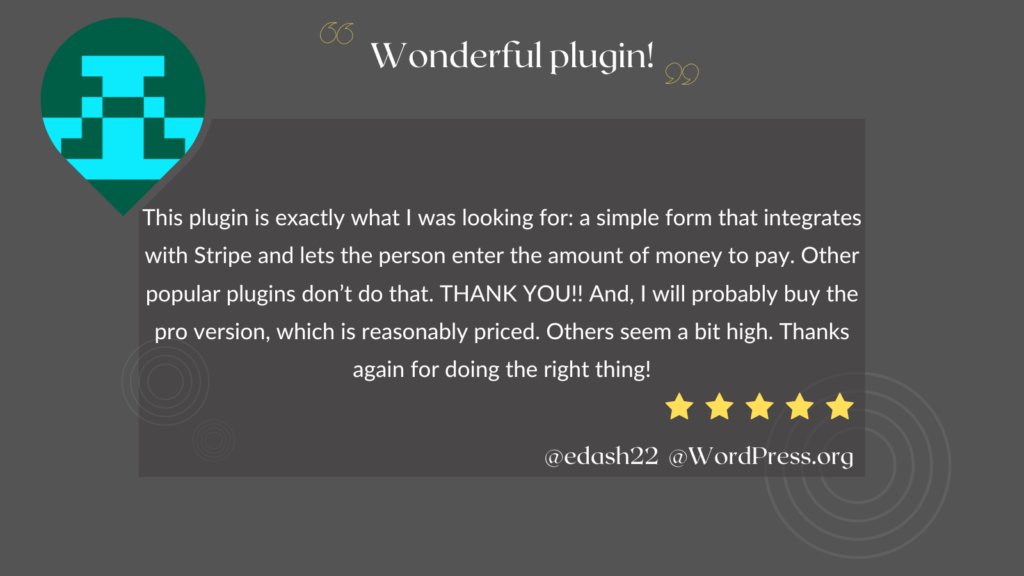 And when you have the pro version, you have a complete payment form plugin with many more features. The reasonably priced plugin offers a lot of variation and different prices to merge with your budget.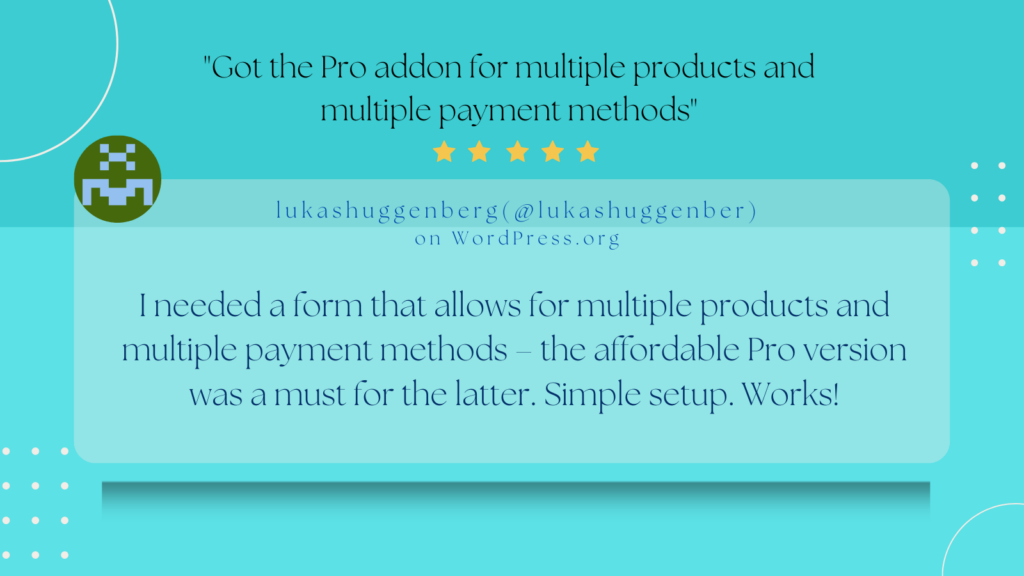 And all the pro version provides priority support to the users. The Paymattic support team is one of the most capable support teams, with many great reviews.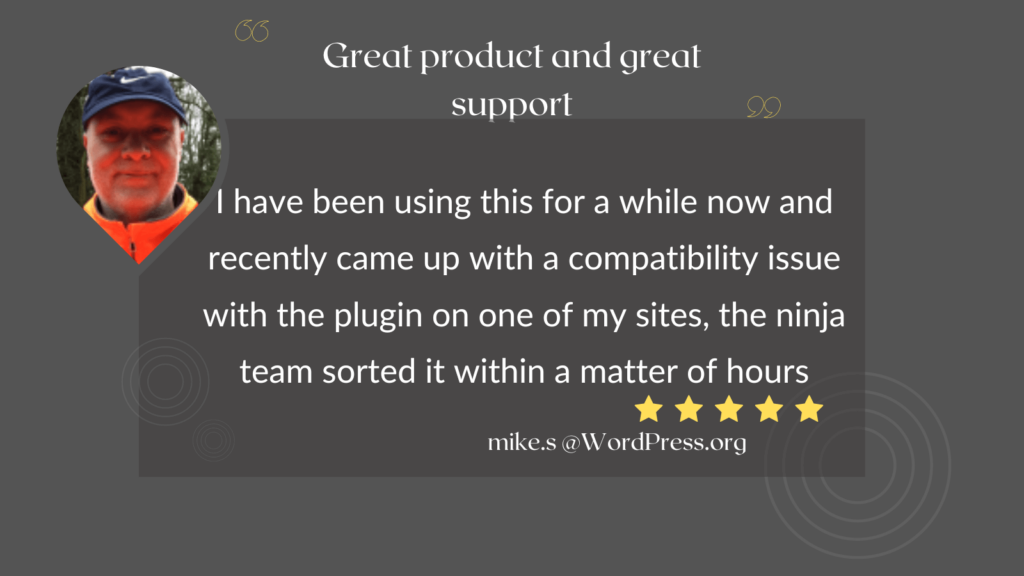 Paymattic Free Vs. Pro
Feature
Paymattic Free
Paymattic Pro
Create Unlimited Forms
✔
✔
Customer Profile
❌
✔
Payment Gateway
✔(stripe only)
✔
LMS Integration
❌
✔
Reports
❌
✔
Templates
✔(4 templates)
✔
Coupons
❌
✔
Email Notification
❌
✔
Custom CSS/JS
❌
✔
Schedule Setting
❌
✔
Advanced Payment Setting
❌
✔
Slack
✔
✔
MailChimp Integration
✔
✔
Zapier Integration
✔
✔
Price
$0

Personal: $59/year
Agency: $129/year
Unlimited: $299/year
The table is made with Ninja Tables
Start creating the best payment, donation, and subscription form
There's no such thing as a great and only plugin for everyone. It's all about picking the finest WordPress plugin based on your needs, technical knowledge, and budget.
The article is a small overview of Paymattic with some basic installation and setup processes. There can be a lot of better options than that. But when doing business in 2022, you must leave no stone unturned.
So, we recommend you to use the free version initially and start creating the best payment, donation, and subscription forms. And my gut feeling says that you will not miss such an easy solution for your website.
We hope this article helped you and could give you a slight overview of Paymattic. Even after that, If you find anything else or have any other questions, feel free to comment below!